Andrew's Impact Wrestling Ratings & Analysis 7/19/2019
Impact Mash Up Tournament tonight! Winning team earns a 1v1 match with a title shot attached! WCW Lethal Lottery is back!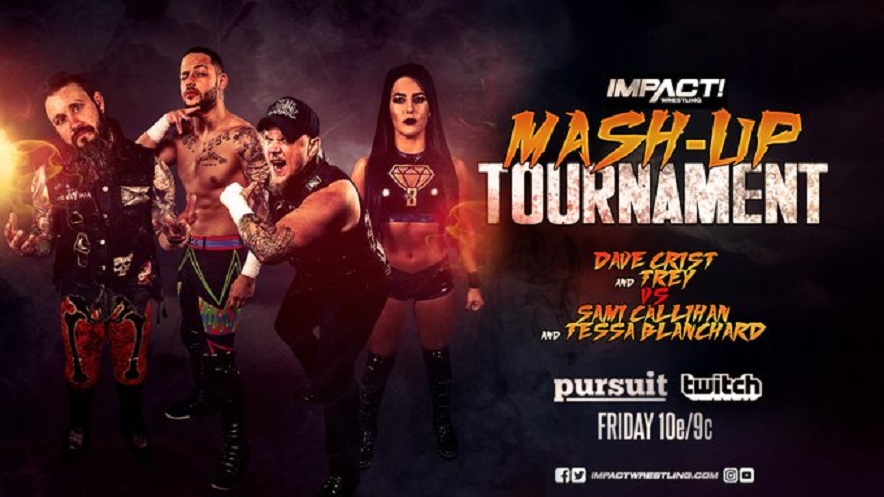 Impact Mash Up Tournament tonight! Winning team earns a 1v1 match with a title shot attached! WCW Lethal Lottery is back!
WCW Lethal Lottery show!
Wait – I mean Mash Up Tournament…no wait, I was right the first time. I wonder if there's a Battlebowl at the end.
From a clip show to a filler show, I'm not really sure how to feel. Tonight could be cool, but I doubt it will matter much in the grand scheme of things.
Damn you Impact and Dragonball for your non-canonical movies!
Looks like @The_Ace_Austin has found a rather ADVENTUROUS partner for tonight!

WATCH HERE: https://t.co/sWu6SEiYN7 #MashUp @DSSAdventure pic.twitter.com/O6w4cCzesV

— IMPACT (@IMPACTWRESTLING) July 20, 2019
Ratings:
Moose & Eddie Edwards vs Rohit Raju & Cody Deaner: Edwards wins via Boston Knee Party – * 1/2
Rich Swann & Madman Fulton vs Jake Crist & Wentz: Jake wins via Fisherman Buster Hold – ** 1/4
Michael Elgin & Willie Mack vs Ace Austin & Stone Rockwell: Elgin wins via Elgin Bomb – **
Trey & Dave Crist vs Sami Callihan & Tessa Blanchard: Callihan wins via Piledriver – ***
Havok vs Madison Rayne vs Taya Valkyrie: Havok wins via Tombstone Piledriver – ** 1/2
Mash-Up Finals Elimination Match: Eddie Edwards & Moose vs Willie Mack & Michael Elgin vs Jake Crist & Wentz vs Sami Callihan & Tessa Blanchard: Tessa & Sami win – *** 1/4
Analysis:
So the inaugural match of this Mash Up Tournament and it's decently established wrestlers against two jobber halves of a tag teams. This had no chance of being taken seriously. Things break down, Moose and Eddie win, Desi Hit Squad and Deaner brawl a little. This really got the night kicked off with a yawn and fart.
Zombie Princess is interviewing Ace Austin and Eddie Prince, Austin insults his mish mosh teammate and now he's hung out to dry. Will he find a replacement?
Well this was a little odd since it was 3 Cruiserweight sized people and Madman Fulton. We got some decent Cruiser style wrestling until the inevitable turn from Fulton happened and he assisted Jake in beating Rich. So maybe Jake will be in line for an X Division shot.
Is it hard for me to care about some of this? That's a resounding yes. Austin gets saddled with the comedy act of Stone Rockwell and we hate all of these things. Of course Elgin and Mack mostly dominate, this wasn't close, Ace is a jerk, yadda yadda…Lethal Lottery nap time!
.@TheSamiCallihan has a plan to ensure total dominance for oVe in the #MashUp Tournament!

WATCH HERE: https://t.co/sWu6SEiYN7 @TheJakeCrist @TheDaveCrist @FultonWorld pic.twitter.com/6eRNDscrqO

— IMPACT (@IMPACTWRESTLING) July 20, 2019
Well we finally had a somewhat competitive match. Dave and Sami planned a finger poke of Doom spot since we don't already have enough WCW references tonight. Trey also decided to dress up exactly like Sami and channels his inner Sami. Tessa and Sami start dysfunctional but they put it together enough. Tessa hits Magnum on Trey but tweaks something so Sami picks up the pinfall with the Piledriver. Solid match with a lot of drama and character spots.
ImpactPlus Flashback Momenet: oVe vs Eddie Edwards, Moose & Tommy Dreamer House of Hardcore Match Redemption 4/22/2018
Well the writing was on the wall with this match too. Havok is twice the size of the other women and Taya is a self preserving champion, so we had to figure that Madison was eating the pin here. The match wasn't awful or anything, but a lack of suspension of disbelief just kinda has it linger and happen.
So the Mash Up Tournament was kinda like Battlebowl. The four winners, come together in a giant four way tag, and the winner of this four way gets a one on one match at Unbreakable for a World Title shot.
We got the finish that most of us probably wanted, and everyone actually looked solid. Moose and Eddie going out first is fine since they were the least cohesive unit. Elgin and Mack only lost because Elgin eventually turned on Mack and just walked out on the match. The we saw Jake Crist defy Sami's wishes. Sami tried the finger poke, but Jake was playing possum and went for an Inside Cradle, but Sami kicked out. An interesting development was when Tessa faced off with Elgin, Sami shoved her out of the way, like he was protecting her. Then towards the end, her and Sami were in sync trading strikes with Jake and Wentz. So there is tension between the two, but they also came together when it mattered, regardless of the dysfunction. That was a neat wrinkle.
Overall Score: 6.5/10
The show was alright for being mostly filler. But the real highlight of the night was on Twitch, watch Melissa play Fortnite with Sami Callihan and Dave Crist. Between the comments, Melissa being awful at the game and just the general banter, it was all good stuff. Sami's shoe fetish is a little odd though.
Either way, the show was fine, Twitch made it better when the first hour was pretty obvious and boring. Tessa, Sami and Jake are probably the biggest players to look out for coming out of this Lethal Lottery.