Andrew's Impact Wrestling Slammiversary 2019 Ratings & Analysis
Slammiversary is always one of Impact's big two shows. Last year righted the ship. Do we get another great show?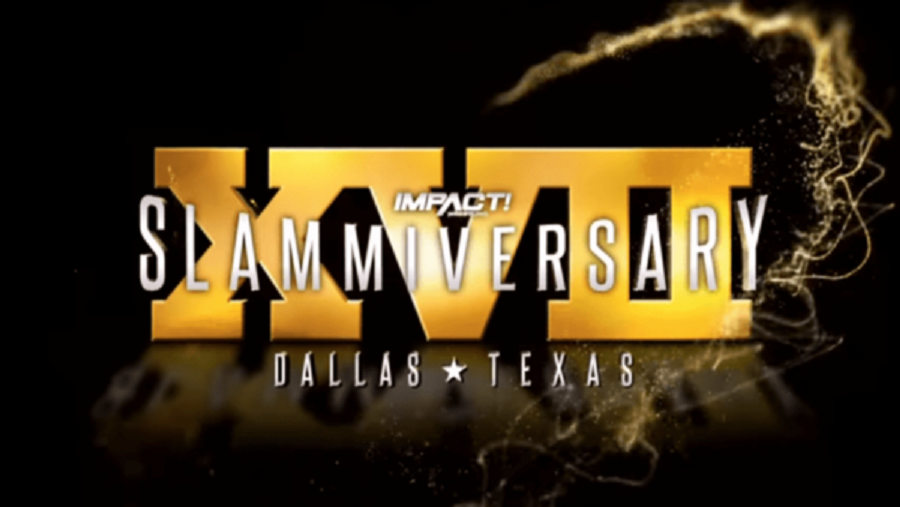 Slammiversary is always one of Impact's big two shows. Last year righted the ship. Do we get another great show?
We've got a whole lot going on for this show. Elgin tried to take out Cage when he debuted. The North winning the titles on Friday turned the Tag Title match into a Triple Threat.
Let's also not forget the IWC buzzworthy angle with Sami and Tessa having their intergender war.
So it's time to find out what kind of show we get!
Ratings:
Jake Crist vs TJP vs Trey vs Willie Mack: Mack wins via 6 Star Frog Splash @9:45 – *** 1/4
Impact Tag Team Championship: Dez & Wentz vs The North (c) vs LAX: The North retain via Gutwrench Powerbomb @7:30 – ** 3/4
First Blood: Killer Kross vs Eddie Edwards: Edwards wins via Broken Kendo Stick Shoved in the Mouth @11:45 – ***
Moose vs RVD: Moose wins via Spear @13:55 – ** 1/2
Knockout's Championship Monster's Ball: Havok vs Su Yung vs Rosemary vs Taya Valkyrie (c): Taya retains via Super Piledriver @11:55 – *** 1/2
X Division Championship: Johnny Impact vs Rich Swann (c): Swann retains via Phoenix Splash @15:10 – **** 1/2
IMPACT World Championship: Brian Cage (c) vs Michael Elgin: Cage retains via Double Legged Cradle @14:30 – **** 1/4
Sami Callihan vs Tessa Blanchard: Sami wins via Piledriver @15:00 – **** 
Analysis:
Impact has a tendency to start off with the fast paced X Division matches, but I didn't notice this adjustment. I thought it was a TJP open challenge, but now I guess this is basically a ranking match for the X Division. Great quick action, a long tease on the Tower of Doom (thank god it didn't happen), but TJP puts Trey in the Romero Special, Jake pins him since he's technically on his back and then Willie Mack comes off the top rope with a stomp to break it all up. Just great action with no real hiccups except questionable camera work.
So the match was apparently a tornado tag match? Hey I'm fine with that, I just wish it was explained. Match was fast, The North were taken out early, but, once they got in the match, their power was definitely noticeable. Numerous pin attempt break ups thanks to Ethan Page's power. A weird point in the match, Santana got pushed off the top rope and immediately said something about his leg. Refs and medical personnel come out, which causes a weird lull in the match. The match was good, but that odd stop hurt the flow of the match. Could it be a work? Could it be real? I think Santana was hurt a few weeks ago, so it's not out of the realm of possibility that he tweaked something. Either way, The North retain and LAX are protected if this is part of a story to write them off TV.
Killer Kross comes out looking like a cross of Vampiro and Seven with the white face paint and black eyes. Given the whole set up, Edwards had to win this match. It was a brutal back and forth with a few weapons and power spots on the outside. After eating 3 Boston Knee Parties, Eddie realized he needed to step it up, so he snapped Kenny in half and shoved the broken side into Kross' face. Once the ref pulled them apart, Kross' face was pouring blood from the mouth and Eddie was victorious. Kinda what you'd expect of a gimmicky First Blood match.
RVD comes out to prove he's still the Whole F'n Show, while Moose looks to start moving up the ladder for possible bigger matches. RVD played the greatest hits and Moose got caught a few times trying to one up RVD. A sloppy Frog Splash, introducing a chair (dumbass), and just generally getting ahead of himself. However, RVD played up his position after a drop toe hold into a chair, and spent too damn long pandering on the top rope. A missed 5 Star Frog Splash, lead to Moose hitting his Spear and grabbing the win over the legend.
Monster's Ball had a bit of a twist this time around since James Mitchell was trying to get Su Yung to agree to making Havok champion. So it was effectively a team against 2 others. Lots of chairs, cookie trays, tables and of course tacks. We saw a big Side Effect through the table from Taya to Rosemary. Havok hits a Super Tombstone on Su Yung and looks to win the match, but Taya recovers and throws a chair to break up the pin, and then pins Su Yung to retain her title. Taya barely escapes, but not a bad match.
We saw a lot of character work between Johnny and Bravo, which definitely helped carry the slower spots. Swann took out Bravo towards the end when both we trading big cool moves. One move of note coming from Rich Swann, being a Cartwheel Standing Phoenix Splash. That just looked cool. Johnny attempted Starship Pain, and even though he supposedly hit it (you'd think after a decade he'd know how to position people), Rich kicked out. Rich hit a nice 7 strike blitz and 2 Lethal Injections, ole shock and awe tactic. Top Rope Phoenix Splash allowed Swann to retain the title. Damn good match.
Well now, big boy match with big boys doing big boy things. This was a great display of power moves and athletic moves, since neither guy is one dimensional. Elgin worked over Brian Cage's back, and it played into the match a few times. Cage couldn't land the Drill Claw, because his back went out. Right when everything was looking good for Elgin, he hits a Buckle Bomb, lifts Cage for the Elgin Bomb, but Cage rolls through, Sunsets Elgin and sits down into a Double Legged Cradle, ala how Okada beat Jericho (and got the first fall on Omega in the 2 out of the 3 falls match). So after all these power spots, the match ends with a basic wrestling move. Great stuff.
Sami and Tessa had most of the internet buzz coming into Slammiversary, so it makes sense this goes on last. Tessa came out hot knocking Sami out of the ring and then going for Triplicate Suicide Dives. Sami catches her on the third and swings her into the guardrail. At that point we get a lot of Sami laying Tessa out a few times and then turning his back on her for a count out or general disrespect. We get two referee bumps that allow for baseball bats and a low blow from Tessa. Tessa connects with Magnum, but Sami kicks out. Tessa defiantly does the oVe thumbs up, thumbs down in Sami's face, and he snaps off a Piledriver for the win. A shock to many that Tessa didn't go over, but Sami grabs his bat and hers, walks over to her trying to recollect herself in the corner, and instead of continuing the beating, he just hands her, her bat and walks off.
Overall Score: 8/10
A damn good show that paid off where it needed to and gave us some possible future stories. Rhyno returning to make the save for Callis and Gore Elgin is hopefully leading to more. Not sure if it was a one off since he never took the mask off, or if we could see Elgin lock horns with Rhyno. Personally, a run in Impact to re-establish that he isn't a joke could be a good thing for Rhyno.
I also really liked that Sami went over in the main event. He was treating her equally the entire time, him winning a big feud could set him up for a World Title shot and Tessa comes out looking great too since he was a hell of a fight. X Division will be interesting since Willie Mack won the opening 4 way, and since Rich retained. Do we see a turn soon or will it just be two buddies wrestling for the title?
Either way, damn good show and it's nice to see Impact continuing to deliver big matches and solid shows even if they are the butt of many jokes with low visibility.