Andrew's WWE Extreme Rules 2019 Ratings & Analysis
A busy wrestling weekend ends with WWE Extreme Rules! How did it all turn out?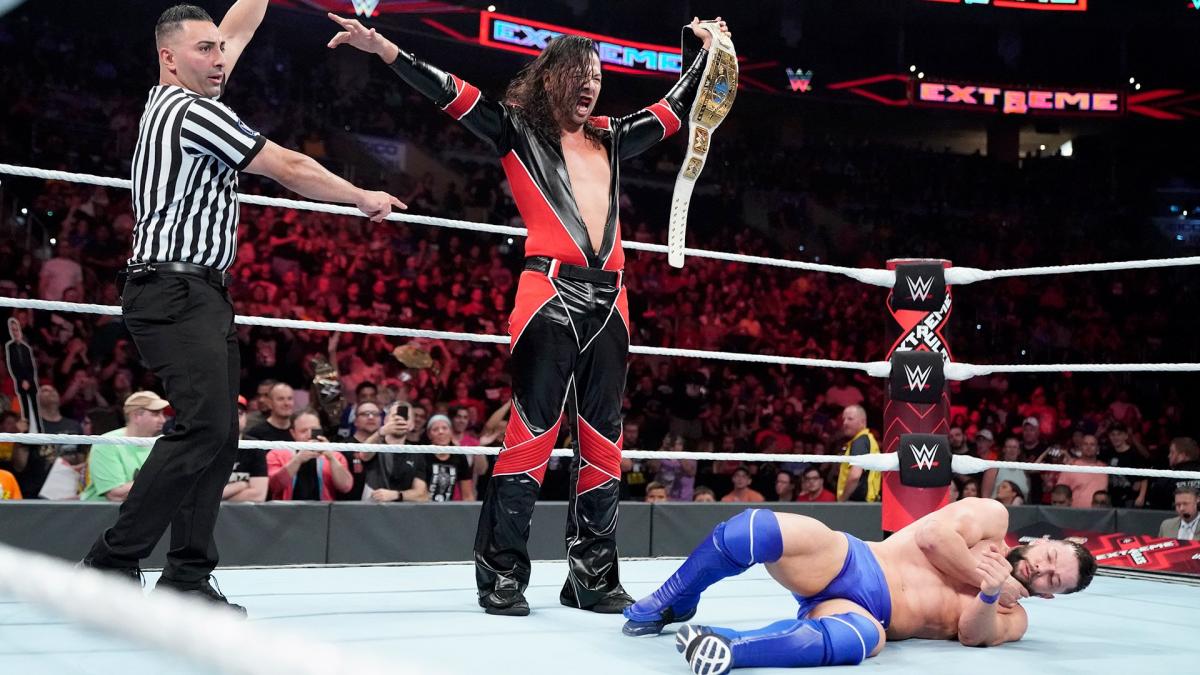 A busy wrestling weekend ends with WWE Extreme Rules! How did it all turn out?
Nakamura and Balor haven't been on WWE programming much the last few months, so hopefully they take this opportunity and kick some ass!
As for the rest of the card, Styles and Ricochet have lots of hype. Then there's the main event that most people have interest in because they want to see Corbin and Lacey dropped back down the card.
So I guess we should see what happened?
Ratings:
Intercontinental Championship Match: Shinsuke Nakamura vs Finn Balor: Nakamura wins via Kinsasha @7:40 – *** 1/4 – TITLE CHANGE!!
Cruiserweight Championship Match: Drew Gulak (c) vs Tony Nese: Gulak retains via Cyclone Crash @7:25 – ** 1/4
Undertaker & Roman Reigns vs Shane McMahon & Drew McIntyre: Undertaker wins via Tombstone @17:00 – *** 1/2
Raw Tag Team Titles: The Revival (c) vs The Usos: Revival retains via Shatter Machine @12:35 – *** 1/2
Aleister Black vs Cesaro: Black wins via Black Mass @9:45 – *** 1/4
SmackDown Women's Championship 2v1 Handicap Match: Alexa Bliss & Nikki Cross vs Bayley: Bayley retains via Flying Elbow Drop @10:30 – **
Last Man Standing: Bobby Lashley vs Braun Strowman: Braun Strowman @17:30 – * 1/2
SmackDown Tag Team Titles: The New Day vs Heavy Machinery vs Rowan & Daniel Bryan (c): New Day win via Midnight Hour @14:00 – *** 3/4 – TITLE CHANGE!!
United States Championship: AJ Styles vs Ricochet (c): Styles wins via Avalanche Styles Clash @16:30 – **** 1/4 – TITLE CHANGE!!
Kevin Owens vs Dolph Ziggler: Owens wins via Stunner @0:15 – N/A
WWE Championship: Kofi Kingston (c) vs Samoa Joe: Kofi retains via Trouble in Paradise @9:45 – *** 1/4
Extreme Rules Winners Take All Raw Women's & Universal Championships Match: Becky Lynch (c) & Seth Rollins (c) vs Baron Corbin & Lacey Evans: Rollins & Lynch retain via Stomp @20:10 – ***
MiTB Cash In for Universal Championship: Brock Lesnar vs Seth Rollins: Brock Lesnar wins via F5 @0:10 – N/A – TITLE CHANGE!!!!
Analysis:
Kicking off with a match that could've easily stolen the show, gives me a few mixed feelings. I would like this to be on the main card, but being the unbridled Shinsuke Nakamura mark that I've been for about 10 years, I just want him to win.
Okay so we start off with a nice exchange, a little old school Shinsuke flair, but Finn keeps fighting back. Nakamura gets caught on the Kinsasha attempt, John Woo Dropkick sets up the Coup de Grace and now I get disappointed…wait, Finn missed? Back of the head Bombaye-erm-Kinsasha…and then a straight forward Kinsasha! Pinfall for Shinsuke! He gets his hands back on an Intercontinental Championship! Now, let's see if he can make it as big as the main titles, like he did with the IWGP Intercontinental belt. Great start to the show, from a completely biased stance.
Cruiserweights and the Pre-show go together like Tony Acero and AJ Lee. Sadly though, these matches are usually a high energy spot and this…wasn't close. The match was lackluster, mediocre and nap worthy. Gulak is fantastic and him going over is great, but this match was about as captivating as watching trash float down the Delaware River.
Now this match did nothing for me but it was well worked. Spots were kind of predictable sure, but Taker didn't look nearly as crippled as the last few times, so that's a plus. Also let's give kudos to Shane for actually hitting the Elbow through the table. He hits that more often than Johnny Last Name hits Starship Pain, so thanks to math I'll give the match an extra 1/2 star for Shane. Also having Drew rise up behind Undertaker in the shot was really cool.
Okay, this was actually a the best match so far. Lots of nice tandem moves, signature spots and good flow to the action. They each had a great stand off towards the end of the match, but Revival edged out our Samoan legacies with a well timed tag and a Shatter Machine. Nice match.
This was, basically what I expected. There is no real story beyond " I want to prove I'm better than you", which is the bare bones basic concept for anything competitive in the history of ever. So a basic story, with a slightly above average match, doesn't really set my world on fire. Cesaro did some of his bigger signature moves that we haven't seen much and Black showed he's a force to be reckoned with by managing to catch Cesaro with a Black Mass. It was fine, if not a little slow.
Ahh the fact that this was one of those stupid co-champions angles instead of the wild card of whoever gets the pin wins the belt, made this match formulaic and predictable to the square root of boring. Nothing was clever or close, the writing was on the wall that Bayley will retain and we'll most likely see the little alliance between Cross and Bliss dissolve in the next few weeks. Ugh…
It's a Last Man Standing match with Braun…did you really have high expectations? This match was plodding, shock spots, partially missed collisions that had to be sold as full contact and just a stupid spectacle. Did the crowd seem to like it? Sure. But that doesn't excuse the fact that it was a pile of crap filled with a couple strikes, going through something, rest and repeat. The finish was worse cause that was obviously a spot filled with crash pads and Braun could bust out to "look cool". Braun sucks, Lashley was better in Impact…this match gave me a stroke.
Each tag team had a good amount of time to shine. This match continued the story that Heavy Machinery are athletic, but perhaps the idiocy is their downfall. Bryan and Rowan tried to take advantage of situations, but Bryan wasn't quite crafty enough. After taking a while to get in, Big E did the bulk of the work in the latter portion of the match. Great match that got across all teams personality and was paced very nicely.
Ricochet and Styles is a match with two beloved IWC workhorses. Styles also going back to Bullet Club Styles adds a fun wrinkle. Anderson and Gallows attacked before the bell, and then we had a damn good match with a ton of callbacks. The way Styles beat Ricochet the first time, the foot under the ropes and then the finish was teased on Raw but Styles decided to give Ricochet an Ultimatum instead. Solid enough story, great callbacks and great ring work, culminating in a Styles win is what's best for business.
So this was a nice surprise squash. I've been over Ziggler for a while and Owens eating his lunch was magic. Great moment followed by an okay enough promo to continue this worked/shoot storyline.
I'm not sure if it was because Joe was jawing a bit too much or if the crowd was just tired, but this match came off flat from in-ring perspective and crowd interaction. There was a "We Want Lesnar" "No We Don't" chant towards the end of the match. So this was okay but definitely left a lot to be desired.
Well this main event was awkward. Any extreme spot felt like it took forever to set up, the match generally didn't pick up until the very end when Corbin hit End of Days on Becky Lynch. The rest of the match really felt like it was on cruise control with the champion duo dominating and making the match lack in suspense and be generally boring. The finish was an emotional high and with Lesnar coming out for the Cash In, that felt perfect. So it was rough to get to the close of show, but it ended well.
Overall Score: 7.5/10
Damn good show! This was odd for me, cause I had personal issues with the way the card was laid out, but matches were solid, ended well or just made sense story wise. Even the two worst matches of the SmackDown Women's and Last Man Standing told the stories they were supposed to.
So generally speaking, everything moved in a logical direction. The biggest negative I can say is that certain matches finishes felt a bit abrupt. Also, love him or hate him, that End of Days from Corbin on Becky was the best heel moment in wrestling this year. That was genius.