Bobby's Good, Bad and Ugly Extreme Rules 2019 Review
Here we are at WWE Extreme Rules 2019 in Philadelphia PA, an honorable Wrestling city with rich history and very passionate fans.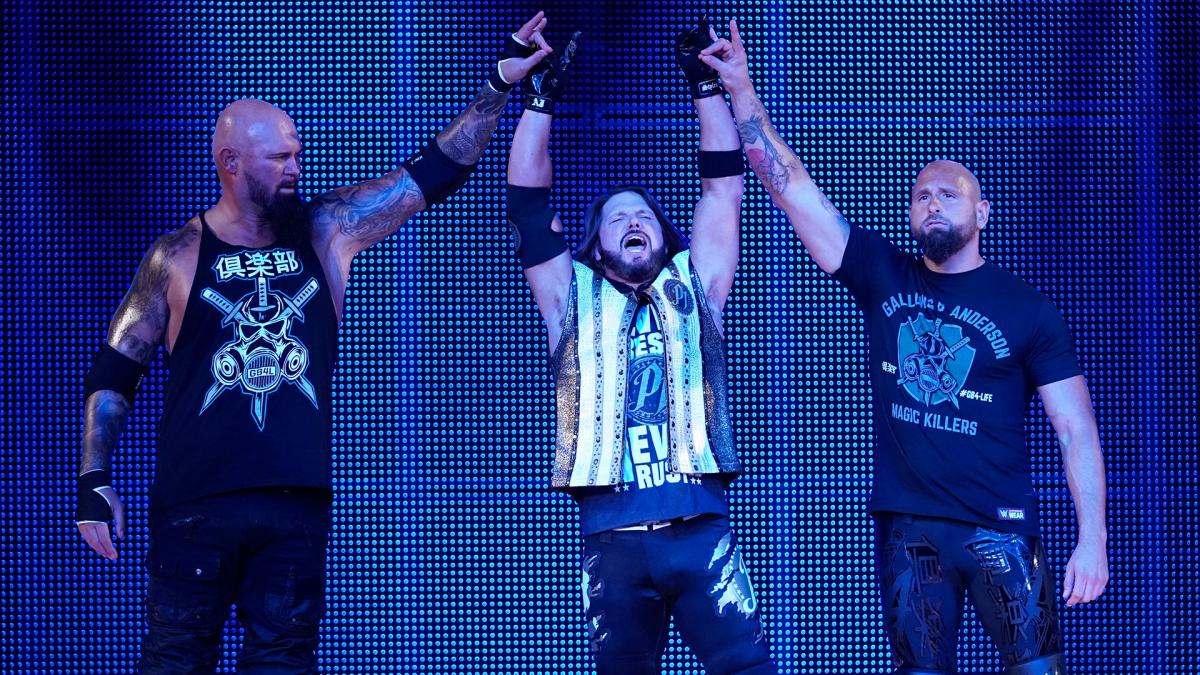 Here we are at WWE Extreme Rules 2019 in Philadelphia PA, an honorable Wrestling city with rich history and very passionate fans. 
We have a very important card tonight with a ton of possible title changes and a lot of potential big moments that can shake the foundation coming up before a major PPV at SummerSlam.  Heyman and Bischoff at the helm of Raw and SmackDown and all of the new things WWE is trying out as of late could make for huge events tonight on what could normally be called a worthless PPV.  Will we see success or will be have the fans crying foul after another let down?  Let's get down to ringside! 
GOOD
WWE Intercontinental Championship Title Match- Kickoff
Shinsuke Nakamura vs. Finn Balor (C)
Wow, there are going to be a lot of people upset if they aren't watching the Kickoff.  This is criminally insane to be a Kickoff Match.  Two of the best in WWE, period.  As expected we saw a ton of Good things here.  This had it all!  Strikes, high risk, and a ton of amazing quality Pro Wrestling.  Of course though WWE wasted screen-time on promos for the PPV we are already watching.  As usual when it comes to Balor/Nakamura anyone could take the victory.  Shinsuke hit a well placed "Kinshasa" for the win, and is your new WWE Intercontinental Champion.  Whatever this was it was Good, and I can't wait to see what is next!
WWE Cruiserweight Title Match- Kickoff
Drew Gulak (C) vs. Tony Nese
205 Live is consistently Good, and consistently overlooked.  They don't care though, it hasn't stopped them from clawing and fighting their hearts out every chance they are given.  Gulak was having a homecoming and of course got a hero's welcome.  This one was red hot, and had a sick energy the entire time.  This is one of the best Kickoff Shows I've ever seen and could and should be recognized as elite Professional Wrestling.  The unsung heroes put it all out there, with complete chaos and immense precision in all they do.  I cringed a little when they advertised the Shane match during this.  Back to the match though, nothing slowed them down, it was just all Good.  You never know what you will see with 205 Live.  Masterful match, again, either one could win, Gulak then got a rare moment and hit a Cyclone Crash for the victory, retaining the Cruiserweight Championship! 
No Holds Barred Match
The Undertaker & Roman Reigns vs. Shane McMahon & Drew McIntyre
Although it is always a great experience seeing the Undertaker I don't know many who are thrilled about this one.  McIntyre is in a position to have a torch passed on by the big man.  If he takes down Taker, that means he is in line for a major push.  Early on it was very enjoyable, everything was coming on strong.  McIntyre dominating, then Roman dominating, a great dosage of Undertaker.  Taker and McIntyre were more than substantial and great content as was Roman/McIntyre!  We saw some life in the Deadman.  He was going full steam without hesitation, it was amazing to watch!  As it looked over for Shane McMahon, Elias came out of nowhere with a well placed guitar for the save.  Roman dealing with Elias got kicked off the screen by McIntyre.  The numbers were the Undertaker's demise as Elias, Shane and McIntyre teamed up beating down the Deadman.  Shane put a nail in the coffin hitting Taker with a huge elbow off the top through the announce table.  Then for more carnage Shane hit a Coast to Coast with a garbage can, but Take would not stay down.  The Undertaker sat up, hit a choke-slam on Shane, then Elias.  McIntyre came in hot but was speared by Reigns.  Undertaker then his a match ending Tombstone for the victory.  This was surprisingly a very solid, and a very entertaining, hot match.  Huge opening, and very successful.          
Cesaro vs. Aleister Black
I can't wait for this one.  We have a winner here.  Watching Aleister Black come out, how soon can we get him vs McIntyre going?  Anyway, just wow here!  This is awesome!  The strikes, the variety and the energy were what WWE needs to be all the time.  We had constant, consistently great action.  Near falls and both guys showing true grit, Aleister Black slammed Cesaro with a perfectly executed Black Mass across the face for the well fought, victory.  This is and was what we need to see, well done WWE. 
WWE Smackdown Women's Title Handicap Match
Bayley (C) vs. Alexa Bliss & Nikki Cross
As expected we had a 1 sided double team on the Champ, nothing much to write home about but constant action.  Bliss and Cross just dismantled Bayley.  Of course a hero like Bayley doesn't give up and fought back taking it to both Bliss and Cross and started gaining momentum.  She got Cross and Bliss in a double submission but was bitten by Alexa Bilss to escape.  She then made the save helping Cross escape her hold.  After an ill timed Twisted Bliss Bayley got a break and got Cross down for a huge elbow drop for the win, retaining her SmackDown Women's Title!  Good showing by a ton of talent! 
Last Man Standing Match
Braun Strowman vs. Bobby Lashley
These guys are freaks of nature.  Pure athletic phenomena and mega powers.  Where's the beef?  Right here.  As expected this was brutal.  It went all over the place, which is always awesome to watch.  Lashley really looked solid in this match, completely malicious with every move.  Strowman didn't hold back at all either and the crowd was on fire for it!  Twisted metal and multiple collisions throughout the arena, this was one hell of a fight.  Strowman hit a devastating powerslam through a stage area and bursted out of the wall, as the Winner and the Last Man Standing.  Hell of a showing by two amazing athletes!  Still flying high in this one.     
WWE Smackdown Tag Team Triple Threat Title Match
Daniel Bryan & Rowan (C) vs. Big E & Xavier Woods vs. Heavy Machinery
Right off the bat, great call letting Bryan and Woods open.  Can't do it better than that.  Woods was just being destroyed by Rowan and Bryan but got a much needed tag to Otis who danced and kicked ass.  Otis is one entertaining big guy and didn't disappoint a loud Philly crowd.  Even Big E had issues with the big duo.  Everyone went crazy spilling to the outside, taking turns diving on to the pile of bodies, even both members of Heavy Machinery crashed in.  This was all over the place and could have been anyone's match.  New Day riding off the beast mode of Big E, slammed The New Daniel Bryan with an Up Up Down Down and are the 6 time Tag Team Champions!  New Day Rocks and this match rocked!
WWE United States Title Match
Ricochet (C) vs. AJ Styles
We don't deserve this match but I'm happy we got it. Those of you who don't like to give WWE the proper respect, and that is your right, don't realize this is the level that is incomparable.  The club got in their licks before the bell even rang which showed the clear lines of heel and face.  We saw precision and mastery of the craft, an actual clinic here.  Ricochet did some unreal moves and just surprises me more and more.  These are two tough guys and just put it all out there every single time.  It just doesn't get old, this is a fight forever type of deal.  All things must come to an end, AJ Styles hits an impressive Styles Clash off the second turnbuckle and with the help of Anderson and Gallows is your new WWE United States Champion.  This was a great match!  This was another level!  Standing ovation.    
Kevin Owens vs. Dolph Ziggler
Kevin Owens is simply blazing hot right now.  Ziggler needs this type of fued and a fire Owens possess' to make an impact.  K.O. isn't having any of that though, with a Stunner out of no-where, we had an equally quick 3 count for the win.  K.O. went on to drop some more knowledge on his opinions of the distaste of the roster and audience on the normal WWE experience.  K.O is awesome and his firebrand experience is gaining momentum and interest.  This will be Good and I can't wait to see more.  
WWE Title Match
Kofi Kingston (C) vs. Samoa Joe
Right from the start things didn't look good for Kofi Kingston.  Joe was precise, vicious and methodical.  He had an answer for every attempt the Champ had.  Joe was unforgiving and brutal to Kofi.  Anything can happen in the WWE and even with all of the cards stacked against the Champ Kofi Kingston shocked everyone and won retaining his title and surviving a severe one sided ass kicking.  Another Good one!  By the way, No Beast in the Bank in sight. 
Winner Take All Mixed Tag Team Match
Seth Rollins (C) & Becky Lynch (C) vs. Baron Corbin & Lacey Evans
When The Man comes around I'm watching.  Also Lacey Evans tonight, Wow!  This match with the winner take all is definitely interesting as so many things can happen here.  Not to mention, is Lesnar here?  So much uncertainty going in.  The tandem offense of Lynch and Rollins was Good stuff, and besides some of the early on misfires it rolled pretty smoothly.  Becky Lynch came out hot after Rollins took a ton of punishment and went nuts on Evans.  Lacey Evans is one tough lady.  This had some really Good stuff in it, and gave everyone a hell of a show.  Things looked lost for the Champs, but fought back hitting two huge moves off the ropes through tables onto their opponents.  Corbin still came back almost finishing Rollins off.  Lynch made the save but later was hit with an End of Days by Corbin.  Rollins then snapped on Corbin going crazy hitting him with everything he had.  Rollins wasn't satisfied with just winning hitting 3 Stomps for the victory!  Out comes Brock Lesnar.
WWE Universal Championship Match- Money In the Bank Cash In
Seth Rollins (C) vs. Brock Lesnar
Lesnar took complete control and dominated Rollins, cashing in the MITB.   F5, Lesnar Wins the Universal Championship!   
BAD
WWE Raw Tag Team Title Match
The Revival (C) vs. The Usos
As far as tag team matches go, this had so much potential going in to be a classic.  The problem is it also had potential to be boring.  We saw a lot of the same old stuff here that we always see, and if any logic exist, this would have been better on the Kickoff show.  Everyone is extremely talented but this just was flat.  Obviously it had some Good moments as guys at this level are bound to do, but nothing special.  Jimmy Uso got the hot tag and took out both members Tag Team Champs, but was Power-bombed by Wilder but came back again.  This was a toss-up, and still super slow and uncoordinated.  The Revival hit a well-timed Shatter Machine, to retain.  Honestly, it was safe, and slow, and the first of the night in the Bad column.  Too Bad.     
UGLY- No!
FINAL
Good- 12
Bad- 1
Ugly- 0
OVERALL- GOOD! Very Good!  This was an extremely successful night for the WWE Brands.  What a show, and a lot to talk about for the future.  This was a solid show almost flawless.  It was fun, and had a ton of variety.  If they can continue this, we have a lot to look forward to in coming weeks. 
Hell of a night for the WWE Universe.  We had ourselves a very satisfying event with a ton to talk about.  This was amazing, and with a lot coming up before a huge event like SummerSlam, I expect WWE programming to be jam packed, NXT included!  Until next time folks, hope you enjoyed!  See you next time only on thechairshot.com.
Mitchell's Wednesday Night War Review! The End!
The Wednesday Night War… is DONE!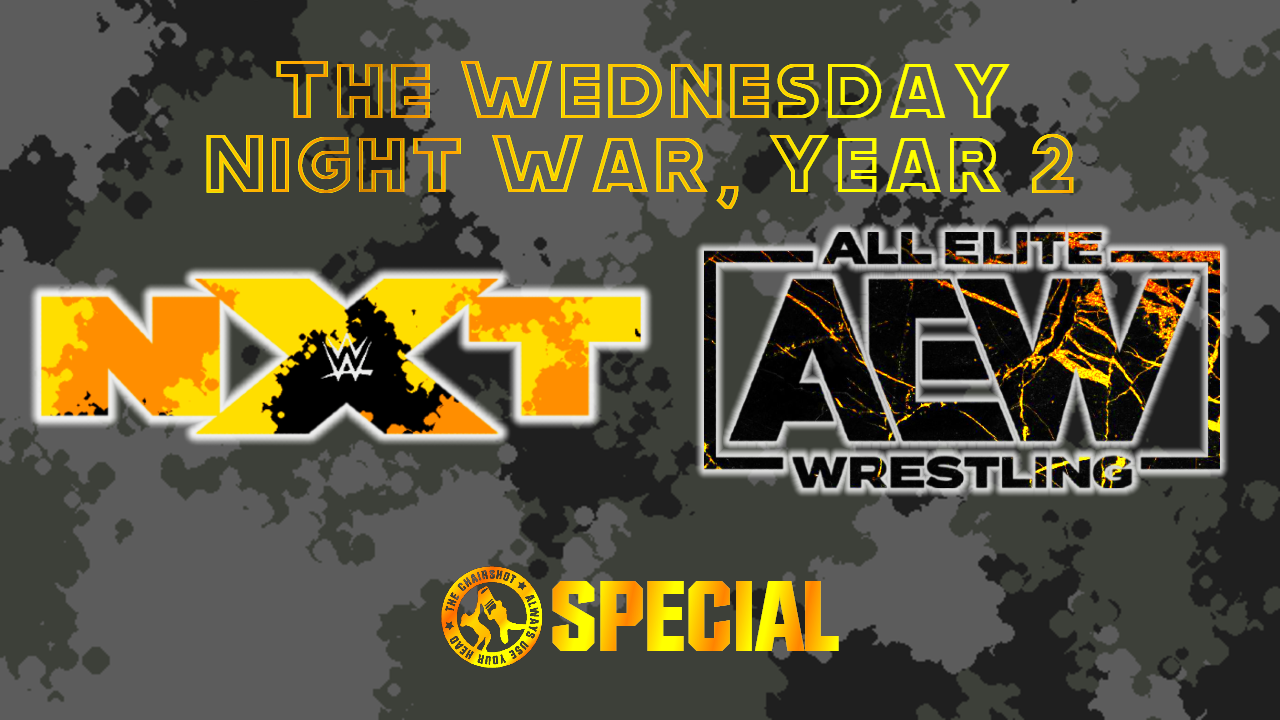 Thank you, Wednesday Night War! It was fun while it lasted!
With NXT moving to Tuesdays, the wrestling war on Wednesday nights is no more! But let's see where both sides stand now that the dust settles!
Let's recap Year Two's first phase.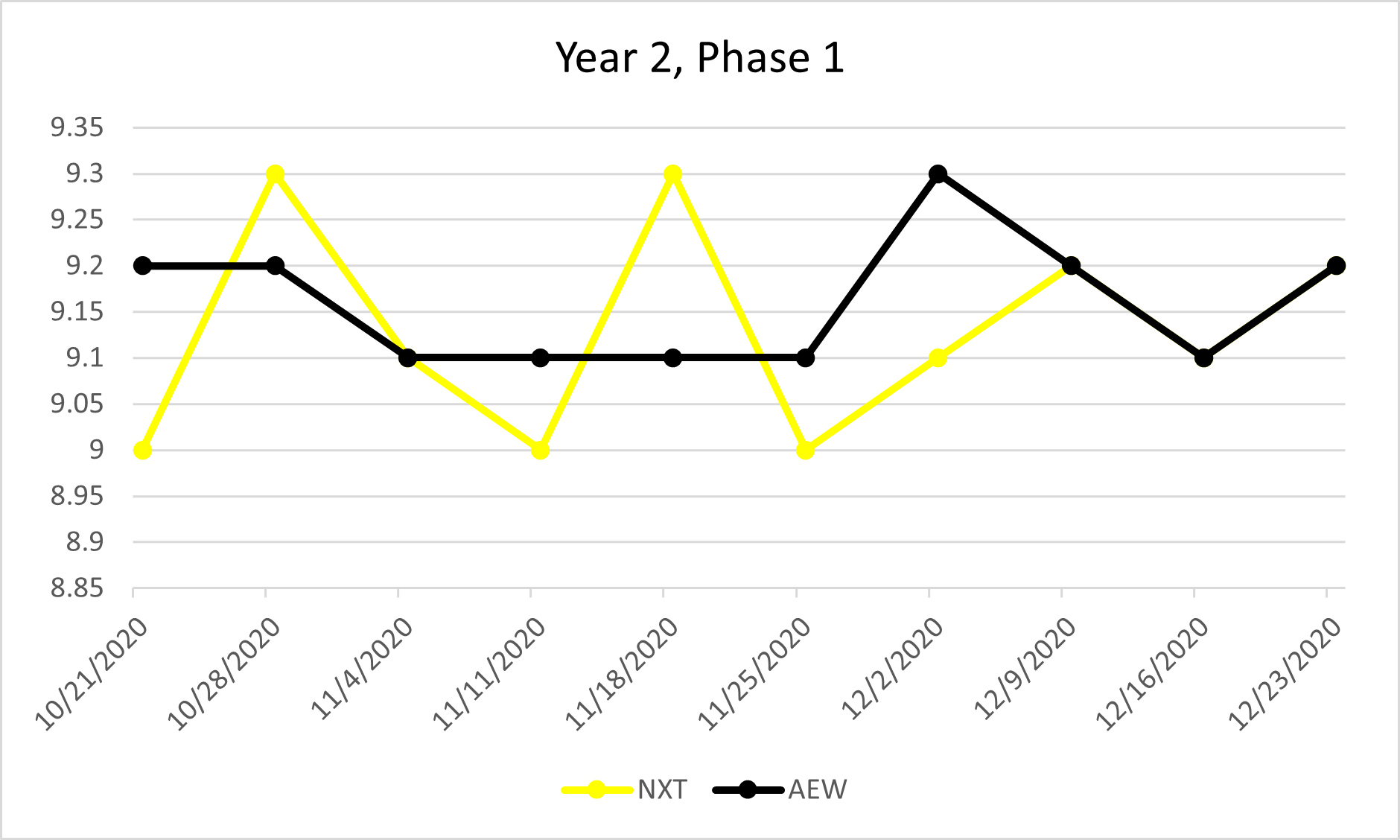 Year Two, Phase One Final Scores: NXT – 9.13; AEW – 9.16
The margin was close as ever, but AEW inched out the win to continue their dominance from Year One! Don't worry, NXT went past 12/9/20, it's just that they and AEW tied those last three weeks. And you'll notice that I left 12/30/20, the last Wednesday of the year, off because of the circumstances. Jon Huber, aka Brodie Lee aka Luke Harper, past away just days before that night, and AEW changed their plans to give us a "Celebration of Life" tribute episode. It did not feel right trying to give that show a score, because it wasn't supposed to be about AEW but about Jon Huber. And to be fair to AEW's score, I left off NXT's episode for that night, even though NXT did have great action on their Year-End Award episode.
Now, for Year Two's Phase Two, the WNW FINALE!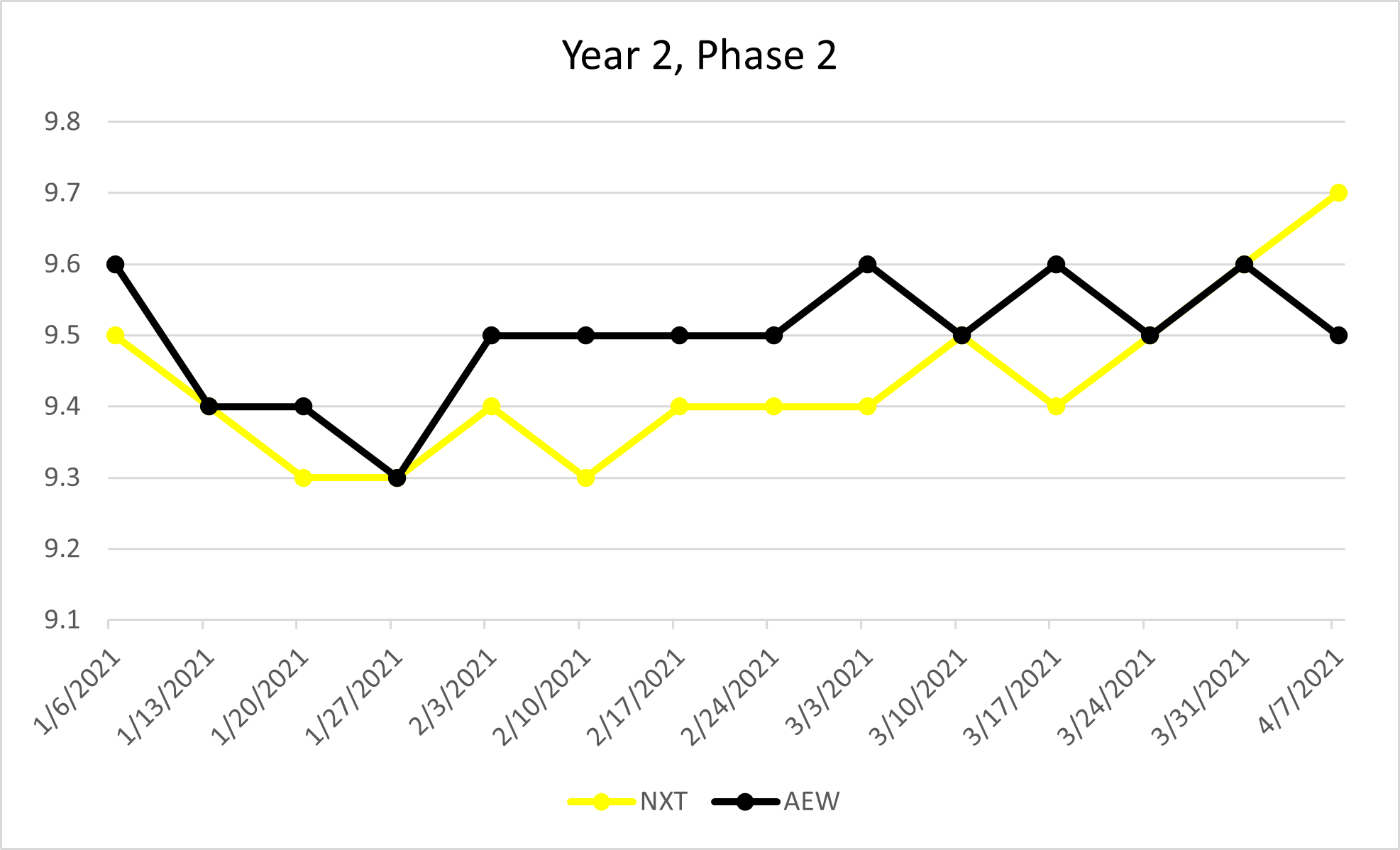 Year Two, Phase Two Final Scores: NXT – 9.44; AEW – 9.50
Year Two, Overall: NXT – 9.31; AEW – 9.36
Much stronger numbers from both sides this time, but these two companies started hard and kept going hard from New Year's Evil VS New Year's Smash all the way to TakeOver: Stand & Deliver and… Well, the AEW Dynamite put up against it. Just looking at it, that string in February for AEW made all the difference. They were just on fire right there, building towards AEW Revolution 2021, which itself was an awesome PPV (even with the pyro mishap at the end).
The margins were still close, but bigger than last phase's, and even with TakeOver: Stand & Deliver Night One bringing NXT up to a high level, it was not enough! AEW wins again! They win two phases to zero, and are therefore the overall winner of the Wednesday Night War!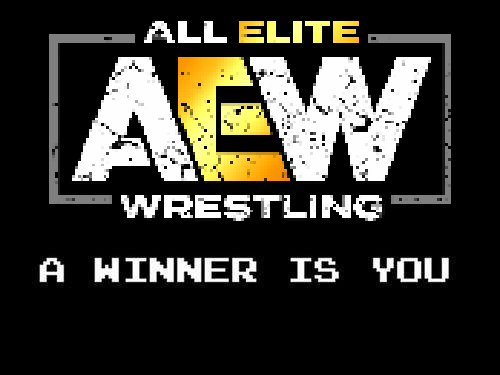 My Thoughts:
The Wednesday Night War may not have been as epic as the Monday Night War, or as long, but it was a lot of fun. NXT and AEW were giving us great wrestling every week, not just in-ring action but the promos and segments. The wrestlers on these shows are now stars because they got to be on cable network television, and literally kept me up late at night because I could not let either show wait until Thursday morning. But now, #NXTuesday is going to be how it is going forward, and we can all argue one way or another why the move happened but it doesn't really matter, I'm still going to be watching both anyway.
Cook's WrestleMania 37 Night One Gambling Picks
Who's trying make money on guessing the predetermined scripts? If that's you, Cook gots all the lines you need. This isn't Breaking Bad; we only do betting lines!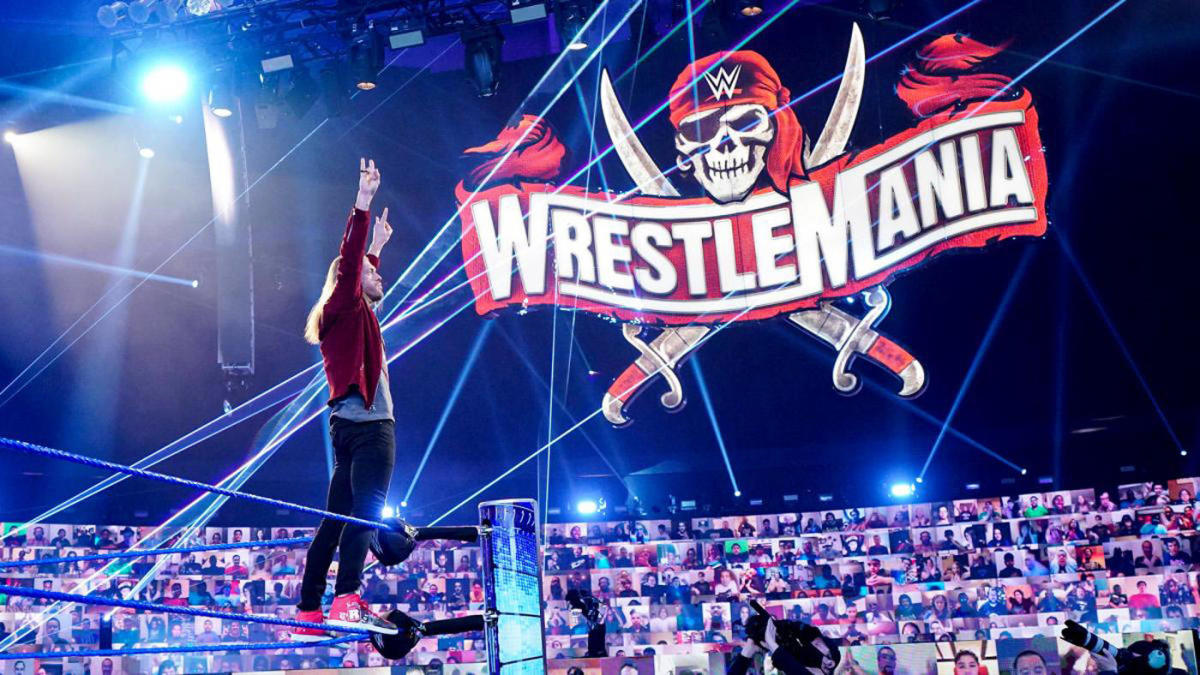 This is one of those columns that needs no real intro or explanation. Its WrestleMania! What else do you need me to tell you? Today we're talking Night One, tomorrow it'll be Night Two. Easy peezy lemon breezy.
I know that some of you prefer a 12 hour WrestleMania event, but to me, two nights is definitely the way to go. Think of it this way: instead of one night to watch the biggest show of the year, you get two. What's the downside?
Also, you can get two days to make money, if you're into the kind of thing we're talking about here. Though, I am contractually obligated to mention that my look at these matchups, with odds provided by BetOnline, is for entertainment purposes only.
Tag Team Turmoil
Lana & Naomi vs. Dana Brooke & Mandy Rose vs. The Riott Squad vs. Natalya & Tamina
History always repeats itself. #WrestleMania @TaminaSnuka pic.twitter.com/ss9FjOGYks

— Nattie (@NatbyNature) April 7, 2021
We've got a match setting up a Night 2 match here, as Nia Jax & Shayna Baszler will face the winners for the Women's Tag Team Championship. They've had some amount of issues with each team, so we can't really use that as an indicator of who will win. We also can't base it off of who will have the best match with Nia & Shayna, as that seems like a push.
We also don't have odds on this match as I write this. If some do get posted, my guess would be that Natalya & Tamina will have long odds and could be a good pick as a team WWE might want to give a little reward for their service over the years.
Bad Bunny & Damian Priest (-950) vs. The Miz & John Morrison (+500)
Dude…….#WWERaw pic.twitter.com/hE5sGI5YKC

— WWE (@WWE) April 6, 2021
We all know how this one is going, right? Bunny & Priest are the easiest pick on this two day extravaganza. I'm sure an outside celebrity lost a WrestleMania match at some point, but one isn't immediately coming to mind. I assume some are still complaining about Bad Bunny getting a WM match, I choose to be good with it since it gets Damian Priest a match too. Hopefully this all works out well for him.
Braun Strowman (-500) vs. Shane McMahon (+300)
We do this together!!!!!! #WrestleMania pic.twitter.com/rbYHQzUbm5

— Braun Strowman (@BraunStrowman) April 6, 2021
Braun is the natural pick here for obvious reasons (he's actually a wrestler), but one can easily make an argument for Shane. The usage of a steel cage rarely keeps interested outside parties out of a match, and surely Shane will have a few allies looking to make an impact on WrestleMania. We'll see Elias & Jaxson Ryker, and we'll likely see somebody else. Any big stiffs in the Performance Center not otherwise occupied could be an option for Shane here.
The thing about gambling picks: we're not always going to pick what we think will happen. I think Braun will destroy whoever gets put in his path here. But the object of this game is to make some money, and I think Shane McMahon at +300 is a good bet. Especially since I don't think this feud will be ending at WrestleMania. Still some more heat to get on this issue.
Cesaro (-300) vs. Seth Rollins (+200)
"I'm on fire. Don't touch me you'll get burned!" – @WWERollins on his #WWEHOF drip. pic.twitter.com/qNrAFkqCu5

— WWE on FOX (@WWEonFOX) April 7, 2021
Speaking of feuds that I think will extend beyond WrestleMania and will likely have the evildoer squeaking out a victory by nefarious means. I can easily talk myself into Cesaro getting a big win here, one which will lead to declarations that he's a made man and finally on the level he deserves to be at. I certainly wouldn't have a problem with that.
I think it's far more likely that Seth Rollins gets the win, and the issue between these two continues. Cesaro's big win is coming, but not at WrestleMania.
Raw Tag Team Championship Match
The New Day (+250) vs. AJ Styles & Omos (-400)
AJ Styles vs. Xavier Woods – straight out of 2008 TNA. A reminder WWE is a TNA nostalgia company. pic.twitter.com/VNU9VULZ7N

— Garrett Kidney (@garrettkidney) April 6, 2021
I've lost track of how many times I've been burnt by picking against Xavier Woods & Kofi Kingston. They have a knack for overcoming all obstacles at these major events and coming out on top. Its a good idea to keep these men featured on television, as they're positive role models for the community and I can only think of one time that one of them did something a bit embarrassing for the company.
I mean….that Jamaican accent. What were they thinking? Never mind, we got more accent stuff to talk about for Night 2, let's move on.
It is tempting to pick AJ & Omos, as there's an obvious story there hopefully leading to Omos' breakout as a singles star. That can easily be drug out though, and we don't pick against The New Day here. Their victory will be a good way to pop the crowd early in the evening.
SmackDown Women's Championship Match
Sasha Banks (+250) vs. Bianca Belair (-400)
IMPOSSIBLE, THINGS ARE HAPPENING EVERY DAY. pic.twitter.com/7iXlEA4gAe

— Mercedes Varnado (@SashaBanksWWE) April 8, 2021
This is a huge moment for Bianca, and for the Women's division in general, as the significance of two women of color fighting for a championship on the biggest show of the wrestling year can't be overlooked. Its a big f'n deal, as politicians would say.
A win here would put Bianca Belair over the top as a star in this company, and I think that's what happens here. Sasha doesn't need the championship to retain her relevancy, and it's not like any losses have hurt her standing with the people yet. She'll do whatever she can on this evening to make Bianca a star.
WWE Championship Match
Bobby Lashley (+150) vs. Drew McIntyre (-200)
"@fightbobby, how can you beat a man that will sacrifice everything?!" – @DMcIntyreWWE #WrestleMania pic.twitter.com/dFsnaKdtLl

— WWE (@WWE) April 7, 2021
People seemed legit shook when it was mentioned on Raw that this would be the main event of Night 1. Like…that wasn't obvious? As much as I like Sasha & Bianca & think they will have a fantastic match, the build of their match hasn't exactly gotten me any more excited than I was the moment after the women's Royal Rumble Match ended. Maybe y'all are more into TAG TEAM PARTNERS THAT SECRETLY HATE EACH OTHER than I am, but zero part of that whole thing seemed inspired to me. To be fair, it seemed even less inspired when Asuka & Rhea Ripley did it.
Meanwhile, this is the WWE Championship, dating back to the days of Bruno Sammartino & Buddy Rogers. Drew & Bobby's issue has been building since the Royal Rumble, and now is the time for Drew McIntyre to get the WrestleMania coronation they wanted to give him last year. Will it work?
Well, the mystery is one of the reasons we'll be paying attention.
Thanks for reading! Join me next time for Night Two!