Chairshot Wrestling News Shuffle: Bischoff, Heyman, Gallows/Anderson, RAW Ratings And More! (7/3/19)
News Involving: Bischoff, Heyman, Gallows/Anderson, RAW Ratings And More!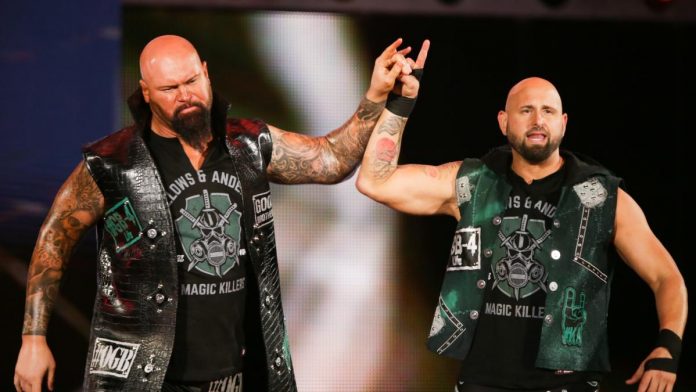 News Here! News Involving Bischoff, Heyman, Gallows/Anderson, RAW Ratings And More!


Gallows And Anderson Re-Sign With WWE?
Monday's RAW was one of the better RAW's of 2019. One of the biggest, if not the biggest moment of this weeks episode was the re-formation of The Club. AJ Styles joined forces with Luke Gallows and Karl Anderson. This is interesting, because it has long been rumored that Gallows and Anderson have expiring contracts in September, and that the team did not plan to re-sign with WWE. However, many backstage at RAW are under the impression that the team has signed a long term deal with the company, thus the reason for the push with AJ Styles.
Jason's Take
So much for those Anderson and Gallows to AEW rumors. While that still may be possible, I cannot see the WWE pushing the team on the way out the door, as Vince McMahon is not know for that.
RAW Ratings On The Rise
I don't need to tell you about the low ratings that WWE's flagship show has been suffering in 2019. With the formation of AEW, many felt that WWE would have to take drastic measures to avoid continuing to suffer low television ratings. The company did take drastic measures with putting Paul Heyman in charge of RAW, and Eric Bischoff in charge of SmackDown Live. It appears that people were intrigued to see what the first Paul Heyman lead RAW would have to offer, as ratings this week were up, compared to previous weeks. According to the ratings breakdown, the company maintained most of it's viewers throughout the three hours.
Hour 1 – 2,468,000 viewers
Hour 2 – 2,676,000 viewers
Hour 3 – 2,345,000 viewers
Jason's Take
In my opinion, this was one of the strongest RAW's of 2019, and it's one of the first RAW's in long time that I have been able to watch from start to finish. While Paul Heyman may not be completely in charge of RAW just yet, (more on that later) people are excited to see what changes may bring to the red brand.
Paul Heyman Level Of Involvement On RAW
As I said above, RAW was very entertaining this week, and many are curious how much involvement Paul Heyman had with this weeks episode. On the latest episode of Wrestling Observer Radio, Dave Meltzer stated that Heyman had a huge influence on the booking of the show.
"His fingerprints were all over this show. I would say that most of the stuff went through him. I know when they had the production meeting, the people who were talking about the show were still Vince and Ed Koskey and not Paul but there was a lot of Paul stuff in this show."
Jason's Take
Whether you like him or not, Paul Heyman is one of the few people that many would consider to be a wrestling genius. He has always been someone who has been full of ideas, and on the cutting edge of wrestling booking. I am highly optimistic that we will continue to see increased ratings on RAW over time.
Eric Bischoff Comments On SmackDown Role
Eric Bischoff has been silent about his new role as Executive Director of SmackDown Live. At the end of his latest edition of his 83 Weeks podcast, Bischoff would finally break his silence.
"The magnitude of this opportunity and the challenge and the commitment that goes along with it is not lost on me. There's been a couple of times over the last few days where I've been driving around in my truck or taking my dog for a hike and going, 'Wow!'
"It's not maybe, this is the biggest opportunity I've ever had in this industry. Granted when Bill Shaw made me president of WCW, obviously that was a very, very big moment. But I was learning on the job there. I had nothing to lose there. I was taking a company in WCW that had never turned a dollar of profit, that was such a distant number two to WWF at that time that we weren't even really number two, a company that was fraught with a bad history and all kinds of internal issues. So I had nothing to lose. In this situation, this is an entirely different ballgame here."
Jason's Take
I think Bischoff was a great hire for WWE. Not just because of his wrestling knowledge, but his knowledge of dealing with television networks. I have to wonder out loud if Bischoff is approaching this role as competition with Paul Heyman and RAW.  Whatever way you want to look at it, it's an exciting time for WWE, indeed.
Vince McMahon Out Of Touch?
Vince McMahon is someone who is considered to be a trend setter when it comes to professional wrestling. However, according to Dave Meltzer, many in the WWE feel that McMahon lacks wrestling knowledge, especially with the hires of Bischoff and Heyman.
"They're like, 'How can someone be so out of touch' and the thing was and I've heard this from a lot of people: 'Vince really doesn't know anything about wrestling outside of WWE — AT ALL!' I mean that's kinda the conclusion and I'm not just talking about ex TNA guys in that company. I mean that's been the consensus of people in and around that company across the board. 'Wow, we know he doesn't follow wrestling and he doesn't watch wrestling, but he doesn't know anything about wrestling anymore outside of his walls.'"
Jason's Take
I think this is a fair assessment of Vince, but he has probably been this way since taking over the WWF from his father's in the 80's. But in all honesty, does he need to have a knowledge of any other promotion other than his own? There is really no #2 promotion or competition with WWE. Sorry, AEW.