Chris Jericho vs. Shawn Michaels And The Interesting Place Chris Jericho Wrote Out Their Classic WrestleMania XIX Match
Chris takes a look at the amazing Shawn Michaels vs Chris Jericho history.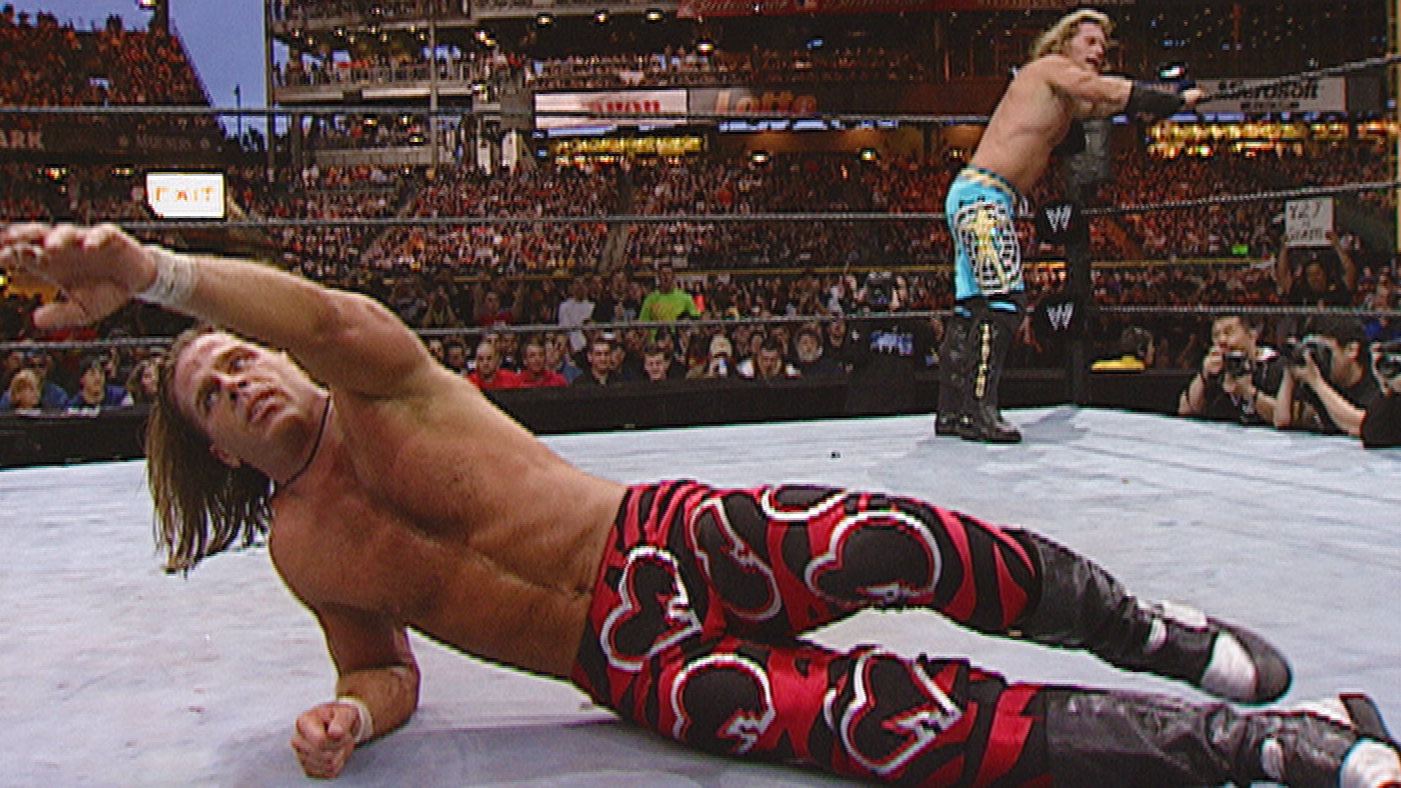 Chris takes a look at the amazing Shawn Michaels vs Chris Jericho history.
On March 30, 2003, WWE held the 19th edition of The Show of Shows for the first-time-ever in Seattle, WA and broke the attendance of 54,097 at Safeco Field. Two of the greatest sports entertainers of all time clashed for the first-time-ever. The Showstopper Shawn Michaels and The King of the World Chris Jericho; it was the ultimate dream match where the young star would face his childhood idol on The Grandest Stage of Them All. Below I will be recapping the stellar build-up for their five-star classic at WrestleMania XIX, and share the unique manner Jericho planned it.
A Miraculous Return For The Heartbreak Kid In WWE
At Summerslam 2002, one of the all-time greats in sports-entertainment "The Heartbreak Kid" Shawn Michaels made his triumphant return to the squared circle, after a career-ending back injury that led to his in-ring retirement in 1998. There was only one opponent that HBK wanted to face, his real-life best friend and former D-Generation X bandmate.
"Shawn hasn't been in the ring in five years, and we did like two things. I remember in five minutes going this guy hasn't lost a step, it's like I've gone back in time…five years". –Said by Triple H
The two rivals competed in one of the most brutal contests an Unsanctioned Match, to prove once and for all who the better man is. With some insane spots and Michaels getting busted wide-open. HHH hit the Pedigree for a long two-count but Michaels surprised him with a surprise roll-up to score the victory.
Fast Forward to November 17, 2012, where at Survivor Series Michaels alongside HHH, Chris Jericho, Booker T, RVD, and Kane all competed in the first-ever Elimination Chamber Match for the World Heavyweight Championship. To add an impressive stamp to his triumphant return to WWE; Michaels shocked the world by winning the WWE World Heavyweight Championship in his first title match in his comeback.
"Shawn Michaels is back in the record books. Shawn Michaels is back on top. Shawn Michaels is the man. Shawn Michaels is the world's heavyweight champion," shouted Ross.
On November 17, 2017, on the fifteenth anniversary of the initial Elimination Chamber Tim Fiorvanti from ESPN took an inside look and the never before heard true stories from the six participants themselves.
The bitter rivalry with HHH would culminate at next month's Armageddon pay-per-view where "The Cerebral Assassin" bested Michaels in a Three Stages of Hell Match, and took back "His" World Heavyweight Championship.
WrestleMania Rewind: Shawn Michaels VS. Chris Jericho–And Their Epic Show-Stealing Match
In the opening credits on the WrestleMania Rewind titled Mr. WrestleMania Returns, these are Jericho's comments on Michaels being one of the best performers of all time.
"There's nobody in the history of this company who's had as many great five-star classic matches at WrestleMania than Shawn Michaels and there never will be and you can't. For whatever reason Shawn was genetically created to steal the show at WrestleMania".
While Michaels was nowhere to be found from 1997-2001 in what is dubbed "The Attitude Era"; another individual burst on the scene with an appealing flashy moveset and a wildly entertaining personality and with canary blonde hair, that superstar was none other than "The Ayatollah of Rock n Rolla" Chris Jericho. With his unwavering determination to be the best on any given night, resembling his childhood idol Michaels. As Jericho would enter the arena he would grab a microphone and scream "Welcome to Raw is Jericho" and the WWE Universe ate it up. They were 100% behind him because in every match he delivered a five-star performance.
On December 16, 2002-edition of Monday Night Raw, twenty-four hours after losing the world heavyweight championship Michaels was interrupted by an unimpressed Jericho.
The cocky and arrogant young star told Michaels that all the fans spent their money to see the King of the World. He goes on to elaborate how he started his pro wrestling career looking up to Michaels. Jericho claims that's he's better than him, by accomplishing something Michaels never could–defeating Stone Cold and The Rock in the same night to become the first-ever Undisputed Champion.
Shawn Michaels shares a conversation between the CEO of WWE Vince McMahon, himself and Jericho when he went back to gorilla.
Vince: "Did you feel that"?, "DID YOU FEEL THAT"?
Shawn Michaels: "What", "It was at this time Chris came back".
Chris Jericho: "I think we got something here, and that led to us having the WrestleMania match".
The Incredible Build-up To The Dream Match Jericho/Michaels
In the weeks leading up to the 2003 Royal Rumble; Michaels goaded Jericho into entering at #1 to prove he was the best, this all culminated with Jericho claiming the #2 spot and his foe entering at #1 spot. At the event Michaels is waiting for Jericho's arrival in the match, Christian who was aligned with Y2J distracted Michaels which allowed the vindictive heel to grab a steel chair and bust Michaels wide open and eliminate him. Later in the match, Michaels returned the favor by running and beating Jericho up and clotheslining him over the top rope.
"Chris and I get to talk and he goes on to tell me how he sort of mirrored his career after mine, he says he's got pictures and all sorts of other stuff with similar outfits everything under the sun. Obviously, Chris and I also bond over this then we did our best to build this nice little storyline and then-and then go to WrestleMania". –Michaels said
On March 3, 2003-edition of Raw, Jericho and Christian were delivering a post-match attack with a steel chair to Test. When they began to set up his girlfriend Stacy Keibler for one, Michaels made the save and Jericho missed Stacy and busted his WrestleMania opponent wide open. Jericho said, "He had tried to be the hero one too many times". Jericho then proclaimed that his sole focus is ending Michaels career at WrestleMania.
A few weeks later both rivals would have another heated encounter; this time with Jericho sharing that he began his early pro wrestling career imitating his childhood idol, he displayed a few pictures of Michaels and him side-by-side performing reminiscent maneuvers.
Jericho used to believe being dubbed "the next Shawn Michaels" was flattering at first but, now it's extremely insulting and he now only cares about being the first Chris Jericho. Michaels refused to look him straight in his eyes, so Jericho slapped him and Michaels returned the favor.
On December 25, 2015, Alessandro Passalalapi from www.therichest.com published an article titled 10 Behind The Scenes Secrets The WWE Never Wants To Reveal. One of the biggest and deepest secrets about the art of professional wrestling was revealed, whether or not the entirety of a match is planned out from the start to finish.
The only real part of the match that is discussed and planned is the finish. Matches are usually improvised with one wrestler calling most of the match. This usually falls on the heel of the veteran who controls most of the action, and he usually tells his opponent what to do throughout the bout. In more prestigious cases (like PPVs), some wrestlers do go over some things in advance. They usually practice some moves in the ring before the show.
In Chris Jericho's Autobiography titled Undisputed: How to Become the World Champion in 1,372 easy steps he gives a stellar inside look into how their classic match was created.
"We went twenty-seven minutes and it was the best of Jericho and the best of Michaels. We constructed an amazing match(with most of my ideas coming a week earlier while shopping for a speedo undertights at Dick's Sporting Goods) filled with so many twists and turns that the crowd in Seattle was on the edge of their seats the whole time.
False finish after false finish unfolded until finally, Shawn rolled me up with a move I'd seen Owen Hart use fifteen years earlier. Afterwards, the crowd gave us a standing ovation. In the middle of the applause, we shook hands and embraced in a classic WrestleMania moment–until I kneed him in the plums. He collapsed and looked up at me with his puppy-dog eyes, asking, How could you?"
Had Michaels competed in his one-off match at 2002 SummerSlam against HHH and returned back into retirement, we never would have witnessed this incredible feud and five-star match at WrestleMania XIX. Thank God that Michaels decided to stick around long enough for this dream match to come to fruition.
King's WrestleMania Rewind: Stone Cold VS. Scott Hall (WrestleMania X8)
Chris King is back with another WrestleMania Rewind, looking at the NWO's Scott Hall battling Stone Cold Steve Austin at WWE WrestleMania X8 from Toronto!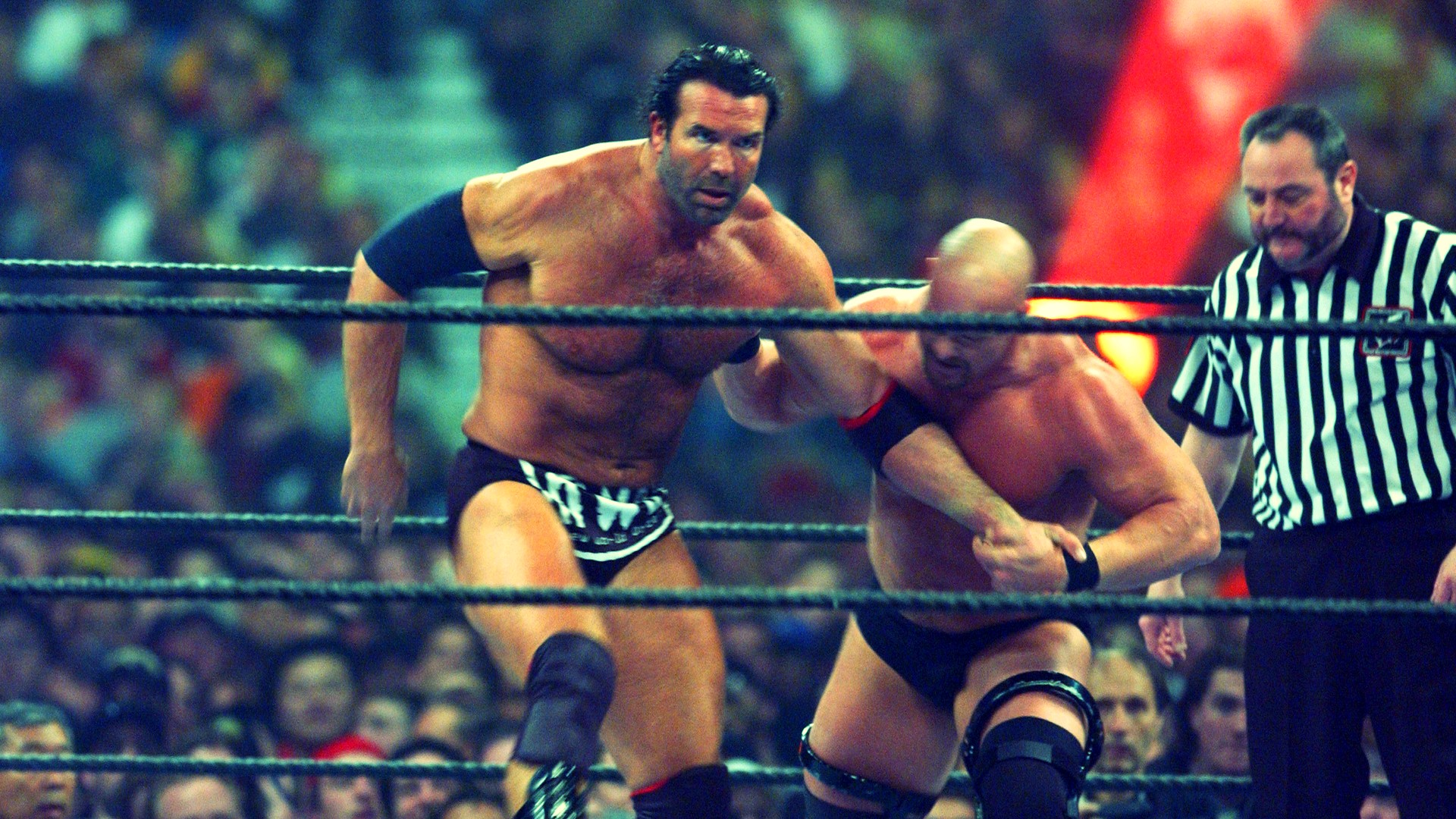 Chris King is back with another WrestleMania Rewind, looking at the NWO's Scott Hall battling Stone Cold Steve Austin at WWE WrestleMania X8 from Toronto!
Chris King is back this week with another edition of WrestleMania Rewind, where he is rewatching all the past Mania matches and feuds. This week you're in for a treat as we look back at 'Stone Cold' Steve Austin vs. Scott Hall at WrestleMania X8.
In late 2001, Vince McMahon bought out his competition WCW and acquired the rights to a plethora of talent including Booker T, Eddie Guerrero, Chris Benoit, and the iconic trio known as NWO. Hulk Hogan; Kevin Nash, and Scott Hall were hell raisers, and what better way to make a name for yourself than take out the two top superstars in the WWE The Rock, and Stone Cold?
The NWO cost Austin his chance at becoming the Undisputed Champion at No Way Out during his match with Chris Jericho. Adding insult to injury, the NWO spray-painted 'The Texas Rattlesnake' with their brand logo just like they did in WCW. As you can imagine, Austin was pissed and out for revenge against the group and primarily Scott Hall.
Hall would challenge Stone Cold to a match at WrestleMania 18. Both superstars beat the living hell out of each other leading up to this highly-anticipated match for who runs the WWE.
The glass broke and Stone Cold made his iconic entrance, and black and white NWO covered Halls' entrance alongside Kevin Nash. With the odds stacked against 'The Toughest S.O.B' could Austin or NWO prove their dominance? Sadly the NWO  broke up that very night when Hulk Hogan came to the aid of his adversary The Rock after their 'iconic' dream match. Stone Cold would ensure the victory with the Stunner. Hall would perform an Oscar-worthy sell over the finisher.
What a time to be a wrestling fan in the 2000s when nothing was impossible for WWE. Who would've thought WCW would go out of business and Hogan would make his long-awaited return to WWE?
King's WrestleMania Rewind: Seth Rollins vs. Kevin Owens (WWE WrestleMania 36)
Chris King takes a look at the most underrated WWE WrestleMania matches, and starts off with Seth Rollins battling Kevin Owens at WrestleMania 36!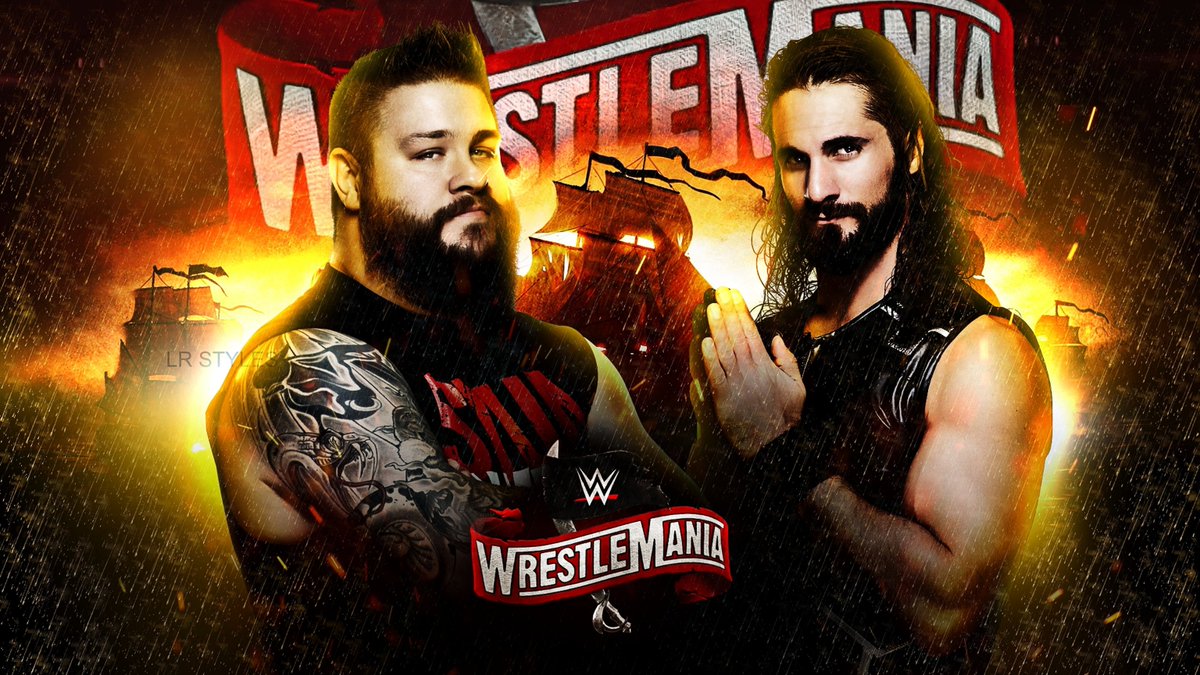 Chris King takes a look at the most underrated WWE WrestleMania matches, and starts off with Seth Rollins battling Kevin Owens in the WWE Performance Center at WrestleMania 36!
Chris King is starting a new series heading into WrestleMania season dubbed WrestleMania Rewind. Each week he'll be going back and sharing his insight over underrated matches at the Show of Shows. First up, is Kevin Owens vs. "The Monday Night Messiah" Seth Rollins at WrestleMania 36.
At the 2019 edition of Survivor Series, Rollins sacrificed himself during the men's traditional match allowing SmackDown to ultimately gain the victory. The following night the self-proclaimed Messiah, berated the whole roster but KO was not having any part of it. Owens quickly became a huge barrier in Rollins' cause for the greater good. The Authors of Pain attacked Owens with Rollins' character in question.
Owens finally had enough of his rival's mind games and torment and challenged Rollins to a match on the Grandest Stage Of Them All. Rollins mockingly accepted his challenge and the match was made official for night one of WrestleMania. Owens came out of the gate beating the holy hell out of the Monday Night Messiah trying to achieve his long-awaited moment at Mania but, Rollins tried to steal a disqualification victory by using the ring bell.
Owens hellbent on revenge provoked Rollins into turning their encounter into a no-disqualification contest where the fight could be taken all over the empty arena. The highlight of the match, was when KO used the WrestleMania sign to deliver a thunderous senton bomb through the announce table. Owens would secure the victory with a Stunner in an incredible match. Despite having no crowd during the pandemic era, both KO and Rollins put on an intense performance under the brightest lights.
In my personal opinion, this was a great feud that helped both superstars in their transformation as compelling characters for years to come.