Chris King: Mustafa Ali from 205 Live to WWE SmackDown Live!
Chris King takes an an in-depth look into Mustafa Ali with his time on 205 Live–and his SmackDown debut.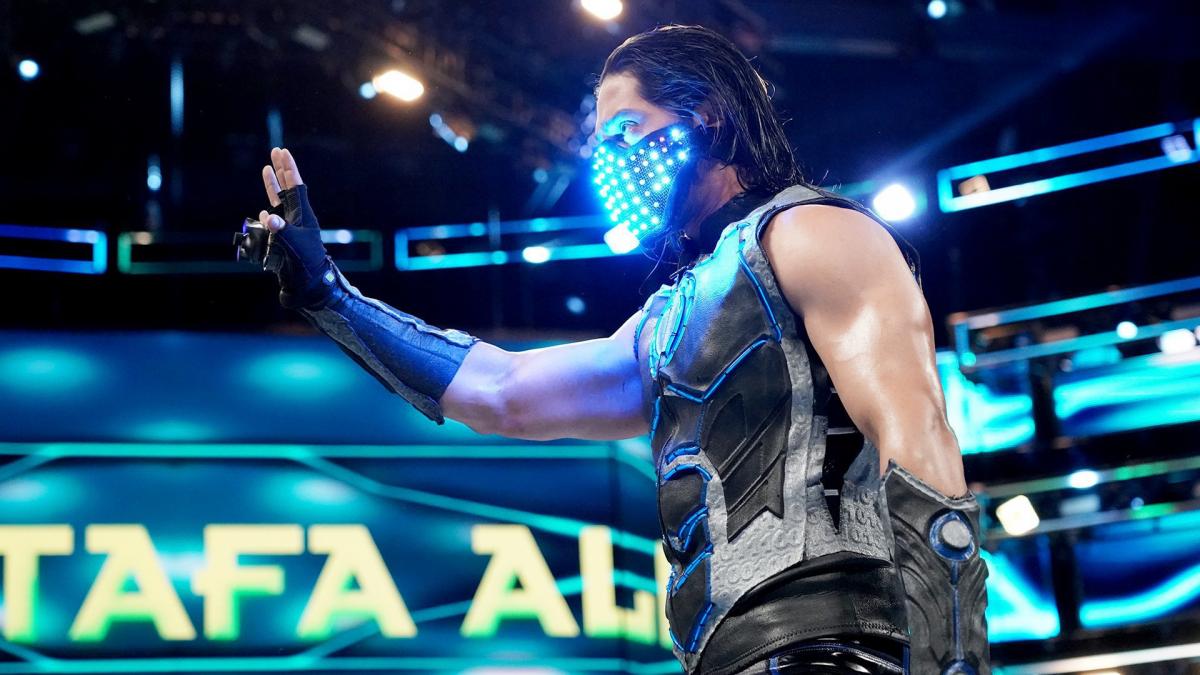 Chris King takes an an in-depth look into Mustafa Ali with his time on 205 Live–and his SmackDown debut.
Mustafa Ali has been the workhorse for 205 Live since its inception in 2016. In the Cruiserweight Classic Ali replaced Brazilian wrestler Zumbi, who was unable to compete due to visa issues. Ali would not move past the first round, as he was eliminated by Lince Dorado on July 20th tapings. On December 13, 2016 episode of 205 Live Ali made his official debut and wrestled his foe from the cruiserweight classic which ended in a double countout.
On January 23, 2017 episode of Raw Ali would make his Raw debut in a six-man tag team match alongside then-WWE Cruiserweight Champion Tj Perkins and 'The Extraordinary Gentleman Jack Gallagher to take on Drew Gulak, Tony Nese and Ariya Daivari.
On March 14, 2017, episode of 205 Live, then-WWE Cruiserweight Champion the self-proclaimed 'King of the Cruiserweights' Neville, would address Tj Perkins, The Brian Kendrick, Akira Tozawa and A-Double Austin Aries his potential WrestleMania challengers.
Ali would face Gulak in the main event but would make his entrance, before Neville's state of the WWE Universe was finished and that didn't sit well with the egocentric champion who felt he carried the cruiserweight division.
Ali would win his match with Gulak with his jaw-dropping 054 Splash. In the post-match, a frustrated Gulak would announce that 205 Live is more than aerial attacks and high-flying maneuvers and change would be coming-thus beginning his 'No Fly Zone Campaign' and Ali's first feud.
The next week Ali would face the Cruiserweight Champion Neville one-on-one in the main event and would deliver an incredible gutsy show-stealing performance. With plenty of near-falls the heart and soul of 205 live, had the champion reeling but the vindictive and vicious Neville would make an example out of him.
With both the submission specialist Gulak and the incredible high-flyer Ali trading victories throughout the next few months, their rivalry would reach a boiling point on July 19, 2017 episode of 205 Live. When both amazing performers would engage in a stellar five-star two-out-of-three falls match.
Fast Forward to 2018 where 205 Live found its resurgence, with a new General Manager Drake Maverick and a new direction. As then-Cruiserweight Champion Enzo Amore was released by WWE Maverick announced a spectacular 16-man cruiserweight championship tournament, with a myriad of superstars including Ali would battle it out and the finals would take place on The Grandest Stage of Them All WrestleMania 34 Kick-off show.
On March 20, 2018, episode of 205 Live Ali would face his long-time rival Gulak in the semifinals, who stood in his way to make it to the finals of the tournament under the bright lights of The Show of Shows. In another fantastic and show-stealing performance, Ali picked up the biggest victory in young WWE career to advance to the finals!
0-5-4 = T-K-O @MustafaAliWWE DEFEATS @DrewGulak to compete for the #Cruiserweight Title at #WrestleMania! #205Live pic.twitter.com/R16QQgUPyY

— WWE (@WWE) March 21, 2018
At WrestleMania 34 the heart and soul of 205 Live Ali and Cedrick Alexander put on another five-star classic to the delight of the WWE Universe. With high-octane action and a dozen of near-falls, 'The Age of Alexander' hit the Lumbar Check and captured the Cruiserweight Championship. Ali, on the other hand, was crushed by the defeat, but something incredible was just around the corner a few months later.
Mustafa Ali's SmackDown Live Debut Came As A Huge Shock
On December 11, 2018, episode of SmackDown Live Ali brought his heart and soul over to the Blue brand and made his impressive debut. He confronted 'The Planet's WWE Champion The New Daniel Bryan. Ali was humiliated over his decision to drive an SUV (which is hilarious because he's not much bigger than Bryan), and the egocentric champ slapped him across the face.
Last night on #SDLive, the guy that was an alternate in the Cruiserweight Classic, stood toe-to-toe with the @WWE Champion. Dream on, dream on. #205Live pic.twitter.com/w3uKzrkfxM

— ALI / Adeel Alam (@AliWWE) December 12, 2018
On his first night on the Blue brand, Ali had the WWE champ reeling after delivering his plethora of stunning maneuvers, but the wily Bryan blocked an 054 into his dangerous Heel Hook for the tap-out victory. The heart and soul of 205 Live unquestionably proved that he was ready to hang with the creme of the crop!
On January 11, 2019 edition of Talk is Jericho Mustafa Ali was a special guest Titled: WWE's Newest Guy– during the interview Ali gave us a behind-the-scenes look into his debut.
"I literally come to the arena and initially, it was, 'hey, you're not working 205 tonight.' And I knew that because I had been talking to the writer before and I was told, like, 'hey, you're going to have a few weeks off because we don't have anything for you on 205.' I'm thinking I have the next three or four weeks off and probably in the new year I'll be doing something, so I'm kind of showing up at TV, just hanging out and they were like, 'hey, you're working SmackDown tonight. "Like, go. Go.'"Oh, okay.' 'And you're working Daniel Bryan, and you have a promo with him too, and it's three segments.' I'm like, 'okay,' and I'm kind of blowing off this writer, like, 'okay, yeah, yeah.' And he was like, 'no, I'm being serious." 
"They need you right now. Like, go. Go.' I'm like, 'is he confusing me for somebody? What is going on?' Then I find out and I'm told that day, 'it's just a one-time deal. We kind of want to see what happens with it. We're going to give 205 the rub [and] Bryan wants to work with you,' so I was obviously honored and I went out there and I did my thing. I was told it was a one-time deal. 'Okay, cool."
Mustafa Ali also explained how he believes there's one man responsible for his amazing opportunity.
"I'll never put words in anyone's mouth, but there [are] so many inclinations that I'm having that [Bryan] had more to say about it than he's letting on," Ali revealed. "I mean, just for a guy to get plucked out of 205 and I get put with him in a program and he's attacking me backstage after my second or third week on SmackDown. It's all very him. Do you know what I mean? And, man, what a guy to learn from. I have nothing but good things to say about him, but he'll never come out and say it to me, I don't think. I have a feeling he is more involved than he's letting on." 
The next week Ali's world would be turned upside down in the most amazing way possible.
"The next week, 'hey, when you get in, go see Road Dogg, Brian James.' And Road Dogg's the one that tells me. He's like, 'hey, we're taking you off of 205. You're on SmackDown now and you're teaming with AJ Styles tonight and you guys are working the main event again against Andrade and Daniel Bryan. And you're getting the win on Bryan.'" Ali continued, "I don't know if it was a test. I don't know if it was, 'let's just throw him in the water and see what happens, not just the water, the deep end.' I don't know."
TONIGHT: @AJStylesOrg teams with the NEWEST member of the #SDLive roster @MustafaAliWWE against The New @WWEDanielBryan & @AndradeCienWWE! pic.twitter.com/XxD1pUZzHw

— WWE (@WWE) December 19, 2018
On December 18, 2018 episode of SmackDown Live Ali and AJ Styles faced Andrade and Bryan in the main event. On his first night as an 'official' member of the Blue brand, Ali got the biggest victory in his career to date when he landed his jaw-dropping 054 to Bryan and beat the WWE Champion clean…it doesn't get better than that, talk about an early Christmas present!
To say WWE has a massive amount of confidence would be an understatement. At the 2019 Elimination Chamber pay-per-view Ali was prepared to get his first shot at the WWE Championship but, due to an unfortunate injury Kofi Kingston took his spot in February 11th Gauntlet Match and the pay-per-view.
Rumors spread like wildfire that Ali's injury not only affected his push, but it also may have halted plans for the WWE Championship as well. Per Ringside News, Ali was slated to go on from Elimination Chamber and challenge Bryan at Fastlane in a one-on-one match.
Kevin Owens's return was also pushed up, to be included in the triple-threat-match along with Ali at Fastlane. Owens was also rumored to be Bryan's original WrestleMania opponent for the WWE Championship, but due to Kofi-Mania well you know the rest.
Despite Ali's injury taking him out of WWE Championship title scene, it didn't stop him from competing in his first Money in the Bank Ladder Match this year. Recently WWE has been airing vignettes, giving the WWE Universe a look at the man behind the dazzling 054.
Ali returned to SmackDown Live last week when he interrupted the new Intercontinental Champion Shinsuke Nakamura in a backstage interview, and 'congratulated' him by making his intentions crystal clear. Reminiscent to what Nakamura did to then-Intercontinental Champion Finn Balor before he captured the title at Extreme Rules.
Congratulations @ShinsukeN #SDLive pic.twitter.com/uKWUQk8lKT

— ALI / Adeel Alam (@AliWWE) July 17, 2019
Shinsuke Nakamura vs. Ali for the Intercontinental Championship has five-star written all over it. The future is bright for the young 32-year-old, and one day Ali will be the face of SmackDown Live and WWE Champion!