Chris King's WWE Raw Grades & Analysis (7/1/19)
Two weeks before Extreme Rules, the first WWE Raw of the "Paul Heyman Era" seems to be upon us. What did Raw pull off this week?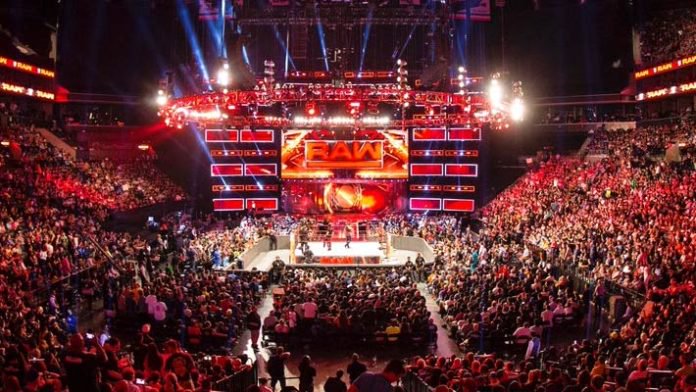 Two weeks before Extreme Rules, the first WWE Raw of the "Paul Heyman Era" seems to be upon us. What did Raw pull off this week?
Chris's Grades for WWE Raw:
Braun Strowman vs. Bobby Lashley Falls-Count-Anywhere Match – B+
The New Day vs. The Viking Raiders & Samoa Joe Six-Man Tag Team Match – B
Lacey Evans vs. Natalya – C+
The Miz vs. Elias 2 Out Of 3 Falls Match – B-
Seth Rollins And Becky Lynch vs. Mike and Maria Kanellis Mixed – C
Carmella vs. Alexa Bliss, then Nikki Cross – B
AJ Styles vs. Ricochet United States Championship Match – A
Tonight Raw takes place in my old neck of the woods, Dallas, Texas. Instead of the typical opening show format, we are starting the night off with an explosive encounter. Braun Strowman vs. Bobby Lashley Falls-Count-Anywhere Match! After a lackluster arm wrestling and a tug of war contest, these behemoths get to destroy each other.
Right out of the gate, both Lashley and Strowman plowed straight through each other. The pace of the match slowed down a bit, especially when they brawled through the crowd. Yes; chair shots and spears and running shoulder tackles, turned up the volume. I was a little disappointed, but it's free TV. Something tells me that WWE is saving the best for Extreme Rules.
The finish can only be described in Corey Grave's own words "HOLY SHIT". Lashley was revving up for another spear; when Strowman immediately bulldozes through him and the Tron, explosions, and sparks lasted a good minute! I want to add Graves rushing down to help the injured warriors made this feel more important. He sold it perfectly. Something that we don't see often is announcers getting right in the mix…. Commercial….We return to see both Lashley and Strowman being stretchered into ambulances. Definitely reminiscent to Strowman/Reigns Feud in 2017…Good stuff.
How do you follow that up…? The Viking Raiders vs The New Day after the break.
Big E and Ivar started the tag team contest; E executed his signature splash on the apron, Ivar got some massive strikes in also. The contest was thrown out after Samoa Joe sneak attacked Woods with the Coquina Clutch. Kofi Kingston came out for the save. Ivar and Erik began stomping alongside Joe. (I guess they're heels now)?… Commercial.
Kofi Kingston/Big E/Xavier Woods vs. Samoa Joe/ The Viking Raiders underway as we return. Normally I would complain about the old and recycled interfere…into a six-man tag team match, but I'm intrigued to see the clash of styles in this one. Good match. Viking Raiders and Joe isolated Woods for the majority of it, but when Kofi got the hot tag the action picked up fast. New Day then took it into next gear, Ivar landing a suicide dive is scary and magnificent all at the same time. Kofi got the Trouble in Paradise…Joe locked in the Coquina Clutch for the win!
Drake Maverick and Renee Michelle's Chaotic Honeymoon: Maverick is escorting his new wife backstage who is blindfolded, explaining in a little while they will be on Sandy beaches. She takes off the blindfold, to find she's at Raw and gives him an ultimatum it's her or the 24/7 Championship? Maverick assures her that it's her, R-Truth the NINE-TIME 24/7 Champ pops up. "I'm a sucker for romances," Truth says, as he walks away Maverick is staring a hole through him.
A Return Of The Club? Luke Gallows and Karl Anderson are laughing as The Phenomenal AJ Styles walks in. AJ says they were firing on all cylinders last week against Erik and Ivar, but they still lost. The Good Brothers mention AJ didn't do so hot in his one-on-one match with Ricochet. Anderson claims he doesn't think AJ can defeat The One and Only, he makes a bet with his hot Asian wife on the line.
No Way Jose and The Congo line dance their way to the ring where his opponent Cesaro is waiting. Truth is cosplaying one of the congos, and Maverick and wife are sitting front row. Truth dances with his wife, before laying on the barricade and taunting Maverick. Out come the flood of superstars in pursuit of the 24/7 title. Cesaro plows Jose drills him outside, where he lands a massive gutwrench suplex and Neutralizer on the hard floor. No match.
The Street Profits' Introduction: The NXT Tag Team Champions are now on Monday Night Raw! Angelo Dawkins and Montez Ford are bringing the swag with them. They ooze charisma and are hysterical to watch, but don't forget they can bring a high level of intensity when needed.
Shane McMahon and Drew McIntyre are walking backstage to the ring to confront The Undertaker. They've been hyping Taker all night, Vince make it happen!… Commercial.
Interview With The A-Lister: Sarah Schrieber is interviewing The Miz, a fired up Miz is the best. He delivers a stellar promo about how he started the fire inside The Best in the World and he wants to extinguish the flames. Hypes his ⅔ Falls Match with Elias later tonight.
Back to the ring and Shane does what he does best…Gloat and boast. We see multiple replays from last week's brutal onslaught of Roman Reigns. McIntyre speaks about the mythical figure of Undertaker and his respect for him…Sorta… Apparently, he's not afraid of The Deadman and doesn't give a damn about him.
Right after McIntyre threatens Taker, the lights began to flicker as thunder blared through the arena. Lightening strike the ring and The Scottish Psychopath is pissed. It's amazing how once The Gong hits, the WWE Universe just erupts and marvels at his presence! Shane and McIntyre escape like cowards as The Deadman makes his way to his yard.
Still gives me goosebumps. A chilling reminder of The Reaper of Wayward Souls…claims Shane earned an ounce of respect after their hell in a cell encounter, but that's over now. He's deluded with ego and money. Taker claims both of them are going to suffer for eternity.
Dallas, Texas's Favorite Son And The Sassy Southern Belle: Baron Corbin brings up how foolish it was for Seth Rollins and Becky Lynch, to make their mixed tag team match an extreme rules match. He puts over how The Beastslayer went through hell and conquered Brock Lesnar at Mania to win the Universal Championship. Lacey Evans chimes in with some more menacing words for The Man…. Commercial.
Back live as Natalya is across from Evans for a one-on-one match. In about an 8 or 9 minute match, Evans showed off her aggressive side as she turned Natalya inside out with a ruthless clothesline on the ramp. The Sassy Southern Belle took advantage of Corbin tripping Natalya when the official was turned. A Woman's Right was all she wrote for the win.
A Warning For The Champ: Charly Caruso was interviewing the United States Champion Ricochet after his first main event on Raw last week against Styles. Despite his loss, he holds the opportunity to share the ring with a stellar competitor. Gallows and Anderson took it from there; as Ricochet stated he could beat Styles if they had a rematch, the Good Brothers claimed Styles was holding back and he's in trouble.
We see Miz heading for his ⅔ Falls Match with Elias, now we see Gallows and Anderson stirring up trouble. They exaggerate what Ricochet mere minutes ago; Styles wants to "talk" to him, Anderson calls him out for being a shell of the AJ Styles from Japan. Ricochet is stretching as Styles confronts him, he says he's taking the US title tonight. He slaps the taste out of Ricochet and the champ returns the favor. Good God that hurt me just watching it!
Miz vs. Elias ⅔ Falls…Miz right out of the gate rocked Elias, hit the Awesome Clothesline in the corner and hit the Skull-Crushing Finale for the first fall. Elias made it up his feet; he is much more aggressive than we've seen in previous weeks, Miz ate The Drift Away for the second fall. It's a welcome sight to see how WWE has positioned the commercials, so it doesn't damage the flow of the matches. The finish came when The Drifter crashed into the ring post knee first, Miz locked in the figure-four and got the final fall and the victory.
Interview With The New Power Couple: Charly Caruso welcomes the Raw Women's Champion and the Universal Champion. Charly asks was accepting the mixed tag team match impulsive, Rollins and Becky's improv play off each other which is hilarious. A little funny couple jokes before they are interrupted by Mike and Maria Kanellis. Maria says their victories are not that impressive; she challenges them to a mixed tag team match right now… commercial.
Back live as The Beastslayer and The Man get a thunderous reaction. Mike and Rollins start off, Mike is quite impressive with his mean streak, mirroring his demeanor on 205 Live. Rollins takes over and forces him to tag in Maria, she scurries away from Lynch. She proceeds to call her husband pathetic, and that she's pregnant.
Lynch backs away…Maria says Mike's not man enough to get her pregnant. He runs back in the ring for The Man to lock in the Dis-Arm-Her for a tap-out. This had great potential but all it accomplished was Mike looking like a damn fool. Maria continues the verbal abuse of her husband…She leaves the ring as Mike looks on heartbroken.
Charly is without words as The Advocate For The Beast Incarnate Paul Heyman Ladies and Gentlemen….You know the rest. Again is attempting to make us believe The Beast in the Bank might be here to cash-in. Street Profits run in and they are messing with Heyman. Again they are pushing them as goofy slapstick comedy, hopefully, they will get a match soon to show off their intensity.
We are blessed with the presence of the Goddess of WWE, Alexa Bliss who welcomes us to A Moment of Bliss. She brings out Nikki Cross, who is so thankful to be there. The fun is spoiled when Carmella arrives; she questions since Cross won the match last week against Bayley, why is Bliss getting the title match? Carmella challenges her to a match that didn't even last two seconds with a roll-up pin for the easy win…. Commercial.
We return to see Cross and Carmella going one-on-one. I want to say this match went about 5-6 minutes, Cross was relentless on the attack; Cross prevails and gets another impressive win. Once again Bliss steals the spotlight.
Backstage Bliss and Cross walked into Sarah Schrieber who again brings up how Cross should be the one to face Bayley. Before Cross can answer Bliss.
New 24/7 Champion: Maverick and Renee are heading off to their honeymoon. The usual flood of superstars come to chase R-Truth. Maverick's wife leaves him alone, he blasts Truth with his luggage to escape with the 24/7 title on his honeymoon. I can't wait to see how Truth can win it back.
Main Event time AJ Styles vs. Ricochet United States Championship Match
Styles nearly won the US title after a phenomenal forearm and the 1-2-3, but the well-minded Ricochet got his foot under the rope. WWE official John Cone and a clip of replay nullified the call. Some great high-octane action from both competitors made this match fun to watch. Ricochet shocked Styles with a pinfall to retain the United States Championship. The main focus was on The Club and the numerous teases over the past few weeks.
I called a Club Reunion when Styles and Rollins faced off at Money in the Bank. Ala Good Brothers came down to heckle Ricochet, Styles appeared to even the odds. He blasted Ricochet with a stiff right hand, followed by a brutal assault. Styles executed a ferocious Styles Clash from the top rope. The Reunited Club stood tall to end the show!
Raw Grades: