Chris King's WWE Raw Grades & Analysis For 7/8/19
Monday was is the Go-Home WWE Raw for Extreme Rules this Sunday; what intriguing matches will be added to the pay-per-view? How will Ricochet respond to "The Club" and their brutal assault on him last week?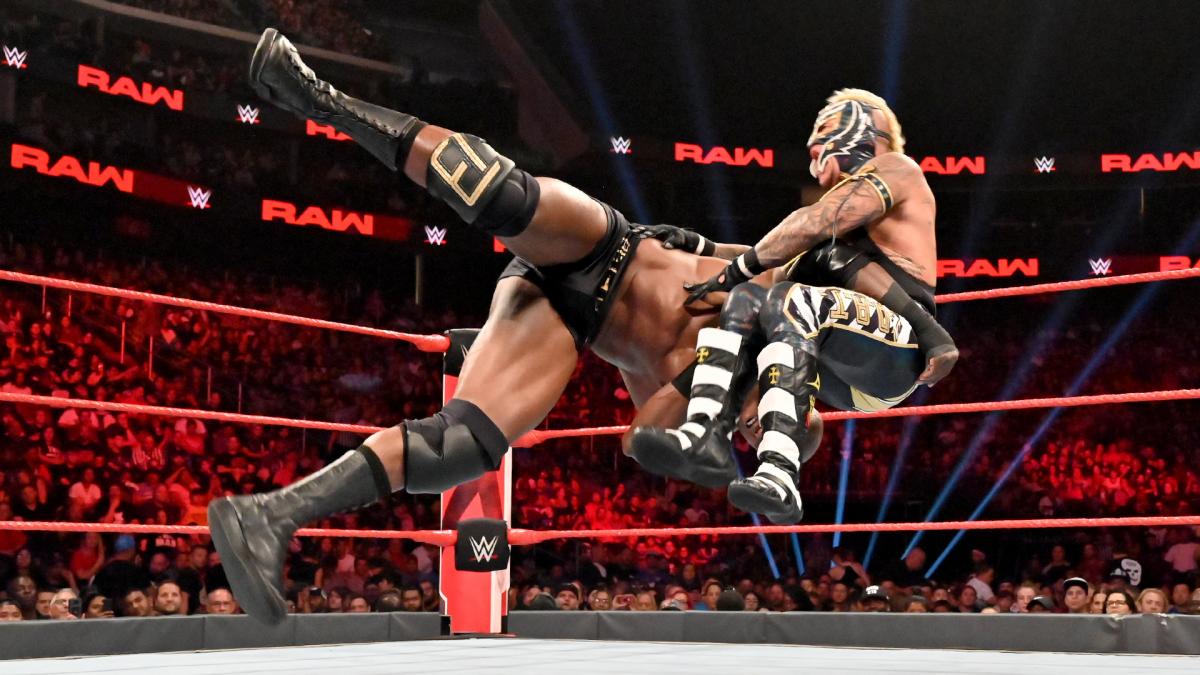 Monday was is the Go-Home WWE Raw for Extreme Rules this Sunday; what intriguing matches will be added to the pay-per-view? How will Ricochet respond to "The Club" and their brutal assault on him last week?
Chris's Grades For WWE Raw:
Seth Rollins and Becky Lynch vs. Andrade and Zelina Vega Tag Team Elimination Match–B
The Miz & The Usos vs. Elias and The Revival ⅔ Falls Six-man Tag Team Match–B+
Bobby Lashley vs. Rey Mysterio–A
No Way Jose vs. Cesaro–B
The Viking Raiders vs. Colin and Devin Justin–C
Ricochet vs. Luke Gallows; Ricochet vs. Karl Anderson–B+
Bayley vs. Sarah Logan; Nikki Cross vs. Dana Brooke (Beat The Clock Challenge)–C
Shane McMahon and Drew McIntyre vs. Roman Reigns & Gary Garbutt–D
Tonight's Raw opens up with "The Man" Becky Lynch walking with a purpose to the ring, with her Raw Women's Championship in tow.  Followed by her boyfriend "The Beastslayer" Seth Rollins the Universal Champion. Here comes their opponents for tonight, Andrade Cien Almas and Zelina Vega in a mixed tag team elimination match. This is going to be interesting because Vega hasn't competed in a match since the Women's Battle Royal at WrestleMania. Vega and Lynch start things off.
After Vega takes advantage; and utilizes some lethal attacks and submissions on the ropes, The Man finds some distance to make the tag. Rollins and Andrade mix it up, with dueling sequences that end with a stare-off. The Beastslayer hits back-to-back suicide dives on the outside; Lynch drops Vega with a Bexploder and locks in the Dis-Arm-Her for the first elimination of the match. Of course, Lacey Evans appears at ringside and The Man takes the fight to her. There was a brilliant spot where Rollins attempted his signature superplex, but Andrade lands a nasty Double-Stomp.
Vega got involved and Rollins ate a hurricanrana and spiked the floor; The Man came to even the odds and got wiped out instead by Andrade. The finish came when Vega went to well too many times and attempted another hurricanrana but Rollins was ready. Lynch dropkicked her outside; which left Andrade in prime position for a Stomp, 1-2-3. The Beastslayer and The Man make their way up the ramp; which allowed the cowardly Baron Corbin and Evans to strike.
While Rollins and Lynch are down "The Advocate For The Beast Incarnate" Paul Heyman walks down to the ring with a sly grin on his face…Commercial.
Gloating with Corbin and Evans: Both competitors talk about what the "lovebirds" are going to do when either one loses the championship for the other.
Ladies and Gentlemen: The Master of the mic Heyman; plugs his experience with the word EXTREME from ECW.  He shares a little spoiler for Sunday at Extreme Rules, that his client BRRROOOCCKK LESNAR will cash-in either on the WWE Champion or the Universal Champion.
Recap of the Carnage: Where "The Monster Among Men" Braun Strowman drove Bobby Lashley last week, straight through the Tron which left both behemoths incapacitated. We now know that Strowman and Lashley will go one-on-one Sunday in a Last Man Standing Match. I have to say I'm surprisingly pleased to see this feud went from lukewarm to blazing hot in two weeks!
"The Best in the World" Gets To Pick The Best Partner For Roman Reigns: Shane McMahon and Drew McIntyre are approaching The Best Garbage Man in the World Tony. Claiming he's the best choice for "The Big Dog", Tony is indecisive so Shane and Drew are going to check on him later.
"The A-Lister" The Miz is out first for his Six-man Tag Team ⅔ Falls Match; where he teams with The Usos to battle Elias and The Revival next. Usos come out and drop some Uce Truth on their opponents. They want Dash and Dawson to shine the tag team titles up nice because Sunday The Usos are becoming seven-time tag team champions….oh and Elias better enjoy singing the blues cuz he's about to get locked up in The Uso Penitentiary!
Dawson and Jimmy start the match; technical maneuvers that slow the action down, Jimmy pick things up with an arm-drag to Dawson. Plenty of fantastic double-teaming from the heels to isolate Jimmy with lariats and stomps in the corner. Elias and Miz trade right hands and "The Drifter heads up the ramp, leaving Jimmy to eat a Shatter Machine for the First Fall! Quick tags by Dash and Dawson; with The Revival putting on a clinic, preventing Jimmy from making a tag.
Dawson missed a splash in the corner and went headfirst into the ring post. Dash knocked off Miz but missed Jey…backdrop…Jey is in now. He's on fire; lighting up The Revival with stiff uppercuts and flying clothesline…up top cross-body, Dash grabs the tights for a long two-count. Dawson back in now…stiff right hands to Jey, followed by a nasty brainbuster…Miz is on the apron begging for the tag… Enzugiri…into… Skull-Crushing Finale. 1-1 now…Not missing a step here; as Miz gets thrown outside… Jimmy's in. Double Superkicks, followed by Jey with the tag…Jimmy flies outside and Jey hits the Splash for the 3rd Fall! The only thing I dislike about this is 50/50 booking as it ensures The Revival keeping the gold on Sunday.
Recap of Drave Maverick's Triumphant 24/7 Victory: We get an inside look into their Honeymoon? Not really Renee Michelle is looking mighty pissed at her husband's antics. Maverick keeps overshadowing her with the 24/7 title…it's hilarious. Backstage we see Maverick sporting a black t-shirt with Maverick 24:7 on it… Genius. He vows that after tonight he'll prove to the world that he's the best 24/7 champ and he's the best husband to her. Michelle says then and only then will they consummate the marriage… Maverick grins like a fourteen-year-old boy and screams "I'M GOING TO GET IT ON WITH MY WIFE"….then the chase is on as Maverick flees the scene and leaves her alone.
Backstage we see the returning "Master of the 619" Rey Mysterio back in action with an open challenge next!
We're back as Shane and McIntyre now enlist the services of The Best Beer Server in the World, "The Scottish Psychopath" is intimidating him.
Back to the ring as a fully healthy Mysterio gives a heartfelt promo about his six weeks of intensive rehab, and having to relinquish the United States Championship due to injury. He's back now and his challenge is accepted by….Bobby Lashley?
How the hell is even fit to compete? Not only did Lashley compete; he bulldozed through Mysterio and beat the hell out of him! Spearing Mysterio right out of his boots for the 1-2-3! Lashley dragged him up the ramp; WWE officials prevented him from slamming Mysterio through the Tron…so he just tosses him onto the official's arms! Lashley grabs a mic, claiming last week he was the only man standing and Sunday He'll be the Last! Where the hell has this Lashley been since he returned in 2018?
Backstage we see "The Real AJ Styles" along with Luke Gallows and Karl Anderson. Charly Caruso stops Styles before he can get to his room; she wants a response from his vicious attack on Ricochet last week, "I don't owe you or anyone else an explanation, now get out of my face".
Back in the ring is No Way Jose and his Congo line…we get a recap of Cesaro's brutal attack on him last week, following 24/7 antics. A fired up Jose take the fight to "The Swiss Cyborg" on the outside. Once the bell rings; Jose hits a few offensive maneuvers, but it's business as usual for Cesaro…. Uppercut city and Jose is going swinging and Cesaro locks in the sharpshooter for the easy tapout.
Don't Sleep On The Street Profits: Montez Ford and Angelo Dawkins are beatboxing backstage…they plug Extreme Rules and impersonate Shane/Drew and Roman/Undertaker. Taker and Roman for the win….but "The Big Dog" has to make it to Sunday.
The Power of Love Is Falling Apart: Backstage we see Maria Kanellis sitting on a couch; where an overly apologetic Mike comes in with flowers…Looks like everything is right with the world…until Mike doesn't get the hint that his pregnant wife wants Ice cream and pickles Now!
Side-by-side Interview: Bayley and Nikki Cross are seen on the screen, while Michael Cole explains The Best The Clock Challenge tonight. Both Cross and Bayley will compete in the said match and the winner with the shortest time will pick the stipulation for Alexa Bliss and Bayley's SmackDown Live Women's Championship Match this Sunday. Cross brings up how she's nothing without Alexa, Bayley tries to show her the light… Cross's had enough. Bayley will clash with Sarah Logan, and Cross will take on Dana Brooke.
The Viking Raiders are here and ready to bring the Raid when we come back.
The Hunt For The 24/7 Championship: Backstage we see R-Truth and Carmella searching through trunks; looking for Maverick. Truth apparently has a more intimate relationship with "his baby" and she's afraid of horror movies. Truth belts out the lyrics to Jeff Jarrett's "Me and My Baby Tonight" song, when Maverick is escaping the flood of superstars.
Back to the ring as Erik and Ivar are set to demolish Colin and Devin Justin. Right out of the gate The Viking Raiders annihilate… Viking Experience 1-2-3. Someone, please tell me why the hell these two are not the Raw Tag Team Champions already? If that's not bad enough…Now the 24/7 antics are taking place. Two poor souls get bulldozed through, Truth attempts to step up, but wisely slides outside.
"The One and Only" is here backstage and heading towards the arena… Commercial.
Backstage "The Big Dog" is being interviewed by Charly Caruso, Reigns isn't concerned with Shane and McIntyre's mind games tonight.
Ricochet vs. Luke Gallows is next…But first The United States Champ gets to speak his mind. Ricochet states that two weeks ago when in a post-match photo shoot; Styles congratulated him on becoming the new champion and when they fought, he'd finally go up against a person he's looked up to for years…That all changed last week when "The Club" gave him the beating of a lifetime. He's not stupid…he knows it's not Gallows one-on-one, it's 3-on-1. How long before Anderson and Styles interfere? I give it five minutes.
Styles grabs a mic and thanks Ricochet for reminding him who he is. He tells the champ to slow down and appreciate the moments… speaking of let's roll the footage from last week's beatdown. I love heel AJ Styles, his cockiness was missed! Gallows is taking Ricochet to school with a good old fashion ass-whooping. Gallows attempts a Pumphandle throw but Ricochet slides through for a quick roll-up and the win. However; Styles says let's see if he can put his money where his mouth is and go through all three like he claimed he could…head to commercial.
We return as the bell rings and Anderson begins to dominate, Ricochet levels him with a top-rope flying lariat. Styles distracts him so his buddy can go on the attack. Anderson is like a shark smelling blood in the water, stomping a mudhole in Ricochet. The champ has some life…Styles grabs his leg, Ricochet flies outside with a Corkscrew Moonsault to take out Gallows. Back in and dodges some moves, dropkick into the 630…1-2-3.
Immediately Styles blasts his opponent on Sunday. 3-on-1 beatdown reminiscent of last week's attack. Styles tells Ricochet that they're going to leave just enough of him so he can take the United States Championship at Extreme Rules…that is if he stays down… Ricochet starts to stir, so both Gallows and Anderson hold him up so Styles can deliver a ferocious Phenomenal Forearm!
Maverick Survives: Michelle is yelling at Maverick for leaving her all alone tonight. Maverick is so giddy until…Truth climbs out of a trunk and the chase is on for "his baby". This is amazing!
The Best Janitor in the World: Same song and dance Shane and McIntyre coerce this guy to stand on the apron for $5,000 tonight for a traditional 2-on-1 beatdown courtesy of The Best in the World and The Scottish Psychopath. I'm calling The Undertaker to show up.
Bayley vs. Sarah Logan as we return to the ring. Logan is quite impressive being that this is her first match on Raw since splitting up with The Riott Squad. The finish of the match comes with a running knee from Bayley followed by a Sunset-Bomb into the turnbuckle. Bayley wins at 4:32.
Cross's music plays as she makes her way for her match with Dana Brooke. I'll give Brooke some credit here, she countered a few maneuvers but she was no match for "The Twisted Sister". Cross hits the PURGE for the win at 1:50! Are we going to find out the stipulation right now? Apparently, it's going to be a 2-on-1 Handicap Match; Cross says Bayley needs a loyal friend to put her in her place…Slap…Cross eats a Bayley-2-Belly and a Top-rope Elbow Drop!
Love On The Rocks: Mike returns with his wife's ice cream and pickles…"I can't eat that" Maria said. More Jekyll and Hyde with her claiming maybe Mike's not even the one to impregnate her this time?
"The Savior of the Masses" Corey Graves interviews Rollins and Lynch: Graves stirs the pot about the relationship drama that could be in jeopardy this Sunday. The Man debunks everything and says those dopes will get nothing!
Recap From SmackDown Live: Samoa Joe wants Kofi Kingston to shake his hand to ensure his family and friends safety…Kofi flips him off and drops Joe with Trouble in Paradise. Street Profits with more entertaining impersonations and predictions for Sunday.
Shane McMahon and Drew McIntyre vs. Roman Reigns and Gary "The Goat" Garbutt in a Lucha mask. This was your typical Shane and McIntyre tag team match, however, Gary is forced to make the tag. Once he does he explodes through the air and hits some incredible offense… However, Claymore Kick took his head off and Shane got the win. Before the duo could do any more damage; Reigns leveled McIntyre with a Superman Punch and one for Shane too! Gary takes off his mask and it was CEDRIC ALEXANDER!.
That's the show folks!
NXT Minus 6: A Tale of Two Champions
Bradley Jay is here with the WWE NXT Minus 6, and we have new champions. Two very, very different new champions.
Bradley Jay is here with the WWE NXT Minus 6, and we have new champions. Two very, very different new champions.
Our two new champions could not be more different…
6. Doomsday Saito comes to the ring and gives a painful, cliched promo. Any wrestler in the back could have said those exact words. Train harder and beat people up. He's angry. We get it. The only thing Saito could do that would interest me is move to RawDown. On the other hand…
[EDITOR'S NOTE: Not gonna lie, that promo was wasn't even hot garbage. It was cold garbage.]
5. Raquel Gonzalez delivers a genuine, heartfelt promo that only she could give. Tears of joy. It told her story, and it's exactly why she got the pop and the chant she deserved. The addition of Rhea Ripley and Bianca Belair, complete with throwback pic, was icing on the cake. I'm excited for whatever Gonzalez does next. Speaking of…
4. Fantasy booking alert!!! Two weeks ago, Raquel Gonzelez told the world I was the one who believed in her. I was the one who made her a champion. Then Rhea Ripley shows up, and Bianca Belair shows up, and I'm the one sent to the back. How quickly you forget who your real friends are. I was the one who took you to the top, and chicka, I am the one who is going to drag you to the bottom. I used you to get to the top and that's exactly what I'm going to do. I am Dakota Kai.
3. No more Santa Claus Ice Cream Bar. Santos Escobar has earned his name back. His match with KUSHIDA is everything great about NXT. Say it with me. Good things happen when you let wrestlers wrestle! Fast paced. Great action. Surprise ending. I'm going 4.5 stars. Give me a match that good every Tuesday and I'm a happy camper.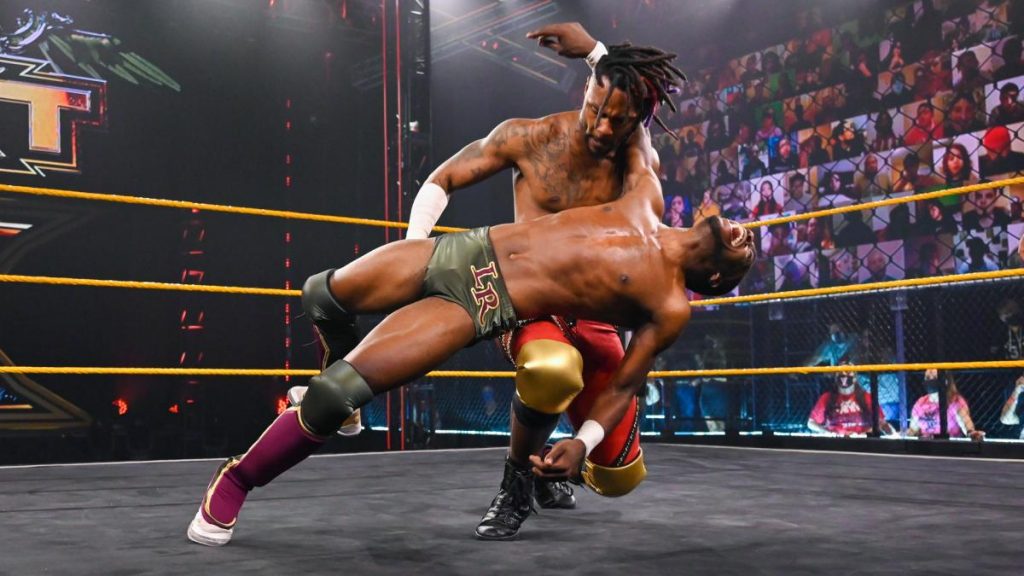 2. Right now, I don't know if any two wrestlers have better chemistry than Swerve Scott and Leon Ruff. Every time they get together, it's electric, and this week was no different. This is quickly climbing into Rivalry of the Year territory. I thought I was happy to see Swerve pick up the victory and move on. Then Ruff goes insane in the membrane and now I'm excited to watch them fight forever.
1. This week's That's Why I Love Wrestling goes to…Roderick Strong. Kayfabe. Work. Shoot. I don't care. Strong deserved a better goodbye than what he got. He is the Perfection of Performance (shout out to the Hitman). He and Kyle O'Reilly were the best version of the Undisputed Era tag team champions. I always got excited for a Strong match because I knew he'd deliver. Roderick Strong is exactly the kind of wrestler that makes me love wrestling. Until he returns, he will be sorely missed.
Steve Cook's Fave Five: April 2021
It's a little more than halfway through April! You know what that means…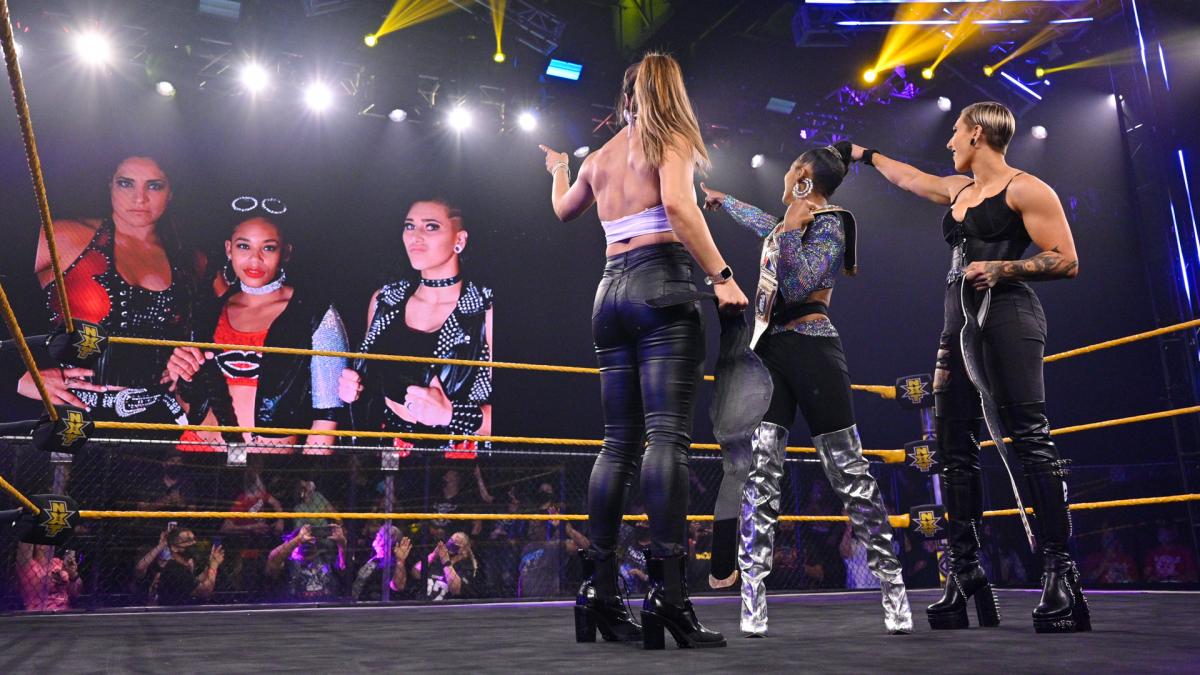 It's a little more than halfway through April! You know what that means.
It's time to talk about my current five favorite wrestlers like I'm Booker T. Let's break down the Fave Five!
5. Samoa Joe
A gentle reminder that Samoa Joe is one of the greatest talkers in the game pic.twitter.com/p4TZeZIAV7

— Kenny Majid – A Kenny For Your Thoughts Podcast (@akfytwrestling) April 15, 2021
I figure what happened between Samoa Joe & WWE was the following: WWE offered Joe an announcing contract since either they didn't want to use him in the ring or their doctors wouldn't clear him to wrestle. Joe looked at the contract, noticed the financial discrepancy, realized he could probably get NJPW to let him train young boys in California for that kind of money and said "thanks but no thanks". Nothing else really makes sense to me.
Unfortunately, those who thought that WWE wouldn't utilize Joe to their fullest potential were right. It wasn't all WWE's fault though. Joe had a lot of miles on his tires when he got there. Injuries are always more of a concern with larger wrestlers the older they get. And when Joe was healthy, he did get to do some good stuff and show people a glimpse of the Samoa Joe that people like me raved about back in the mid to late 2000s.
In any event, Joe got his WWE run. It was a thing that happened. I'd be shocked if he doesn't wind up in AEW because he seems like the kind of guy Tony Khan would throw all the money at. Should be fun!
4. Kris Statlander
Like she never left 👽 #AEWDynamite pic.twitter.com/rlNgLBAFoU

— All Elite Wrestling on TNT (@AEWonTNT) April 15, 2021
AEW does have a pretty insane number of factions right now. It risks the possibility of all of the groups blending together, with none of them really capturing the attention of fans. However, there are positive things about AEW's faction warfare that shouldn't be overlooked. It makes booking fresh matches to fill cards pretty easy. You can have groups facing off each week, but in different combinations that keep it fresh.
Another good thing: It can help us decide how we feel about characters that we might be on the fence about. Kris Statlander's character was a topic of discussion from the moment she entered AEW. A lot of people weren't sure how to take her. Wrestling aliens, or wrestlers who think they're aliens, aren't exactly common. Its the kind of thing that gets over in the indies, because those feds attract fans that are more willing to buy into unique concepts. Mainstream is a tougher sell.
Aligning Kris with the Best Friends makes sense to those in the know, since she came up working shows with them. It also helps people that don't know about her figure out more. The Best Friends are a happy go lucky group that are the whitest of white meat babyfaces you'll find in AEW, and that's a good thing. They're welcoming to people with unique personalities, as Orange Cassidy's presence establishes. A friendly alien couldn't ask for a better group to surround herself with, and from their appearances so far she seems like a perfect fit.
Add in the fact that the time on the shelf helped her get into better shape and refine her look & presence, and the sky's the limit for Statlander. As long as she can stay in the ring, I'm expecting big things from her in 2021.
3. Tay Conti
Sometimes, all one needs is a change of scenery to approach their true potential. Tay spent a few years at the WWE Performance Center learning how to be a professional wrestler. During her time there, Tay never showed much in the way of potential. Even though she had a combat sports background and had the type of physical appearance that gets attention, Conti's TV time was very limited and uneventful. She seemed like one of those wrestlers that was bound to stay in developmental until WWE gave up on them, then drop off the face of the earth without most wrestling fans noticing.
Tay's story took a different route. She ended up being one of the cuts that AEW took an interest in, and was brought in for the Deadly Draw Women's Tag Team Tournament. Her teaming with Anna Jay worked well on & off-camera, and she pretty much fit right in with the group immediately. She started training with Dustin Rhodes, and pretty much immediately started looking better in the ring & figuring out what worked for her. Now, she's one of the people helping AEW's women's division go to a higher level.
This isn't meant to denigrate WWE's Performance Center or its methods. There just isn't a wrestling training center out there that's going to work for everybody. Tay had to find what worked for her. The people that recently got cut will have to do the same. Hopefully, the people that recently got signed by WWE will thrive in that environment.
2. Bianca Belair
We've recently seen three new Women's Champions under the WWE umbrella, all of whom are great in their own way. I've talked about Rhea Ripley before, she's got unlimited potential and so far she's done very well on the main roster. Raquel Gonzalez is doing very well on NXT and her push to the championship made perfect sense & got over. I do think the best of the title changes was Bianca's defeat of Sasha Banks in the main event of WrestleMania Saturday. It was a special moment for Bianca, a very fun match to watch, and a great performance from both Bianca & Sasha Banks, who did everything she could to make Bianca in that match.
You see the video of the NXT segment up above, with the three current Women's Champions under the WWE umbrella celebrating together. Apparently there was a picture taken in 2019, and there were pictures taken after this week's NXT, with Triple H making sure to get in there as he likes to do with all new champions. I've never really been a fan of that sort of thing, even the "Horsewomen" celebrations on previous NXT shows didn't do much for me.
Besides the usual complaints people have about things like that, the thing that I didn't like was how Rhea & Raquel came off. They were all smiling & happy like they were Big Daddy Cool Diesel after beating Mr. Bob Backlund in 1994. Completely against what Raquel has been up to this point, and what Rhea has been when she's been at her best. Hopefully this is just a one-time thing for Rhea for the portion of the NXT audience that likes their lady wrestlers crying & happy after their performances, and hopefully it's leading to Raquel getting dismembered by Dakota Kai, who can't be happy about her heater winning the championship and then turning into Smilin' Diesel.
Fortunately for Bianca, it does nothing to affect her character or our opinion of her. That's why I think her title run will go best. I'm also putting her here because I'm pretty well convinced there isn't a wrestling move or spot she can't do well. Insanely talented, and the more experience she gets the better she'll be.
1. Darby Allin
Sometimes you just want to watch something that's stupid fun. Something that doesn't need too much thought in order to enjoy it. Just people doing crazy things to entertain an audience. Darby Allin matches are just what you need when you're looking for something like this. There isn't anybody crazier in pro wrestling today than Darby, which is probably for the best. I'm convinced this kid has a death wish.
The one thing that kinda gets me about Darby sometimes is how he kicks out of everything. Poor Matt Hardy wasn't going to beat that kid unless he shot him with a gun, and apparently there's a metal detector at Daily's Place. (Shoutout to Matt by the way, hell of an effort in that match.) But then I remember that Darby Allin is a daredevil and constantly posting videos online where he's jumping off high places and doing crazy things. Obviously, it's going to take a little more to beat a daredevil than your average pro wrestler.
What's it going to take to beat Darby Allin? That's a good reason to keep watching.