Chris King's WWE Raw Grades & Analysis For 7/8/19
Monday was is the Go-Home WWE Raw for Extreme Rules this Sunday; what intriguing matches will be added to the pay-per-view? How will Ricochet respond to "The Club" and their brutal assault on him last week?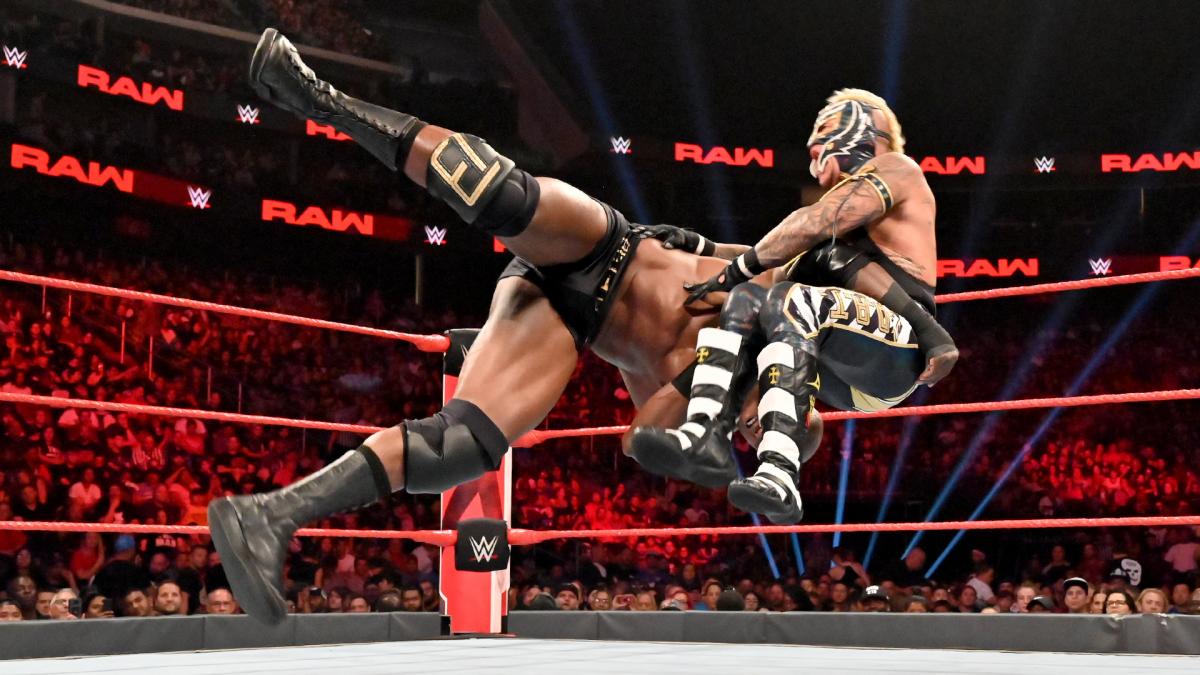 Monday was is the Go-Home WWE Raw for Extreme Rules this Sunday; what intriguing matches will be added to the pay-per-view? How will Ricochet respond to "The Club" and their brutal assault on him last week?
Chris's Grades For WWE Raw:
Seth Rollins and Becky Lynch vs. Andrade and Zelina Vega Tag Team Elimination Match–B
The Miz & The Usos vs. Elias and The Revival ⅔ Falls Six-man Tag Team Match–B+
Bobby Lashley vs. Rey Mysterio–A
No Way Jose vs. Cesaro–B
The Viking Raiders vs. Colin and Devin Justin–C
Ricochet vs. Luke Gallows; Ricochet vs. Karl Anderson–B+
Bayley vs. Sarah Logan; Nikki Cross vs. Dana Brooke (Beat The Clock Challenge)–C
Shane McMahon and Drew McIntyre vs. Roman Reigns & Gary Garbutt–D
Tonight's Raw opens up with "The Man" Becky Lynch walking with a purpose to the ring, with her Raw Women's Championship in tow.  Followed by her boyfriend "The Beastslayer" Seth Rollins the Universal Champion. Here comes their opponents for tonight, Andrade Cien Almas and Zelina Vega in a mixed tag team elimination match. This is going to be interesting because Vega hasn't competed in a match since the Women's Battle Royal at WrestleMania. Vega and Lynch start things off.
After Vega takes advantage; and utilizes some lethal attacks and submissions on the ropes, The Man finds some distance to make the tag. Rollins and Andrade mix it up, with dueling sequences that end with a stare-off. The Beastslayer hits back-to-back suicide dives on the outside; Lynch drops Vega with a Bexploder and locks in the Dis-Arm-Her for the first elimination of the match. Of course, Lacey Evans appears at ringside and The Man takes the fight to her. There was a brilliant spot where Rollins attempted his signature superplex, but Andrade lands a nasty Double-Stomp.
Vega got involved and Rollins ate a hurricanrana and spiked the floor; The Man came to even the odds and got wiped out instead by Andrade. The finish came when Vega went to well too many times and attempted another hurricanrana but Rollins was ready. Lynch dropkicked her outside; which left Andrade in prime position for a Stomp, 1-2-3. The Beastslayer and The Man make their way up the ramp; which allowed the cowardly Baron Corbin and Evans to strike.
While Rollins and Lynch are down "The Advocate For The Beast Incarnate" Paul Heyman walks down to the ring with a sly grin on his face…Commercial.
Gloating with Corbin and Evans: Both competitors talk about what the "lovebirds" are going to do when either one loses the championship for the other.
Ladies and Gentlemen: The Master of the mic Heyman; plugs his experience with the word EXTREME from ECW.  He shares a little spoiler for Sunday at Extreme Rules, that his client BRRROOOCCKK LESNAR will cash-in either on the WWE Champion or the Universal Champion.
Recap of the Carnage: Where "The Monster Among Men" Braun Strowman drove Bobby Lashley last week, straight through the Tron which left both behemoths incapacitated. We now know that Strowman and Lashley will go one-on-one Sunday in a Last Man Standing Match. I have to say I'm surprisingly pleased to see this feud went from lukewarm to blazing hot in two weeks!
"The Best in the World" Gets To Pick The Best Partner For Roman Reigns: Shane McMahon and Drew McIntyre are approaching The Best Garbage Man in the World Tony. Claiming he's the best choice for "The Big Dog", Tony is indecisive so Shane and Drew are going to check on him later.
"The A-Lister" The Miz is out first for his Six-man Tag Team ⅔ Falls Match; where he teams with The Usos to battle Elias and The Revival next. Usos come out and drop some Uce Truth on their opponents. They want Dash and Dawson to shine the tag team titles up nice because Sunday The Usos are becoming seven-time tag team champions….oh and Elias better enjoy singing the blues cuz he's about to get locked up in The Uso Penitentiary!
Dawson and Jimmy start the match; technical maneuvers that slow the action down, Jimmy pick things up with an arm-drag to Dawson. Plenty of fantastic double-teaming from the heels to isolate Jimmy with lariats and stomps in the corner. Elias and Miz trade right hands and "The Drifter heads up the ramp, leaving Jimmy to eat a Shatter Machine for the First Fall! Quick tags by Dash and Dawson; with The Revival putting on a clinic, preventing Jimmy from making a tag.
Dawson missed a splash in the corner and went headfirst into the ring post. Dash knocked off Miz but missed Jey…backdrop…Jey is in now. He's on fire; lighting up The Revival with stiff uppercuts and flying clothesline…up top cross-body, Dash grabs the tights for a long two-count. Dawson back in now…stiff right hands to Jey, followed by a nasty brainbuster…Miz is on the apron begging for the tag… Enzugiri…into… Skull-Crushing Finale. 1-1 now…Not missing a step here; as Miz gets thrown outside… Jimmy's in. Double Superkicks, followed by Jey with the tag…Jimmy flies outside and Jey hits the Splash for the 3rd Fall! The only thing I dislike about this is 50/50 booking as it ensures The Revival keeping the gold on Sunday.
Recap of Drave Maverick's Triumphant 24/7 Victory: We get an inside look into their Honeymoon? Not really Renee Michelle is looking mighty pissed at her husband's antics. Maverick keeps overshadowing her with the 24/7 title…it's hilarious. Backstage we see Maverick sporting a black t-shirt with Maverick 24:7 on it… Genius. He vows that after tonight he'll prove to the world that he's the best 24/7 champ and he's the best husband to her. Michelle says then and only then will they consummate the marriage… Maverick grins like a fourteen-year-old boy and screams "I'M GOING TO GET IT ON WITH MY WIFE"….then the chase is on as Maverick flees the scene and leaves her alone.
Backstage we see the returning "Master of the 619" Rey Mysterio back in action with an open challenge next!
We're back as Shane and McIntyre now enlist the services of The Best Beer Server in the World, "The Scottish Psychopath" is intimidating him.
Back to the ring as a fully healthy Mysterio gives a heartfelt promo about his six weeks of intensive rehab, and having to relinquish the United States Championship due to injury. He's back now and his challenge is accepted by….Bobby Lashley?
How the hell is even fit to compete? Not only did Lashley compete; he bulldozed through Mysterio and beat the hell out of him! Spearing Mysterio right out of his boots for the 1-2-3! Lashley dragged him up the ramp; WWE officials prevented him from slamming Mysterio through the Tron…so he just tosses him onto the official's arms! Lashley grabs a mic, claiming last week he was the only man standing and Sunday He'll be the Last! Where the hell has this Lashley been since he returned in 2018?
Backstage we see "The Real AJ Styles" along with Luke Gallows and Karl Anderson. Charly Caruso stops Styles before he can get to his room; she wants a response from his vicious attack on Ricochet last week, "I don't owe you or anyone else an explanation, now get out of my face".
Back in the ring is No Way Jose and his Congo line…we get a recap of Cesaro's brutal attack on him last week, following 24/7 antics. A fired up Jose take the fight to "The Swiss Cyborg" on the outside. Once the bell rings; Jose hits a few offensive maneuvers, but it's business as usual for Cesaro…. Uppercut city and Jose is going swinging and Cesaro locks in the sharpshooter for the easy tapout.
Don't Sleep On The Street Profits: Montez Ford and Angelo Dawkins are beatboxing backstage…they plug Extreme Rules and impersonate Shane/Drew and Roman/Undertaker. Taker and Roman for the win….but "The Big Dog" has to make it to Sunday.
The Power of Love Is Falling Apart: Backstage we see Maria Kanellis sitting on a couch; where an overly apologetic Mike comes in with flowers…Looks like everything is right with the world…until Mike doesn't get the hint that his pregnant wife wants Ice cream and pickles Now!
Side-by-side Interview: Bayley and Nikki Cross are seen on the screen, while Michael Cole explains The Best The Clock Challenge tonight. Both Cross and Bayley will compete in the said match and the winner with the shortest time will pick the stipulation for Alexa Bliss and Bayley's SmackDown Live Women's Championship Match this Sunday. Cross brings up how she's nothing without Alexa, Bayley tries to show her the light… Cross's had enough. Bayley will clash with Sarah Logan, and Cross will take on Dana Brooke.
The Viking Raiders are here and ready to bring the Raid when we come back.
The Hunt For The 24/7 Championship: Backstage we see R-Truth and Carmella searching through trunks; looking for Maverick. Truth apparently has a more intimate relationship with "his baby" and she's afraid of horror movies. Truth belts out the lyrics to Jeff Jarrett's "Me and My Baby Tonight" song, when Maverick is escaping the flood of superstars.
Back to the ring as Erik and Ivar are set to demolish Colin and Devin Justin. Right out of the gate The Viking Raiders annihilate… Viking Experience 1-2-3. Someone, please tell me why the hell these two are not the Raw Tag Team Champions already? If that's not bad enough…Now the 24/7 antics are taking place. Two poor souls get bulldozed through, Truth attempts to step up, but wisely slides outside.
"The One and Only" is here backstage and heading towards the arena… Commercial.
Backstage "The Big Dog" is being interviewed by Charly Caruso, Reigns isn't concerned with Shane and McIntyre's mind games tonight.
Ricochet vs. Luke Gallows is next…But first The United States Champ gets to speak his mind. Ricochet states that two weeks ago when in a post-match photo shoot; Styles congratulated him on becoming the new champion and when they fought, he'd finally go up against a person he's looked up to for years…That all changed last week when "The Club" gave him the beating of a lifetime. He's not stupid…he knows it's not Gallows one-on-one, it's 3-on-1. How long before Anderson and Styles interfere? I give it five minutes.
Styles grabs a mic and thanks Ricochet for reminding him who he is. He tells the champ to slow down and appreciate the moments… speaking of let's roll the footage from last week's beatdown. I love heel AJ Styles, his cockiness was missed! Gallows is taking Ricochet to school with a good old fashion ass-whooping. Gallows attempts a Pumphandle throw but Ricochet slides through for a quick roll-up and the win. However; Styles says let's see if he can put his money where his mouth is and go through all three like he claimed he could…head to commercial.
We return as the bell rings and Anderson begins to dominate, Ricochet levels him with a top-rope flying lariat. Styles distracts him so his buddy can go on the attack. Anderson is like a shark smelling blood in the water, stomping a mudhole in Ricochet. The champ has some life…Styles grabs his leg, Ricochet flies outside with a Corkscrew Moonsault to take out Gallows. Back in and dodges some moves, dropkick into the 630…1-2-3.
Immediately Styles blasts his opponent on Sunday. 3-on-1 beatdown reminiscent of last week's attack. Styles tells Ricochet that they're going to leave just enough of him so he can take the United States Championship at Extreme Rules…that is if he stays down… Ricochet starts to stir, so both Gallows and Anderson hold him up so Styles can deliver a ferocious Phenomenal Forearm!
Maverick Survives: Michelle is yelling at Maverick for leaving her all alone tonight. Maverick is so giddy until…Truth climbs out of a trunk and the chase is on for "his baby". This is amazing!
The Best Janitor in the World: Same song and dance Shane and McIntyre coerce this guy to stand on the apron for $5,000 tonight for a traditional 2-on-1 beatdown courtesy of The Best in the World and The Scottish Psychopath. I'm calling The Undertaker to show up.
Bayley vs. Sarah Logan as we return to the ring. Logan is quite impressive being that this is her first match on Raw since splitting up with The Riott Squad. The finish of the match comes with a running knee from Bayley followed by a Sunset-Bomb into the turnbuckle. Bayley wins at 4:32.
Cross's music plays as she makes her way for her match with Dana Brooke. I'll give Brooke some credit here, she countered a few maneuvers but she was no match for "The Twisted Sister". Cross hits the PURGE for the win at 1:50! Are we going to find out the stipulation right now? Apparently, it's going to be a 2-on-1 Handicap Match; Cross says Bayley needs a loyal friend to put her in her place…Slap…Cross eats a Bayley-2-Belly and a Top-rope Elbow Drop!
Love On The Rocks: Mike returns with his wife's ice cream and pickles…"I can't eat that" Maria said. More Jekyll and Hyde with her claiming maybe Mike's not even the one to impregnate her this time?
"The Savior of the Masses" Corey Graves interviews Rollins and Lynch: Graves stirs the pot about the relationship drama that could be in jeopardy this Sunday. The Man debunks everything and says those dopes will get nothing!
Recap From SmackDown Live: Samoa Joe wants Kofi Kingston to shake his hand to ensure his family and friends safety…Kofi flips him off and drops Joe with Trouble in Paradise. Street Profits with more entertaining impersonations and predictions for Sunday.
Shane McMahon and Drew McIntyre vs. Roman Reigns and Gary "The Goat" Garbutt in a Lucha mask. This was your typical Shane and McIntyre tag team match, however, Gary is forced to make the tag. Once he does he explodes through the air and hits some incredible offense… However, Claymore Kick took his head off and Shane got the win. Before the duo could do any more damage; Reigns leveled McIntyre with a Superman Punch and one for Shane too! Gary takes off his mask and it was CEDRIC ALEXANDER!.
That's the show folks!
AJ's Thoughts: Five Potential Returns
With Trips in charge and already starting to bring back some people that didn't work in Vince's picture, AJ got an idea. Who else could we see on the horizon radar?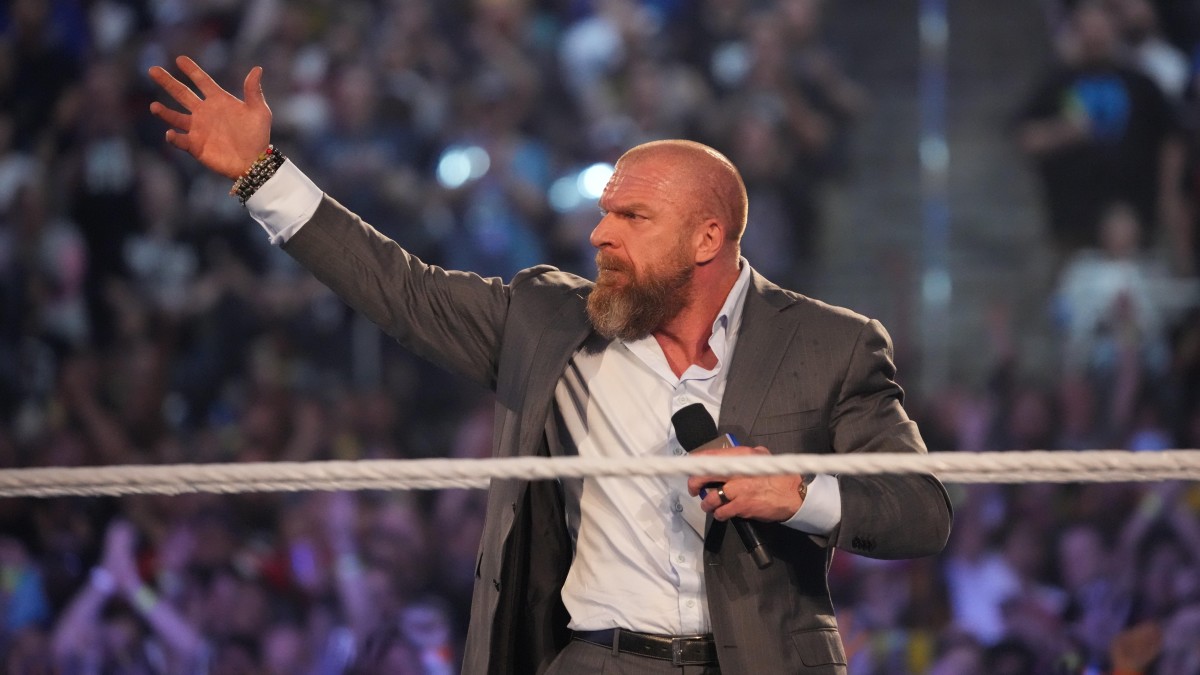 With Trips in charge and already starting to bring back some people that didn't work in Vince's picture, AJ got an idea. Who else could we see on the horizon radar?
With everything going on with WWE, the one thing we have all been hyped about are all of these returns. Dakota Kai made her return at SummerSlam alongside Io and Bayley and now on last SmackDown, Karrion Kross and Scarlett made their returns in a big way against Drew McIntyre and showed the Hourglass to The Bloodline.
With all of that, there have been things in the pipeline saying Triple H's foot isn't off the pedal so these are 5 returns from either NXT, main roster or even Try-Outs that I would love to see happen with the new regime.
1. Johnny Gargano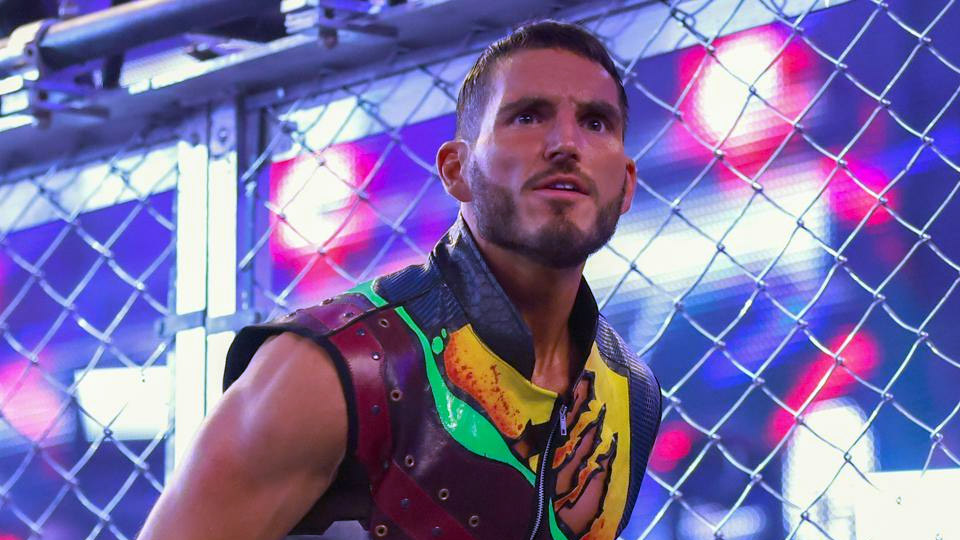 Now this is a name that people have been saying, "Maybe Impact or MLW" but, what about a return? Gargano didn't renew his contract, most likely to be with his family which is a valid and amazing reason, will never disrespect that. If he were to return, there would be a handful of great reasons. Maybe a singles run with the Intercontinental or United States but with Ciampa getting limelight in the main roster from RAW, what if we get a tag team reunion?
WWE is hurting for Tag Teams and what better than to scare off The Bloodline, loosen  the stranglehold of championships with some Do It Yourself action. DIY reunion could be amazing, especially with newer faces showing up to get championship aspirations like Kross and Ciampa. Want to break the hierarchy? Do It Yourself.
2. James Storm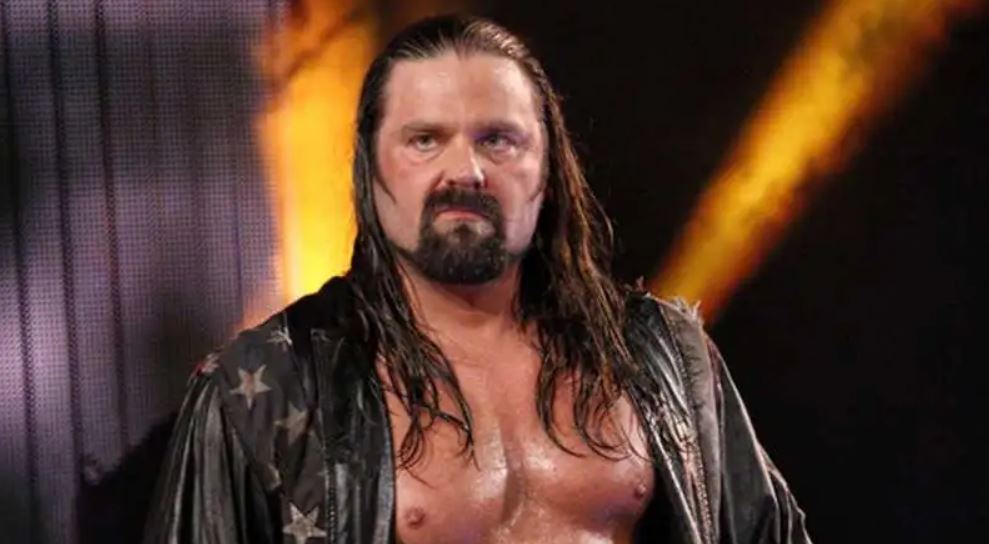 This one is a little bit weird and off. On one hand, who doesn't love the Tennessee Cowboy, Jimmy James Storm? On the other, he is 45 and getting some nagging injuries as of late. So why would I say Triple H should bring James Storm back and give him something for the main roster? One of the things I said for Gargano, we have a lack of something and The Usos might need to watch two things in the rearview.
Watch your Money and your Alcohol.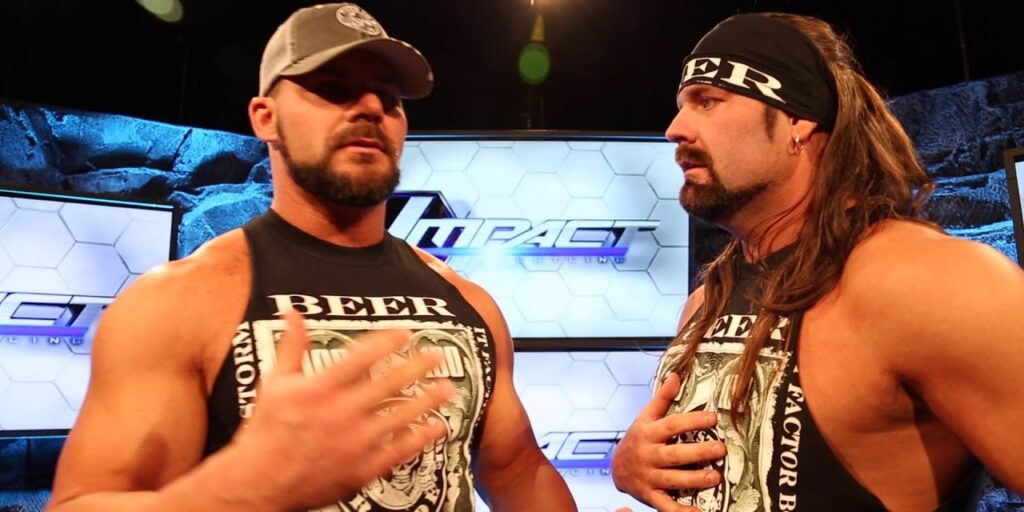 Beer Money showing up in WWE would be amazing in my personal opinion. The Bloodline jump Roode, someone in a hoodie or jacket comes up and jumps them to even the fight and as soon as one Uso remained in the ring, the figure goes down and the old stomping goes off and we hear "BEER…" and Roode looks around and gets hyped up and shouts, "…MONEY!"
3. Big Cass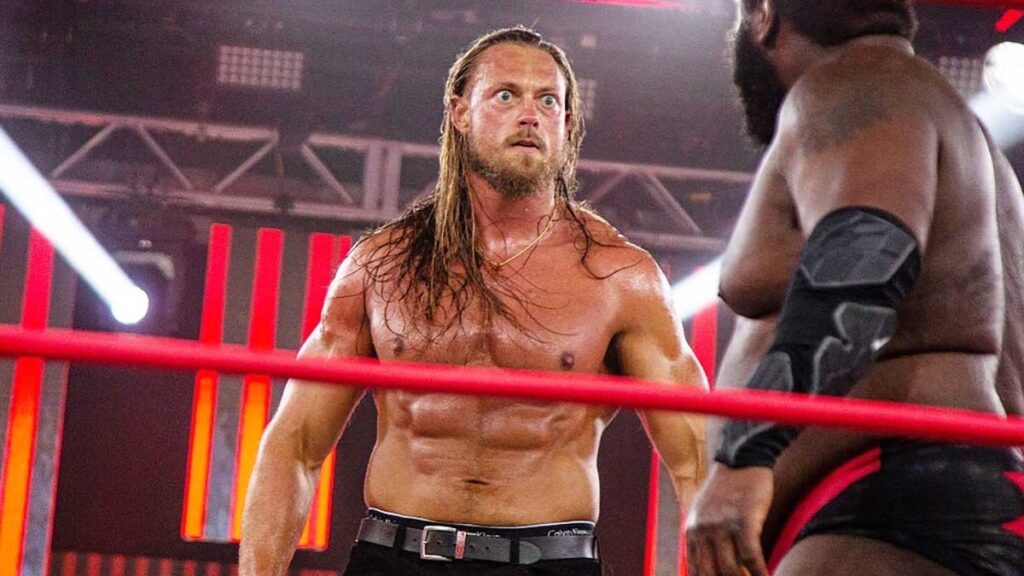 Since his departure from WWE, he has done something I have said since they split him off from Enzo. Take him through the Kevin Nash School of How To Big Man. ROH and Impact are great examples that he actually cleaned up and worked on what he has to do to be good in the ring. He can work the microphone, he can work the ring so we got a new big boy to take on the WWE once again.
Now I could have said Enzo and Cass to rejoin but, I'm sure the antics of Enzo will get Cass in deep water along with the fact that I already made two tag team predictions, we don't need another. Cass brings a lot to the table and was kind of unproven in WWE because he was just the big enforcer to the more charismatic Enzo. Give this man about six months in the ring and you have your next MASSIVE problem in the IC or US Championship scene or even more.
4. Bronson Reed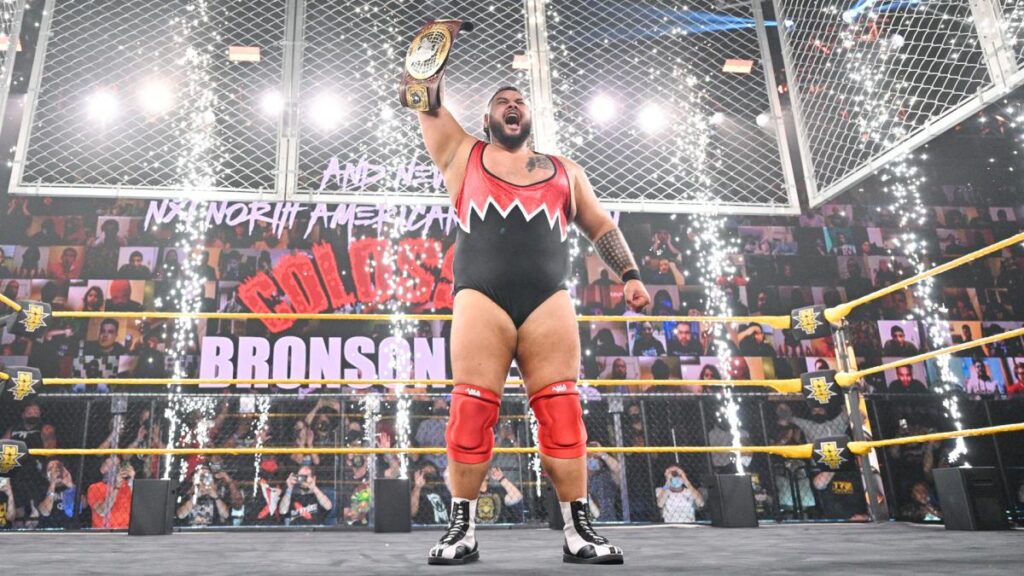 The big man from down under is a former NXT North American Champion. He looked to have a good push going with that championship but he got release. If you wonder where he went… he actually made a pit stop in Impact Wrestling as JONAH with the most fire theme song in recent history I swear… I will link the theme song and Trips… please. Get rights to this theme song. I will be a bigger Bronson Reed fan.
Bronson to me is the weird man in all of this but, I think with Triple H involved, he could get something going for him with a good singles champion run or a big threat to go through like a gatekeeper of sorts. Big boy with a great amount of athleticism? Can't really hate on that considering the last time we saw athletic bigger people were Keith Lee and… what was that one guy? Sherman Tank with a Ferrari Engine…?
5. Bray Wyatt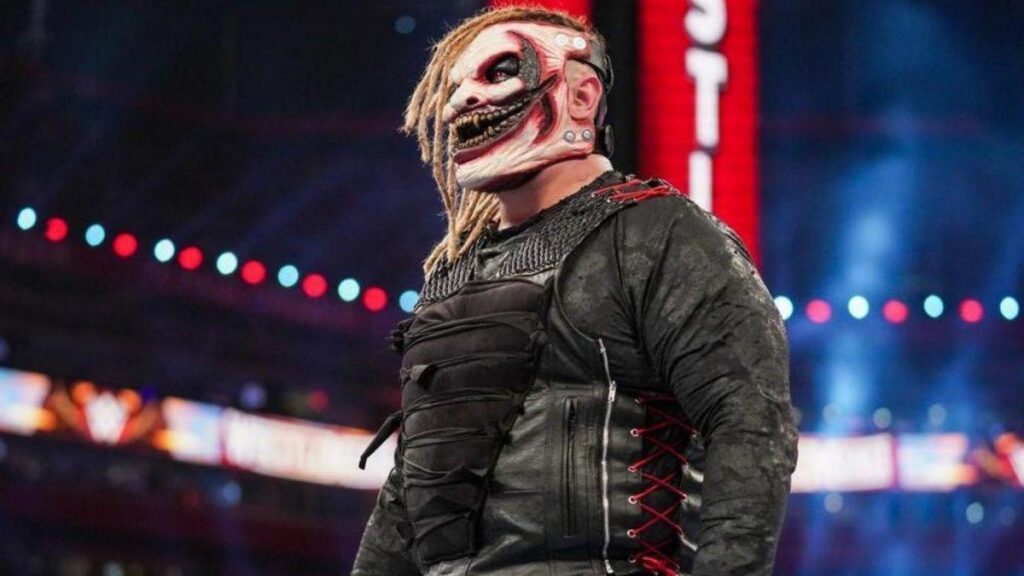 And the last one is the obvious one in all of this. Yes… we have Judgment Day as the somewhat supernatural dark group but we know the true successor of the supernatural and that is "The Eater of Worlds", "The Fiend" Bray Wyatt. This time around, I don't think we will get the Jekyl and Hyde, Mister Rogers gimmick. I believe this time around we get full darkness and mayhem. We get the darkness and the theory of reverting back to your prime.
To make a refresher… Miz went back to being the cocky narcissist after fighting The Fiend. Finn turned back to the Prince and much more. With guys like Edge returning, maybe we see the return of the Heel Ultimate Opportunist, maybe a Fiend fight with AJ Styles to get the TN-AJ perhaps. Possibilities are endless and with a great mind like Wyatt for character and execution, I think Hunter will pick up the phone and Let Him In.
– There are clearly others that I could say, or maybe even didn't think about, but hey, that's the Chairshot way of Always Using Your Head. Those are just five returns that could happen and hopefully you read this before RAW or SmackDown and who knows if I get any of these right, maybe I missed an obvious one or maybe we get a giant signing that nobody thought possible. Let me and all of Chairshot know!
King's Greatest Hits Of Jeff Hardy
As he battles his demons, Chris King looks at some more positive moments in Jeff Hardy's career!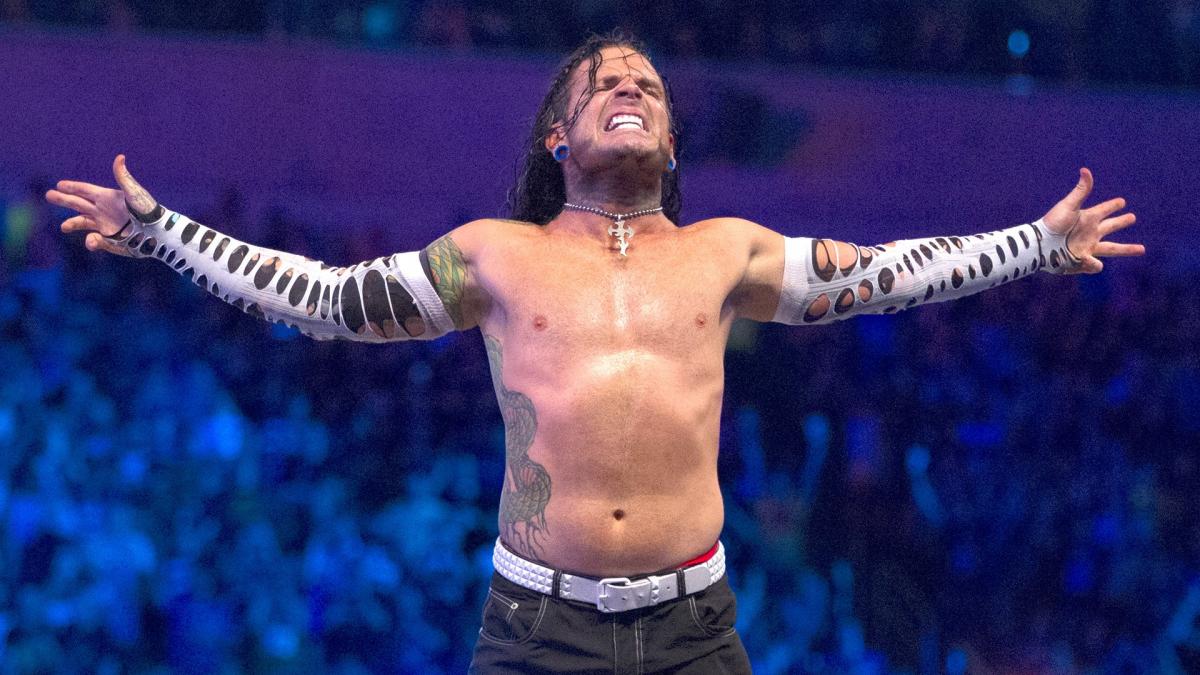 I'm sure by now you've heard the disturbing news that former WWE superstar and recent AEW signee Jeff Hardy, was arrested again for multiple charges including a DUI.  Hardy has had a hard and tragic road of recovery throughout the years in multiple wrestling promotions.
Not too long ago, Hardy walked out on WWE after they were rumored to have offered the former world champion to go to treatment for his substance abuse issues. Hardy refused and said that he was better but, as we saw the demons are still lurking and got the best of him again.
I have seen some nasty comments and even some distasteful memes about the AEW superstar and felt compelled to go against the grain. Instead of kicking a man when he's down, I'm going to put together a greatest hits for the "Charismatic Enigma."
Jeff Hardy & The TLC Match
Everyone can say that Shawn Michaels and Razor Ramon helped innovate the iconic ladder match and you are right, but Jeff Hardy and his death-defying stunts changed the concept of the match forever. The Hardy Boyz vs. The Dudley Boyz vs. Edge & Christian and their iconic TLC match should have their wing in the Hall of Fame. The risks all six superstars took for the adoration of the crowd could have ended all of their illustrious careers. In the words of Vince McMahon, It's such good shit!
Jeff Hardy Earns The Undertaker's Respect
On the July 1st, 2002 episode of Monday Night Raw, Hardy delivered the performance of a lifetime nearly winning the WWE Undisputed Championship from The Undertaker in an incredible ladder match. The young up-and-comer was faced with his greatest task yet, challenging for the most prestigious title in sports entertainment. Hardy showed that without a shadow of a doubt he deserved to be in the main event scene, but came within minutes of defeating Taker. At the time of the match, Hardy was still finding his footing as a singles competitor and earned the respect of the champion and legend.
Swanton Bomb From The Heavens
When I think of the daredevil Jeff Hardy, I can't help but think of this one crazy-as-hell stunt. At WWE One Night Stand 2008, Hardy faced off against the juggernaut Umaga in a falls count anywhere match. This match was so insane as both superstars fought into the parking lot. Hardy is one of the craziest and bravest superstars, hit a Swanton Bomb off a damn stage truck onto Umaga. It's one of the wildest things you'll ever see.
Hardy Wins The WWE Championship 
In 2008, Hardy finally made his way to the main event title picture alongside partner Triple H. HHH was Hardy's mentor in some sort of way which led to the daredevil achieving his lifelong dream of becoming WWE champion. At the 2008 Armageddon pay-per-view, Hardy would face HHH and longtime rival Edge in a triple-threat match for the title. In what was a great match between all three superstars, Hardy delivered a Swanton Bomb to Edge to win the illustrious championship.
Straight Edge Problems For Hardy
The following year, Hardy found himself in the way of young-up-and-comer CM Punk who is looking to make an example out of him. Punk had won the Money in the Bank briefcase for the second year in a row and took advantage of Hardy to win the world title. What started as mutual respect between both superstars changed drastically, when Punk started throwing jabs at Hardy for his drug and substance abuse real-life issues. Punk would form his infamous stable known as the Straight Edge Society. This is a very underrated feud and you should go back and watch it in its entirety. The promos are gold.
The Hardy Boyz Return To WWE
Both Matt and Jeff Hardy found success in multiple other wrestling promotions including Ring of Honor, and TNA during their time away from WWE. Both brothers were struggling with their vices and made poor life choices but straightened up their act over the years. In 2017, the Hardy Boyz would face longtime rivals The Young Bucks in ROH. The following night the adored tag team would make their incredible return to WWE at WrestleMania 33. Matt and Jeff would be named the final team in the Fatal 4-way ladder match for the Raw Tag Team Championships. The pop these two received was insane and very much deserved. They would go on to win the match and win the titles to capitalize on their momentum.
Jeffery Nero Hardy Makes AEW Debut
From 2017-to 2022 Jeff Hardy would find himself pigeonholed in the mid-card title picture. He would have feuds with a plethora of superstars including Samoa Joe, and Randy Orton. Orton and Hardy had a nasty Hell in a Cell match back in 2018. Earlier this year, Hardy was seen running around after the 24/7 Championship, which was disappointing to see. After being genuinely unhappy in WWE, Hardy would make his AEW debut on the March 9th episode of AEW Dynamite. Hardy would come to the aid of his brother and longtime partner.
This week news broke that Hardy had been arrested for multiple charges including a DUI. While it's easy to beat a man while he's down, how about we uplift and try to encourage him to get the help he needs.
As a longtime wrestling fan, I have the utmost respect for Hardy and wish him the best of luck in his battle with addiction.