Chris's 205 Live Grades & Analysis For 7/9/19
Welcome to the very first edition of my in-depth analysis where I break down the matches of some of the exhilarating Cruiserweights WWE has to offer. Tonight is the Go-Home-Show for Extreme Rules!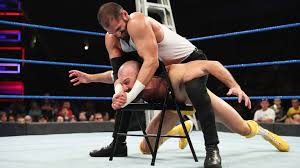 Welcome to the very first edition of my in-depth analysis where I break down the matches of some of the exhilarating Cruiserweights WWE has to offer. Tonight is the Go-Home-Show for Extreme Rules! 
Chris's Grades For WWE 205 Live:
Brian Kendrick vs. Sunil Singh–B-
JackGallagher vs. Devin Justin–B+
OneyLorcan vs. Ariya Daivari–A++
Tonight's show opens with the loony Oney Lorcan addressing his recent adversary over the last month Ariya Daivari. "Tonight anything goes" tables, chairs and many other dangerous weapons can be utilized. Oh, and of course if Lorcan wants to gift Daivari with more stitches he can…. Daivari comes out of nowhere and a brawl ensues, but backstage officials and the General Manager of 205 Live himself Drake Maverick screams "KEEP THEM APART ALL NIGHT".
We go live as Vic Joseph and Nigel McGuinness and Aiden English welcome us to Manchester, NH. They promote the explosive Cruiserweight Championship Match this Sunday where two former friends will do battle, as the dangerous Drew Gulak defends his title against The Premier Athlete Tony Nese.
The Brian Kendrick's music plays through the arena. We see a backstage clip from earlier today, where Sarah Schrieber is interviewing Kendrick and The Bollywood Boyz (Samir and Sunil Singh) interrupt. Their both throwing jabs at Kendrick's lack of accomplishments since the 205 Live roster was created back in 2016. They offered him a lifetime Bollywood award but, "The Man With a Plan" lost it and challenged whoever wants to fight him to meet him in the ring. Kendrick vs. Sunil is now.
The agitating Sunil begins with showboating and dancing, Kendrick is not impressed in the slightest and drills with a stiff right hand. It's all Kendrick so far, as he rocks his opponent with a devastating back body drop and a dropkick to send Sunil outside. Samir offers a distraction and Kendrick is thrown over the steel steps. Sunil now is unleashing his ruthless side with hard strikes and throws to the outside. Kendrick dodges a cocky elbow drop from the top rope, this is his opening.
The Man With a Plan mounts a comeback delivering ferocious clotheslines and a nasty dropkick.  Kendrick wants sliced bread #2…nope… reversed into a suplex…countered Captain's Hook locks in for the quick tap. Before Kendrick can celebrate Samir runs in and blasts, two-on-one beatdown now…nope Akira Tozawa makes the save. It appears that we may see a fantastic tag team match next week!
The commentary team announces our massive main event between Lorcan and Daivari in an Anything Goes Match.
Who is Humberto Carrillo: The fantastic production team of WWE puts together a history of one of the brightest and incredibly-gifted superstars of 205 Live. Carillo comes from a lineage of professional wrestlers and, he and his family would eat, sleep, and breathe Mexican wrestling. However, when he came here in the United States he was all by himself. I love when they use these to unravel the layers of superstars. Sure he's very talented and dazzling to watch, but this always the WWE Universe to get a closer look into his passion for the business.
Back live as The Extraordinary Gentleman Jack Gallagher is making his entrance for his one-on-one contest with the young Devin Justin. Immediately Gallagher begins joint manipulation on his opponent's hands. Off the ropes… Justin tries to fly and is caught and slung on the ropes. Gallagher locks in submission with the sole purpose of inflicting more pain to the hand.
The Extraordinary Gentleman wraps Justin up like a pretzel along the bottom rope, breaks and then delivers a nasty double-stomp to the chest. Followed up with a magnificent hanging suplex. Out of nowhere, an enraged Mike Kanellis begins destroying the announce table and throwing papers everywhere. All-the-while proclaiming "you're gonna ruin my life, then I'm going to ruin your whole show" targeted at Maverick. Immediately, security comes out along with a disappointed GM so Kanellis runs through the crowd.
Back to the match, the sly youngster surprises the veteran with a roll-up. He eats a wicked headbutt for his treachery and Gallagher gets the 1-2-3
A Heart To Heart: Mike Kanellis is backstage trying to keep his composure as the GM is relating to him over his personal problems. Maverick even apologizes for his recent absences on 205 Live and being distracted by the pursuit of the 24/7 Championship. Kanellis doesn't care and in fact, he's proud of his actions. Maverick says he's still the GM and he must fine him, Kanellis says he can't wait to see how big of a fine he'll have to pay next week in his match.
Main Event time! These two are going to tear each other apart and I cannot wait! Lorcan is out first, followed by Daivari. The two rivals don't even wait to enter the ring and brawl up the ramp. Bell rings as Lorcan cleans his clock with a ferocious lariat. Daivari gets thrown outside and, his head is pounded off the steel steps. Lorcan is bringing in the toys, a hard running knee in the corner and it's all Lorcan. Daivari dodges a chair that was set up by his foe. Throws Lorcan outside…grabs a trash can, Lorcan lands a nasty looking suplex on the hard floor. Daivari whips Lorcan into the barricade.
Daivari finds a ladder and brings it into the ring, he grabs a steel chain and is raking it across Lorcan's face. Daivari Irish Whip…nope…Lorcan whips him back-first into the ladder. The crazed Lorcan attempts a suplex onto the ladder…blocked but Daivari gets hip-tossed through the ladder. Lorcan with the first pinfall… two-count. He wants the Half and Half on the chair, but Daivari blocks it and executes an inverted DDT…TWO! The Persian Lion is livid that he couldn't put his adversary away. He uses the chain again on the face and drives Lorcan into the corner…and a second time…pin… nope.
Daivari slams Lorcan headfirst into the chair and is grinding away at his eyes and nose while Lorcan's head is dangling through the chair. Daivari trash-talks "do you know who I am" off the ropes… clothesline…nope he hits the chair hard on his skull. Lorcan lights up his foe with some wicked uppercuts, followed by a devastating blockbuster…and a running uppercut! Lorcan flies over the ropes with his corkscrew elbow attack. He is feeling it, and the WWE Universe is chanting his name. The crowd is chanting "We want tables" and Lorcan obliges. Daivari with a baseball dropkick, He runs off the ring apron straight into a trash can and Daivari is down!
The Fury of 205 Live has come unhinged as he systematically destroys his adversary. Lorcan is rearranging furniture as he sets six chairs up side-by-side. Daivari avoids it with hard knife edge chops, followed by a smack from the trash can. The Persian Lion wants a suplex onto the chairs…Lorcan blocks…but attempts a powerbomb… reversed and back body dropped through the chairs! There is a small "this is wrestling" chant. Daivari sets up the table and the ladder in the corner. Daivari ascends the ladder to give an explosive body splash…long two-count. He's screaming in disbelief that his foe barely kicked out.
One table isn't enough so The Persian Lion grabs another and sets it up right by the other. Daivari places Lorcan on the table and climbs to the top rope…Lorcan blocks it and hits a gigantic suplex through both tables… shoulder over his fallen for 1-2-3. What an incredible match! WWE needs to deliver more brutal contests like this, I believe this is the only way to attract attention to bring in more viewership.
An Inside Look Into Gulak and Nese's Storied History: Another terrific masterpiece that brings all the way back to 2016 when 205 Live was born. Gulak shares that Nese and he were close friends in the beginning, however, Nese didn't help him create a better 205 Live because he couldn't. Gulak is superior to him. Nese shares how Gulak has always been self-centered even with his campaigns for a better 205 Live, it was never about the brand it was always about him.
Nese never bought into his politicians because he knew Gulak didn't. We see a recap of the finals in the #1 Contender Tournament where Nese countered the Gu-Lock into a pin to advance and challenge Buddy Murphy at WrestleMania 35 for the Cruiserweight Championship. Gulak said, "he beat me for three seconds". He claims his former friend robbed him of his WrestleMania moment.
So he went back to his roots and trained harder than ever and it hit him, what makes him the best wrestler is dishing out pain and punishment to whoever is across the ring. Gulak says "at Stomping Grounds there was nothing that was going to stand in his way to win the Cruiserweight championship". Nese doesn't consider him the "true" champion because he never pinned him. Gulak says he's got the title and he's the champ! Damn this made me so excited for this match on Sunday!