Chris's Grades & Analysis For WWE SmackDown Live 7/23/19
Kofi vs Orton at SummerSlam and more from Tuesday's Smackdown live!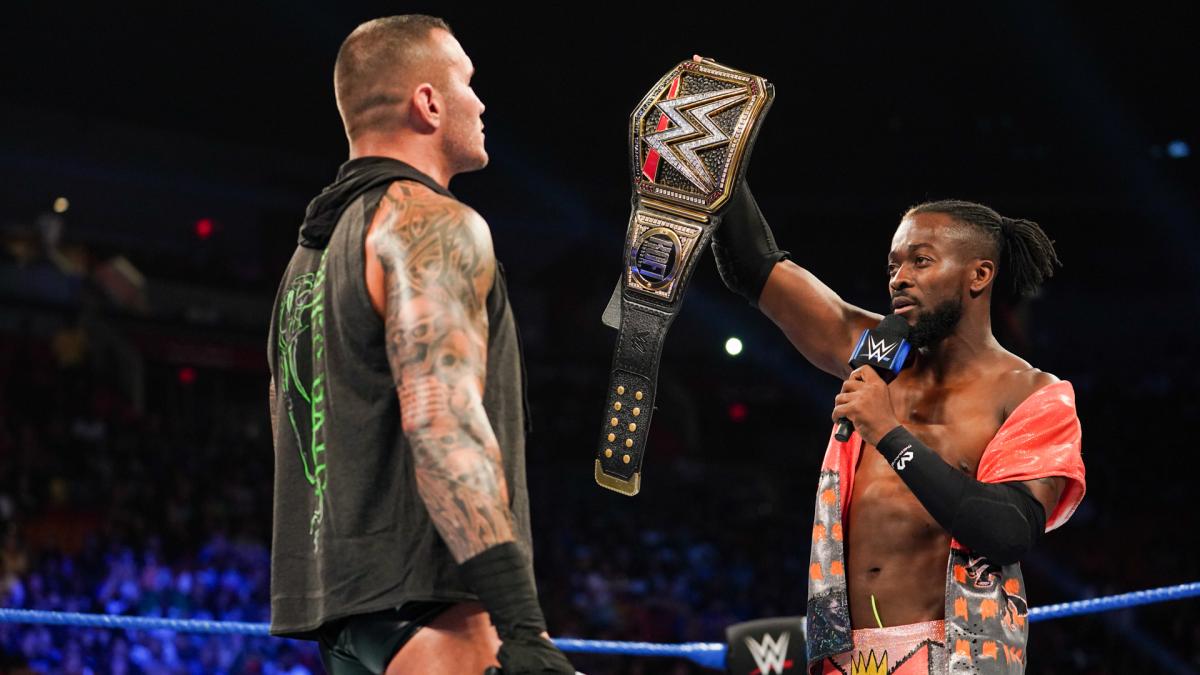 Tonight's episode Kofi Kingston will find out his SummerSlam opponent, my only question is when will The Viper Strike? Last week Randy Orton pinned the WWE Champion clean. Last but certainly not least, The Best in the World Shane McMahon will address the new thorn in the authority's side Kevin Owens. Will Owens Stun the boss for a third week in a row? Let's find out!
Chris's Grades:
The New Day; Shane McMahon Accepts Kevin Owens's Challenge:
After weeks of Kevin Owens defying authority and finding a way back into the building after being banned, Owens gets what he wants. It's amazing to see how Owens has adapted to this role of antihero, and for some reason these two play off each other perfectly.
Grade: B+
Shinsuke Nakamura VS Apollo Crews
I can't remember the last time Apollo looked this impressive, even in defeat he shined. He's extremely talented and dazzling to watch. If WWE continues building him up, Apollo could be a worthy challenger for Nakamura's Intercontinental Championship. For the first time in what seems like forever, Nakamura has found new life after capturing the gold. These two have impeccable chemistry, and I'm thrilled to see Apollo finally getting opportunities.
Winner: Shinsuke Nakamura, Grade B+
Special Edition of Miz TV With The Heartbreak Kid Shawn Michaels:
It's been great to see HBshizzle the last two nights, and he always impresses on the mic. Miz played the role he should have last night with Seth Rollins which helped move things along. Dolph Ziggler needs to go. As much as I appreciate everything he's done in his career, there's no real development into his character than his constant whining.
Since Miz doesn't have a real feud for SummerSlam which is appauling, I guess Miz vs. Ziggler will work for now. I can't believe how far Miz has fallen since turning babyface for his WrestleMania match against Shane. I thought for sure he would be moved into the Universal or WWE Championship title scene, sadly he's not even on the pay-per-view card.
Grade: C+
Ember Moon VS Charlotte Flair
WWE was wise not to give us this first-ever match on free television, saving it for down the road for an Epic Match! Ember is starting to see Bayley's tricks, and she's not going to take it well. Unless Bayley is being positioned as the tweener, could this be a start to a long-awaited heel turn? She's not acting like a true hugger would! Ember could become a great champion if she's given the chance to shine.
Winner: Ember Moon, Grade–C+
Kofi Kingston and Randy Orton SummerSlam Segment:
And Just Like That, we have a WWE Championship match that is built perfectly! I love that WWE is using the kayfabe conflict between the two from 2010. I had been predicting this feud for months now, ever since their brief encounter in the Elimination Chamber gauntlet match in February. Orton and Kofi could easily steal the show at SummerSlam.
Grade–A
Bray Wyatt Accepts Finn Balor's Challenge For SummerSlam:
I think I speak for many people when I say that the biggest concern for Bray Wyatt/The Fiend, was how creative was going to handle both unique characters when he made his return to TV. Thankfully they've booked him perfectly, from surprise attacking Finn to his attack on Mick Foley last night.
This was an excellent segment, and I love that Bray says "The Fiend Remembers!" Finn needs to lose to Bray in his first match and further start the descend for Finn's inevitable heel turn, after years of mistreatment and his current state of mind.
Grade–A+
Charlotte Flair Backstage Interview:
I'll admit last year during the rise of The Man I was perplexed why she turned heel, only because I felt that she was going to steal Becky Lynch's thunder. The conceited and entitled Charlotte has always been, and will always fit her personality like a glove.
I thought for sure that her being included in the Bayley/Ember storyline guaranteed her being added to the match, that doesn't appear to be the case here which is a welcome change. Now it begs the question who will Charlotte face at the biggest party of the summer?
Grade–B
Roman Reigns VS Kevin Owens W/Special Guest Referee Drew McIntyre: 
I saw this coming a mile away, Shane was going to come up with a scheme to get his rivals tearing each other apart so he could come in and pick the bones. Too bad his masterplan backfired, and Owens and Reigns joined forces and whooped ass!
I hate to say this but Joe's leaukamia flare-up was the best thing for his character. Had it not have happened the WWE Universe would not be cheering him to this day, and they would have preferred Owens Stun him also. Instead, Reigns and Owens are antihero badasses who are "Over" with the WWE Universe.
Owens and Shane are set for SummerSlam and it appears that McIntrye and Cedric Alexander are on a collision course. The Big Dog reignited a bitter rivalry with The Samoan Submission Machine last night, does that mean Joe vs. Reigns is happening? We'll have to wait and see what The Best in the World's next evil plan is, nobody humiliates the boss and lives to tell about it…well maybe a certain Texas Rattlesnake!
Winner: No Contest,Grade–A
Chris's Show Grade–B+
Analysis: 
The show opens up with The New Day and they are in an exceptionally good mood, dancing on the announce table and throwing pancakes. That was until the egocentric boss The Best in the World Shane McMahon shuts it down. Shane reflects on the Raw Reunion and said he was thrilled to not see Kevin Owens. Apparently, Owens petitioned for a match at SummerSlam on social media. You can't have the biggest party of the summer without The Best in the World! Shane accepts his challenge but of course, there's a catch. If Kevin loses he must quit the WWE in writing!
Owens wastes no time and comes out, he knew Shane would accept the challenge because he wants him gone. Shane wants to hog all the spotlight, Owens isn't going anywhere because he's not a broken-down man like he was last year. Owens is ready to fight right now, but Shane says it's not gonna happen instead he can face Roman Reigns.
Backstage Shane is plotting with Drew McIntyre and Elias, on how to screw both of their enemies. Ala The Corporation from the 1990s tonight's match will have The Scottish Psychopath as the Special Guest Referee, Elias will be the Special Timekeeper and Shane himself will be the Special Ring Announcer! I smell a tag team forming with two bitter rivals with a common enemy.
Our first match of the evening is the Intercontinental Champion Shinsuke Nakamura VS Apollo Crews. The bell rings and both competitors circle each other, Nakamura locks in a headlock and Apollo escapes into a shoulder tackle. Apollo lands a stunning hanging suplex and holds Nakamura up for twenty plus seconds. Nakamura gets clotheslined to the outside and Apollo hits a spectacular Moonsault! Back in the ring and Apollo climbs up top, Senton but nobody home. Nakamura goes on the attack with his deadly knee strikes, he blasts Apollo with a knee guillotine. The finish comes after Nakamura hits the Top Shelf Knee in the corner, Apollo lands a pop-up flapjack. He misses a standing shooting star press, Kinshasa 1-2-3
Backstage Mandy Rose has a surprise for Sonya DeVille, she spoke with Shane and now they have an opportunity to qualify for the WWE Women's Tag Team Championships. Sonya is ecstatic!
We are blessed with another stellar vignette of The Heart and Soul of SmackDown Live Mustafa Ali. He gets to rewrite his story, and nobody else will. This is not a woe is me story about going from a cop to a wrestler having to scratch and claw for his title opportunity, and have his body fail him. He's going to write Ali becomes champion!
Welcome to a Special Edition of Miz TV with none other than…The Heartbreak Kid Shawn Michaels! HBK and Miz talk about how much fun the Raw Reunion was. Michaels says he knows what it's like to see the part-timers come out and wish they would just leave, but he just couldn't pass up the chance to celebrate. The Show-off Dolph Ziggler is sick of this, Ziggler hopes that someone puts him out of misery before he overstays his welcome, Miz offers to help with that. Ziggler is actually excited to see HBK because he's used to idolize him.
HBK broke his heart when he returned in November, and both Ziggler and Michaels agree it was embarrassing. You know what's worse is working your whole career and giving it your all, and still be left with nothing but being known as "a second-rate, Shawn Michaels wannabe." This goes on for a while and Miz finally is sick of Ziggler's whining and crying about how "It should have been him" The WWE Universe wants him to do something, Miz offers Ziggler a free shot, and Ziggler teases leaving then delivered a sucker punch to HBK. It hits Miz and HBK fights him off now, the segment ends with Ziggler laying out Michaels with some "Sweet Chin Music!"
Ember Moon VS Charlotte Flair
This is their first-ever encounter. The bell rings and both women circle each other, Charlotte kicks Embers's leg and whips her into the corner. Embers handsprings through a hip-toss into an arm-drag. Charlotte gets up and delivers a shoulder tackle and viciously kicks Ember. The SmackDown Women's Champion Bayley wants a front-row seat in the action, and Ember surprises The Queen with a roll-up 1-2-3
Post-Match Attack, Charlotte is pissed and delivers a Big Boot to Bayley, Ember takes Charlotte out with The Eclipse! Bayley's smiling after her masterplan worked and gets Eclipsed too!
The time has come to find out Kofi Kingston's challenger for the WWE Championship. A pumped-up Kofi comes out throwing pancakes per usual. The champ is looking past his Smackville title defense this Saturday. He wants The Viper Randy Orton as his SummerSlam opponent, why? Because they have a history that spans ten years. Kofi reminds the WWE Universe about what happened on November 16, 2009, when Orton was about to punt kick Hall of Famer Rowdy Roddy Piper, Kofi made the save. They brawled all over the MSG Arena and Kofi hit a Massive Boom Drop from the rafters through a production table!
Kofi brings up their "kayfabe" beef that Orton halted his main-event push in 2010. If you're not familiar with that on May 13, 2010, it was Kofi vs. Orton vs. John Cena to become Sheamus's number-one contender for the WWE Championship. Kofi was supposed to stay down so Orton could punt him and instead got up too early, and Orton hit him with a vicious RKO! After the match, he's shouting "Stupid, Stupid!" If that's what Kofi wants for SummerSlam he accepts. He says Kofi wasn't ready for the spotlight then and even now, he brings up how Kofi only got his opportunity because Ali got injured.
Samoa Joe comes out, he's not concerned with this conversation he wants to prove he can beat Kofi tonight. Orton is gonna watch as the match starts after the commercial. The bell rings as both competitors tie-up into arm wrenches into counters and more of the same. Kofi's fired up and tells Joe to bring it! Joe is back on offense and delivers nasty-looking headbutts to slow the champ down. Kofi back up and here's the comeback, chops and a dropkick sends Joe to the outside. Kofi with a Trust Fall and wipes out Joe! The end of the match occurs as Kofi and Joe are fighting in the corner, and Kofi lands a cross-body and Orton decides to strike! An RKO attempt is avoided by Kofi, but Joe gets in The Viper's face and gets an RKO! Kofi blasts Orton with a Trouble in Paradise to stand tall!
Next up is Balor Club! Finn Balor returns after The Fiend shockingly attacked two weeks ago. Kayla Braxton is interviewing him, Finn is asked why does he believe he was targeted? He says they have a history but it's unclear if this settling an old score, or this is something different altogether. Bray Wyatt the man is on the Tron for a new Firefly Funhouse and he says that his friends and he are big fans of his and Bray's got some good news! He accepts Finn's challenge for SummerSlam on The Fiend's behalf. The segment ends with The Fiend looking creepy as hell saying "LET ME IN!"
The Queen has something to say, peasants! Charlotte is disgusted that she had to ask for an interview. She says Bayley's ploy earlier was a slap in the face, actually being off the SummerSlam card is but she'll find a way to right that wrong. Charlotte says she was the WOOOMAN behind the Women's Revolution, and she'll have a better opponent than Ember Moon and prove that she's the greatest woman superstar of all time!
It's main-event time as Kevin Owens will face an old rival Roman Reigns, with McIntrye as the special guest referee, Elias as the timekeeper and Shane as the ring announcer. Shane gives his cronies proper introductions but shafts Owens and Reigns. Before the match starts Owens grabs a mic and tells his SummerSlam opponent, I know what game you're playing and it doesn't matter I'll fight anyone to take you down! Reigns says that's not gonna happen and he'll whoop anyone's ass tonight!
The bell rings as Owens and Reigns tie-up and back up into the corner multiple times and McIntrye makes them break at the five-count. The Scottish Psychopath shoves both competitors, The Big Dog blasts him with an uppercut and Owens takes out Elias. Now the self-proclaimed Best in the World is being chased and halted by the new common enemies. McIntyre saves Shane from Reigns, but Owens assists him. Elias is back in and hits the running knee, to give them the upper hand. McIntyre and Elias hold up Reigns for Shane's rendition of the Spear. Not so fast Shane as Owen's trips him and drives him into the barricade.
The Big Dog breaks free, Superkicks to Elias and McIntyre…Spear to McIntrye and the crowd is going nuts! Stunner to Elias as Shane tries to flee, nope SUPERMAN PUNCH INTO A STUNNER! The WWE Universe chants "One More Time!" And so does The Big Dog, Owens brings Shane up…STUNNER! The Big Dog and The Prizefighter stand tall to end the show!