Chris's WWE SmackDown Live Grades & Analysis 7/16/19
Following Extreme Rules, The New Day hold all the gold on the Blue brand but for how long? Who will face Kofi Kingston at SummerSlam for the WWE Championship, The Viper perhaps? Could we witness the reigniting of a ten-year rivalry?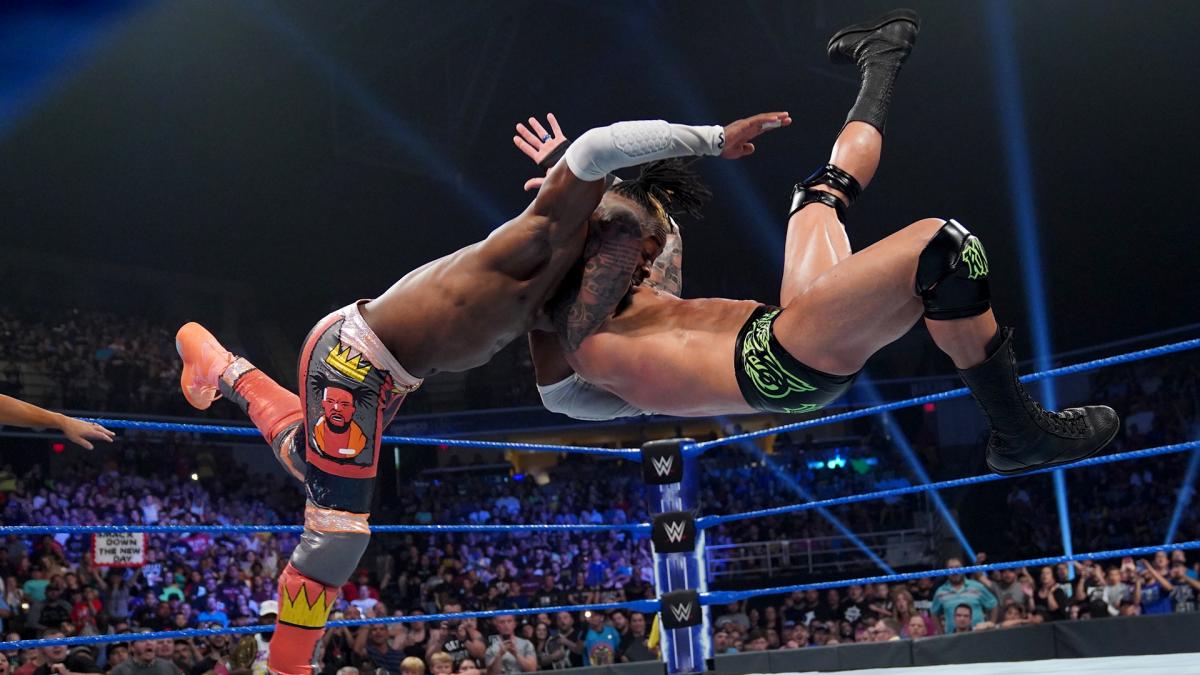 Following Extreme Rules, The New Day hold all the gold on the Blue brand but for how long? Who will face Kofi Kingston at SummerSlam for the WWE Championship, The Viper perhaps? Could we witness the reigniting of a ten-year rivalry?
Chris's Grades For WWE SmackDown Live: 
Aleister Black vs. Cesaro Winner: Aleister Black–B+
Liv Morgan vs. Charlotte Flair
Winner: Flair–B
Ember Moon & Bayley vs. Mandy Rose & Sonya DeVille Winners: Moon & Bayley–B+, The B+ was for the announcement of Bayley vs. Ember Moon at SummerSlam
The New Day vs. Randy Orton, Samoa Joe & Elias Winners: Orton, Joe & Elias–B+
WWE Women's Tag Team Championship Match The IIconics © vs. The Kabuki Warriors Winners: Kabuki Warriors by countout–C
Apollo Crews vs. Andrade w/ Zelina Vega
Winner: Crews by surprise roll-up–B
Kevin Owens vs. Dolph Ziggler
Winner: No Contest 
Analysis: 
The shows opened up with a recap of KO's Pipebomb promo and Stunner, on the self-proclaimed Best in the World last week. We see footage from earlier today with Shane is seen instructing security guards to detain Kevin Owens if things get out of hand.
The egocentric boss tells Owens that tonight there will be an open forum for many mistreated superstars to air their grievances and Shane "is going to listen"… excuse me while I hurl. Owens says he doesn't work for him, his contract is with WWE. Shane gives him a lesson that the McMahon Family controls the company, so "Yes, you do work for me". Owens is given the night off. Two things I see all said superstars with issues are going to get Claymore Kicked straight into next week, and Owens will strike again!
We go to ringside as the entire SmackDown Live roster is on the ramp I guess we're getting the first-ever 'Town Hall' but first a recap of The Undertaker and Roman Reigns' destruction from Extreme Rules! Of course, as long as they are respectful. The Big Dog speaks up first and says "Shane I don't think you get it, nobody respects you…Oh and you can kiss my ass!" Shane's rebuttal is Roman getting fined. I'll be frank I just deleted two paragraphs worth of superstars who aired their grievances, and Shane cut them all off…Liv Morgan and Charlotte Flair bickered and maybe we'll see a match soon.
Buddy Murphy is still a heel and sided with Shane, Apollo Crews got challenged to a match with Andrade, The New Day shut down Elias, and Kofi Kingston got his mic cut off while inquiring why Shane is not giving opportunities to deserving superstars.
Shane closes the thing… Cesaro wants another piece of Aleister Black tonight and gets it! Hell yeah! Owens is standing behind Shane, who botches and falls down… Stunner, this was a complete bore-fest. WWE needs to drastically change things with the upcoming move to Fox if they do long and boring segments to start the show there won't be a SmackDown Live… commercial.
We return and Thank God we get some action as Aleister Black is making his entrance for his Extreme Rules rematch against Cesaro. I don't expect a decisive winner tonight, I think these two will have another exhilarating match though!
We find out several things are happening tonight. First The New Daniel Bryan will give a Career-Altering Announcement, The IIconics will defend the WWE Women's Tag Team Championships against The Kabuki Warriors (Asuka and Kairi Sane). The bell rings and Black and Cesaro trade bombs…Black off the ropes and lands a kick. Cesaro slides outside and Black is gonna fly…Nope, sit-down cross-legged pose…commercial.
We return with Cesaro with a headlock on Black. The action is fast-paced with devastating strikes by both competitors. Black lands his signature springboard moonsault off the ropes for a close two-count. Black knocks Cesaro's mouthpiece out of his mouth with a MASSIVE BLACK MASS 1-2-3! 
Backstage we see Shane's newest suck up Dolph Ziggler and he wants Owens tonight, he claims if it's the main event he can get Owens back here.
We see a recap of a hallucinated Daniel Bryan in his Extreme Rules Post-Match Interview with Sarah Schrieber. Talking about saving the planet, he needs to go somewhere he's never gone before. He knows exactly what he needs to do, yeah go see a shrink lol. Do you remember when I told you we would see Flair vs. Morgan soon? Well, it's coming up next.
This will be Morgan's first match on SmackDown Live since the Superstar Shakeup, and her first as a babyface. She played one before she debuted on the main roster as a member of The Riot Squad. The bell rings and Flair just shoves her down…Wild punches from Morgan.followed by a stunning hurricanrana and a side dropkick! Wow, I'm shocked! Flair just stares as Morgan just smiles and waves at her in his laying down pose. Flair gets the upper hand hits a Powerbomb and locks in the Figure-eight and Morgan taps. Morgan lumps to the announce table and grabs Corey Graves's headset and says "Charlotte was right, and when I come back I'm going to be real"!
I wish this was longer so Morgan can show off more of her in-ring skills, but for what it's worth she did alright in her first match back. The Queen has been MIA for some time, and she needed to get a dominant victory here.
Outside the arena we see Ziggler trying to get Owens's phone number from senior NXT official Drake Wuertz. If you're not familiar with him, he's been the official for a plethora of TakeOver matches, here recently he's been receiving much more exposure on the main roster.
Ember Moon is walking for her tag match against Mandy Rose and Sonya DeVille, I wonder her partner will be? Rose and DeVille are out first, The Shenom is here and…The SmackDown Women's Champion Bayley. Before the bell rings Rose and DeVille attack both opponents.
The match is now underway, Rose hits a high knee and DeVille hits a shining knee… two-count. Moon gets the tag and is firing on all cylinders, bringing the fight to Rose. DeVille comes in and eats a Bayley-2-Belly and Moon hit The Eclipse for the 1-2-3! Post-Match Interview with Kayla Braxton as Bayley is asked who will be her next challenger now that she's done with Alexa Bliss? She thinks for a minute and turns to Moon and she ecstatically accepts by saying HELL YEAH!
The match was fine. I'm seeing a pattern here, because of the extremely long opening segment to start the show, most of the performers are paying the price with shortened matches. This is ridiculous!
Backstage Interview with The New Intercontinental Champion Shinsuke Nakamura who says "I am a storm, and now he's free to rain down his chaos on the entire roster". He's then congratulated by one of SmackDown Live's greatest assets The Heart and Soul of 205 Live Ali. Holy Shit, What A Match That Will Be!
Daniel Bryan and Rowan are coming up next, where do you think he's going? I think maybe NXT. He technically was in NXT before it boomed as a rookie, but many are speculating its to 205 Live either way is Awesome!
We return live as Tom Phillips announces that Owens has been contacted and he's on his way back to the arena. Something smells fishy to me, either he's getting arrested or he's getting a brutal attack from The Corporation 2.0.
It's A New Day, Yes It Is… They've put the SmackDown WWE Championship and Tag Team Championships on Lockdown (Sorry Uce)! After some dancing and celebrating Kofi grabs the mic and tests it. Nope, we're good compared to earlier, Woods gives props to Kofi for beating The Samoan Submission Machine Samoa Joe. Kofi congratulates E and Woods on their victory to become Six-time Champs! E offers Bryan and Rowan their Tag Team Championship rematch.
A distraught looking Bryan and Rowan walk off the stage, but it quickly turns to furious after "New Day" chants break out. Bryan throws the mic down and leaves.
The Samoan Submission Machine wants another title shot but of all people, Elias tells him he's had his chance. The Viper is ready to take back the WWE Championship. Elias says we should all three make a statement to The New Day tonight, New Day pays homage to former Smackdown General Manager Teddy Long back in the day! Orton says Six-man Tag Team Match…Nah he's good. Kofi provokes him to come back by saying maybe he's gone limp! Orton storms down the ramp along with Joe and Elias… commercial.
We're back as the bell rings and Kofi and Elias start it off, tie-up and headlock and a shoulder tackle by Elias. Kofi hits a flying-spinning elbow for the first pinfall of the match. Joe gets the tag and throws hard rights to the WWE champ in the corner, Kofi launches himself into a Lou Thesz Press maneuver. Woods in and Joe eats a highlight reel of splashes and attacks from Woods and Kofi. Tag to E and hits the splash two-count.
Back from a commercial, Woods lands a jaw-dropping missile dropkick all the way ¾ across the ring. Here comes Kofi, flying clothesline…Five Moves of Boom! Cross-body chops, followed by another flying clothesline and the Boom Drop to The Viper.
Kofi Sets up Trouble in Paradise… nope…RKO…nope Kofi hits a beautiful cross-body onto Orton, pin broken up by Elias. Woods and E back in and hit some good offense…Joe drills E with a ferocious lariat, Woods sends him to the outside…Huge Splash, Joe locks in the Coquina Clutch and Woods is out. E makes the save but Elias hits the Knee. Elias back in the ring, Kofi hits Trouble in Paradise… RKO 1-2-3! Yes, sir, my prediction of Kofi vs Orton at SummerSlam is all but confirmed now!
Paige and The Kabuki Warriors are making their way to the arena. Backstage Carmella is searching for R-Truth. HE'S FREAKING GOLD! Truth is hiding in a Washing machine! He's stuck and Mella helps him out. She says she's got a better hiding spot but he'll need a wear a costume z Truth says "good because being the 48/7 European 7/11 24/7 I-75 277 Champion Ain't No Joke!" Truth falls down while exiting the machine…and off they go.
We return live as The IIconics are making their entrance to the ring, their opponents are already in the ring. Greg Hamilton gives the championship introductions, and the match is underway. Sane and Royce start…Slap to Sane. Not wise…Whip tag to Asuka… Headscissors into a Code Breaker and a stunning Blockbuster…Asuka in and nails a shining wizard for almost the victory! They are on fire tonight!
Asuka wants the hip attack…nope tag to Kay and a big boot. Kay starts trash-talking…Huge Roundhouse Kick that sends her outside. Royce check on Kay outside as the official starts the ten-count, Royce grabs Kay off the ropes to ensure the countout victory… Genius! The challengers are not done as the women's champions try to flee with the gold. Royce gets driven into the steps, and Sane and Asuka drives Kay into the barricade. Back in the ring and another vicious kick by The Empress of Tomorrow, followed by The Insane Elbow Drop!
While I know that the charades must end at some point, The IIconics are brilliant cowardly heel champions. I predict a few more weeks of cat and mouse games and then we'll get the title change at SummerSlam. Andrade and Crews are up next.. commercial.
Andrade blasts Crews before the bell rings, now the match is underway. Hard knee in the corner to Crews, stiff strikes from Andrade. Crews answers back with rights of his own Enzugiri…nope stomps to Crews on the mat. Crews gets back up and tries to dodge Andrade but, he gets blasted with a nasty back elbow…Running knees in the corner. Andrade goes for the pin, Crews reverses into his own and gets the 1-2-3! Andrade and Vega are shocked.
Recap of The Fiend's Spectacular debut and attack on Finn Balor!
Owens and Ziggler are up next… commercial.
We return as Ziggler is out first, followed by Owens, I sense a trap…Let's find out!
The bell rings as Owens out of the gate Stunner… nope. Ziggler escapes outside but Owens flies into him! Owens up top, Senton…nope… Fameasser… two-count. Ziggler slows the pace down with a crossface submission and rakes Owens's eyes in the process. Ziggler gets in some good offense now…Ziggler hits a splash in the corner, followed by his signature satellite DDT for a two-count. Owens blasts him with a Superkick, Senton connects two-count. Here comes Shane with a flood of superstars behind him, they surround the ring… Zig-Zag… two-count!
Owens gets drilled shoulder-first into the ring post. Owens slaps him, Ziggler unloads on him in the corner. Owens gets sent to the ring post again, Ziggler with the Superkick…nope… Stunner… pin…nope Shane pulls Owens outside, and eats the second Stunner kt of the night and Owens sprints outta there! Kayla Braxton tries to get a word from Shane he says "He's gonna pay, Kevin Owens you are gonna pay my friend!" 
That's the show folks
Chris's Grade Of The Show–B- 
King's WrestleMania Rewind: Eddie Guerrero vs. Rey Mysterio (WrestleMania 21)
In the next WrestleMania Rewind, Chris King takes us back to WWE WrestleMania 21, and Rey Mysterio vs Eddie Guerrero in a battle of tag team champions!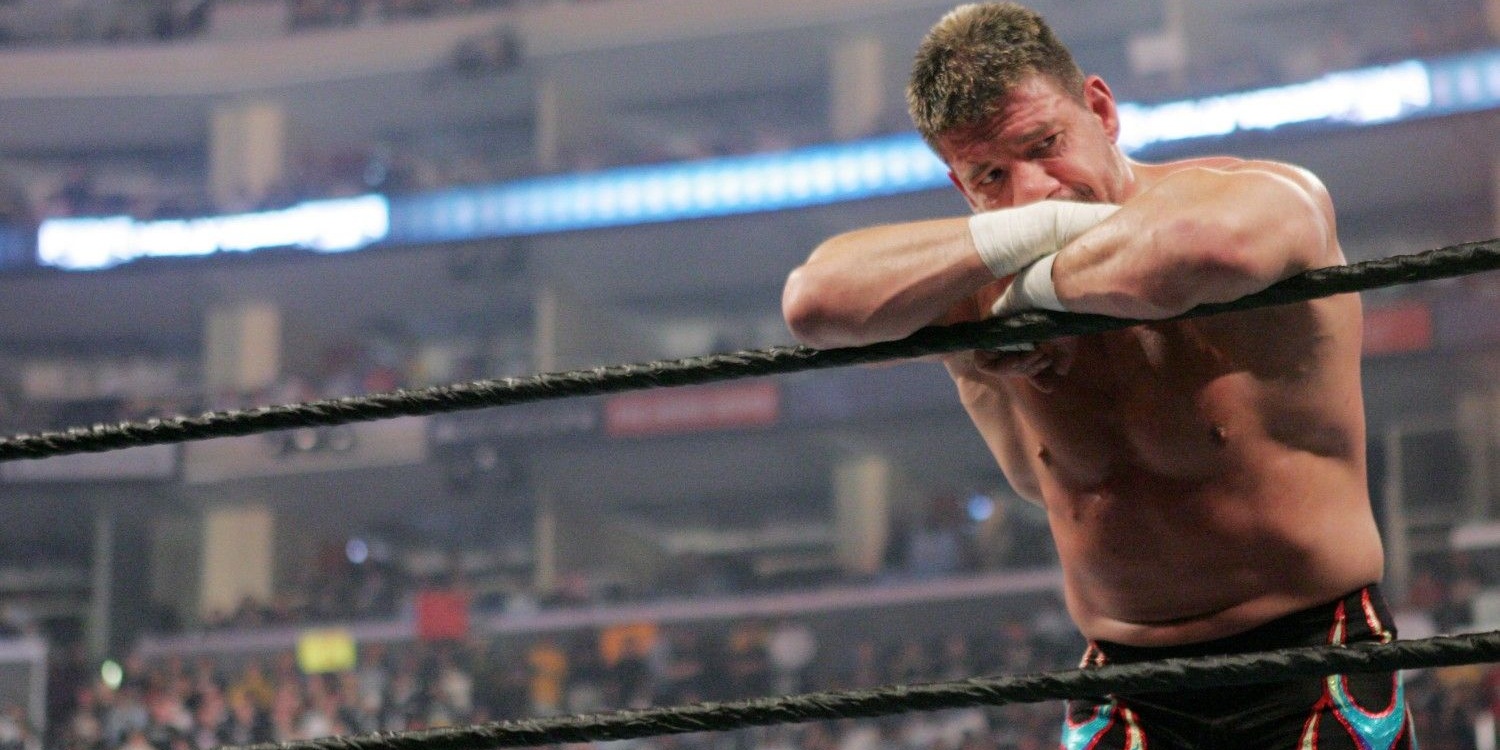 In the next WrestleMania Rewind, Chris King takes us back to WWE WrestleMania 21, and Rey Mysterio vs Eddie Guerrero in a battle of tag team champions!
Chris King is back with his third edition of WrestleMania Rewind. This week he's bringing us back to some 'Latino Heat.' We're rolling back to WrestleMania 21 where Eddie Guerrero faced longtime friend and rival Rey Mysterio.
This would be Guerrero's last Mania match caused by his unfortunate death. Over on SmackDown, Mysterio and Guerrero would become the tag team champions at No Way Out where they defeated MNM.
Chavo Guerrero would get into the head of Latino Heat by making him believe Mysterio was trying one-up his tag team partner. Chavo went as far as to tell his uncle to stop using the Guerrero name.
Guerrero would finally give in to his nephew's manipulation and went on to challenge Mysterio to a one-on-one match at WrestleMania 21. I For the first time in history, both tag team champions would face each other. Guerrero vs. Mysterio was the first match on the stacked card. Both partners threw everything at each other including the kitchen sink in a battle of one-up-manship.  In an incredible high-octane match that saw both superstars delivering counter for counter, Mysterio pulled off the win with a surprise pin roll up.
A few months later, what once was a friendly battle turned into a nasty fight involving the custody of Mysterio's real-life son Dominik Mysterio. After several torturous weeks, both former tag team champions would face off in a ladder match with the custody of Dominick on the line. I forgot how amazing this rivalry was and it's definitely worth a watch. Sadly, we would lose Latino Heat in November of 2005. There will never be another Eddie Guerrero. Viva La Raza!
King's WrestleMania Rewind: Stone Cold VS. Scott Hall (WrestleMania X8)
Chris King is back with another WrestleMania Rewind, looking at the NWO's Scott Hall battling Stone Cold Steve Austin at WWE WrestleMania X8 from Toronto!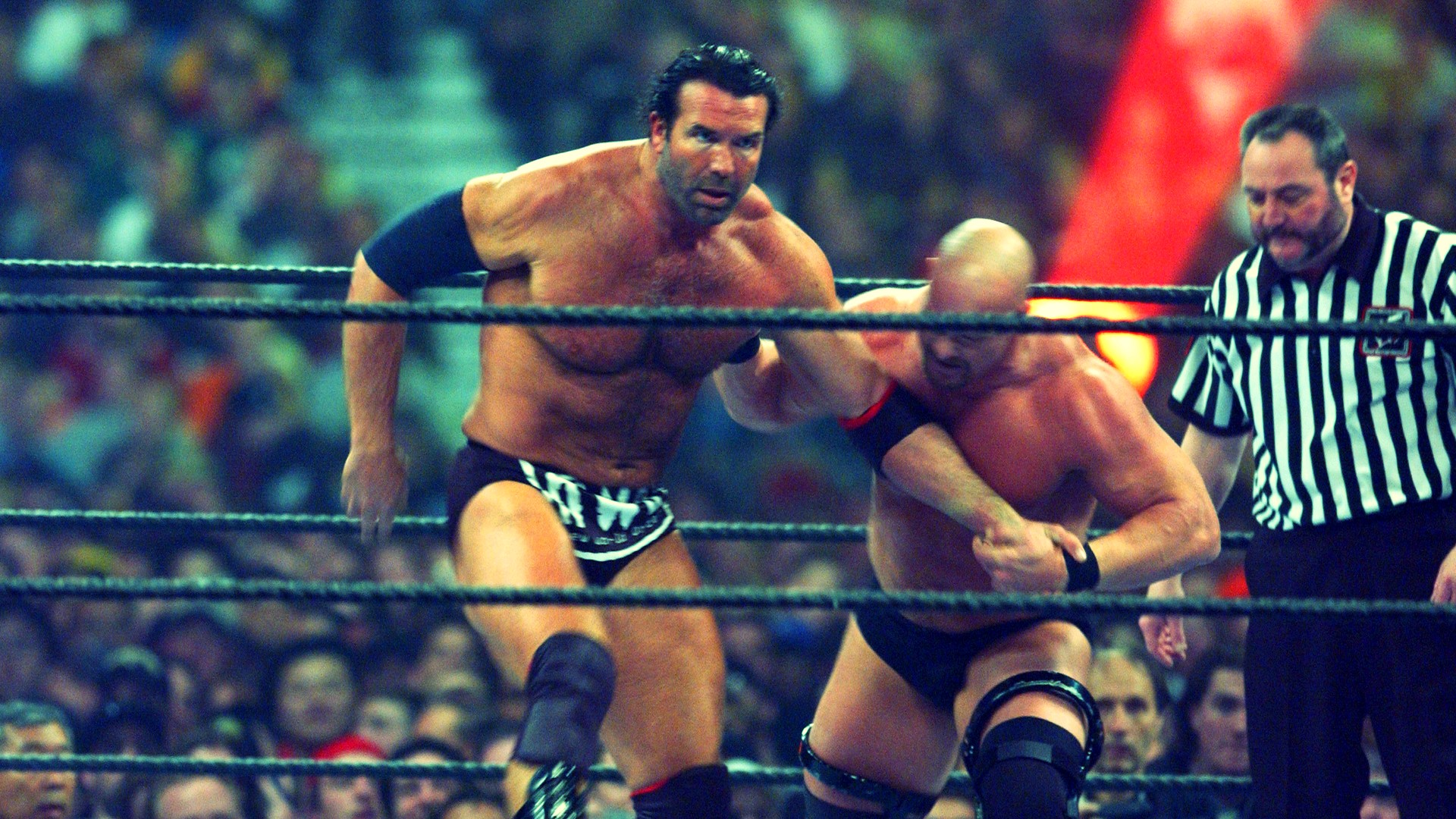 Chris King is back with another WrestleMania Rewind, looking at the NWO's Scott Hall battling Stone Cold Steve Austin at WWE WrestleMania X8 from Toronto!
Chris King is back this week with another edition of WrestleMania Rewind, where he is rewatching all the past Mania matches and feuds. This week you're in for a treat as we look back at 'Stone Cold' Steve Austin vs. Scott Hall at WrestleMania X8.
In late 2001, Vince McMahon bought out his competition WCW and acquired the rights to a plethora of talent including Booker T, Eddie Guerrero, Chris Benoit, and the iconic trio known as NWO. Hulk Hogan; Kevin Nash, and Scott Hall were hell raisers, and what better way to make a name for yourself than take out the two top superstars in the WWE The Rock, and Stone Cold?
The NWO cost Austin his chance at becoming the Undisputed Champion at No Way Out during his match with Chris Jericho. Adding insult to injury, the NWO spray-painted 'The Texas Rattlesnake' with their brand logo just like they did in WCW. As you can imagine, Austin was pissed and out for revenge against the group and primarily Scott Hall.
Hall would challenge Stone Cold to a match at WrestleMania 18. Both superstars beat the living hell out of each other leading up to this highly-anticipated match for who runs the WWE.
The glass broke and Stone Cold made his iconic entrance, and black and white NWO covered Halls' entrance alongside Kevin Nash. With the odds stacked against 'The Toughest S.O.B' could Austin or NWO prove their dominance? Sadly the NWO  broke up that very night when Hulk Hogan came to the aid of his adversary The Rock after their 'iconic' dream match. Stone Cold would ensure the victory with the Stunner. Hall would perform an Oscar-worthy sell over the finisher.
What a time to be a wrestling fan in the 2000s when nothing was impossible for WWE. Who would've thought WCW would go out of business and Hogan would make his long-awaited return to WWE?