Cook's Tale of the Tape: EVOLVE 131 vs AEW Fight for the Fallen
We've got two pretty big shows coming up on Saturday night, which has slid under the radar and become the best night for pro wrestling again lately.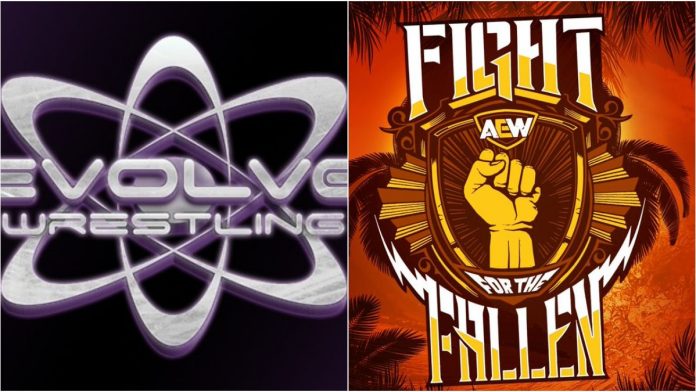 We've got two pretty big shows coming up on Saturday night, which has slid under the radar and become the best night for pro wrestling again lately.
People my age & over know all about World Championship Wrestling, Saturday Night's Main Event & WCW Saturday Night back in the day, but the sport of kings has been taking that night back recently. It started with the NXT TakeOvers, then AEW & New Japan joined in the fun here recently. And you old school ROH fans know that the Saturday shows were always the A shows of a weekend.
This Saturday's going to be pretty big. AEW is presenting their Fight for the Fallen event in Jacksonville with some pretty interesting matchups. Meanwhile, WWE has decided to let their Double A affiliate, EVOLVE, have their 10th anniversary show air live on the WWE Network. Correctly, they figured that a semi-indy fed booked by Gabe Sapolsky would have a better chance of making a dent in AEW's streaming numbers than anything else they could throw out there.
Which card should you spend your Saturday night watching? That's why I'm here with the Tale of the Tape!
Women's Singles Match
EVOLVE: Brandi Lauren vs. Shotzi Blackheart
F for the F: Brandi Rhodes vs. Allie
I'm a big Shotzi Blackheart fan. She works hard and has green hair & a punk style and I'm a fan of it. She's howling like a wolf and I dig it. I looked up Brandi Lauren and she was in TNA at some point and I have no memory of it. Larry Csonka's reviews of her recent EVOLVE efforts don't give me much hope.
Allie is pretty great. She managed to get herself over in Impact Wrestling during a time when nobody was getting over. Because she was a great worker. She delivered when it mattered. Whether you want to call her Allie or Cherry Bomb or whatever, she's been one of the best workers on the distaff side of things since she broke in. Brandi Rhodes isn't as much of a natural. She's had to work at it, and she probably started too late to be one of the best female workers of all time. The lady works hard though. She'll likely come up short here because Allie needs to be the person AEW's women's division is built around, but Brandi will bring the fight.
Advantage: F for the F
Top Featured Tag Team Match
EVOLVE: Eddie Kingston & Joe Gacy vs. AR Fox & Leon Ruff
F for the F: Cody & Dustin Rhodes vs. The Young Bucks
I love me some Eddie Kingston. He's one of the best talkers this business has seen over the past two decades. Unfortunately for him but fortunately for us, most of his career has been unproduced. I also love me some AR Fox. That guy can do some incredible things. His Lucha Underground stint showcased it for those that didn't know, and when I watched some of his CZW stuff years afterward I wondered how he didn't get signed by somebody.
I'm not as big on Young Bucks matches as some are, but they're an incredible team. I am huge on Cody & Dustin. The Rhodes Family isn't as big as some wrestling families, but if you want to talk about quality over quantity, they've got it over most. Anything they're involved in, I'm all about. Cody is awesome, & Dustin is still incredible after however many years. They both got the gene for story-telling from their old man & use it in different ways. Cody has probably thought about this match since the moment he met Nick & Matt Jackson, and I expect them to have the best match on Fight for the Fallen. Cody's streak of having the best match of a show he's on will continue.
Advantage: F for the F
Match Featuring A Man Named Adam
EVOLVE: ADAM COLE BAY BAY vs. Akira Tozawa
F for the F: HANGMAN ADAM PAGE vs. Kip Sabian
We're talking about two Adams that I'm buying all the stock of. Page looks to be the future top guy in AEW and I'm all about it. He's got the look, the understated charisma, and he can deliver in the ring. He carries himself like he's a Rhodes or a Windham, so I'm all about building a promotion around him.
But I would also build a promotion around Adam Cole. The guy's had it ever since he stepped into a ring. Wherever he goes, he becomes a top guy because he is the top guy. He's the closest thing I've seen to Shawn Michaels since Shawn Michaels. If I was booking NXT, I would keep the NXT Championship on Adam Cole until the second he gets called up.
Basically, the choice here comes down to opponents. Tozawa is awesome & I've never seen Kip Sabian wrestle.
Advantage: EVOLVE
Match Featuring Two Guys Smarks Like
EVOLVE: Drew Gulak vs. Matt Riddle
F for the F: Kenny Omega vs. Cima
Omega vs. Cima seems like a Japanese dream match. A guy that made it to the top of New Japan and reinvented their main event style taking on the guy that trained most of the people in the secondary promotions. I have no doubt it will be pretty great.
I've already seen Gulak & Riddle go at it on a random NXT episode. It was absolutely amazing. Two guys that knew how to technically wrestle putting on a freaking clinic. It was GRAPPLEFUCK at its best. I know Riddle is the favored son in some circles, but from where I sit, Drew Gulak just might be the best wrestler in the world today. Add in Riddle with his oddness, and it can't possibly suck.
Advantage: EVOLVE
Best Match I Can't Find A Parallel For
EVOLVE: JD Drake vs. Austin Theory
F for the F: Frankie Kazarian & Scorpio Sky vs. Pentagon Jr. & Rey Fenix
I saw a lot of Austin Theory on The Wrestlers, and he seems like a good kid with a world of potential. I've never heard of his opponent. On the other side, you have the two most exciting Mexican wrestlers against two American veterans that will know how to put them over while being fun at the same time. This isn't really a fair comparison.
Advantage: F for the F
Venue
EVOLVE: 2300 Arena, Philadelphia
F for the F: Daily's Place Ampitheater, Jacksonville
Advantage: Everybody marks out for the ECW Arena. The bingo hall at Swanson & Rittner. That place has seen so much wrestling that the history is ridiculous. I've watched so many shows from that venue that I couldn't even begin to tell you the best or worst matches. I can understand why Gabe would mark out for running a show there.
I get more enjoyment from shows in different places. My favorite ROH venue ever is a tent they held a show in when they got kicked out of a venue while still having KENTA booked. KENTA in a Tent-a was pretty awesome. This AEW venue is something connected to the Jaguars stadium and also shares space with a practice facility. If I'm going to see pictures of crowds, I'd like to see them in unique places.
Advantage: F for the F
Probable Announcers
EVOLVE: Lenny Leonard
F for the F: Excalibur, Jim Ross, Alex Marvez or maybe GoldenBoy?
I'm higher on the AEW announce team than most. Exaclibur does a good job of carrying things no matter who he's with. JR seems more emotionally invested with AEW than he has with anything else he's called in ages. Marvez wasn't great in the first thing he called ever, but I'm sure GoldenBoy is on AEW's speed dial.
EVOLVE has Lenny Leonard. Apparently Ron Niemi joins him on occasion, but it's mostly Lenny. I always liked Lenny on ROH shows before he got replaced during the HDNet era. Simple commentary is the best for me, and Lenny brings that.
Advantage: EVOLVE
Level of Importance
EVOLVE: It's their 10th anniversary celebration, available to more people than ever. Sapolsky calls this their Barely Legal, which sounds ridiculous to me. But I'm older & more bitter than the people on his roster. They may buy in. Either way, it's the biggest show in the company's history. They need to deliver.
F for the F: The proceeds are going to victims of gun violence. That's a bigger deal than anything else I typically mention in my columns, and if this "feud" took away from those proceeds I would feel guilty. I doubt it will, as it's the gate in Jacksonville going to the cause, and not anything from streaming. If you live in Jacksonville, go to the show.
These AEW shows leading up to the TNT debut are tests. Which are important in their own right, but not the most important show in the history of a company that started in 2010. If EVOLVE delivers here, they could get some more WWE Network & developmental love. If they tank, Gabe might not even get a job for himself. AEW is in the trial & error phase here, EVOLVE can't afford any errors.
Advantage: EVOLVE
Sticking It To The Man
EVOLVE: Gabe might try to tell you otherwise, but he's totally co-opted now. So is my good friend TJ Hawke. He'll tell you otherwise as well, but they're all serving at the behest of the man.
F for the F: They're bringing money to victims of gun violence. People that give money to WWE are giving money to gun violence.
Advantage: F for the F
Final Score: F for the F 5, EVOLVE 4
It's a close call, don't get me wrong. But at the end of the day, AEW's Fight for the Fallen gets the edge over EVOLVE's 10th anniversary celebration. People will try to argue otherwise, but the numbers never lie.