Heather's Review of St. Louis Anarchy: Circus Maximus 2019 (07/19/19)
Heather reviews the 2019 edition of St Louis Anarchy Circus Maximus!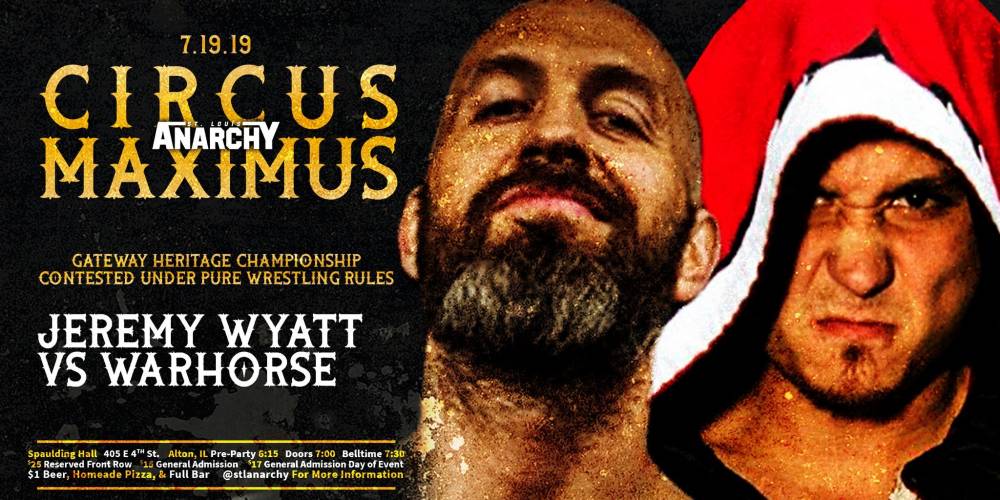 Heather reviews the 2019 edition of St Louis Anarchy Circus Maximus!
Another Circus Maximus is in the books and holy hell it was a great show. From top to bottom, the show flowed well and was energetic. It's weird how quickly time passes at these events.
The preparty which you cannot watch on the VOD was a bunch of fun, we had Everett Connors the psychic out and reading people's fortunes with Raul the bear. It was as much of a Hijinx as you can guess it was. The preparty also featured an 8-man scrambled.
Sage Philips defeated Ezra Zealous, Sean Orleans, Slade Porter, Victor Analog, Deacon Cash, Brad Mercury, and Briar Mercury
This was fun. It was fast paced and if you blinked you missed it. I really liked the mix of talent. I got to see new faces in Ezra, Victor, and Deacon. Brad and Briar really seemed to step it up here. Anarchy got to see experience some of the madness that is the Private Eye Slade Porter (a revamped version of the prior tragedy Anarchy got to experience). Then there's Sean Orleans, who had been out of wrestling since late 2017 and had had one match so far in 2019. The Anarchy faithful welcomed him back and it seemed like he was having a blast which made everything more fun. Finally, Sage Philips has long been a standout in every scene he's a part of and I'm glad he picked up the win. Sage improves with every match he has and this was just a taste of what he can do.
Craig Mitchell defeated Larry D
This was a match. Larry D is known to be brutal. That isn't a secret in any sense. Craig Mitchell has quickly become one of the go to guys if you want an amazing match against anyone. Both delivered here. I enjoyed this because both showed sides to themselves that we do not necessarily get to see in other matches.
Kody Lane defeated Jaden Newman
Disclaimer: I've been watching both of these guys for literal years now. I first saw Kody Lane in 2016 and the transformation he has made has not gone unnoticed. Jaden Newman is the uncrowned king of Chattanooga and the last year has seen him reached an untapped level of potential. This match was fast, lively, and honestly what you would expect from two guys trying to prove a point about who they are in wrestling. Jaden got a please come back chant which was heartwarming. 
Thomas Shire, Jake Dirden, and Christian Rose defeated The Gym Nasty Boys (Timmy Lou Retton and White Mike) and Gnarls Garvin
Going into this show, this was the match I was most excited for. It's no secret that I am a huge fan of Shire, Dirden, and Rose. It might be a secret though that I am a huge fan of the Gym Nasty Boys as well. So, this match was as up my alley as it could've been. This was fun. The crowd didn't know how to react to Shire after May but it's not like Shire cared. He, Dirden, and Rose wanted to show that they are the most dominant team with Anarchy and this showing had them doing just that with the ever-helpful Greg Jovi. Jovi is not liked by the Anarchy crowd but he doesn't care he's out there to help his boys. Meanwhile, Garvin has quickly become a fan favorite within the Anarchy faithful and I really enjoyed him in this. The Gym Nasty Boys made their long-awaited debut and showed Anarchy what fun can look like. If there is anything on this show that I feel is completely worth going out of your way for, it's this match.
Everett Connors (with Raul the bear) Isaias Velazquez
This was a last-minute match but I think it was a best-case scenario. It featured the debut of Isaias Velazquez who if you haven't seen him before is probably the best kept secret within the Chicago scene. Meanwhile, Connors has quickly become one to watch within the walls of Spaulding. This match was fun and funny without ever being contrived. Velazquez even superkicked Raul which made everyone in the building get up in arms. Overall, this was enjoyable and I hope we get to see Velazquez again soon.
The Workhorsemen (James Drake and Anthony Henry) defeated The Besties in the World (Davey Vega and Mat Fitchett)
This was war. This wasn't pretty. This wasn't easy to watch. It was gritty. It was slightly horrifying (in the best way). Spaulding Hall did not know what to do when their favorite sons lost to the debuting Workhorsemen. This is hands down not only the best Besties match I've ever seen live but it is the best tag team wrestling match I've ever seen live. Drake and Henry didn't let Vega and Fitchett have any time to breathe. It was a relentless attack and while the Besties tried they just couldn't match it. Fitchett was a stand out in this though. Everything looked chaotic but he made things look so smooth and easy at the same time. You'll want to watch this.
Kicks n Shit (Chip Day and Logan James) defeated The Diamond Dogs (Graham Bell and Luke Langley)
To start, The Diamond Dogs almost got blown up. Literally, the bazooka didn't go off until Bell got hit. This was fun and lighthearted compared to the match before. Day though was in his element and seemed ready to take everyone's head off. This is the most put together Kicks n Shit have looked since they started teaming.
Gary Jay defeated Jigsaw
This was spectacular. Jigsaw was quick to point to Anarchy's rules and break them. The crowd was all in on this one (what else do you expect from a Gary match though?).  This was fast paced but executed beautifully. This match had great moments like Jigsaw calling Gary "Barn Owl" and the fury of chops that Gary laid out. It's one those matches were words will not do it any justice.
Evan Gelistico defeated Matt Kenway in a dog collar match
Evan Gelistico is back baby. He was merciless and cruel and unrelenting in this match and it was refreshing. Kenway has never left and really stepped it up here to show he isn't afraid of anyone or anything. This was gross. It was enthralling. This match also had an amazing moment when Gelistico pulled out "The Rules". You want to see what felt like an old school fight? This is the match.
Jeremy Wyatt defeated Jake Parnell to retain the Gateway Heritage Championship
Hoobooy. This had a lot of layers to it. Most people were certain this was going to be Parnell's moment. In fact, if you haven't been in Spaulding live to see Parnell's entrance, the one on this show might not make a difference to you but in person, you could feel that everyone had their hopes on Parnell. Everyone stood up. Everyone was loud for him. Meanwhile, Wyatt has long been saying that he's not giving up that belt and he held true to his word. We saw the sheer genius that is Jeremy Wyatt in this match. We saw the pure heart that is Jake Parnell in this. I don't use the term often but this was a classic before it even started. Wyatt and Parnell were already solidified as some of the best in the Midwest but no one can deny after this.
Overall, Circus Maximus was a slam dunk. Every match delivered how it was supposed. The crowd was energetic and lively. We even broke a pizza record. When this drops on IWTV, everyone should watch it. Anarchy continues to provide some of the best wrestling in the world. Now, we wait till September 13, 2019 for the Battle of Spaulding.