(NOAH) WEEKLY NEWSLETTER VOL.41 ~ 30TH JUNE 2019
The Global Junior League drives the newest tour for Pro Wrestling NOAH! Hisame catches us all up with the proceedings!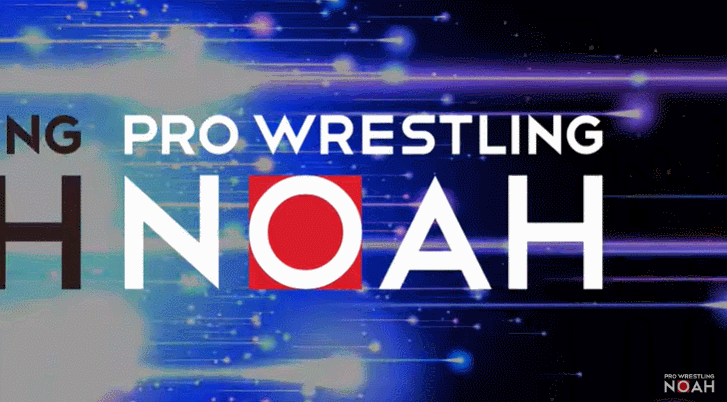 The Global Junior League drives the newest tour for Pro Wrestling NOAH! Hisame catches us all up with the proceedings!
CURRENT TOUR RECAP
NOAH held the first night of Global Junior League on a blustery summer night in Tokyo at Korakuen Hall with the typhoon blowing in. Due to it being a Thursday night (and given the weather also) they didn't manage a sold out house, but a very full one.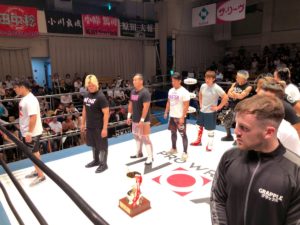 The traditional opening ceremony was held with the participants coming to the ring. Unlike Global Junior Tag League, Stinger (Yoshinari Ogawa & Kotaro Suzuki) actually deigned to attend, and YO-HEY spent his time trying to wind Daisuke Harada up, who gave him a glare in return.
Kotaro Suzuki, as last years winner, did the honor of placing the winners trophy in the middle of where the two blocks were lined up.
NOAH had also held short interviews about the league; Minoru Tanaka said leave it to him, Daisuke Harada said he was going to win by using his head, HAYATA refused to say anything and walked off, YO-HEY babbled something about fighting Stevie Wonder…and Tadasuke probably caused someone to press the gas pedal down and not stop until the next town, when he ran towards the road his fist raised and yelling at no one in particular as a car passed.
Global Junior League 2019 started with some very technical matches; Minoru Tanaka vs Yoshinari Ogawa & Hajime Ohara vs Chris Ridgeway. Although not as technical as the other matches, Daisuke Harada and YO-HEY clashed, with Harada coming away victorious after a bitterly fought match.
Hideki Suzuki had a singles match with Yoshiki Inamura, and while Inamura put up a good fight, he was of course no match for Suzuki.
After the match, Suzuki got on the microphone and challenged Go Shiozaki to a singles match. No pre-matches, no nothing – just one single match. Go Shiozaki later accepted in the evening.
Go Shiozaki vs Hideki Suzuki has been set for July 27th at Kultz Kawasaki.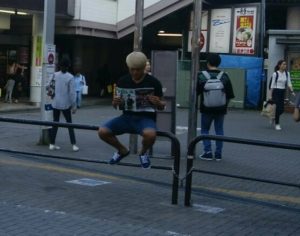 Earlier in the week, Kenoh had thrown a complete tantrum when he saw that Naomichi Marufuji and Kaito Kiyomiya were on the cover of "Weekly Pro" under the title "The Ark's True System", and demanded an interview of his own. So, you can imagine what kind of mood he was. Kenoh squared up to Marufuji the moment he got into the ring (Marufuji said later that Kenoh always knows where he will be, "but don't get in my way") and then to Kaito Kiyomiya.
Masaaki Mochizuki was also making an appearance in NOAH in this match, and he and Kenoh had a kick war. The fans wanted more, and Mochizuki seemed to hint that there would be by saying that he was interested in doing more.
AXIZ defeated The Sugiura Army (KAZMA SAKAMOTO & Takashi Sugiura) in a match that was described as pretty much kick, chop and elbow. The match itself had the crowd on the edge of their seats, and was highly charged and emotional. Nakajima got the win, and AXIZ won the heavyweight tag titles back.
AXIZ where challenged afterwards by Kaito Kiyomiya and Shuhei Taniguchi (when they came to the ring to challenge, they kind of looked like they had interrupted AXIZ doing "the lean", and AXIZ kind of looked as if they had suddenly noticed that they were there. Shuhei Taniguchi spoke first, challenging for the titles, but then Nakajima took the microphone from him and said in his usual sinister fashion (speaking to the belt which was across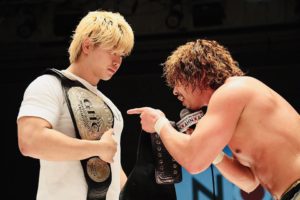 Kiyomiya's chest, rather than Kiyomiya), that there was only one way that Kiyomiya and Taniguchi were going to get a title match, and that was to allow him (Nakajima) to challenge for the GHC Heavyweight.
Kiyomiya accepted Nakajima's terms saying that he had a dream for a new Noah, and that involved having all the heavyweight belts.
Title match has been set for Noah's July 27th show at Kultz Kawasaki, with the GHC Heavyweight tag belts being defended on the 21st.
The second night of "Global Junior League" took place on the 29th June in Shimada, with NOAH managing another full house. RATELS members Tadasuke (who became manic) and HAYATA got wins in the league (HAYATA over Kumano, and Tadasuke over Miyawaki), while Daisuke Harada and YO-HEY faced off against Stinger in a tag match. Stinger attacked Harada's knee relentlessly, so much so RATELS lost the match via count out, and Harada had to be carried from the ring by Kinya Okada (which caused some concerns with fans, but in the event of things, Harada was fine). While Harada was being seen to by the others in RATELS and the referee, Yoshinari Ogawa decided he was going to steal Harada's IPW belt.
Not too much should be read into this however, as Ogawa has a habit of doing this, usually to people he's fighting with, and then usually to wind them up. He gave the belt to a reporter to be given back to Harada in the post match promo afterwards.
Chris Ridgeway defeated Hi69 and advanced in Global Junior League. In his post match promo he said that he wanted to face both the champions (i.e. Minoru Tanaka and Daisuke Harada), but in the case of Harada, he wanted to take the IPW belt back home.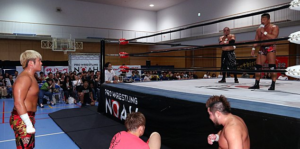 The first clash between The Sugiura Army and Kongoh was explosive with Sugiura defeating them via an Olympic Slam, and Kenoh doing the fist pose when pinning down both Sugiura and Ohara.
Sugiura told Kongoh after the match that the two sides were at war. Kenoh swore at Sugiura in his post match promo, and Sugiura said that he was going to drive them so far into a corner that they would have no chance but to disband. He would then turn them into the castrated fang-less dogs of The Sugiura Army (in his tweet about it he put "WOOF").
EVENT RECAPS
Global Junior League Night 1 ~ Korakuen Hall  (Post match promos)
Global Junior League Night 2 ~ Shimada City Sports Center Sub Arena (Post match promos)
NEWS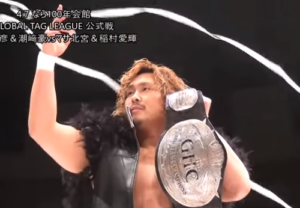 STREAMER BAN
NOAH have announced that from July 1st they are banning streamers from everywhere but Korakuen Hall. Fans didn't take much notice the last time, but NOAH seem a little more insistent this time. One fan said about the streamers that "they are made and thrown with love".
CURRENT CHAMPIONS
TOUR TIDBITS
~ Naomichi Marufuji decided to prank Kaito Kiyomiya by lifting up the strap of the belt which lay over Kiyomiya's shoulder and down his back. Kiyomiya turned around and batted his hand away!
~ Go Shiozaki and Shuhei Taniguchi trashed the merchandise table in Shimada (where Kotaro Suzuki was sitting), when the fight went outside of the ring.
~ Kotaro Suzuki is still asking for a singles match with Naomichi Marufuji.
~ HAYATA chose to face the wall rather than watch Tadasuke acting like a crazy person during their post match promo.
~ Naomichi Marufuji and NOSAWA Rongai took the train to Shimada. No one wanted to sit next to NOSAWA with people preferring to stand rather than take the three empty seats (which later increased to six), until Marufuji took pity on him.
~ Junta Miyawaki has debuted new ring wear, and has his first merchandise out (which he was very touched that people bought).
~ Tadasuke refused to shake hands with HAYATA.
~ Kinya Okada has now his own theme music.
~ Naomichi Marufuji remains searching for a partner, Chris Ridgeway and Junta Miyawaki, (who has been told by Takashi Sugiura that he is not to join Kongoh), have volunteered.
~ YO-HEY shared a text from HAYATA asking whether he wanted to train or play basketball or table tennis, YO-HEY said "Wife is busy". We never found out what YO-HEY chose though.
~ Quiet Storm appears to be working on a new move (a splash)
BROADCASTS
The opening night of Global Junior League from Korakuen Hall will air on Samurai TV on Friday, July 5th at 3pm JST
Minoru Tanaka's 25th anniversary will air on Sunday, July 14th via Niconico (only available via payment with a Japanese credit card I am afraid)
It is hoped that NOAH will stream the Kultz Kawasaki show, or else it will be broadcast at a later date (if not shown live).
LINKS
Katsuhiko Nakajima inherits Choshu-ism
Shiozaki & Nakajima endure Sugiura's onslaught to recapture the GHC tag
Katsuhiko Nakajima gives a childcare lecture in Kashiwa, Chiba
Global Junior Tag League Mini Interviews
Tadasuke
Shuhei Taniguchi
Junta Miyawaki
Katsuhiko Nakajima
PICTURE CREDITS: Noah GHC, PKDX
Newsletter by Hisame
King's WrestleMania Rewind: Stone Cold VS. Scott Hall (WrestleMania X8)
Chris King is back with another WrestleMania Rewind, looking at the NWO's Scott Hall battling Stone Cold Steve Austin at WWE WrestleMania X8 from Toronto!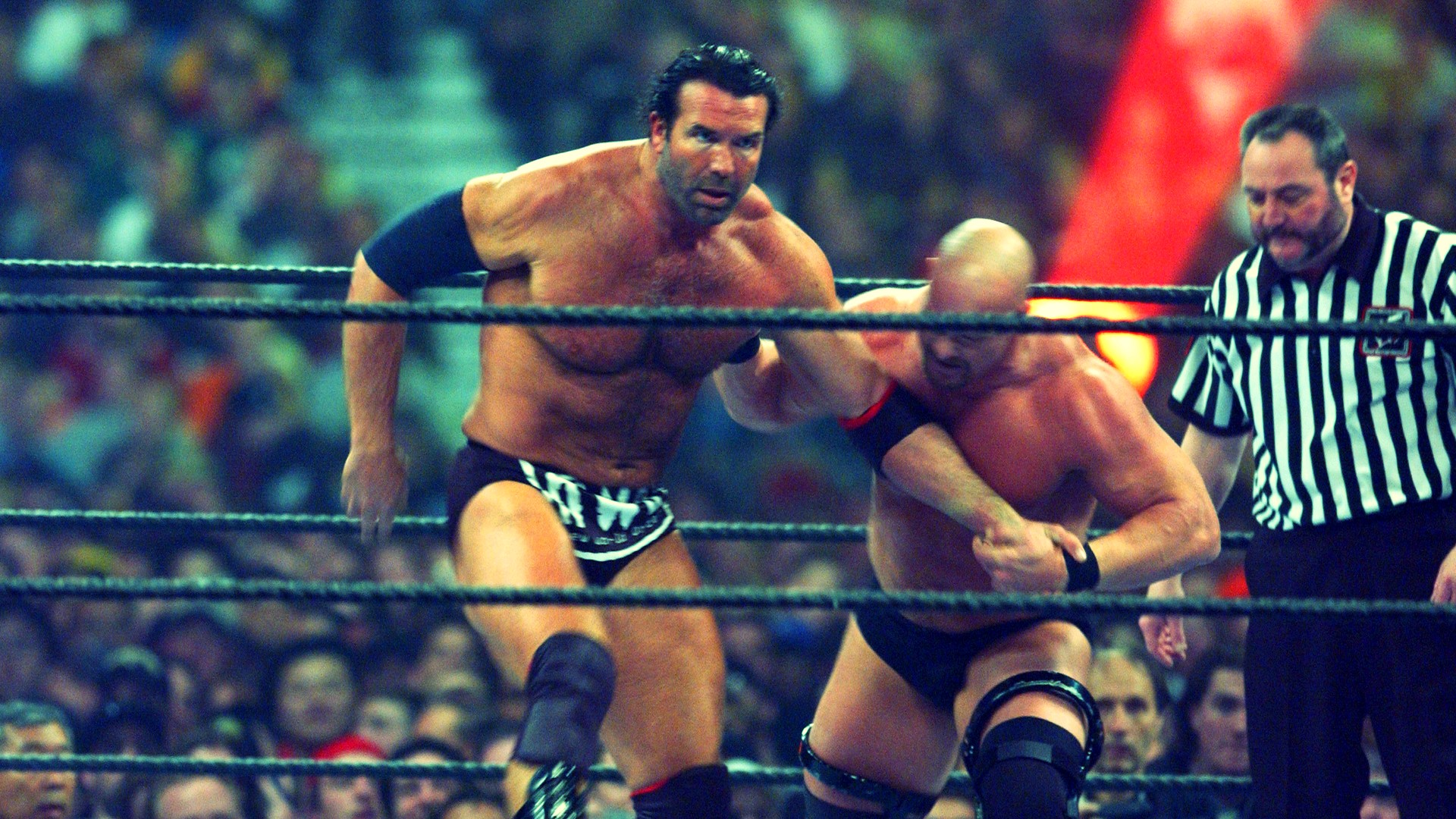 Chris King is back with another WrestleMania Rewind, looking at the NWO's Scott Hall battling Stone Cold Steve Austin at WWE WrestleMania X8 from Toronto!
Chris King is back this week with another edition of WrestleMania Rewind, where he is rewatching all the past Mania matches and feuds. This week you're in for a treat as we look back at 'Stone Cold' Steve Austin vs. Scott Hall at WrestleMania X8.
In late 2001, Vince McMahon bought out his competition WCW and acquired the rights to a plethora of talent including Booker T, Eddie Guerrero, Chris Benoit, and the iconic trio known as NWO. Hulk Hogan; Kevin Nash, and Scott Hall were hell raisers, and what better way to make a name for yourself than take out the two top superstars in the WWE The Rock, and Stone Cold?
The NWO cost Austin his chance at becoming the Undisputed Champion at No Way Out during his match with Chris Jericho. Adding insult to injury, the NWO spray-painted 'The Texas Rattlesnake' with their brand logo just like they did in WCW. As you can imagine, Austin was pissed and out for revenge against the group and primarily Scott Hall.
Hall would challenge Stone Cold to a match at WrestleMania 18. Both superstars beat the living hell out of each other leading up to this highly-anticipated match for who runs the WWE.
The glass broke and Stone Cold made his iconic entrance, and black and white NWO covered Halls' entrance alongside Kevin Nash. With the odds stacked against 'The Toughest S.O.B' could Austin or NWO prove their dominance? Sadly the NWO  broke up that very night when Hulk Hogan came to the aid of his adversary The Rock after their 'iconic' dream match. Stone Cold would ensure the victory with the Stunner. Hall would perform an Oscar-worthy sell over the finisher.
What a time to be a wrestling fan in the 2000s when nothing was impossible for WWE. Who would've thought WCW would go out of business and Hogan would make his long-awaited return to WWE?
King's WrestleMania Rewind: Seth Rollins vs. Kevin Owens (WWE WrestleMania 36)
Chris King takes a look at the most underrated WWE WrestleMania matches, and starts off with Seth Rollins battling Kevin Owens at WrestleMania 36!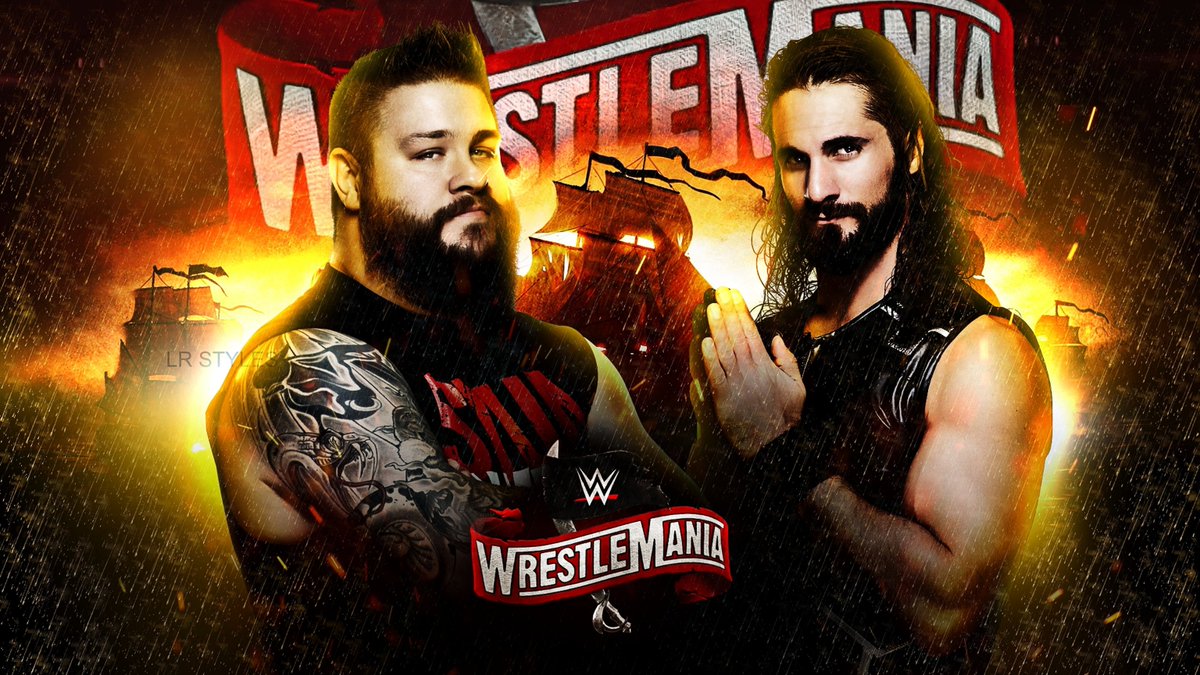 Chris King takes a look at the most underrated WWE WrestleMania matches, and starts off with Seth Rollins battling Kevin Owens in the WWE Performance Center at WrestleMania 36!
Chris King is starting a new series heading into WrestleMania season dubbed WrestleMania Rewind. Each week he'll be going back and sharing his insight over underrated matches at the Show of Shows. First up, is Kevin Owens vs. "The Monday Night Messiah" Seth Rollins at WrestleMania 36.
At the 2019 edition of Survivor Series, Rollins sacrificed himself during the men's traditional match allowing SmackDown to ultimately gain the victory. The following night the self-proclaimed Messiah, berated the whole roster but KO was not having any part of it. Owens quickly became a huge barrier in Rollins' cause for the greater good. The Authors of Pain attacked Owens with Rollins' character in question.
Owens finally had enough of his rival's mind games and torment and challenged Rollins to a match on the Grandest Stage Of Them All. Rollins mockingly accepted his challenge and the match was made official for night one of WrestleMania. Owens came out of the gate beating the holy hell out of the Monday Night Messiah trying to achieve his long-awaited moment at Mania but, Rollins tried to steal a disqualification victory by using the ring bell.
Owens hellbent on revenge provoked Rollins into turning their encounter into a no-disqualification contest where the fight could be taken all over the empty arena. The highlight of the match, was when KO used the WrestleMania sign to deliver a thunderous senton bomb through the announce table. Owens would secure the victory with a Stunner in an incredible match. Despite having no crowd during the pandemic era, both KO and Rollins put on an intense performance under the brightest lights.
In my personal opinion, this was a great feud that helped both superstars in their transformation as compelling characters for years to come.