(NOAH) WEEKLY NEWSLETTER VOL.42 ~ 7TH JULY 2019
Global Junior League has kicked off, and we get more build up for some big matches! Hisame gives us all the details for NOAH!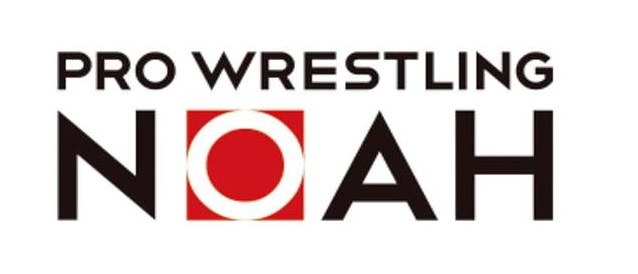 Global Junior League has kicked off, and we get more build up for some big matches! Hisame gives us all the details for NOAH!
CURRENT TOUR RECAP
Chris Ridgeway turned 26 on the 6th July as NOAH held the third night of Global Junior League at the Wind Bell Shop (formerly the Tsukioka New Hotel) in Niigata.
I am afraid that this was one of those events that I don't have much information coming out of save the results. Unfortunately, this sometimes happens in the provinces, and naturally it had to have been the only show the week of the newsletter.
The card had to be changed as NOAH had announced earlier in the week that Go Shiozaki was sidelined for both the 6th and 12th July events due to a knee injury. Fortunately, the injury turned out not to be too serious, and won't require surgery or months of rehabilitation, and the title match on the 21st hopefully shouldn't be affected.
Go Shiozaki was on hand at the venue today, both greeting fans by signing autographs at the booth, and also in his capacity as chairman of the NOAH Wrestlers Association, when he got into the ring with the owner of the venue who made a speech to the crowd. NOAH managed a full house of 452 people.
In Global Junior League; Minoru Tanaka beat Junta Miyawaki, Yoshinari Ogawa beat Tadasuke (and therefore saved camera men, journalists and fans from any further Tadasuke craziness), HAYATA beat Chris Ridgeway, and Hitoshi Kumano got a huge win over his former tag team partner, Hajime Ohara.
Elsewhere, Kinya Okada managed to last eight minutes against Takashi Sugiura (Kenoh was furious that Sugiura started a war with Kongoh and then didn't face them), and Kongoh defeated Daisuke Harada, YO-HEY & Fifty Funky Powers (Mohammed Yone & Quiet Storm).
In the main event Katsuhiko Nakajima bought the two tag belts to the ring when he, Naomichi Marufuji, Kotaro Suzuki & Hi69 faced Kaito Kiyomiya, Shuhei Taniguchi, Akitoshi Saito & Masao Inoue. Neither Nakajima or Kiyomiya got the win over each other, with Kiyomiya getting the win with a Tiger Suplex on Hi69.
Afterwards, Kiyomiya and Nakajima butted heads outside the ring (but were separated), and Kiyomiya made a speech to the crowd saying that Niigata was a "power spot" to him.
Kiyomiya, was his usual polite self, in the post match interview afterwards when he was asked that since Shiozaki's knee was a vulnerable spot, would he be attacking it? Kiyomiya naturally said that as a champion, he thought that sometimes you had to be emphatic.
Taniguchi, however, disagreed…

EVENT RECAPS
Full event report
Post match promos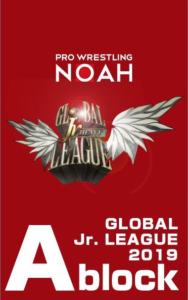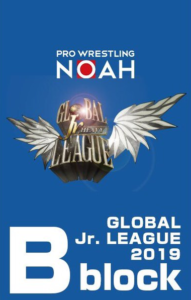 Current Global Junior League Scores (as of July 7th 2019)
BLOCK A
Minoru Tanaka 4
Daisuke Harada 2
Yoshinari Ogawa 2
Tadasuke 2
YO-HEY 0
Junta Miyawaki 0
BLOCK B
HAYATA 4
Hajime Ohara 2
Hitoshi Kumano 2
Chris Ridgeway 2
Hi69 2
Kotaro Suzuki 0 (has not had first match yet)
NEWS

"COME AT ME YOU BASTARDS": KENOH'S COLUMN, July 2019
Following his tantrum about Naomichi Marufuji & Kaito Kiyomiya being on the front cover of "Weekly Pro" (under the designed to inflame Kenoh title of "The Ark's True System"), Kenoh had his own chance to air his own views in his weekly column.
Kenoh (as usual) swung backwards and forwards between thinking that LIDET were trying to make NOAH "Pro Wrestling LIDET" and between being grateful that LIDET had come to NOAH and not to any other promotion, which would have been bad for NOAH.
Interestingly, Kenoh seems to have been involved in the planning of the ill fated Takeshi Morishima comeback event last October (although he was never announced to be appearing on the show), as he mentions in the column that when the event was cancelled (Morishima had developed septic arthritis in his feet and needed emergency surgery), he had been asked to help with ticket refunds.

MEGARAGE
NOAH have entered into a collaboration with MEGARAGE, who are an arcade bar in Kawasaki, and have some upcoming events planned, plus the title match signing for the GHC Heavyweight and GHC Heavyweight tags will be held here on 13th July. There will be a talk by the wrestlers (featuring Hajime Ohara who LOVES to talk) afterwards.
The event may be broadcast on YouTube, but this is to be confirmed.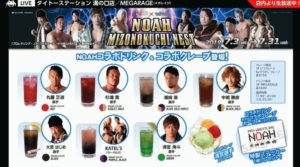 Fans who attend the events will be able to drink special themed drinks based around wrestlers colors i.e. green for Kaito Kiyomiya (there is also a special crepe with his colors as he is the GHC Heavyweight Champion). While the majority of the drinks are non alcoholic, Hajime Ohara's does contain a splash, which is ironic as he says he doesn't drink much.
AXIZ were the first guests on the 3rd July (Go Shiozaki dispelling any worries about his health as although he was wearing an athletic support on his knee, he ate and drank his way around the event on the day, and as per usual corpsed on camera).
I will write a full report of the event in due course.
The schedule of appearances is this:
July 10th: Naomichi Marufuji
July 17th: RATELS
July 24th: Hajime Ohara
Please subscribe to the official YouTube channel here
All talk events will be broadcast live

"REMAINING WITH NOAH FOR LIFE" ~ AN INTERVIEW WITH TAKASHI SUGIURA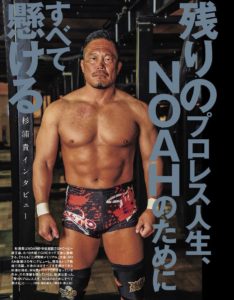 Takashi Sugiura gave a revealing interview to Puroresu Weekly in late June. The topics covered where mainly Kaito Kiyomiya, the new owners and the future of NOAH.
Sugiura seems to imply in the interview that his main focus of concern is not really Kaito Kiyomiya, but more Go Shiozaki, who it seems that both Marufuji and Sugiura will be leaving the carrying of NOAH to when the day comes that they are gone. Shiozaki is the most senior contracted NOAH born (although Shuhei Taniguchi is older, he debuted in December 2005, which makes Shiozaki his senior as he debuted in July 2004), and being both in the past dorm leader, and also the chairman of the board of NOAH's Wrestler Association. He is also responsible for mentoring both Atsushi Kotoge and Kaito Kiyomiya, and bringing them into the heavyweight division, and in the case of Kiyomiya, giving him that support that was so essential in early 2018.
Sugiura also touched on the subject of NOAH, and how he is going to spend the rest of his wrestling life there, and now how NOAH's bad days are seemingly over, he can get over the anxiety that the dark days caused when he was worried about providing for his family, and start enjoying wrestling again.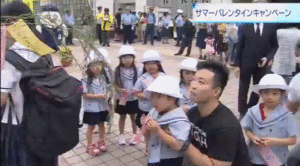 SUMMER VALENTINE CAMPAIGN
As part of their social outreach work (which has been a part of NOAH since the founding of the company), Kinya Okada and Junta Miyawaki went to Minami, Saitama to promote traffic safety. They were assisted in the promotion by Kindergartners from a local nursery, who sang the traditional Tanabata song with them, and also who they lifted up to pin their wishes to a bamboo tree that there should be no traffic accidents. The tradition of tying wishes on bamboo on this day, is connected to the Tanabata festival.
Current Global Junior League Scores (as of July 7th 2019)

CURRENT CHAMPIONS
TOUR TIDBITS
~ With summer heat comes Mosquitoes, and one plagued the NOAH bus, biting several people according to Mohammed Yone.
~ Hitoshi Kumano has got a third dog, a little white French Bulldog puppy
BROADCASTS
NOAH's big Kawasaki Kultz event (and the GHC Heavyweight title, plus the final night of Global Junior League 2019) will air on the 2nd August on G+ at 12.30am JST
NOAH will be broadcast live on Sunday 4th August at 11.30am JST on G+

LINKS
"Premium Preview" ~ October tour dates
6th – 16th July ~ autograph and Noah's Ark fanclub dates

PICTURE CREDITS: Noah GHC, PKDX, Katsuhiko Nakajima, Weekly Pro
GIF Credit: Noah GHC, Yahoo Japan
Newsletter by Hi5ame
Steve Cook: Are The New Day the Best Wrestling Trio Ever?
Steve Cook isn't afraid to explore the tough topic and see if New Day is wrestling's best trio ever.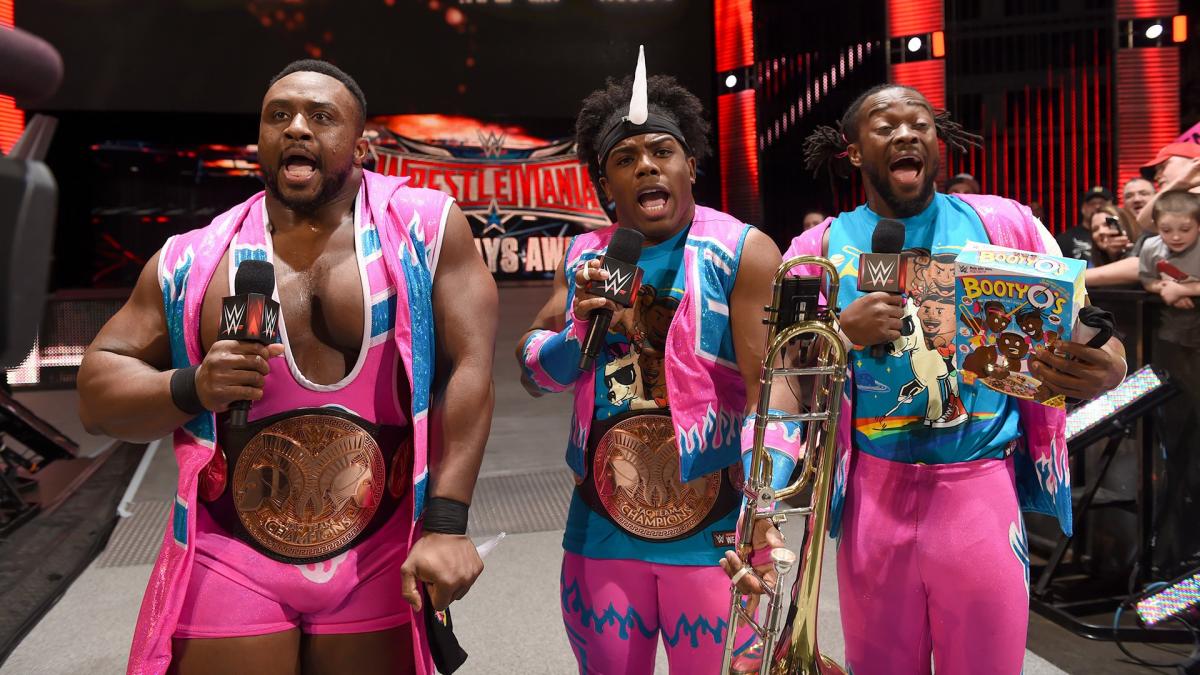 Steve Cook isn't afraid to explore the tough topic and see if New Day is wrestling's best trio ever.
One of my pet peeves about sports media coverage is the idea that everything happening now is the Greatest of All Time. We no longer revere history as a people. Things that happen on our viewing devices now are what matter.
Indeed, the athletes of today do some amazing things and smash through inconceivable records. But to suggest that Mike Trout is already one of the greatest baseball players of all time strikes me as a slap in the face to guys like Babe Ruth, Ted Williams, Joe DiMaggio & Willie Mays. Even though I wasn't alive to watch these gentlemen in person, I read about their feats as a youngster and listened to the old heads that told me that these were the greats of the game.
Even if Trout's WAR is on track to surpass everybody ever and his exit velocity angle blows theirs away, he's still got some work to do before we hail him as the GOAT. Sure, Cecil Fielder hit 51 home runs when I was seven years old, but he wasn't on Hank Aaron's level all-time, and anybody suggesting such would have been laughed off of television and print media. Now? It's all good.
Wrestling fans do the same thing.
People out here talk all the time about how pro wrestling is better than it's ever been. Matches these days get two more stars from the critics than anything from thirty years ago. Most wrestlers are doing their part, with crazier movesets and kicking out of anything remotely resembling a finish. Maybe fifteen Meteoras are more aesthetically pleasing than a good old-fashioned sleeperhold.
People will tell you that the Okada/Omega series blows Flair/Steamboat out of the water. I think they're out of their minds, but a lot of people think this is true. They'll tell you that The Miz has been one of the greatest heels of all time, that the Young Bucks are easily the best tag team ever, and that Corey Graves is the most hilarious & informative commentator ever. OK, nobody's saying that last one. I don't think so, anyway.
However, I'm starting to wonder if, in fact, something from this era we're currently living in is the greatest of all time. They've won six tag team championships, including a reign that ranks as the longest in WWE history. They currently hold the WWE Championships & SmackDown Tag Team Championships. If you go to the mall (I know lol who goes to the mall right) you can find their merchandise in pop culture stores, at a higher rate than anybody else in WWE right now.
It's been five years since they got together, and they're still going strong. The question has to be asked…
Are The New Day the greatest trio in wrestling history?
Crazy what five years can do 😉 pic.twitter.com/vwR9CwCA2R

— Austin Creed sees with his mind (@XavierWoodsPhD) July 15, 2019
There are four obvious contenders for this title from where I sit. You have to mention the original nWo trio. Hollywood Hogan, Scott Hall & Kevin Nash definitely set the world on fire and took WCW to a whole new level. I don't rate them ahead of New Day because they had a hundred people join their group after a very short period of time.
There's also the Shield. Roman Reigns & Seth Rollins both became top stars. Dean Ambrose was for a minute before he got tired of it. They won every championship in the company at one point or another. The only problem: they accomplished more apart. The first year & a half was amazing, but the reunions never quite captured the same magic. Mostly because Reigns went out of action right after each reunion. It wasn't meant to be.
Then we have the Fabulous Freebirds. Michael "P.S." Hayes. Terry "Bamm Bamm" Gordy. Buddy "Jack" Roberts. The men that feuded with the Von Erich family for years & built the World Class territory bigger than it had ever been. They got together in Bill Watts' Mid-South territory in 1979 & bounced around there, Texas, Georgia & even brief stints in the AWA & WWF over the next seven years.
The New Day even inducted them into the WWE Hall of Fame!
If I was to come up with a weakness for the Freebirds, it's the fact that their WWF stint was only for a cup of coffee. Wikipedia tells me its because the WWF brass wanted to split them up. Other wrestlers around at the time will tell you its because of the heat they engendered in the locker room. Regardless of which story is true, the fact of the matter is that the Freebirds didn't become one of the top acts in the biggest promotion in the country. World Class was big, but it never got to the level of the WWF.
The Freebirds also appeared in WCW later on, but that was the version with Hayes & Jimmy "Jam" Garvin. They were fun in their own way, but not really part of this conversation.
Can New Day surpass the Freebirds?
They can. If they stay together and remain interesting for a few more years near the top of WWE, they should. There's still some shelf-life there. People online complain sometimes and wish they'd split up, but the people attending the shows seem to love them.
I think there's one thing missing for me to raise New Day to the top slot. When you think Freebirds, what's the first thing that comes to mind? The Von Erichs. Who are New Day's greatest rivals? The Usos? OK. There's been some great matches there. But are people going to talk about Usos vs. New Day in forty years the way people still talk about Freebirds vs. Von Erichs today? I don't think so. There just isn't the storytelling there, outside of the great matches on PPVs.
The Freebirds are still the best. But it's getting closer by the day.
New Day needs a really hot feud to set them apart from the pack. They've got all the gold right now, so there should be plenty of people interested in being in that really hot feud.
Tiffany's Takes: WWE 205 Live (7/16/19)
Tiffany's Takes asks the important question after WWE Extreme Rules: Who will step up to challenge Drew Gulak?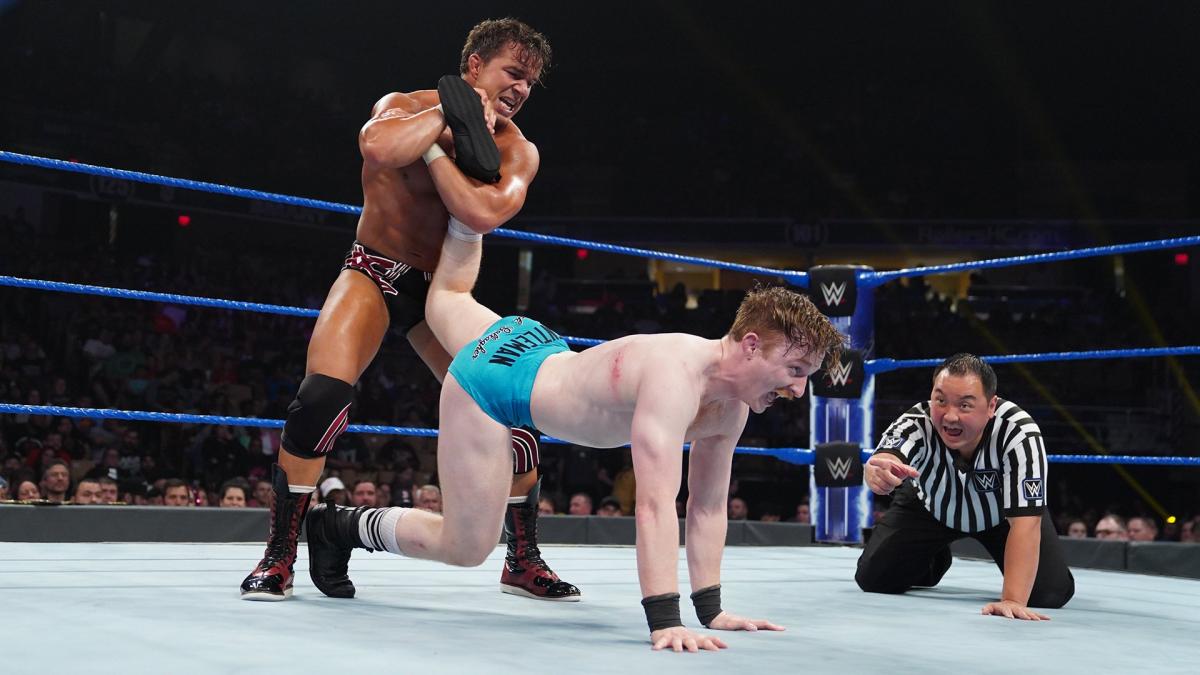 Tiffany's Takes asks the important question after WWE Extreme Rules: Who will step up to challenge Drew Gulak?
I still don't like Drew Gulak as champ. He's a great athlete, but his gimmick is too much like watching politics and he's very generic.
I like Akira Tozawa and Brian Kendrick as a team, they just make an odd amount of sense. My love for the Singh Brothers is pretty much established, even though they do look like cut rate strippers and I never remember which is which. Pants Singh was in the hot seat against Tozawa this week. I love that WWE is getting back to making guys look like legit stars even in defeat, but I would like to see the Singhs win clean, BUT I do like them being sore losers and beating up Kendrik and Tozawa. I'm not here for this feud to be about a trophy that the Singhs won.
I know WWE would really like for us to all get behind Humberto Carrillo as a top babyface, but he just doesn't work for me. I want him to, I want to like him SO much, but I just…can't.
FINALLY, Mike Kanellis vs Drake Maverick is getting somewhere! I loved every second of that in ring segment! Problem is that the writing of Mike Kanellis has been so inconsistent. He only has his balls and his spine on 205 Live. On RAW, he's Maria's henpecked husband who can't win for losing and Maria is written as every man's nightmare pregnant wife. Still, that was FUN. 205's Austin vs McMahon is taking shape and it's going to be a wild ride. I can imagine that there's going to be six kinds of hell to pay next week, but it's going to be a lot of fun to watch.
I'm so glad Chad Gable vs Gentleman Jack Gallagher is getting a Part 2 after the unsatisfying end to their match a few months ago. Also, I hope Gable can write the time he's spent in a tanning bed off on his taxes because it's clear he's been in one a LOT. This match was SO good, it should've been for a title, because those guys literally went until they couldn't anymore, giving the match a very old school feel that WWE's been missing. Gable and Gallagher got a well-deserved standing ovation from the audience, the commentators, and yours truly. I will say that Gallagher looking out at the crowd almost seemed like a goodbye, which I hope isn't true.
I'm going to assume a discussion of what was next for the Cruiserweight Championship was scrapped in favor of Gable vs Gallagher because we're four weeks from SummerSlam and nothing was really said or put in motion to decide who would take on Gulak in Toronto. I don't remember who on the roster is from Canada that they could plug in that spot, hopefully we'll get something next week and the build for SummerSlam won't be the same hurried one they had for WrestleMania. I'm betting Kanellis vs Maverick will happen on 205 and NOT at SummerSlam, but I wouldn't put it past WWE either.
That's it for Tiffany's 205 Live Takes! Tune in tomorrow for NXT!