(NOAH) WEEKLY NEWSLETTER VOL.42 ~ 7TH JULY 2019
Global Junior League has kicked off, and we get more build up for some big matches! Hisame gives us all the details for NOAH!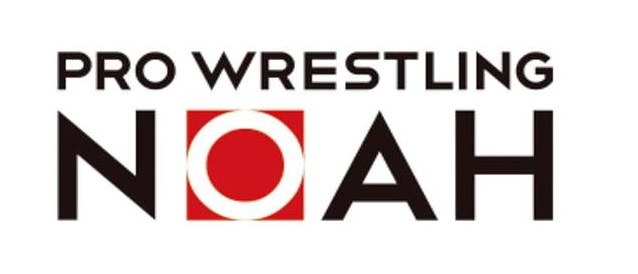 Global Junior League has kicked off, and we get more build up for some big matches! Hisame gives us all the details for NOAH!
CURRENT TOUR RECAP
Chris Ridgeway turned 26 on the 6th July as NOAH held the third night of Global Junior League at the Wind Bell Shop (formerly the Tsukioka New Hotel) in Niigata.
I am afraid that this was one of those events that I don't have much information coming out of save the results. Unfortunately, this sometimes happens in the provinces, and naturally it had to have been the only show the week of the newsletter.
The card had to be changed as NOAH had announced earlier in the week that Go Shiozaki was sidelined for both the 6th and 12th July events due to a knee injury. Fortunately, the injury turned out not to be too serious, and won't require surgery or months of rehabilitation, and the title match on the 21st hopefully shouldn't be affected.
Go Shiozaki was on hand at the venue today, both greeting fans by signing autographs at the booth, and also in his capacity as chairman of the NOAH Wrestlers Association, when he got into the ring with the owner of the venue who made a speech to the crowd. NOAH managed a full house of 452 people.
In Global Junior League; Minoru Tanaka beat Junta Miyawaki, Yoshinari Ogawa beat Tadasuke (and therefore saved camera men, journalists and fans from any further Tadasuke craziness), HAYATA beat Chris Ridgeway, and Hitoshi Kumano got a huge win over his former tag team partner, Hajime Ohara.
Elsewhere, Kinya Okada managed to last eight minutes against Takashi Sugiura (Kenoh was furious that Sugiura started a war with Kongoh and then didn't face them), and Kongoh defeated Daisuke Harada, YO-HEY & Fifty Funky Powers (Mohammed Yone & Quiet Storm).
In the main event Katsuhiko Nakajima bought the two tag belts to the ring when he, Naomichi Marufuji, Kotaro Suzuki & Hi69 faced Kaito Kiyomiya, Shuhei Taniguchi, Akitoshi Saito & Masao Inoue. Neither Nakajima or Kiyomiya got the win over each other, with Kiyomiya getting the win with a Tiger Suplex on Hi69.
Afterwards, Kiyomiya and Nakajima butted heads outside the ring (but were separated), and Kiyomiya made a speech to the crowd saying that Niigata was a "power spot" to him.
Kiyomiya, was his usual polite self, in the post match interview afterwards when he was asked that since Shiozaki's knee was a vulnerable spot, would he be attacking it? Kiyomiya naturally said that as a champion, he thought that sometimes you had to be emphatic.
Taniguchi, however, disagreed…

EVENT RECAPS
Full event report
Post match promos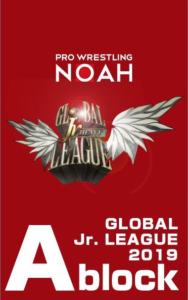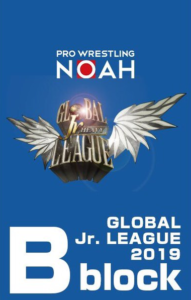 Current Global Junior League Scores (as of July 7th 2019)
BLOCK A
Minoru Tanaka 4
Daisuke Harada 2
Yoshinari Ogawa 2
Tadasuke 2
YO-HEY 0
Junta Miyawaki 0
BLOCK B
HAYATA 4
Hajime Ohara 2
Hitoshi Kumano 2
Chris Ridgeway 2
Hi69 2
Kotaro Suzuki 0 (has not had first match yet)
NEWS

"COME AT ME YOU BASTARDS": KENOH'S COLUMN, July 2019
Following his tantrum about Naomichi Marufuji & Kaito Kiyomiya being on the front cover of "Weekly Pro" (under the designed to inflame Kenoh title of "The Ark's True System"), Kenoh had his own chance to air his own views in his weekly column.
Kenoh (as usual) swung backwards and forwards between thinking that LIDET were trying to make NOAH "Pro Wrestling LIDET" and between being grateful that LIDET had come to NOAH and not to any other promotion, which would have been bad for NOAH.
Interestingly, Kenoh seems to have been involved in the planning of the ill fated Takeshi Morishima comeback event last October (although he was never announced to be appearing on the show), as he mentions in the column that when the event was cancelled (Morishima had developed septic arthritis in his feet and needed emergency surgery), he had been asked to help with ticket refunds.

MEGARAGE
NOAH have entered into a collaboration with MEGARAGE, who are an arcade bar in Kawasaki, and have some upcoming events planned, plus the title match signing for the GHC Heavyweight and GHC Heavyweight tags will be held here on 13th July. There will be a talk by the wrestlers (featuring Hajime Ohara who LOVES to talk) afterwards.
The event may be broadcast on YouTube, but this is to be confirmed.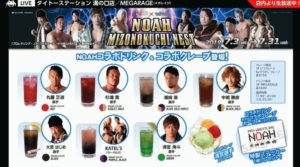 Fans who attend the events will be able to drink special themed drinks based around wrestlers colors i.e. green for Kaito Kiyomiya (there is also a special crepe with his colors as he is the GHC Heavyweight Champion). While the majority of the drinks are non alcoholic, Hajime Ohara's does contain a splash, which is ironic as he says he doesn't drink much.
AXIZ were the first guests on the 3rd July (Go Shiozaki dispelling any worries about his health as although he was wearing an athletic support on his knee, he ate and drank his way around the event on the day, and as per usual corpsed on camera).
I will write a full report of the event in due course.
The schedule of appearances is this:
July 10th: Naomichi Marufuji
July 17th: RATELS
July 24th: Hajime Ohara
Please subscribe to the official YouTube channel here
All talk events will be broadcast live

"REMAINING WITH NOAH FOR LIFE" ~ AN INTERVIEW WITH TAKASHI SUGIURA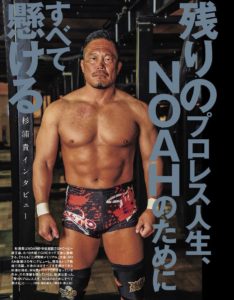 Takashi Sugiura gave a revealing interview to Puroresu Weekly in late June. The topics covered where mainly Kaito Kiyomiya, the new owners and the future of NOAH.
Sugiura seems to imply in the interview that his main focus of concern is not really Kaito Kiyomiya, but more Go Shiozaki, who it seems that both Marufuji and Sugiura will be leaving the carrying of NOAH to when the day comes that they are gone. Shiozaki is the most senior contracted NOAH born (although Shuhei Taniguchi is older, he debuted in December 2005, which makes Shiozaki his senior as he debuted in July 2004), and being both in the past dorm leader, and also the chairman of the board of NOAH's Wrestler Association. He is also responsible for mentoring both Atsushi Kotoge and Kaito Kiyomiya, and bringing them into the heavyweight division, and in the case of Kiyomiya, giving him that support that was so essential in early 2018.
Sugiura also touched on the subject of NOAH, and how he is going to spend the rest of his wrestling life there, and now how NOAH's bad days are seemingly over, he can get over the anxiety that the dark days caused when he was worried about providing for his family, and start enjoying wrestling again.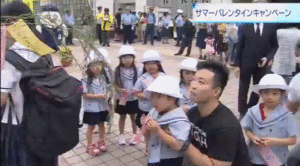 SUMMER VALENTINE CAMPAIGN
As part of their social outreach work (which has been a part of NOAH since the founding of the company), Kinya Okada and Junta Miyawaki went to Minami, Saitama to promote traffic safety. They were assisted in the promotion by Kindergartners from a local nursery, who sang the traditional Tanabata song with them, and also who they lifted up to pin their wishes to a bamboo tree that there should be no traffic accidents. The tradition of tying wishes on bamboo on this day, is connected to the Tanabata festival.
Current Global Junior League Scores (as of July 7th 2019)

CURRENT CHAMPIONS
TOUR TIDBITS
~ With summer heat comes Mosquitoes, and one plagued the NOAH bus, biting several people according to Mohammed Yone.
~ Hitoshi Kumano has got a third dog, a little white French Bulldog puppy
BROADCASTS
NOAH's big Kawasaki Kultz event (and the GHC Heavyweight title, plus the final night of Global Junior League 2019) will air on the 2nd August on G+ at 12.30am JST
NOAH will be broadcast live on Sunday 4th August at 11.30am JST on G+

LINKS
"Premium Preview" ~ October tour dates
6th – 16th July ~ autograph and Noah's Ark fanclub dates

PICTURE CREDITS: Noah GHC, PKDX, Katsuhiko Nakajima, Weekly Pro
GIF Credit: Noah GHC, Yahoo Japan
Newsletter by Hi5ame
King: Dominik Mysterio Needs To Do This At WrestleMania
Chris King is here with what WWE should do with Dominik Mysterio at WrestleMania in his long-awaited match against his father Rey Mysterio Jr.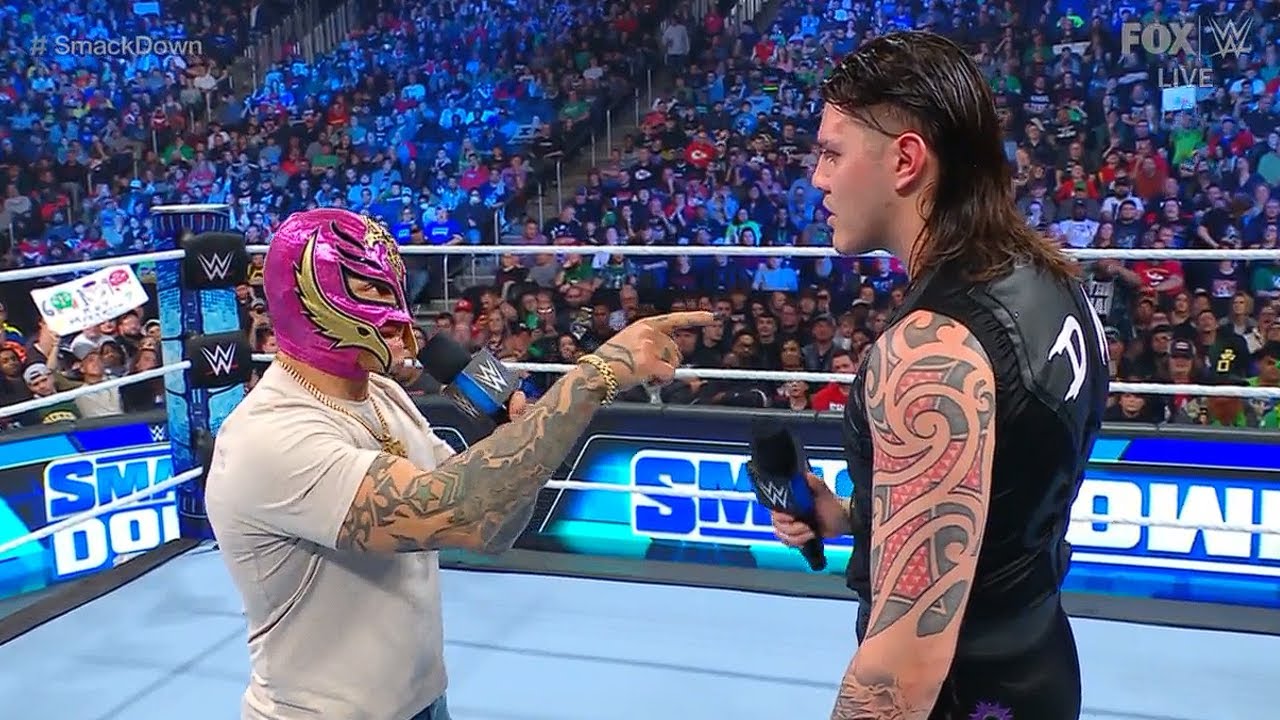 Chris King is here with what WWE should do with Dominik Mysterio at WrestleMania in his long-awaited match against his father Rey Mysterio Jr. 
On this week's episode of Friday Night SmackDown, Rey Mysterio finally snapped and beat some sense into his disrespectful punk-ass kid Dominik. The member of the Judgement Day came out to push his father again for a match on the Grandest Stage of Them All, this time with his mother and sister at ringside. The ungrateful punk told his mom to "Shut Up," as a father even I wanted to jump through the screen and whoop his ass.
Back in October of last year, Mysterio made the emotional decision to possibly quit the company but, instead, Triple H persuaded the Lucha libre superstar to move over to SmackDown to avoid his son. This came after Dominik shockingly turned on his father at Clash at the Castle. Mysterio did everything he could to refuse his despicable son's challenge for Mania but, a man can only be pushed so far. Mysterio will be inducted into the 2023 WWE Hall of Fame and I expect Dominik to embarrass his father during his speech to further this personal feud.
Yes, the WWE Universe hates Dominik and wants to see him get the ever-loving crap kicked out of him but, this feud is missing a special ingredient to capitalize on the biggest heat possible. Throughout this feud, Dominik has made mention of the legendary Eddie Guerrero on several occasions going back to the "iconic" 2005 feud.
I know WWE might not want to go this route but, Dominik MUST come out to Eddie Guerrero's theme at Mania. The disrespectful punk needs to come out in a lowrider to garner nuclear heat. It doesn't matter if The Judgement Day comes out and causes interference for Dominik to get the win, all that matters is that both superstars get the biggest payoff of this nearly year-long feud. Just imagine the Roman Reigns heat after he defeated The Undertaker and multiply that by ten. Dominik portrays the perfect heel and he truly is the missing ingredient that The Judgement Day needed to grow and evolve into a top faction.
King's WrestleMania Rewind: Eddie Guerrero vs. Rey Mysterio (WrestleMania 21)
In the next WrestleMania Rewind, Chris King takes us back to WWE WrestleMania 21, and Rey Mysterio vs Eddie Guerrero in a battle of tag team champions!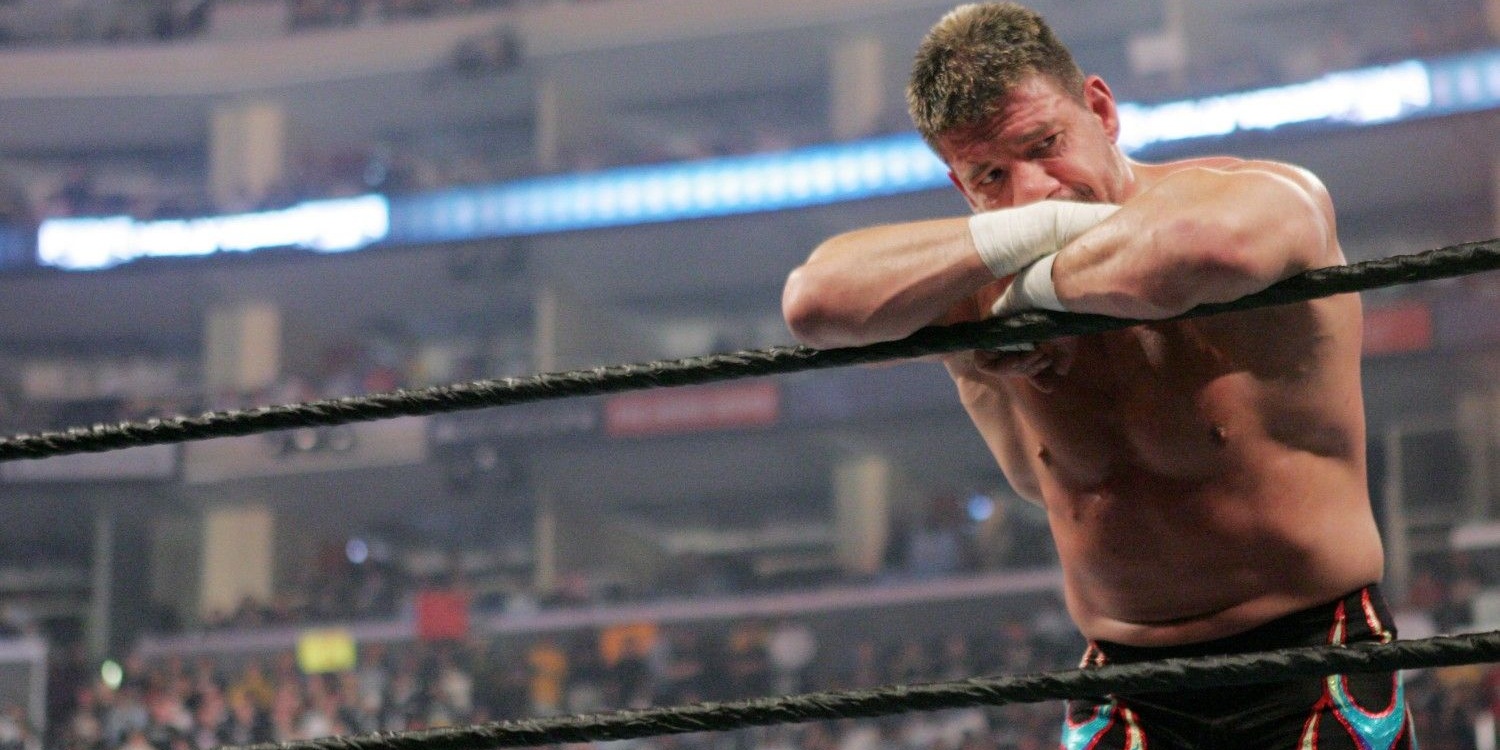 In the next WrestleMania Rewind, Chris King takes us back to WWE WrestleMania 21, and Rey Mysterio vs Eddie Guerrero in a battle of tag team champions!
Chris King is back with his third edition of WrestleMania Rewind. This week he's bringing us back to some 'Latino Heat.' We're rolling back to WrestleMania 21 where Eddie Guerrero faced longtime friend and rival Rey Mysterio.
This would be Guerrero's last Mania match caused by his unfortunate death. Over on SmackDown, Mysterio and Guerrero would become the tag team champions at No Way Out where they defeated MNM.
Chavo Guerrero would get into the head of Latino Heat by making him believe Mysterio was trying one-up his tag team partner. Chavo went as far as to tell his uncle to stop using the Guerrero name.
Guerrero would finally give in to his nephew's manipulation and went on to challenge Mysterio to a one-on-one match at WrestleMania 21. I For the first time in history, both tag team champions would face each other. Guerrero vs. Mysterio was the first match on the stacked card. Both partners threw everything at each other including the kitchen sink in a battle of one-up-manship.  In an incredible high-octane match that saw both superstars delivering counter for counter, Mysterio pulled off the win with a surprise pin roll up.
A few months later, what once was a friendly battle turned into a nasty fight involving the custody of Mysterio's real-life son Dominik Mysterio. After several torturous weeks, both former tag team champions would face off in a ladder match with the custody of Dominick on the line. I forgot how amazing this rivalry was and it's definitely worth a watch. Sadly, we would lose Latino Heat in November of 2005. There will never be another Eddie Guerrero. Viva La Raza!