Rob: Brock Is Back! But What About Seth?
Rob evaluates the fans' role in the run of Seth Rollins and the excitement around Brock Lesnar's third reign as WWE Universal Champion.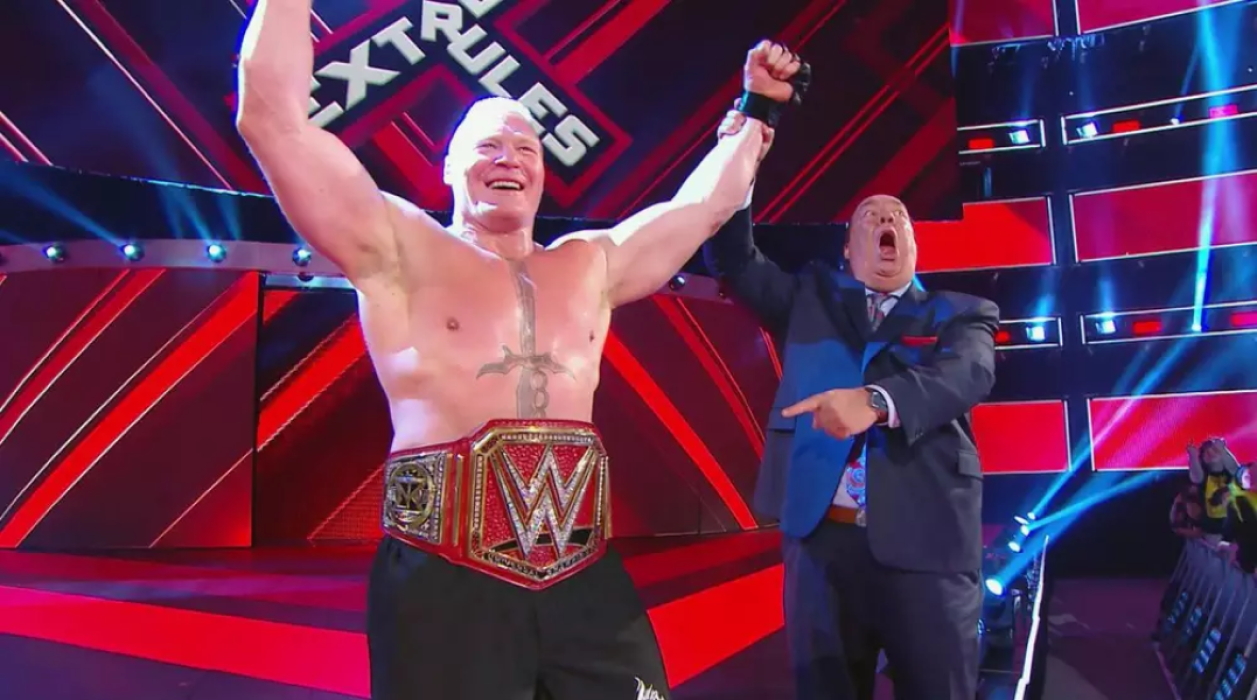 Rob evaluates the fans' role in the run of Seth Rollins and the excitement around Brock Lesnar's third reign as WWE Universal Champion.
So we are now back in the era of Brock Lesnar as Universal Champion, after he cashed in on Seth Rollins at Extreme Rules.  The WWE did a decent job of putting some suspense into it by throwing out the possibility of Brock choosing to cash in on Kofi Kingston instead but by the time it happened most of the people I interact with on Twitter were strongly in favor Rollins being the victim and weren't the least bit discouraged when Brock brought his reign to an end.  There are a lot of reasons for that, and I'll have to get into them another time, but it really seems that there weren't too many people happy with Rollins time as champion from his biggest supporters to his biggest detractors.  So with that in mind I'm gonna do what usually do when it comes to stuff like this – that's right I'm going to throw some blame at the fans.
Now I am not one that was underwhelmed by Rollins run with the title.  The match with AJ Styles at Money in the Bank was really good and I did not hate the Baron Corbin feud like a lot of you did.  I think Corbin is a good heel and a pretty good worker.  By Wrestling Twitter standards he's no good because he doesn't check any of the boxes that one needs to in order to pass their test – never worked indies, doesn't have 5 star matches, doesn't do 100 moves or work work 30 minute matches, and he isn't charming or funny in his role.  But a lot of you guys were so appalled at the mere idea the Baron Corbin would get a program for the Universal Title that you either complained nonstop or checked out entirely.  But I gotta ask you guys a serious question here – do you really support him like that, or is it more the idea of Seth Rollins as Universal Champion?  Is Rollins the guy who should be champion in your eyes or is he the best representative of the type of wrestler you think should be Universal Champion?
Its been my mission since Rumble to bring that title back to Raw and to the live events every week..and to defend it with passion. Lesnar is my Everest, and with your support….at Summerslam I reach the summit. https://t.co/XSfv7kZmfK

— Seth Rollins (@WWERollins) July 16, 2019
What I mean is that Rollins checks all the Wrestling Twitter boxes – indie cred, workrate guy, is popular enough – and he's also a big enough guy to not look like a joke standing next to guys like Roman Reigns or Samoa Joe or Corbin.  And because of that he gets favored in those circles over guys like Reigns or Brock Lesnar or Braun Strowman.  But none of that has stopped the crowds from checking out of some of his biggest matches – Summerslam 2016, Extreme Rules and TLC last year.  Meanwhile Strowman can get 11 million views for an arm wrestling match with Bobby Lashley even after a lot of people on Twitter think the ship has sailed on him, and Reigns got maximum crowd participation last year even in filler matches with Jinder Mahal and Bobby Lashley.  There's a real gap between how he's viewed on Wrestling Twitter and how the general public takes him for sure.
And what I mean by that is that the Corbin feud shouldn't have been a deal breaker for someone who you guys really are invested in as the top guy.  Reigns didn't check out during those programs with Lashley and Mahal last year and they didn't check out during the whole Shane McMahon feud despite being pretty vocal in wanting Roman to move on ASAP from Shane and Drew McIntyre.  Rollins singles champ counterpart on Smackdown Kofi Kingston hasn't had any issue maintaining his support even through a multi Pay Per View program with the often groan inducing Dolph Ziggler (I'm not a Dolph hater but a lot of you are).  You're supposed to just want to see your favorite as the champ; being in a program with a top level guy or gal isn't supposed to be a requirement, especially in what is supposed to be a post WrestleMania honeymoon period for a new champion.
So it's pretty simple to me if you're a big fan of Seth Rollins or anyone else.  Yes you want them to face the best people and have the best matches all the time, but if they're going to hold one of the top two titles then sometimes they're going to have to get through a month or two against somebody who isn't one of those people and you're gonna have to ride it out and support them.  The card has to be balanced out and the champion is supposed to be at least somewhat of an attraction by themselves.  But if you're crapping on what turned out to be some perfectly fine matches (his last two main events with Corbin were not bad, they just weren't five star movefests like some of you guys think big title matches should be) because of, who the opponent is then you're not helping your favorite out here at all.  He's not above doing a couple of gimmicked up sports entertainment matches with Baron Corbin, ok?
But if you say he should be the top guy and then you demand that he only get to work with certain people under certain circumstances then well……that runs contrary to pretty much all of wrestling history.  So you're gonna have to either change your demands, or maybe change your assessment of the guy.