Saint Louis Anarchy Circus Maximus Preview
July 19th is fast approaching which means that Saint Louis Anarchy's Circus Maximus is just days away. Circus Maximus is the biggest show of the year for the promotion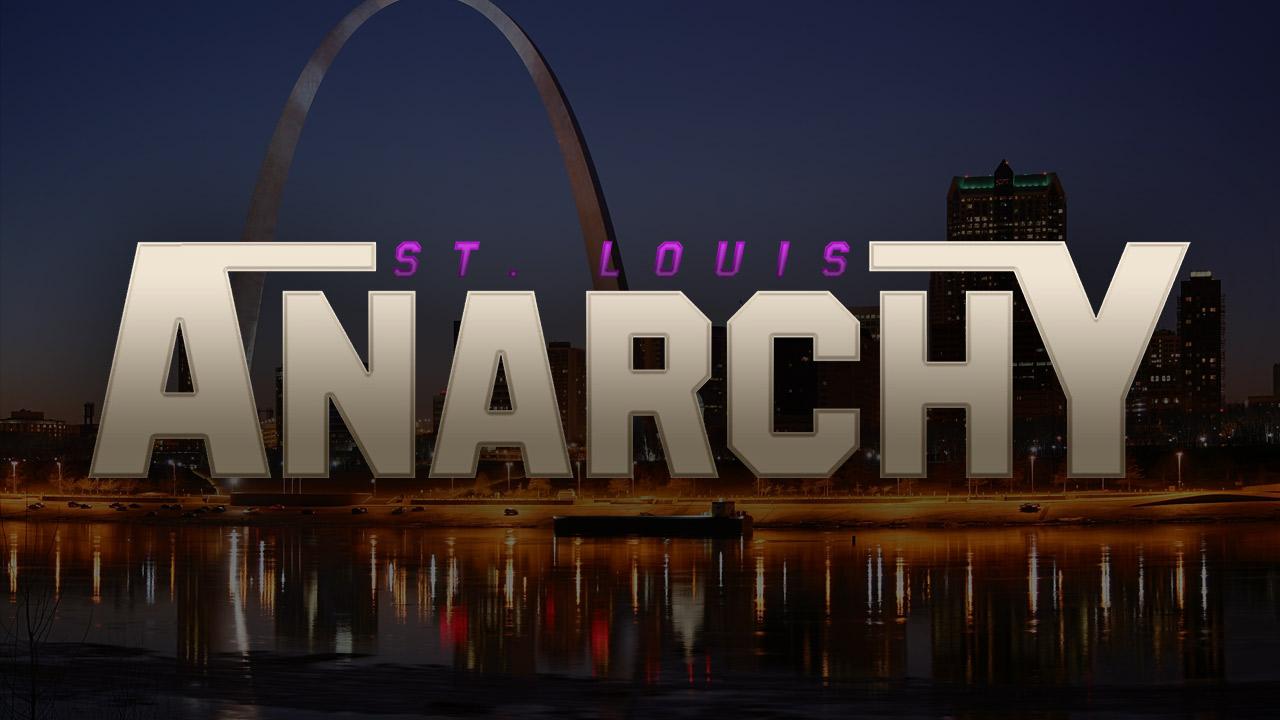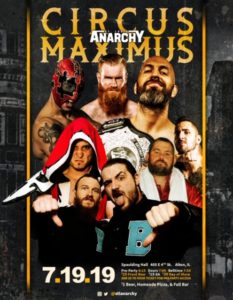 July 19th is fast approaching which means that Saint Louis Anarchy's Circus Maximus is just days away. Circus Maximus is the biggest show of the year for the promotion. Last years Circus Maximus was the return of Anarchy and it blew every expectation out of the water so this year a lot of hype around it and has a lot of lead up to it.
Every Anarchy show has a pre-party and if you're going to an event its best not to miss these. Every pre-party is unique and memorable. We've had beer pong, a rap battle, a magic show, and even a bear paternity test (which was a lot cooler than it sounds). Circus Maximus's preparty event sees Everett Connors reading fortunes and a scramble that includes the likes of Slade Porter, Sage Phillips, Brad Mercury, Sean Orleans, Briar Mercury, and Victor Analog. You don't want to miss this as the antics of the pre-party usually are what set the tone for the entire show.
Everett Connors was set to face Chuck Mambo who unfortunately had to pull out of the show but, make no mistake, whatever match Connors ends up with will be memorable. Connors has spent the last year being one the most charismatic members of the Anarchy roster and leaves every show looking more like the star he is. Plus, who knows what antics he and Raul will get up to.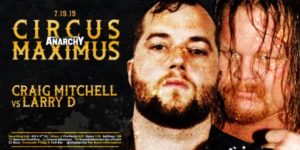 Chicago standout Craig Mitchell is set to face the veteran Larry D in what should be a violent fight. Mitchell has spent the last year carving out his name within the wrestling scene and has been at Anarchy since the beginning of 2019 where he has been able to show everyone that not only can he wrestle but he can fight. Larry D is easily one of the most respected men within Anarchy and indie wrestling overall. Watch any of his matches and you'll see they are not for the weak of heart. This should be interesting because if there's anyone who can step up to Larry it is Mitchell.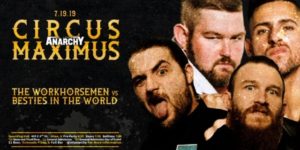 In what is being billed as a tag team dream match, we see the Besties in the World take on the debuting Workhorsemen (Anthony Henry and James Drake). If you haven't seen The Workhorsemen then you are in for a treat. I've been lucky enough to see them many times and they are always improving their teamwork. This match is should prove to be fun and hard hitting as Henry & Drake are not of the joking kind.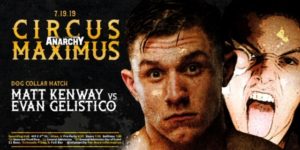 Matt Kenway has been on a tear of the Saint Louis Scene since late 2017. He's proven time and time again that when given the opportunity he will knock it out of the park. Evan Gelistico made a surprise return in May to avenge Buddy Shepherd and to finally take down Kenway who has been antagonizing him since last July. These two men are set to meet in a dog collar match. Expect this to be violent as neither man is looking to back down from proving they are the one to end the other.
Circus Maximus is a diverse show as we are not only getting tag team action, but we are also getting trios action. The most hated men within Anarchy, Jake Dirden, Christian Rose, and Thomas Shire (who I am not sure is still hated but we'll see) are set to meet The Gym Nasty Boys and Gnarls Garvin. Garvin is replacing Mikey who is out with a knee injury. Make no mistake, this match will be an all-out war as Shire, Dirden, and Rose attempt to continue the hot streak their team has been on since last July when they formed their alliance and to prove that they are in fact the most dominant men within Anarchy.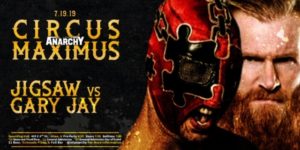 Gary Jay is one of "the" men of Anarchy (we've been over this) and at Circus Maximus he takes on the debuting Jigsaw. Jigsaw is one of the best wrestlers anywhere in the world and his debut being against Gary shows how highly thought of he is. I don't know what to expect out of this but if it's anything like the rest of Gary's matches this year, be prepared to spend the next few months talking about it.
Kody Lane has been quietly making a name for himself within Anarchy and the Midwest wrestling scene overall. Jaden Newman is the uncrowned king of Chattanooga and southern wrestling as a whole. This match will be two young up and comers trying to prove just how far they've come and trying to get the Anarchy faithful invested in them.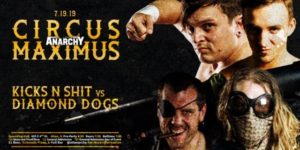 Kicks n Shit (Chip Day and Logan James) look to make an example out of Diamond Dogs (Luke Langley and Graham Bell). Kicks n Shit have been jiving and gelling but not winning and that can't be. Diamond Dogs on the other hand won their last match at Anarchy (it was the dark match with Billie Starkz in May). Expect both teams to show out as they want to be at the top of the tag team division of Anarchy.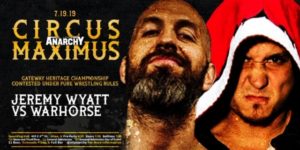 Finally, the main event sees Warhorse Jake Parnell take on the Monarch Jeremy Wyatt for the Gateway Heritage Championship. Parnell and Wyatt each have a win over each other, so this match is anyone's for the taking. Wyatt is coming into this as confident as ever while Parnell is as a determined as ever. You won't want to miss it.
Watch it live in person at Spaulding Hall in Alton Il or on IWTV. Either way, this show will be memorable and in year when its Circus Maximus 2020 will have a new bar set as this is the year show of the year.