Steve Cook: Are The New Day the Best Wrestling Trio Ever?
Steve Cook isn't afraid to explore the tough topic and see if New Day is wrestling's best trio ever.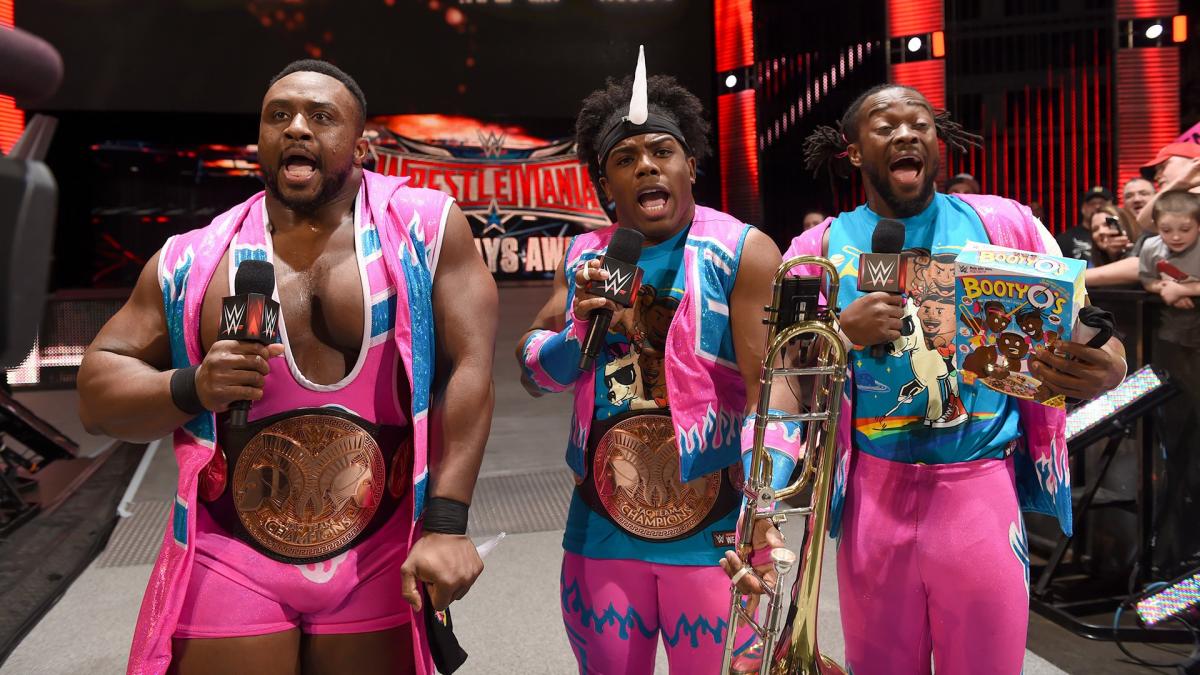 Steve Cook isn't afraid to explore the tough topic and see if New Day is wrestling's best trio ever.
One of my pet peeves about sports media coverage is the idea that everything happening now is the Greatest of All Time. We no longer revere history as a people. Things that happen on our viewing devices now are what matter.
Indeed, the athletes of today do some amazing things and smash through inconceivable records. But to suggest that Mike Trout is already one of the greatest baseball players of all time strikes me as a slap in the face to guys like Babe Ruth, Ted Williams, Joe DiMaggio & Willie Mays. Even though I wasn't alive to watch these gentlemen in person, I read about their feats as a youngster and listened to the old heads that told me that these were the greats of the game.
Even if Trout's WAR is on track to surpass everybody ever and his exit velocity angle blows theirs away, he's still got some work to do before we hail him as the GOAT. Sure, Cecil Fielder hit 51 home runs when I was seven years old, but he wasn't on Hank Aaron's level all-time, and anybody suggesting such would have been laughed off of television and print media. Now? It's all good.
Wrestling fans do the same thing.
People out here talk all the time about how pro wrestling is better than it's ever been. Matches these days get two more stars from the critics than anything from thirty years ago. Most wrestlers are doing their part, with crazier movesets and kicking out of anything remotely resembling a finish. Maybe fifteen Meteoras are more aesthetically pleasing than a good old-fashioned sleeperhold.
People will tell you that the Okada/Omega series blows Flair/Steamboat out of the water. I think they're out of their minds, but a lot of people think this is true. They'll tell you that The Miz has been one of the greatest heels of all time, that the Young Bucks are easily the best tag team ever, and that Corey Graves is the most hilarious & informative commentator ever. OK, nobody's saying that last one. I don't think so, anyway.
However, I'm starting to wonder if, in fact, something from this era we're currently living in is the greatest of all time. They've won six tag team championships, including a reign that ranks as the longest in WWE history. They currently hold the WWE Championships & SmackDown Tag Team Championships. If you go to the mall (I know lol who goes to the mall right) you can find their merchandise in pop culture stores, at a higher rate than anybody else in WWE right now.
It's been five years since they got together, and they're still going strong. The question has to be asked…
Are The New Day the greatest trio in wrestling history?
Crazy what five years can do 😉 pic.twitter.com/vwR9CwCA2R

— Austin Creed sees with his mind (@XavierWoodsPhD) July 15, 2019
There are four obvious contenders for this title from where I sit. You have to mention the original nWo trio. Hollywood Hogan, Scott Hall & Kevin Nash definitely set the world on fire and took WCW to a whole new level. I don't rate them ahead of New Day because they had a hundred people join their group after a very short period of time.
There's also the Shield. Roman Reigns & Seth Rollins both became top stars. Dean Ambrose was for a minute before he got tired of it. They won every championship in the company at one point or another. The only problem: they accomplished more apart. The first year & a half was amazing, but the reunions never quite captured the same magic. Mostly because Reigns went out of action right after each reunion. It wasn't meant to be.
Then we have the Fabulous Freebirds. Michael "P.S." Hayes. Terry "Bamm Bamm" Gordy. Buddy "Jack" Roberts. The men that feuded with the Von Erich family for years & built the World Class territory bigger than it had ever been. They got together in Bill Watts' Mid-South territory in 1979 & bounced around there, Texas, Georgia & even brief stints in the AWA & WWF over the next seven years.
The New Day even inducted them into the WWE Hall of Fame!
If I was to come up with a weakness for the Freebirds, it's the fact that their WWF stint was only for a cup of coffee. Wikipedia tells me its because the WWF brass wanted to split them up. Other wrestlers around at the time will tell you its because of the heat they engendered in the locker room. Regardless of which story is true, the fact of the matter is that the Freebirds didn't become one of the top acts in the biggest promotion in the country. World Class was big, but it never got to the level of the WWF.
The Freebirds also appeared in WCW later on, but that was the version with Hayes & Jimmy "Jam" Garvin. They were fun in their own way, but not really part of this conversation.
Can New Day surpass the Freebirds?
They can. If they stay together and remain interesting for a few more years near the top of WWE, they should. There's still some shelf-life there. People online complain sometimes and wish they'd split up, but the people attending the shows seem to love them.
I think there's one thing missing for me to raise New Day to the top slot. When you think Freebirds, what's the first thing that comes to mind? The Von Erichs. Who are New Day's greatest rivals? The Usos? OK. There's been some great matches there. But are people going to talk about Usos vs. New Day in forty years the way people still talk about Freebirds vs. Von Erichs today? I don't think so. There just isn't the storytelling there, outside of the great matches on PPVs.
The Freebirds are still the best. But it's getting closer by the day.
New Day needs a really hot feud to set them apart from the pack. They've got all the gold right now, so there should be plenty of people interested in being in that really hot feud.