The WWE TV YouTube Experiment (Week 4: RAW/ July 8, 2019)
Not a good episode of Monday Night RAW. Join me as we traverse the truncated world of WWE on YouTube.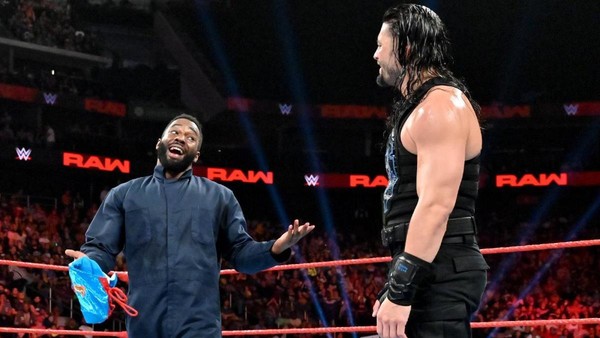 __________
The WWE TV YouTube Experiment
Week 4
Monday Night RAW/ July 8, 2019/ Newark, New Jersey
I've been bleating on and on about how this isn't a review column, how there was time for that elsewhere and that what I was doing here was more for analysis than anything else. When I looked back at the original article, in which I laid out my tentative plans, I stated that this was about seeing if the content WWE chooses to upload to YouTube is good enough to get me watching their shows regularly like I used to. If it drew enough interest for me to invest hours of time into watching full shows.
I'll admit that Week 1 was far more enjoyable than I anticipated. Week 2 was a drop, but definitely not bad. Week 3 was the best yet.
Week 4 was trash. I liked what I've seen from SmackDown (especially the Kevin Owens stuff), but RAW was a nightmare. So bad that I'm not going to write about SmackDown because I'm tired after watching RAW. And it was supposed to be the "go-home" show for Extreme Rules! The first week of this little experiment was the go-home for Stomping Grounds. They hit every note, didn't waste any time, and used the entirety of the show to focus on only the matches featured on the PPV. That was not the case this week.
__________
Monday Night RAW 7/8/2019
Total Number of Clips: 19
Total Time: 41 minutes, 14 seconds
*Note: In the interest of saving space, I won't be embedding every clip this week, only the ones that I feel are necessary.*
__________
Seth Rollins & Becky Lynch vs. Andrade & Zelina Vega (2 minutes, 59 seconds)
This was a "mixed tag team elimination match". Something like that. It makes no damn sense and was probably the biggest stretch yet to find a reason to not wrestle during commercials. I know it's been said a million times online by now, but I have to get it out. If it's a mixed tag match, that means men fight the men and women fight the women. Therefore when Becky eliminated Zelina, she eliminated herself, right? What if Andrade were to then defeat Seth? Is it a draw? It must have been a poorly explained mini-Survivor Series style match. One of the four competitors would be the sole survivor, winning it for their team. Jesus. Why not just make it a 2-out-of-3 falls match instead of doing something convoluted and not explaining it? (0 for 1)
__________
Baron Corbin and Lacey Evans revel in Seth Rollins and Becky Lynch's misery (49 seconds)
This was SO BAD. It's worse than porn dialogue, and without context based on the poor acting and the way they're dressed, one might even think that this was the beginning of a porno movie. Good lord. (0 for 2)
__________
Paul Heyman propagates paranoia before WWE Extreme Rules (2 minutes, 14 seconds)
Typical Heyman fare. That's not a bad thing or a good thing. It's just a thing. I will say one positive thing about Brock holding the briefcase is that it's being done differently than ever before. In the past, we've had a number of tropes that have repeated themselves. There have been immediate cash-ins (on the night of the win as well as the next night or a couple of weeks later). There have been guys who have waited a long time and picked their spot (Edge, the first, is the best example of this — he stopped carrying the briefcase after a while and many of us forgot about it until that night in Puerto Rico).
There has been a litany of "fake-outs", foiled cash-ins that guys have claimed were fake-outs, actually foiled cash-ins that were stopped before the match could take place, and a few failed cash-ins. There have also been a couple of cash-ins that were announced ahead of time (RVD in 2006 and Cena in 2012). This time, the tropes are going to be limited. I can handle having Paul Heyman muse about it and threaten the champions every week or so. It's different, so that's good. (1 for 3)
__________
The Miz & The Usos vs. Elias & The Revival – 2-out-of-3 Falls Match (1 minute, 29 seconds)
This was a thing. Sounded like a fine match based on the reports. Usos get the win and earn a tag title shot on Sunday. Miz vs. Elias is such an insane placeholder, though. They're only on TV to fill a non-existent void, and nothing ever happens. (2 for 4)
__________
Drake Maverick and his wife are still not on their honeymoon (3 clips/ 1 minute, 28 seconds/ 1 minute, 28 seconds/ 48 seconds
None of this was nearly as fun as it has been in recent weeks. It wasn't actively bad, but they have to move on from the honeymoon gimmick. At this point, it's only happening so they can put a pair of big tits on the screen since they're allegedly moving away from TV PG and looking to get a stranglehold on the teenage demographic. Getting them to put a stranglehold on themselves by using attractive women has certainly worked in the past. The YouTube views for 2 of the videos after just under 48 hours were around 240k for two of them and around 575k for the one that best featured his wife's chest. Drake and Truth are still great, though. Also, is "the honeymoon" just going to be some sort of gag? They referenced that they already went, and now… they're going again? Continuity error or joke? It's tough to say. (5 for 7)
__________
Shane McMahon searches for Roman Reigns' tag team partner (2 minutes, 27 seconds)
Nope. Still can't get behind this angle. (5 for 8)
__________
Bobby Lashley obliterates Rey Mysterio (2 minutes, 57 seconds)
Nothing wrong with this. People are upset that Lashley isn't selling his injuries, but it was already established that even though he's the one who took the spear, Braun suffered worse injuries. I'm also not upset that Mysterio made his comeback only to get his ass handed to him. That's the point! (6 for 9)
__________
No Way Jose vs. Cesaro (1 minute, 31 seconds)
It's nice to see Cesaro beating people up as he should be. This was the entire match. We also now know that they didn't change their mind as rumored, and Cesaro will indeed be facing Aleister Black at Extreme Rules. Should be a great match if they let them do it, but are they sacrificing Cesaro to Black? I'm hoping they figure out a way to protect both guys without making either of them look like goons. (7 for 10)
__________
The Street Profits make Extreme predictions (3 minutes, 57 seconds)
They ran down the card for Sunday. It was somewhat entertaining because these guys are great, but it felt like a gigantic waste of time and talent. Why are they here? What the fuck is "the smoke"? Interested in the team, not interested in… this. (7 for 11)
__________
Maria Kanellis craves pickles and ice cream (2 minutes, 12 seconds)
You drop a bombshell and start an angle in such a dramatic fashion and do it in a way that actually upstages RAW's top stars, who are also in the segment, and follow it up with THIS? Holy shit. To everyone who said the angle had Paul Heyman's fingerprints all over it last week, I say that this week, it had Vince McMahon's asscheeks all over it. Hot garbage. Awful, stupid, dumb, not entertaining, cringe-inducing. Every trope of every pregnant, emotional woman on TV was used in 2 segments (this clip was two segments that aired at different times in the show). Wow. I had an open mind. I did. Now they're going to have to get some Russian goddamned scientists to open it back up again. (7 for 12)
__________
The Viking Raiders vs. Colin & Devin Justin (1 minute, 47 seconds)
Just keeping the guys on TV. No harm here. There are two sets of tag titles and yet somehow the tag team scene is actually really jammed up. It's a good problem to have, I guess. (8 for 13)
__________
Ricochet vs. Luke Gallows (2 minutes, 30 seconds)
Ricochet vs. Karl Anderson (2 minutes, 57 seconds)
Nothing extraordinarily wrong here. I don't see the reason that they needed to have Ricochet beat both guys, though, and it is a problem. They just turned last week, but they're still just a couple of losers. Why not have him defeat Gallows and then have AJ and Gallows interfere when it looks like he has the upper hand on Anderson? Why pin them both? It's little things like this that actually turn me off of the product just as much as awful stuff like Mike and Maria. (9 for 15)
__________
Bayley vs. Sarah Logan – Beat the Clock Challenge Match (2 minutes, 31 seconds)
This was fine. Match seemed okay. The crowd chanted "CM Punk" during a perfectly good match because, despite all of the "women's evolution" bullshit, they still have a terrible women's division. The women range from decent to great. The use of them ranges from terrible to okay-ish. Impact just had a PPV with a really good four-way match for the Knockouts Title that saw the women doing weapons spots better than most men do. They also ran a man vs. woman main event that was totally fucking believable, and outside of a handful of mentions that it was the first intergender main event on a major (well, they were a major promotion at one point) PPV, they didn't act like it was some earth-shattering event. It was a pair of wrestlers who had a personal rivalry and were settling the score. The end. (10 for 16)
__________
Dana Brooke vs. Nikki Cross – Beat the Clock Challenge Match (3 minutes, 2 seconds)
I still hate the storyline. Glad that Bayley showed some backbone, though. (10 for 17)
__________
The Man and The Man's Man come around at WWE Extreme Rules (1 minute, 40 seconds)
Corey Graves tried to stir the shit. This is so unbelievably contrived that it almost physically hurt to watch it. We know one can lose the other's title by taking the loss, and we know that something like that could potentially hurt a relationship. It doesn't need to be shoved down our throats. Trust your audience. Just a little bit. (10 for 18)
__________
Roman Reigns & Gary "THE GOAT" Garbutt vs. Shane McMahon & Drew McIntyre (2 minutes, 28 seconds)
What was this? Earlier in the night, Roman said that he was fucking with Drew and Shane, not the other way around. I have to assume, based on the fact that THEY STILL LOST IN 2 MINUTES that all Roman was doing was protecting some poor hobbling janitor from getting hurt and not staying one step ahead of Shane by getting an opponent that could help him win. This was an unbelievably dumb segment that made all four guys look bad. (10 for 19)
__________
Final Analysis
Wow. This was bad. Just not good television. Or in this case, not good YouTube clips. Even the 10 clips that I rated positively weren't all that good, including the 24/7 Title stuff. Nothing was more than, I guess, kinda okay. At best. Episodes like this were the reason I quit in the first place. I can't even further articulate how bad it was. Illogical, silly, dumb, often pointless, unfunny crap. Ugh.
__________
Straight Numbers
Average Clip Length, Week 4: 2 minutes, 10 seconds
Week 1: 2 minutes, 32 seconds // Week 2: 2 minutes, 44 seconds // Week 3: 2 minutes, 33 seconds
Shorter than usual average by 20 to 30 seconds. None of the segments reached 4 minutes in length (recent weeks, at least one has hit 5) and the longest was the 3 minutes and 57 seconds of somewhat entertaining silliness from the Street Profits, a segment that had no business even being on the show.
I didn't catch viewership numbers after 48 hours, but as of Friday night, here are some figures:
Over 2.6 million views for Roman and Cedric The Janitor
193k views for Becky & Seth with Corey, and 173k for Mike & Maria
Just under 2.2 million for the Becky/Seth mixed tag match
Just over 530k for Lashley beating down Rey Mysterio
Lashley's segments have been performing well every week, which is somewhat interesting. His booking had been trash for a while. I wonder if the feud with Braun brought some eyes to him, and I wonder how much Mysterio's involvement factored in. None of the 24/7 Title stuff reached over 300k views, after being so popular for the first few weeks.
See you next week. Hopefully with a better show to talk about.
__________
Nick Marsico/ Writer (kinda)
The Chairshot Dot Com
__________