The WWE TV YouTube Experiment (Week 5: RAW/ July 15, 2019)
Monday Night RAW happened. Or did it? Let's talk about what we saw on YouTube and discuss whether anything actually occurred at all.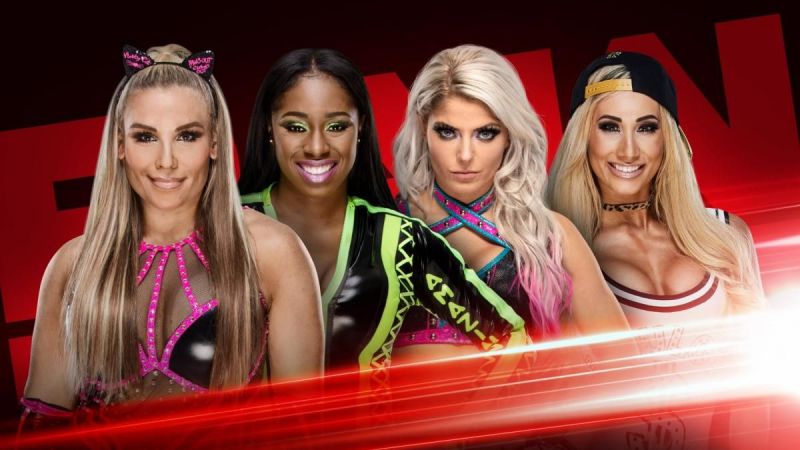 __________
The WWE TV YouTube Experiment
Week 5
Monday Night RAW/ July 15, 2019/ Long Island, New York
I had Night 3 of New Japan's G1 Climax to watch on Sunday (and Night 4 on Monday), so I didn't see Extreme Rules. The results seemed okay, but it's worthless to cover it here if I didn't actually see it. I did, however, take advantage of a 3-month subscription for 99 cents a couple of days ago, which follows the 2-month subscription for 99 cents that ended this week. So that's awesome. I can justify spending what translates into less than 40 cents a month on the WWE Network. I can't justify 10 bucks a month. And it has nothing to do with the current product.
I'm not going to get on a soapbox, but in short, I signed up on day one and kept my subscription even after I stopped watching regularly, and even after I stopped watching altogether. But when they signed the Saudi deal, I was not happy. And then they doubled down by continuing on with the show after the murder of an innocent journalist. It runs deeper than that, but that's the gist. As soon as they decided to run that show, I decided that morally, I couldn't give them $120 bucks a year any longer. So that's that. I started a free trial at the end of January. Got a second one at the beginning of April, and then accepted 2 months for 99 cents in May and 3 months for 99 cents in July. A buck ninety-eight for 9 months? Yeah, I don't have a moral obligation that stops me from throwing couch change at someone. In reality, when my subscription ends in mid-October, I'll have paid 22 cents a month. Hey, I'm even doing numbers analysis up here. How about that?
__________
Monday Night RAW 7/15/2019
Total Number of Clips: 13
Total Time: 34 minutes, 18 seconds
*Note: In the interest of saving space, I won't be embedding every clip, only the ones that I feel are necessary.*
__________
Brock Lesnar's SummerSlam opponent to be revealed (4 minutes, 56 seconds)
This was the longest clip of the small batch this week, running more than a full minute longer than the second longest, and that one (Truth, Maverick, and the 24/7 Title) was one YouTube clip but 3 actual TV segments. The next longest video that was only one segment was a full minute and 56 seconds shorter than this. The Women's 4-Way and angle afterward got a 3-minute video. More on that later. This was fine, standard fare from Heyman, and although the outcome at the end of the night was disappointing, at least based on this segment it felt like maybe someone fresh would get a title match. Good enough. (1 for 1)
__________
2-out-of-3 Falls Six-Man Tag Team Match (2 minutes, 59 seconds)
This got Robert Roode on TV, which is good. He actually feels like a guy who would fit well as a regular partner/ally for The Revival. Match seemed fine, and the aftermath was good, with Ricochet getting taken out by The Club, which means they aren't done with him even though AJ took his belt at the PPV. I hope something big happens with The Club and it's not just AJ as a mid-card guy with 2 guys as his backup. Or even AJ as a main event guy with 2 guys as his backup, like they did in his feud with Roman Reigns in 2016. If that's all they do, eh, it's fine, but it's nothing special. Finn has to become part of this when he returns in the fall, right? (2 for 2)
__________
The Viking Raiders vs. Vinny Gruner & Jackson James (1 minute, 36 seconds)
Man, they came really close to killing that guy with the pop-up powerslam finish. It's good to see these guys aren't getting the Ascension treatment, but they have been on TV for exactly 3 months as of this episode of RAW. It's time to start doing something with them because the crowd doesn't seem to care very much. It was just an inoffensive squash and they're not being beaten up by 60-year-old men every week, so I'll take it. Next week is the RAW Reunion, though. If I were these guys, I might consider not showing up. (3 for 3)
__________
Cedric Alexander vs. Drew McIntyre (2 minutes, 17 seconds)
After the unbelievably bad angle they did last week to close the show, they needed to give Cedric something, and thankfully they did in the form of a quick win over Drew McIntyre. I get the feeling Drew probably isn't going to be challenging, much less defeating, The Undertaker at SummerSlam. He'll probably just be in Shane's corner for his match against Kevin Owens. Oh well. That's close, right? I'm interested in seeing if they follow up with Cedric now, or if this was just an apology match for the shit that happened on the previous show. Either way, this was exactly what they needed to do. (4 for 4)
__________
Finn Balor vs. Samoa Joe (1 minute, 47 seconds)
Joe picks up another win in extremely quick fashion (the match was under a minute and a half long), which is good after losing his 50th title match in a row. Getting beat up by Finn immediately after was completely unnecessary, though. I know that Finn is a fighter, but why bother? Instead of Joe getting what was essentially just a fluke roll-up, why not have him tap Finn or choke him out? Finn is leaving in a few weeks, and it's going to be The Demon, not Finn Balor, who is going to take on Bray at SummerSlam, so at this moment Finn Balor is a disposable entity. This did nothing for Joe. (4 for 5)
__________
Bray Wyatt returns and attacks Finn Balor (1 minute, 21 seconds)
I will say, the mask is definitely scarier in the ring the way it was presented here than it was when it was revealed in the Firefly Fun House vignettes. It looked like a corny, failed attempt to look scary, at least to me. I liked the outfit with the striped pants and whatnot since it's a different attire than he was wearing when he left, but the mask was uninspiring. It was scary as shit on Monday, though. This was very well done, and I really hope Bray beats The Demon at SummerSlam. Hopefully, they can do that and then drop the silly gimmick that The Demon is a creature that uses Finn as a host (that's pretty much what they've made it) and just let Finn be Finn, a cool dude in a leather jacket who sometimes likes to paint himself up because he enjoys the showmanship of it. This was about as good as they were going to get for the re-debut of Wyatt. I hope, almost exactly 6 years after his original main roster debut, they get it right this time. I also wonder if he's going to wrestle in the mask and if the mask looks a little different because it's not the exact same one from the promos, and instead has been altered to be worn in the ring. (5 for 6)
__________
The Street Profits predict Brock Lesnar's next challenger (1 minute, 59 seconds)
Can they be done with this now, please? It started off as amusing, but now it's getting annoying. This is a terrible use of a pair of guys who are absolutely terrific. If they aren't joining the RAW tag division, please just keep them in NXT. (5 for 7)
__________
Zack Ryder vs. Mike Kanellis (1 minute, 50 seconds)
Next. (5 for 8)
__________
Lucha House Party vs. The Club (2 minutes, 51 seconds)
This was exactly what it needed to be, with AJ, Gallows, and Anderson picking up a win as a team in what appeared to be a solid match. My big issue with this is similar to other omissions that don't make much sense. Ricochet interfered in this match and went after AJ (it's what they used to stop the match for the commercial break). Why not show that? It's important in the build of the feud that Ricochet isn't going to let these guys walk all over him. Outside of that, this was still an entertaining clip and the right thing to do for The Club, so I won't let that drag it down. (6 for 9)
__________
Natalya vs. Naomi vs. Carmella vs. Alexa Bliss
I assume that between entrances, the match, and the post-match promo this probably took around 40 minutes of the show to itself, and that would be why this week there are only 13 clips instead of the usual 17-to-19. The only parts of the match that they showed were the 3 eliminations, which means I only saw a minute and 21 seconds of what everyone is agreeing was a Very Bad 25-minute match. That means to me, as a viewer of only the YouTube content, this was actually just fine. Sadly, the last fall did include the "Let's Go Cena/Cena Sucks" dueling chant, along with a very, very brief "Goldberg" chant immediately after. Natalya is suddenly a heel, maybe, or maybe she's just trying to get on Becky's level in terms of being a loose cannon on the microphone. I guess we'll see next week. It was a bit cringeworthy, but I also like Natalya more than a lot of people do, so I'm okay with this. Thanks to the fact that the only parts of the match they showed here were good, this gets a thumbs up from me. (7 for 10)
__________
The Miz pummels Dolph Ziggler on "Miz TV" (2 minutes, 57 seconds)
It was a different promo than the one that Ziggler has been cutting for the last 3 years, so that was good. The last thing we need is another feud between these two. I have enjoyed most of the stuff they've done together over the years, but we don't need more. I sort of thought this was going in the direction of Ziggler helping Miz get his head back on straight, possibly leading to them forming a tag team that would be somewhat similar to the Awesome Truth. Maybe that is the plan. I'll wait and see with this. I also might be the last person outside of Vince McMahon and Dolph Ziggler himself who still thinks DZ can be rehabbed and do something good, so I may be judging this on a bit of a curve. Going with a thumbs up for this. (8 for 11)
__________
R-Truth Invades Drake Maverick's hotel room (3 minutes, 52 seconds)
As I mentioned earlier, this video was all 3 of the night's segments all put together, which made sense to do. This may have been the best 24/7 stuff I've seen since I started 4 weeks ago. This was a lot of fun. (9 for 12)
__________
Cross-Branded All-Star Top 10 Battle Royal (2 minutes, 53 seconds)
Boy, oh boy, there is a LOT to unpack from the name of this match. I won't do it, but wow. That's something. I don't know… the excerpts from the match itself were good, as you would expect with the talented guys involved. The winner was disappointing but Seth was really the most obvious winner, and nobody should have expected WWE to go an unexpected route like Big E, even though the crowd seemed to be supporting him the most, and the fact that he's been ready for the spot for like 3 years, or more. Again, this was fine. I don't really care very much. I will say, though, that I thought Rollins was showing a ton of fire in the post-match promo, and it almost made me care. And then he had to shoe-horn in the "reigning, defending, undisputed Universal Heavyweight Champion" line, and it ruined the whole thing for me. I'm listing this as a negative because I wish they would explore different directions. This was a perfect opportunity. Whatever. (9 for 13)
__________
Final Analysis
The July 8 episode, the final RAW before Extreme Rules, was really quite awful. I hated it. This week is a step above that. I'm mostly apathetic toward it. I felt nonplussed by pretty much everything. I'm glad that it was under 35 minutes long because it went by extraordinarily quickly, but when I was done it felt like I watched a whole lot of nothing. With the exception of the Bray Wyatt return, this week's episode could have not happened at all, and nothing would be different.
Come to think of it, that's probably worse than a bad show because contrary to what I said last week it wasn't bad TV that drove me to stop watching. It was the fact that with the exception of some really strong matches, the show was the same thing every single week. There were a number of occasions where I would miss 2 weeks and not check out the reviews, and when I saw the show again, there had been such a minimal amount of storyline progression that the episodes I missed might not have even existed at all. I hope something happens next week. At least they appear to be doing fun stuff on SmackDown, with Kevin Owens if nothing else.
__________
Straight Numbers
Average Clip Length
Week 5: 2 minutes, 38 seconds
Week 4: 2 minutes, 10 seconds
Week 3: 2 minutes, 33 seconds
Week 2: 2 minutes, 44 seconds
Week 1: 2 minutes, 32 seconds
The average length of each clip is back on par with the first 3 weeks after last week's sizeable drop. After a little under 48 hours, here are some viewership numbers:
Bray Wyatt's return has over 2.5 million views
Just over 2 million views for R-Truth pinning Drake in the hotel
The Battle Royal has over 1.7 million views, as one might expect
The Women's 4-Way has 555k views
Over 400k for Cedric vs. Drew
Viking Raiders at under 87k views, by far the least-watched
Bray's return came very close to outclassing, in under 48 hours, the most-watched clip from last week's show, which was the Roman/Cedric vs. Shane/Drew match. That had around 2.6 million views as of last Friday night, more than 2 days longer than the Bray return clip. As of the writing of this, Wednesday evening July 17th, that clip has only earned about another 100,000 views, at just over 2.7 million.
The 24/7 Championship saga must have had some buzz, which it hasn't had for the last 2 weeks. It's the second-most-watched clip for the July 15th RAW. The 24/7 stuff didn't even earn enough views last week for me to even mention it in more than a single sentence — there were 3 clips (probably should have just put them all together in one) and only one of them was over 100k. The one with the word "consummation" in the title was just under 300k last Friday and sits at 662k as of Wednesday evening. The other two videos are well below 350k. Hitting over 2 million views this week is back up to form and makes me happy.
I don't recall any other video featuring the women's division going above 300,000 views, especially not in under 48 hours. I would wager that the reason it's at more than half a million views is that people heard the match was awful, and they were curious to see it for themselves. Those people were likely both disappointed and relieved at the same time. No disrespect to the women, but this match had a ton of buzz online and it wasn't positive attention. Very few people checked the 4-way match video out because they were interested in the outcome, and Becky Lynch isn't in the thumbnail, her name isn't in the title of the video, and the title doesn't even specify that the match was for a title shot.
The Viking Raiders continue to be one of, if not the least-viewed videos every week. After just under 48 hours, they have well under 100,000 views, Even the Street Profits hit 104k. Also, after hitting 1.4 million for Maria's in-ring destruction of Mike Kanellis a few weeks ago, that angle has stalled out big time both in development and in YouTube hits. Ryder squashing Kanellis has only 284k views. The "pickles and ice cream" video from the July 8th episode, which was the awful follow-up to the original angle from July 1st (which peaked at 1.8 million as of this writing) is at a pitiful 184k after more than a week. Maybe they should be glad that nobody is checking them out. The fewer eyes, the better.
Well, that's all I have for this week. I'm officially at the halfway mark, as there are 3 more episodes of RAW before SummerSlam and my last will be the night after. So far, I'm not leaning toward going back to being a regular RAW viewer. I might start checking out SmackDown, though. It seems like fun.
__________
Nick Marsico/ Writer (kinda)
The Chairshot Dot Com
__________