The WWE TV YouTube Experiment (Week 6: RAW Reunion/ July 22, 2019)
The legends (a couple of real ones) return for one night only (for now)! RAW existed — not bad, not good, not even barely existent. It was an episode. I'm fairly certain I'm glad I only had to spend 45 minutes watching it.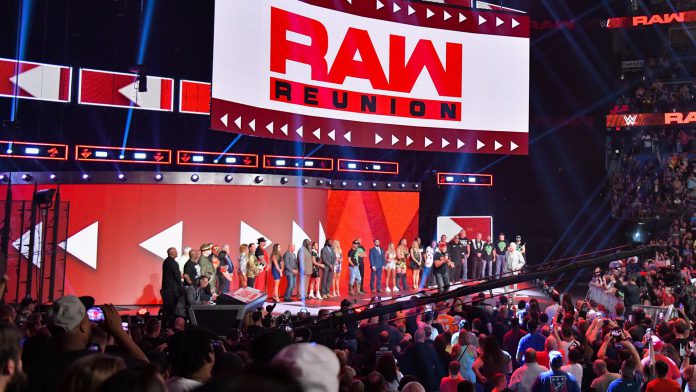 I have been dreading this episode. Hopefully, it's not as bad as I've anticipated, based on previous reunion-type episodes of RAW. Let's see what happens.
__________
Monday Night RAW Reunion 7/22/2019
Total Number of Clips: 18
Total Time: 45 minutes, 7 seconds
*Note: In the interest of saving space, I won't be embedding every clip, only the ones that I feel are necessary.*
__________
John Cena returns to kick off Raw Reunion (4 minutes, 58 seconds)
The line from Cena about the mug shots was fun, huh? C'mon, Jimmy. Get yourself together! Cena, Rikishi and the Usos were fun, and D'Von Dudley came out with The Revival… because. Because Bubba refused to show up, I guess. This was definitely heavily clipped, but nothing outwardly bad and makes me feel like there will be a lot of Old Guy Involvement, but possibly not in a bad way. 2 years ago, D'Von would have blindsided the Revival and taken them both out by himself. So we have that. (1 for 1)
__________
The Usos vs. The Revival (2 minutes, 14 seconds)
Hey, Booker T is on commentary. I miss SmackDown commentator Booker T. That was awesome. The finish of this match was awesome, and neither of the two legends at ringside (Rikishi and D'Von) got physically involved or beat anyone up! Cool! (2 for 2)
__________
Santino Marella unleashes the cobra for Alicia Fox & Torrie Wilson (1 minute, 32 seconds)
Kaitlyn was there too. And Dana Brooke. It's not fully clear, but are they calling Alicia Fox a legend? Drew McIntyre feels like everyone else. This was dumb. But, because of Drew's presence, and him making fun of the dweebs, it works. (3 for 3)
__________
Drew McIntyre unleashes a vicious attack on Cedric Alexander (1 minute, 52 seconds)
I hope they aren't just sacrificing Cedric to put over Drew. McIntyre doesn't need that and it makes Cedric look like a loser if he doesn't fight back next week. I'd be all for seeing them get a one-on-one match at SummerSlam. Give 'em 10 minutes, have Drew kick his ass at the end and leave Cedric in the ring afterward and hope for a standing ovation. Then everyone wins, and everyone gets over, which is exactly what you want. Good beatdown no matter what, so I'm good. Plus, no Shane directing traffic! (4 for 4)
__________
Zack Ryder & Curt Hawkins vs. The Viking Raiders (1 minute, 51 seconds)
Well, I did say that the Raiders needed to beat a real team. This is a step closer to that, I guess. Just because Hawkins and Ryder won the tag titles a few months back doesn't make them a legitimate team. It makes them a couple of jobbers who got lucky, especially after this performance. Good squash nonetheless and a step in the right direction for the Viking Dudes. People still don't care, though. (5 for 5)
__________
Eric Bischoff and Eve Torres attempt to give advice to Maria (1 minute, 20 seconds)
I like how they acknowledged Bischoff being part of SmackDown, even though in cannon, he's always been a RAW guy and the SD thing has barely even started and isn't an on-screen role. In any event, this was actually funny, thanks to Torrie Wilson (and WWE RAW Legend Alicia Faaaaaaaaawwwwwwks) standing in the background for no reason and not being acknowledged. And Ron Simmons using Jimmy Hart's megaphone for his catchphrase. OK. That was actually funny. The angle still sucks, but this was good fun. (6 for 6)
__________
Styles, Anderson & Gallows Talk O.C. superiority (1 minute, 14 seconds)
The O.C. is an insanely stupid name. You'd think with Vince McMahon's decade-plus gap in pop-culture knowledge, he'd be aware that The OC is a dopey teen angst drama. It probably just reached peak popularity in his world. Major gripe: they show THIS waste of time backstage promo, but none of the stuff that led to their reunion as a group? Huh? Not having it. (6 for 7)
__________
Maverick, Patterson, Brisco & Kelly Kelly win the 24/7 Title (2 minutes, 27 seconds)
Drake's wife doesn't talk like a human person. Hey, the Boogeyman! No clock over the head? Fuck that! Pat Patterson is the champ! I think Brisco pinned Patterson while he was taking a nap… or something. They don't show that part for some reason. Kelly Kelly shows up and knees Gerry in the dick and takes the belt. Yay! Fun, as usual. (7 for 8)
__________
Roman Reigns vs. Samoa Joe (2 minutes, 33 seconds)
This could have been such a great rivalry, but instead of two badasses kicking each others' asses, it was underdog Roman main eventing in a headless match for no reason last year. No idea why this match happened. Joe gets beat for no reason, and Roman isn't feuding with anyone as far as I know. What a waste. (7 for 9)
__________
Paul Heyman interrupts Seth Rollins during his appearance on "Miz TV" (4 minutes, 35 seconds)
Why do they insist on having Seth imitate Paul Heyman? Fucking stop it already. He looked like Paul Heyman's bitch here. Brock won the Universal Title at least twice before cashing his contract in on Seth at Extreme Rules, so he's not a Seth Rollins wannabe for cashing in 4 years after Seth did it to him. This was a lot of silly shit. Paul Heyman's waddling run away was funny, though. In any event, Seth Rollins comes across as such a geek. He's like a guy making believe he's a top star, not an actual top star. Not interested. (7 for 10)
__________
Candice Michelle & Alundra Blayze lay claim to the 24/7 Title (1 minute, 23 seconds)
This title is more prestigious than the Divas Title and the old Women's Title combined. Hey, Melina! Was Candice Michelle dressed to wrestle specifically for this segment or was that just the outfit she was wearing? Was Madusa blazing it up with RVD (Get it? I'm funny) before the show? I can't complain. It was less than a minute and a half and it was cool to see Melina. Harmless stuff. (8 for 11)
__________
Rey Mysterio vs. Sami Zayn (2 minutes, 30 seconds)
Jesus Christ, the Coach. See, Sami Zayn is a guy you can get away with having the legends punk out because, despite some very questionable booking over the years, he's over with the crowd and a solid upper-level mid-carder thanks to sheer will. Plus, he's a complete douche. I wouldn't have been against him taking an ass-kicking from all of the guys after the match, too. This was nothing, really, but it's hard to complain about it. (9 for 12)
__________
"The Million Dollar Man" buys the 24/7 Title (2 minutes, 59 seconds)
Uh, guys? Madusa threw the Women's Title in the trash on Nitro, not on RAW. And it was kind of, like, a big deal. I know WWE won the war and everything and they've retconned everything that ever happened in WCW to a big joke, but still. That was not a RAW thing. And DiBiase bought the title years before RAW existed. I can let that pass, as at least that happened in the WWF. Truth accidentally kidnapping Drake's wife was funny. Plus, EC3 had a power drill. (10 for 13)
__________
DX and The Kliq help Seth Rollins fend off The O.C. (2 minutes, 54 seconds)
Apparently, Ricochet was supposed to be in this spot instead of Seth. They should have had X-Pac wear a half DX/half nWo shirt. This was fine but felt like a waste of time. They couldn't have just had an immediate DQ and keep Ricochet in this spot without him getting physically involved? I am so unbelievably sick of "The Kliq" stuff, too. I didn't enjoy it when Shawn and Triple H re-formed DX 13 years ago and I haven't been a fan any time since, either. It would have been a little less shitty if Ricochet was there instead of Rollins, but not by much. (10 for 14)
__________
Bray Wyatt emerges to attack Mick Foley (2 minutes, 20 seconds)
Foley looks like Dustin from Stranger Things. Kinda talks like him too. I like the new version of Bray's "lights out" gimmick. The "hurt" glove being revealed was a cool touch. So far we're 2-for-2 when it comes to Bray's in-ring appearances. I'm really annoyed that they aren't going to do The Demon vs. The Fiend at SummerSlam, though. I guess they have time to change that. (11 for 15)
__________
Natalya and Becky Lynch brawl on "A Moment of Bliss" (2 minutes, 18 seconds)
Becky calling the title "the scalp of the baddest woman on the planet" was an awesome line and I appreciate whoever it was that wrote that line. Very nice. Not much else happened. It was fine. I'll give it a good rating for that line. I think they do have the potential to use the last 2 episodes before SummerSlam to give this match something really good behind it, so I'm hopeful. Plus, no Lacey Evans! (12 for 16)
__________
Braun Strowman vs. Randy Rowe (1 minute, 7 seconds)
Glad to see Darby Allin's brother getting work. Always fun to see Braun kill people. No complaints here. (13 for 17)
__________
"Stone Cold", Ric Flair and Hulk Hogan lead A Toast to Monday Night RAW (5 minutes)
I really can't complain about this. The show was over. It was just a few minutes of talking (the whole thing was probably closer to 15-20 minutes I would assume), but the clip was mostly Austin talking, and Austin is always entertaining, even if he barely said anything of substance. Why not? This was good enough for me. (14 for 18)
__________
Final Analysis
It was what it was. Unlike a lot of the other reunion-type shows, this didn't feature a ton of old guys making the young guys look like shit. They punked out AJ, Gallows, and Anderson, but outside of that and scaring Sami Zayn (which I'm cool with) they pretty much kept away from the current crop of stars. They clearly didn't actually think this show through at all — it was a bunch of random backstage segments and silly 24/7 stuff followed by a big celebration at the end. In that respect, the show was fine. Entertaining enough, and different than usual because at least there was a gimmick, as empty as it was. The show wasn't actively bad like 2 weeks ago or devoid of any meaning like last week.
I will say, though, in the same breath as I praise the show, I'll call out one of WWE's most glaring issues. They had all of these legends, former stars, whatever you want to call them, all under the same roof with the younger talent. They knew for at least a few weeks that they were going to do this show — why not plan ahead? I know that's a dirty phrase for this company, but it's really important. Again, the show was fine for what it was, but is that really good enough? It could have been at least a good show — a show that was memorable because WWE decided to come up with a way to weave more than just one guy into a meaningful angle (Foley). This show will go down in history as being essentially identical to all of the other episodes of its ilk. They had a golden opportunity to try something, and make some moves just a few weeks ahead of one of the biggest shows of the year, and they squandered it. That's a shame.
__________
Straight Numbers
Average Clip Length
Week 6: 2 minutes, 30 seconds
Week 5: 2 minutes, 38 seconds
Week 4: 2 minutes, 10 seconds
Week 3: 2 minutes, 33 seconds
Week 2: 2 minutes, 44 seconds
Week 1: 2 minutes, 32 seconds
The average clip length remains generally constant. The total length is up almost 11 minutes from last week, with 5 extra clips. After about 72 hours, here's how some of the clips are doing:
3.3 million views for Stone Cold's celebration
DX helping Rollins popped 2.8 million views
They logged 1.5 million for John Cena's return to RAW
Bray Wyatt's attack on Mick Foley grabbed 1.3 million
Only 140k for the Viking Raiders squash
In a continued theme, the Viking Raiders garnered just about the least interest from YouTube viewers. The backstage segment with "The O.C" (seriously) only sits at 151k, doing the second least video views. The 24/7 Title stuff still performed well, with Ted DiBiase buying the title from Alundra Blayze, followed by Maverick winning the belt back only to lose it to Truth, who accidentally abducted his wife, got a strong 1 million views. The other 24/7 stuff was also high-performing, with Kelly Kelly's win at 828k views and Candice Michelle and Alundra Blayze's wins at 772k eyes. Those were all stronger than anything outside of what was listed above. Roman vs. Joe was close, at 755k and Mysterio and Zayn pulled an impressive 656k number. Nobody cares about Mike and Maria, still, even with Ron Simmons, as they pulled only 274k.
Some of last week's number growth:
Bray Wyatt attacking Finn Balor (3.3m, up from 2.5m last week)
Truth pinning Drake in the hotel (2.6m, up from 2m last week)
Battle Royal (2m, up from 1.7m last week)
Nothing else of note really changed — everything else was pretty close to where it was a week ago. Bray's video gained 800,000 views and the 24/7 Title change grabbed another 600,000, but the big battle royal to determine the main event of SummerSlam only snagged another 300,000 views.
I must say, it is nice to see that Bray Wyatt's return garnered a lot more interest than Cena's return, and just about as much as the appearance from the DX/nWo abomination mash-up. I wonder how much higher the Foley attack will be next week (can it hit 2 million?) and how much higher the celebration to end the show goes.
Hopefully, things get on track next week and they really begin a full-out push for SummerSlam. I'll see you then.
__________
Nick Marsico/ Writer (kinda)
The Chairshot Dot Com
__________