Tiffany's Takes: Extreme Rules (7-14-19)
It's the last PPV before the SummerSlam ramp up! How did WWE handle it.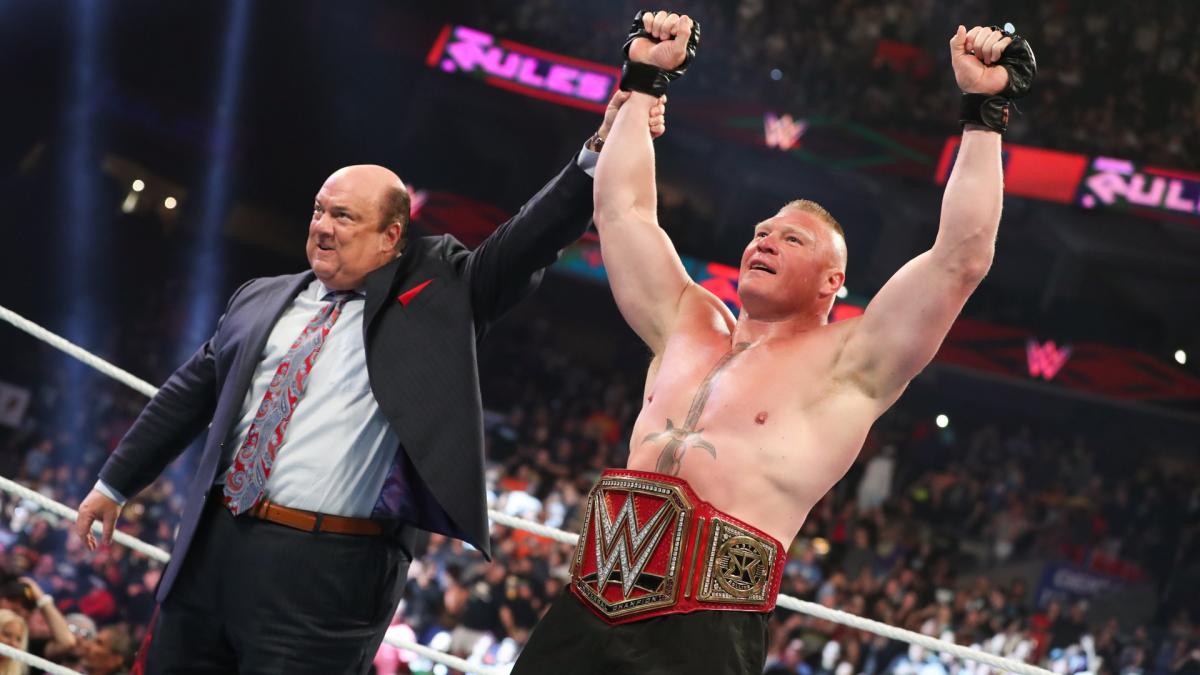 It's the last PPV before the SummerSlam ramp up! How did WWE handle it.
Okay, Baron Corbin and Lacey Evans look like idiots, Corbin especially. PLEASE let these feuds end tonight!
Finn Balor vs Shinsuke Nakamura was better than Tuesday's match on SmackDown, but I can't say it was so good that having it on the pre-show was the ultimate disgrace. Both men were definitely showing more fight than they have been in the past. Nakamura winning the IC belt was definitely a surprise, but I don't picture the reign lasting long, probably just until SummerSlam. This was probably more about justifying the match on the pre-show and setting up SummerSlam.
I don't like Drew Gulak, but I'm glad he got a great pop in his hometown. If your own hometown won't cheer for you, there's a problem. The match against Tony Nese was pretty good, even though I had no real interest in the outcome. Sorry, but they just seem very generic, even thought they're both incredible athletes. Gulak's win wasn't a surprise and they'll both move on to other opponents.
I'm not totally thrilled with Undertaker/Roman Reigns vs Shane McMahon/Drew McIntyre being the first match on the main card. To me, that's a huge match that should main event, which makes me think shenanigans will be going down in the main event. The match was okay, it wasn't a barnburner, but I think a barnburner would be a bit much to ask from Taker at this point. I found it odd that Reigns was the one selling the ass-kicking and not Taker, but I guess no one would buy Taker getting beat up. Elias interfering wasn't a surprise, the fact that Shane and his goons couldn't beat Taker and Reigns 3-on-2 was. Also, Taker being stunned that Reigns saved him from a Claymore Kick was great. RIP Corporation 2.0.
I love Seth Rollins and Becky Lynch as a team and as a couple, but I think we're all ready for them to be doing their own things again. They're super cute, I love watching them be cute together, but I'm ready for them to do their own things for SummerSlam.
I'm glad that the rivalry between the Usos and the Revival has moved away from sophomore pranks to serious business because these are two teams that can absolutely tear the house down . Revival managed to survive, but this feud will go to SummerSlam.
I'm going to be honest, this Aleister Black vs Cesaro match didn't fill me with joy. Cesaro being the one who knocked makes absolutely no sense and is a big let down. The match was great and both guys worked great together, but I can't get over the let down of how the build ended up being.
I REALLY hope Truth finds Maverick and gets the 24/7 title back, but also, loving a tease of Carmella getting more to do than saving Truth's butt. Still, what are the Street Profits doing at the show?
I was a little concerned when they announced that Bayley would be taking on Alexa Bliss and Nikki Cross because it seemed like WWE was dead set on getting Bliss a title reign, no matter what, but the match was really good and Bayley retained, which leaves an opening for someone to step up for SummerSlam. It'll probably be Charlotte, but it could be the other half of the Boss-Hug Connection. As for Bliss and Cross, they'll probably focus on building their feud for SummerSlam, hopefully.
So, the Braun Strowman/Bobby Lashley feud lumbered on in a Last Man Standing match. Okay, that's not fair. The match was actually really good, for once. Strowman and Lashley finally clicked and put on a match that suited both of them. The problem is that this doesn't solve the issues with giving them pushes: You can't justify constant Last Man Standing Matches for them, sooner or later they're going to have to wrestle a regular match and then the momentum they've built stops.
I legit hope Balor re-joins the club HE started, but for now, I'm loving AJ Styles and the Good Brothers teaming up.
With New Day being preoccupied with Kofi Kingston's title run and Usos being on RAW, the SmackDown Tag Division hasn't exactly been setting the world on fire, though that could also be the efforts of the Greenjerks (Daniel Bryan and Eric Rowan), however, this triple threat Tag Team Championship match was really good, thank god, and we have NEW SmackDown Tag Team Champions! New Day have gotten their sixth Tag Team Championship Reign, so now New Day hold two of the three Men's titles on SmackDown!
A couple of weeks ago, AJ Styles won the US Championship, only to have the win turned over on a technicality,so the dream match came to Extreme Rules and was easily Match of the Night! Ricochet retained his title on a technicality on RAW and likely would've tonight if not for the Good Brothers, who made sure Styles won the United States Championship for the third time. This feud will also likely go to SummerSlam, since there's not question Ricochet got robbed.
So the match between Kevin Owens and Dolph Ziggler that was supposed to happen on Tuesday was moved to Extreme Rules at the last minute and it was…quick. Honestly, they spent more time trash talking than wrestling and Ziggler was down after one Stunner. Thanks for coming, Dolph.
The feud between Samoa Joe and Kofi Kingston has been quick, but the match was really good, Kingston has been learning for his encounters with Joe and was able to avoid the Coquina Clutch and retained the WWE Championship. The door is wide open for SummerSlam!
Is it me, or is it not very ladylike to have the name of another woman's love interest across your butt, especially when you're married? Is it just me? So Lacey Evans, aka, Emmie Slattery, and Baron Corbin took on Becky Lynch and Seth Rollins in a winner take all Mixed Tag Match. Rollins and Lynch retained, even after an End of Days to Lynch looked like the end, but Mr. Money in the Bank cashed in and we have a new Universal Champion. For everyone who has bitched and complained about Rollins' reign as Universal Champion, I hope you're satisfied and won't complain when RAW's ratings suck because you couldn't be happy.
That's it for Tiffany's Takes!