Tiffany's Takes: NXT (7-24-2019)
Adam Cole and Johnny Gargano decide on their Three Stages of Hell match and Io Shirai faces a reckoning.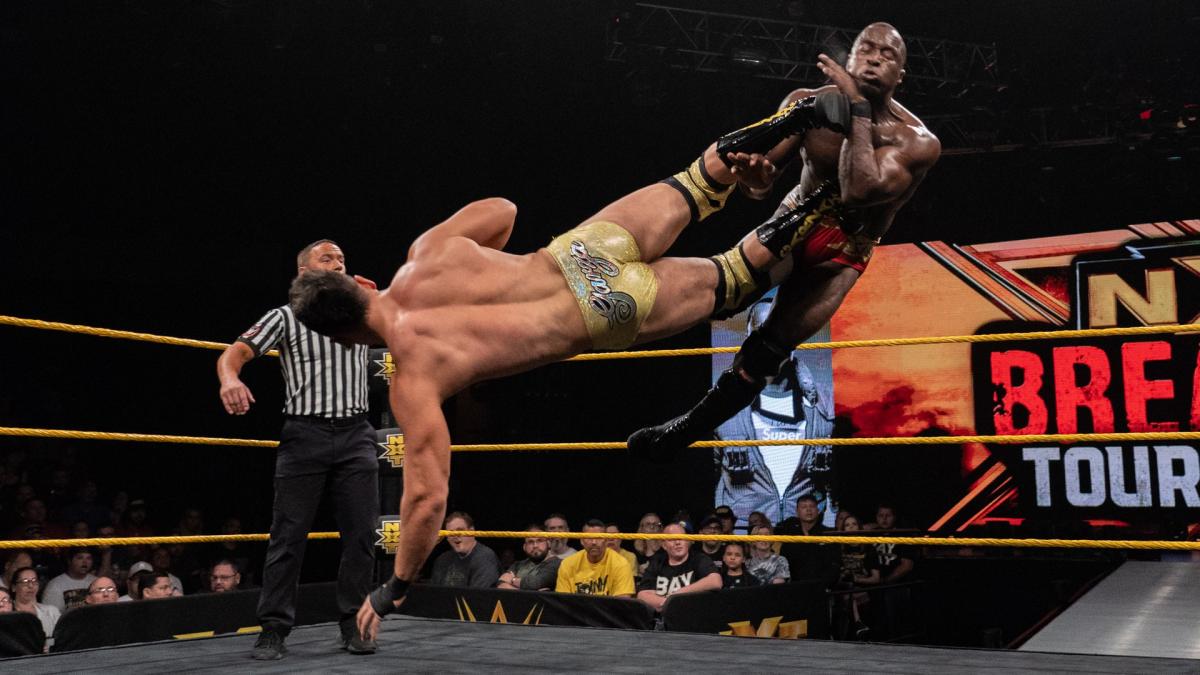 Adam Cole and Johnny Gargano decide on their Three Stages of Hell match and Io Shirai faces a reckoning.
Jordan Myles vs Angel Garza was the first second round match for the Breakout Tournament, no word on Isaiah 'Swerve' Scott will be continuing in the tournament or if he's part of 205 Live now. I don't really know what to make of this match. Garza's cliched 'heel offers to shake hands but pulls away and makes the face look stupid' thing didn't really work for me. Plus, I don't really remember Myles' match, so I'm guessing I wasn't impressed. Also, did Garza steal NJPW wrestler Taichi's gimmick of pulling off his pants when he smells victory? I'm glad Myles won, it was a pretty good match, Shane Thorn picking on Mauro Ranallo doesn't seem like a great idea, especially with Beth Phoenix around. Pick your battles, dude.
I've warmed to Johnny Gargano, finally. Gargano using the fact that Cole picked on his family as fuel is fun. A street fight as Gargano's stipulation is going to be wild.
I'm going to be honest, I wasn't stoked for Xia Li vs Bianca Belair. My feelings about Belair are well documented and I haven't seen enough of Li to really get a feel for her. That said, I hate that Li, a well-known and very talented martial artist basically laid down for Belair. I'm sorry, Belair isn't that good.
Killian Dain's promo on why he picked Matt Riddle was interesting. Riddle is good in a world of discipline, but he doesn't strike me as a street fighter, which would make for an interesting contrast with Dain.
Mia Yim's war of attrition against Shayna Baszler's squad in her quest to get a title shot is interesting. Baszler is a bad bitch, but there's no denying that Jessamyn Duke and Marina Shafir are a big part of why she's still NXT Women's Champion and I'm glad it's being acknowledged and used in a storyline. Let's see if Baszler can survive without her girls helping her.
I really wish I could get on the Velveteen Dream bandwagon, but I don't get it. However, I am excited by the prospect of Roderick Strong getting a North American Title shot. I'm also glad the mystery of Pete Dunne's whereabouts has been solved, but I wish he was back in NXT UK where he's needed.
Okay, Roderick Strong loses me the minute I hear him talk. William Regal is such a great authority figure. I do see Strong's complaint though. He earned a shot fair and square…sort of and Dunne hasn't, so he should get a one on- one shot at Dream.
I love Kacy Catanzaro, but we all knew that she was just there to get her ass kicked by Shirai, right? Also, the new entrance for Shirai hurts my head. Stop with the pulsing lights, NXT. And I was right, this was just a set up for Candice LeRae to run in and get Shirai back for turning on her last month. This is going to be a wild match at TakeOver.
I love Undisputed Era's narrative that they're being mistreated by NXT, but the upcoming matches for UE sound great. I still like that Cole won't accept that he lost a 2-out-of-3 falls match and winning just one match doesn't mean anything. A straight fall match sounds interesting. I'm going to guess Mr. Regal's stipulation will be a cage match.
Tyler Breeze vs Jaxson Ryker sounds like a bloodbath. Strong vs Dunne should be fun though.
Keith Lee vs Damian Priest was…interesting. I don't know what happened with Keith Lee, he seemed slated to be the next big thing, then he lost to Lars Sullivan, got hurt, and then it's like they didn't know what to do with him. I'm also puzzled by booking Priest to seem unstoppable, then having him have trouble with Keith Lee. He still got the win but I can't say it was a stellar outing for either man.
That's it for Tiffany's NXT Takes! Tune in Monday for Monday Night RAW!