Tiffany's Takes: WWE 205 Live (7/16/19)
Tiffany's Takes asks the important question after WWE Extreme Rules: Who will step up to challenge Drew Gulak?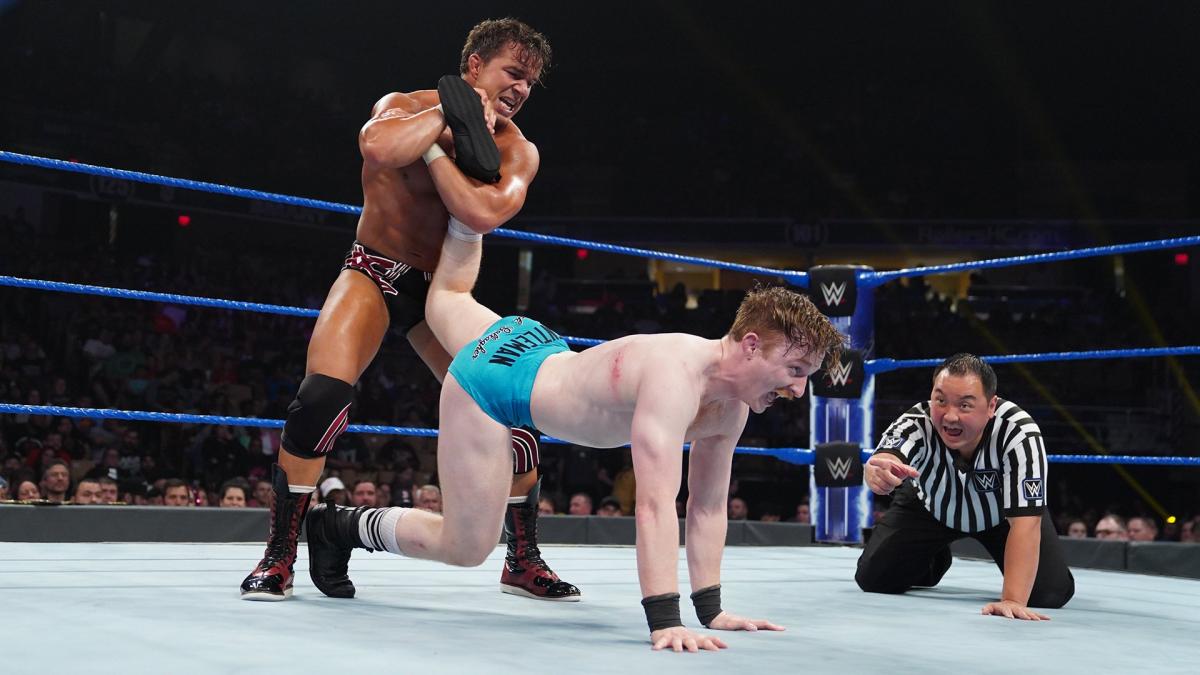 Tiffany's Takes asks the important question after WWE Extreme Rules: Who will step up to challenge Drew Gulak?
I still don't like Drew Gulak as champ. He's a great athlete, but his gimmick is too much like watching politics and he's very generic.
I like Akira Tozawa and Brian Kendrick as a team, they just make an odd amount of sense. My love for the Singh Brothers is pretty much established, even though they do look like cut rate strippers and I never remember which is which. Pants Singh was in the hot seat against Tozawa this week. I love that WWE is getting back to making guys look like legit stars even in defeat, but I would like to see the Singhs win clean, BUT I do like them being sore losers and beating up Kendrik and Tozawa. I'm not here for this feud to be about a trophy that the Singhs won.
I know WWE would really like for us to all get behind Humberto Carrillo as a top babyface, but he just doesn't work for me. I want him to, I want to like him SO much, but I just…can't.
FINALLY, Mike Kanellis vs Drake Maverick is getting somewhere! I loved every second of that in ring segment! Problem is that the writing of Mike Kanellis has been so inconsistent. He only has his balls and his spine on 205 Live. On RAW, he's Maria's henpecked husband who can't win for losing and Maria is written as every man's nightmare pregnant wife. Still, that was FUN. 205's Austin vs McMahon is taking shape and it's going to be a wild ride. I can imagine that there's going to be six kinds of hell to pay next week, but it's going to be a lot of fun to watch.
I'm so glad Chad Gable vs Gentleman Jack Gallagher is getting a Part 2 after the unsatisfying end to their match a few months ago. Also, I hope Gable can write the time he's spent in a tanning bed off on his taxes because it's clear he's been in one a LOT. This match was SO good, it should've been for a title, because those guys literally went until they couldn't anymore, giving the match a very old school feel that WWE's been missing. Gable and Gallagher got a well-deserved standing ovation from the audience, the commentators, and yours truly. I will say that Gallagher looking out at the crowd almost seemed like a goodbye, which I hope isn't true.
I'm going to assume a discussion of what was next for the Cruiserweight Championship was scrapped in favor of Gable vs Gallagher because we're four weeks from SummerSlam and nothing was really said or put in motion to decide who would take on Gulak in Toronto. I don't remember who on the roster is from Canada that they could plug in that spot, hopefully we'll get something next week and the build for SummerSlam won't be the same hurried one they had for WrestleMania. I'm betting Kanellis vs Maverick will happen on 205 and NOT at SummerSlam, but I wouldn't put it past WWE either.
That's it for Tiffany's 205 Live Takes! Tune in tomorrow for NXT!