Tiffany's Takes: WWE 205 Live (7/23/19)
After last week's explosion, what will happen between Drake Maverick and Mike Kanellis? Plus Swerve debuts!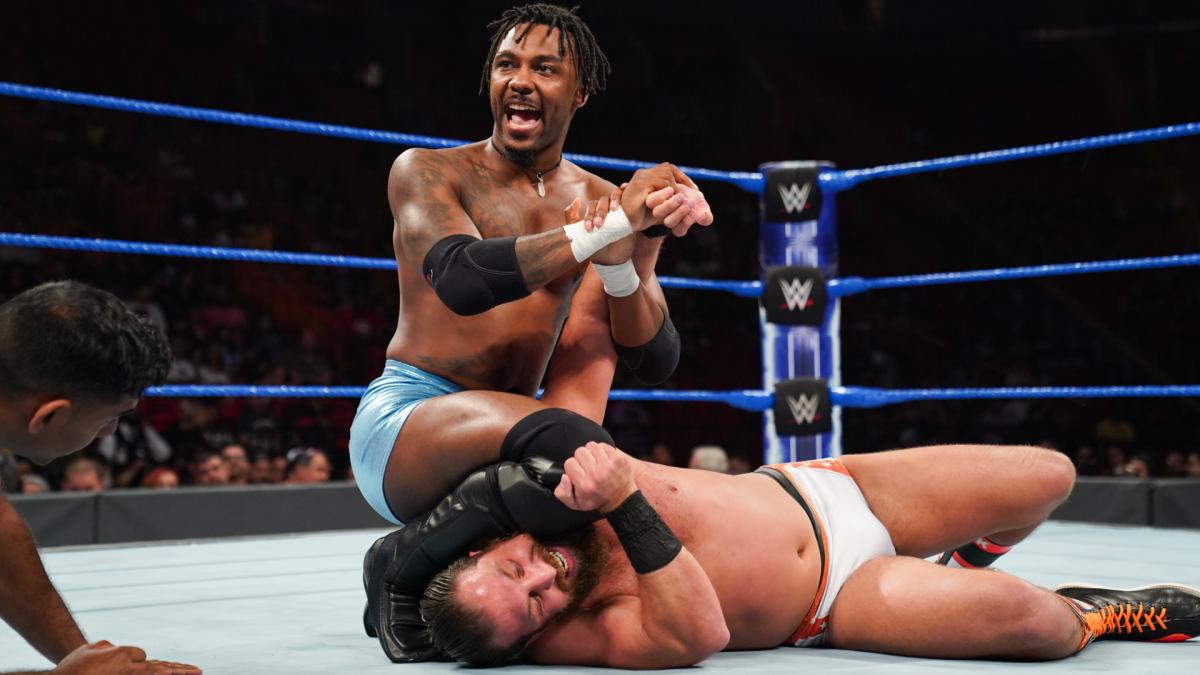 After last week's explosion, what will happen between Drake Maverick and Mike Kanellis? Plus Swerve debuts!
Actually, Drake, we've been waiting for you and Kanellis to come to blows for months, so don't sweat it, but do go find your wife. So Mike Kanellis vs Drake Maverick will happen next week in an unsanctioned fight. Which should be good, but I have a feeling Maria is going to cost Mike big time, which will suck, unless they're wrapping up the Kanellis' on 205 for Mike and Maria to go to RAW full time. However, I'm hopeful that I'm wrong and WWE will give Mike his title shot/run. He's so good, he just needs them to take a chance on him. He's at least more interesting than Drew Gulak. However, nothing's being said about what happens if Maverick wins.
Lucha House Party vs Humberto Carrillo and Raul Mendoza, a match of the luchadors. Carillow still doesn't connect with me, but I'm hopeful he'll start showing some personality soon, maybe take a cue from Mendoza. Madre de Dios, this is a good match. I love when luchadors do mat wrestling. Flippy stuff is good, but technical wrestling is a big part of Lucha Libre and I'm glad to see it on 205. Carrillo and Mendoza are a great team, something that didn't really get showcased when they were getting destroyed in NXT. I'm honestly stunned that Carrillo and Mendoza got the win, but what a win over some tough competitors! I think we could still get Tag Titles for 205.
Hello, Singhs! We're getting the Singh Brothers vs Akira Tozawa and Brian Kendrick NEXT week! Hopefully, they'll get their acting awards back, those are important!
I' not totally familiar with Isaiah'Swerve' Scott outside of NXT's Breakout Tournament, but he must've impressed SOMEONE because I think he won his Breakout match and now he's on 205 going up agaisnt Drew Gulak.
Last week's match between Chad Gable and Gentleman Jack Gallagher was SO good!
Oney Lorcan looks like a badass, even with purple briefs. Again, we've got a female ref in a men's match. SO cool to see. I like that the match started out as bare-knuckle boxing before the wrestling part kicked in. Give Tony Isner a bonus, he did his job tonight.
Gulak is so…bland. I know he's trying to be a dangerous heel, but it just doesn't work for me. Hopefully, Mike Kanellis can beat Drake Maverick and we can have an interesting feud. Also, why does it seem Gulak persists in believing that wrestlers who are minorities need to be shown the ropes? It's 2019 for fuck's sake.
I honestly thought Scott was going to get squashed in the first few minutes. Glad he wasn't because this was a really great match. Scott more than hung with Gulak, he made him pay for his condescension every step of the way. However this attempt to make Gulak into an 'edgy' heel doesn't work for me. The gimmick is too political leaning and his feuds make me uncomfortable.  I'm not surprised Gulak won, but this match proves that whoever was keeping Scott off TV was out of their mind. that man is a STAR.
That's it for Tiffany's 205 Takes! Tune in tomorrow for the NXTs!