Tiffany's Takes: WWE 205 Live (7/9/19)
Drake Maverick is back from his honeymoon, can he get the Cruiserweights under control on WWE 205 Live?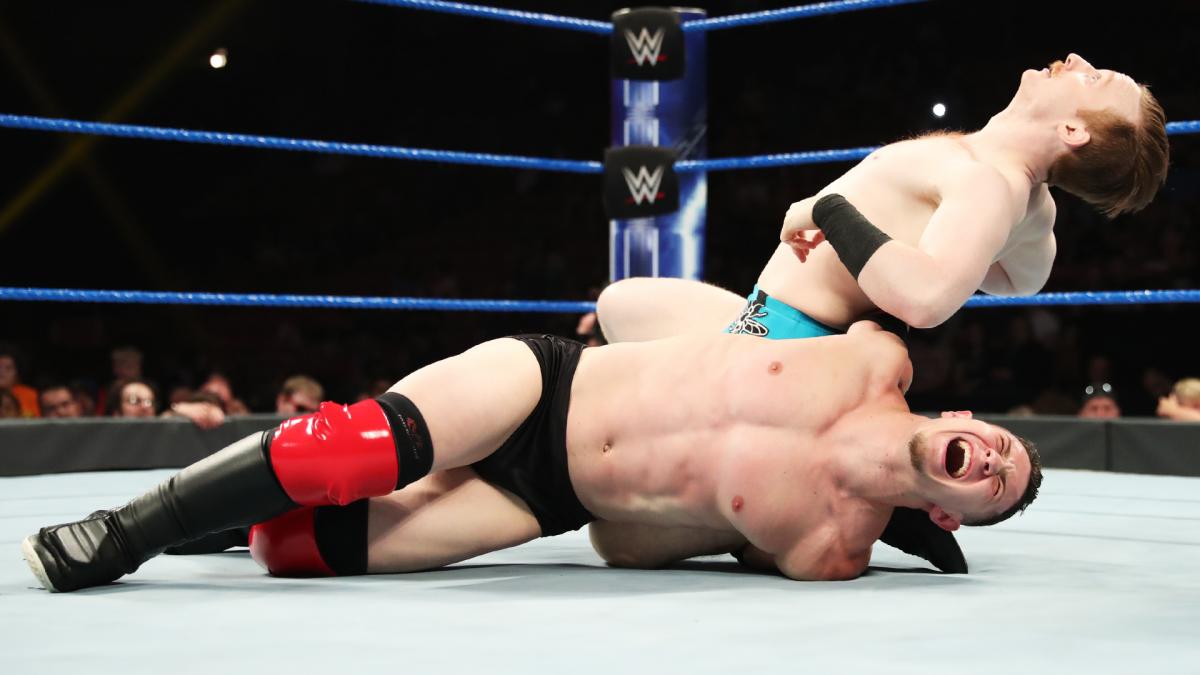 Drake Maverick is back from his honeymoon, can he get the Cruiserweights under control on WWE 205 Live?
Am I the only one who finds the prospect of Oney Lorcan vs Ariya Daivari, Anything Goes a little frightening, but at least Maverick's back to keep things under control…hopefully.
I just realized that I really don't care about Drew Gulak vs Tony Nese. I looked at the picture of them and thought 'Wow, they both look really generic'. It's not a great inspiration to watch during a very crowded wrestling weekend.
Brian Kendrick was back after missing a few weeks, and he's taking on one of the Singh Brothers. No, I don't know which one, I call them  Pants and Briefs. Let me rephrase that: Brian Kendrick took on Briefs Singh. At least Kendrick appreciates the dancing, even if he stinks at it. I'm glad WWE didn't completely reset from how great the Singhs looked after last week's amazing match against the Lucha House Party and I'm excited to see Kendrick and Akira Tozawa teaming up again, so the Singhs still have people to fight. Is it too much to hope for a Cruiserweight Tag Team Division?
I honestly don't get why we're suddenly having vignettes about Humberto Carrillo. He's been on the show for a few months, so it's not like we don't know who he is. Then again, I'm not really into Carrillo, though I admire his talent, so maybe it's just lost on me.
I'm a fan of 205 having more than two matches in a show, makes writing this article a lot easier. Gentleman Jack Gallagher took on young Dustin Devin, or was it Justin Devin, either way, the name Devin was involved, so we'll go with that. One good thing about watching New Japan Pro Wrestling was recognizing that Gallagher used SANADA'S patented Paradise Lock on Devin and would've likely had the match finished if Mike Kanellis hadn't thrown an absolute shit fit at ringside. I'm also here for Maverick's unimpressed look. The show at ringside didn't help Devin get the win, but it was more than he would've gotten.
I love that Mike Kanellis vs Maverick is still going. I wish Maria wasn't sitting on the sidelines due to her pregnancy so we could have Maverick and Renee Michelle vs Mike and Maria Kanellis, but we'll get back to it. I can't wait to see what happens next week because this feud keeps getting nastier.
So, we've got Lorcan, who is a nasty brawler on a good day versus Ariya Daivari, who is something of a brawler but also a dirty fighter. That said, why was the ref trying to enforce the rules? It's Anything Goes, including hitting your opponent with a closed fist. That modified Camel Clutch around the chair looked painful as hell, so I hate to think what it felt like. The match was a lot better than I expected it to be, WWE's often pulled back on getting really crazy in these matches, but it definitely felt like they loosened the leash a little bit. The match was so good that it doesn't really matter who won, but I'm glad Lorcan won that war. I don't think this feud is over, but it definitely felt like a blow off.
Even though the Cruiserweight Championship should be the focus of the show, I really didn't care what Gulak and Nese had to say about Extreme Rules. I did like the focus on their friendship in the beginnings of 205 Live, but I'm not into this feud. Let's end it at Extreme Rules.
That's it for Tiffany's WWE 205 Live Takes! Tune in tomorrow for NXT!