Tiffany's Takes: WWE NXT (7-10-19)
After her shocking turn a few weeks ago, what's next for Io Shirai and Candice LeRae?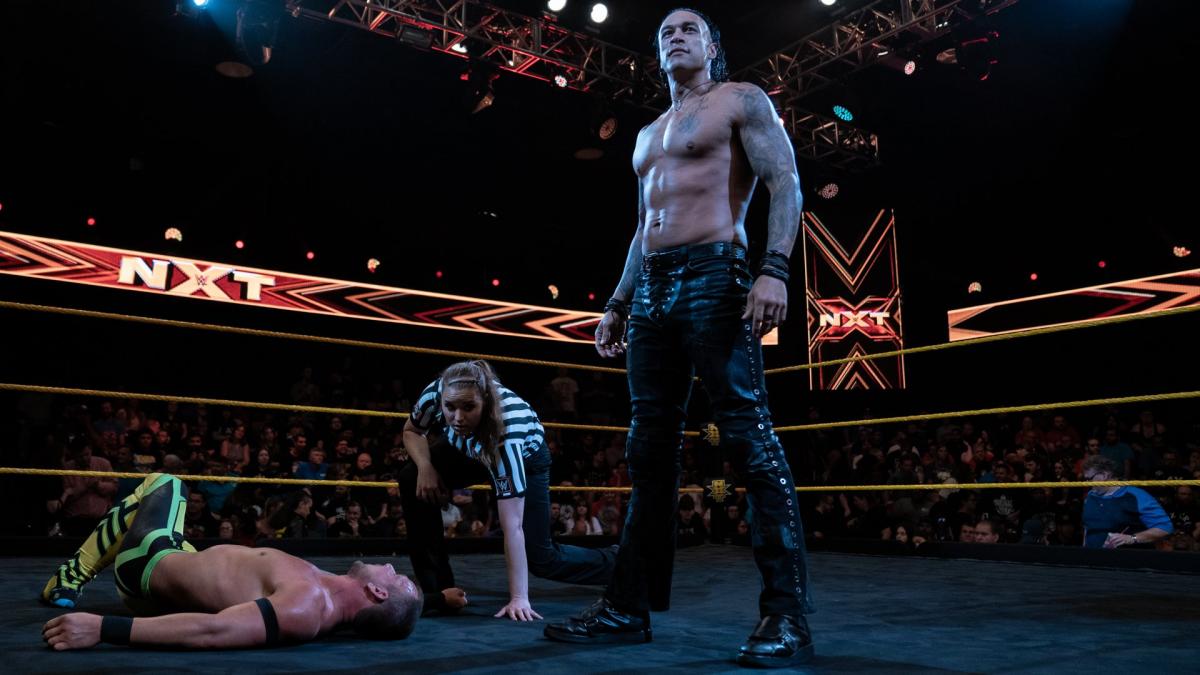 After her shocking turn a few weeks ago, what's next for Io Shirai and Candice LeRae?
Oh, I hate strobe lights in superstar entrances, they give me such a headache. WOW to Io Shirai's new look. Nothing says badass bitch like skintight black clothes. I'm glad they kept the promo short, but I want to hear Candice LeRae's reaction.
Ugh, Velveteen Dream. He leaves me cold and I hate that hat. I'm kind of hoping Roderick Strong gets another chance at that title, he's been on a roll lately and I want that to continue.
Damian Priest definitely has a legit badass look to him, though I have no idea what an 'Archer of Infamy' is, but who is Blanco Loco? I've never heard of him and he's not part of the Breakout Tournament to my knowledge, so why is he getting his own entrance. I guess it doesn't really matter, Priest squashed him like a bug. Also, can we talk about how NXT is letting female refs referee men's matches? That's so cool!
Sorry, WWE, you can pump EVOLVE all you want, but I'm spending my Saturday Night with AEW.
Okay, who is the creep with the film of riots? Oh, wait, that looks like one of the SaNitY guys. It is! It's Killian Dain! It's too bad Nikki Cross is on the Main Roster or they could be a power couple in NXT.
BOA looks interesting, not sure I'd want the name of a snake, but to each his own. Maybe he's really good at submissions. Jordan Myles has some moves, but wasn't he Stokely something or other at some point? ANYWAY, this was a fabulous match! Last week's Breakout Tournament match didn't really stack up to the first match, but this one definitely did. Myles got the win, but BOA has nothing to be ashamed of. Next week's match looks like a battle of behemoths.
I'm ready for Shayna Baszler to not be champion anymore. I'm also ready for SOMEONE to just knock the shit out of her without Jessamyn Duke and Marina Shafir being around.
I want to like Keith Lee, but I just don't get the hype, I really don't.
I love William Regal as GM and we're getting Apollo Crews vs KUSHIDA next week!
So, Adam Cole will have a championship match next week, but they aren't saying who the opponent is, but I'm guessing that it will be Gargano, unless Strong decides to do it and we get more of UE in turmoil.
Street Profits vs Oney Lorcan and Danny Burch was amazing! Lorcan and Burch are such a great team and meshed really well with the Street Profits! I was surprised the Profits got a clean win over Lorcan and Burch, and a little disappointed, not going to lie because I really want Lorcan and Burch to have a run with the titles before they move up to the main roster full time. However, it looks like Fish's arm is healed and he and O'Reilly have their eyes on getting those titles back, so we'll see what happens next week!
That's it for Tiffany's NXT OG Takes! Tune in on Sunday for Extreme Rules coverage!