Tiffany's Takes: WWE Smackdown (7/30/19)
Is Roman Reigns is the victim of a mystery plot? Eric Bischoff must be in charge and Tiffany has Takes for the 7/30/19 edition of WWE Smackdown!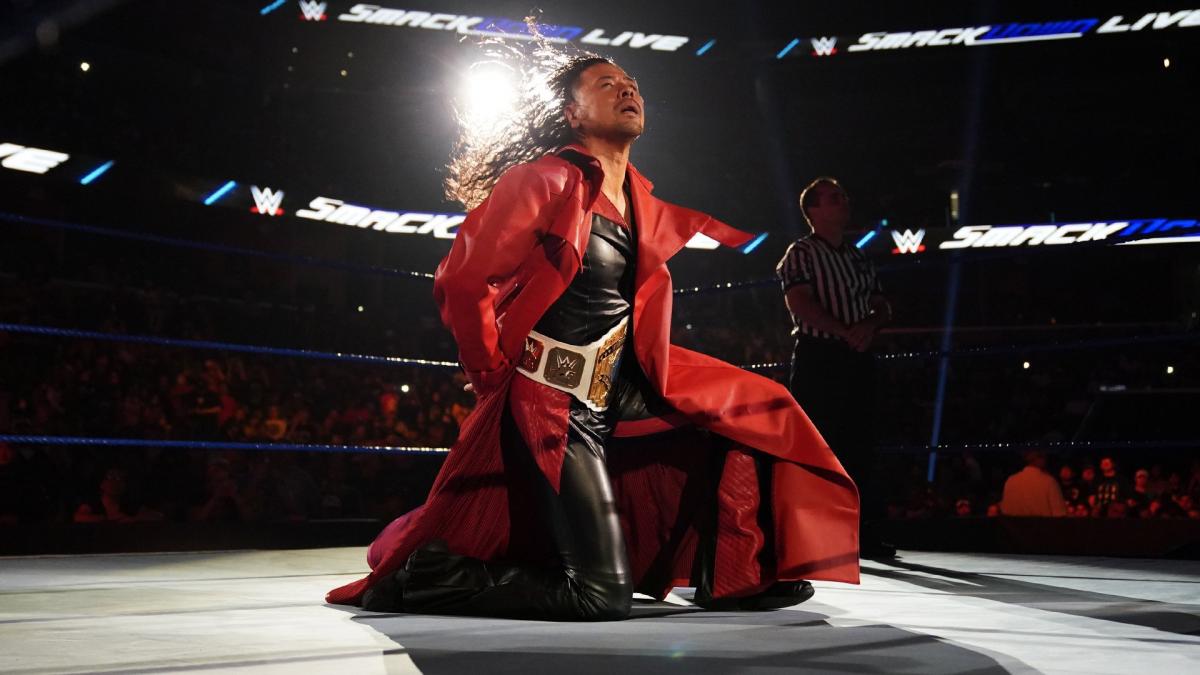 Is Roman Reigns is the victim of a mystery plot? Eric Bischoff must be in charge and Tiffany has Takes for the 7/30/19 edition of WWE Smackdown!
So Shane McMahon's not there and we get a Vine promo? More likely, he's there, just lying in wait for something.  I hate that the six man tag was cancelled for top champ vs mid-card champ.
It still feels weird to cheer for Kevin Owens and a part of me wonders if this wouldn't have been in the cards for Dean Ambrose if he'd stayed since it seems like a better fit for him than it does for KO. So, KO has to deal with Vince's decade long failed experiment known as Drew McIntyre. That stunner on the table makes my tailbone hurt.
Oh, it's Dolph Ziggler and a slightly better flat iron job. Blah, blah, blah, Ziggler's usual delusions of relevance and grandeur. Yeah, you and Miz get to fight again at SummerSlam. Moving on.
I'm really loving more serious, edgier Bayley, especially with Ember Moon.
We're back to Aleister Black begging for a fight. I know the wildcard rule is on its way out (thank god), but can we at least get A match between Black and Wyatt or Black and the Undertaker?
Ember Moon's gimmick puzzles me a little. Her moniker is 'War Goddess', but the rest of it seems more like a werewolf. ANYWAY, I love Bayley's nasty-ish side, thank you Sasha Banks for bringing that out. I'm still wondering if we're going to get Alexa Bliss vs Nikki Cross at SummerSlam or will they keep building that for awhile. At least Bliss didn't pin Bayley, pinning Ember means nothing in terms of the title picture.
Poor Sami Zayn, you'd think WWE would've given him more wins after all the did to make him the most obnoxious person on the roster. Hopefully things can get turned around for him.
So, what is Daniel Bryan's career-altering news? Guess we'll have to wait again.
Well, you can't do a show in Memphis without the king of Memphis wrestling, Jerry 'The King' Lawler, but let's be real, this is to set up Charlotte Flair vs Trish Stratus at SummerSlam, so let's get on with it. I know they're wanting to rebuild Charlotte after WrestleMania, but Charlotte's walking down the path Trish blazed first.
I want to be excited about AJ Styles vs Kofi Kingston, but I would've preferred the six man.
Firefly Funhouse has truly become evil, they're promoting vegetables. The question is: will the Fiend defeat the Demon at SummerSlam?
We got Finn Balor vs Ziggler. Great. Good match, at least, but here comes the Fiend to creep us all out. Have to say, though, the lights going out in stages is more creepy than them just going off like they do with Taker. Zig, you needed the Fiend to get that win, so keep your head in order.
Shinsuke Nakamura vs Ali. Okay, I like this! I hope this leads to a title match at SummerSlam. The fact that Ali hasn't really been in a title picture since he got injured in February is a crime. ALI PINNED NAKAMURA! ALI IS IN LINE FOR A TITLE SHOT!!!!
I really don't give a damn about what goes on in Randy Orton's mind. Yeah, we know you're the second third-generation star in WWE and you've spent your whole career trying to be better than the Rock because you have an inferiority complex and it drives you nuts that someone you think isn't as good as you is the champ and you're not. You lost to Jinder Mahal, dude, I think we can stop pretending that you're as good as you think you are.
So Roman Reigns's challenge is the main event? Works for me.
I'm bummed that we'll never get OC vs The Shield. This match was good, but the timing of it stinks since it means Reigns' challenge is either going to be rushed or post-poned until next week.
Jesus Christ, really? So are we waiting for next week?