Andrew's Stardom 5 Star GP Blue Stars Ratings & Analysis: Day 1
Stardom 5 Star Grand Prix is here! Blue Stars block action gets started!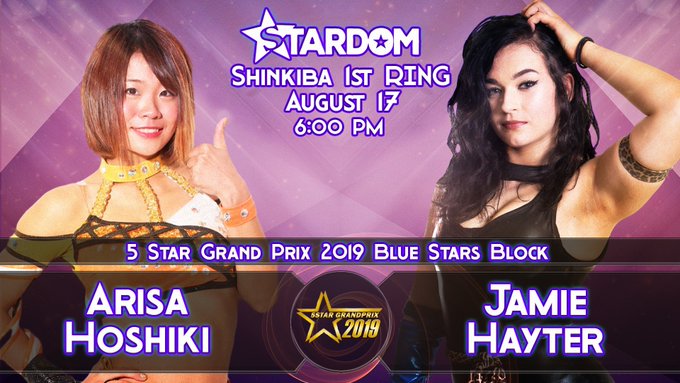 Stardom 5 Star Grand Prix is here! Blue Stars block action gets started!
Now this is Blue Stars, eh? Last year I was on Red Stars…so it's only fair to switch right?
There's definitely some fun to be had with this block. Arisa Hoshiki is the White Belt champion and Bea Priestley is the Red Belt champion. So having champions in a block add to each match.
Jamie Hayter is always a fun addition, as well as, Utami Hayashishita.
Since Mathew did a whole series of his Top 5 choices, I'll just list out my top 3 picks for this block.
Jungle Kyona
Utami Hayashishita
Jamie Hayter
Now let's see who kicks things off right?
Blue Stars Day 1 Ratings:
Arisa Hoshiki vs Jamie Hayter: Hayter wins via Curb Stomp @7:15 – ***
Bea Priestley vs Andras Miyagi: Bea wins via Regal Suplex @5:45 – ** 1/4
Utami Hayashishita vs Jungle Kyona: Utami wins via Torture Rack @9:30 – *** 3/4
Kagetsu vs Konami: Konami wins via Triangle Lancer @12:00 – ****
Blue Stars Day 1 Analysis:
Arisa Hoshiki vs Jamie Hayter – Blue Stars starts off with an interesting match up. Arisa is the Wonder of Stardom Champion, and undefeated since her return to Stardom in late 2018. Jamie is the Zombie Hot British Chancellor of Oedo Tai. Oedo Tai is Stardom's version of LIJ for a quick comparison. They are just lovably crude and Hayter fits the group perfectly.
The match is heavily character driven to start with. Jamie spits on her hand for the ole Spit Swear, and Arisa runs off, very obviously disgusted. Jamie offers the shake to the referee, who is a wimp as well. From yelling at the ref to stop counting to Jamie's condescending Japanese, it is all adorable. She used most of the anime staples, of Gomen and Daijobu, but it was still insanely entertaining.
Once Arisa lays in a couple of her signature kicks, that's when Jamie stops messing around and lights up the plucky White Belt champion with some mean overhand chops. From this point we get a lot of back and forth. Arisa goes on a small run of strikes, but Jamie counters with a few Backbreaker variations and I do like her swinging the leg back, using momentum to drive Arisa's face into her knee. Arisa misses her Brazilian Kick, Jamie counters and it gives her the opening for a Curb Stomp and the pinfall! So Jamie picks up the win, breaks Arisa's undefeated streak, and all with relative ease.
Bea Priestley vs Andras Miyagi – Bea Priestley is the World of Stardom champion, so wins against her, much like the G1 Climax, can result in a title shot. Andras is still fairly new to Stardom, coming over from Sendai Girls. A major player in Oedo Tai, Andras seems to be vying with Hazuki for number 2 in the group. Can Andras earn herself a title shot?
Miyagi attacks before the bell, and puts together a few suplexes and gets a near fall with a Full Nelson with Body Scissor submission. After that point Bea fights back, and Andras never really puts together a believable sequence from that point. Bea wins with some kind of Cradle Fisherman Suplex. I remember her using a Curb Stomp, but since Hayter uses that as well, I guess Bea had to pivot.
Utami Hayashishita vs Jungle Kyona – This is a fun match up. Kyona was Utami's first opponent and they went to a time limit draw. I believe they faced each other last year in the 5 Star, and drew again. So this is a bit of a grudge match. Kyona always puts up a good fight, but rarely gets the big wins or the big pushes. Utami is Stardom's Big Rookie (which I'm pretty sure if a play off of her father's nickname of Big Daddy in a popular Japanese TV show), who was drowning in gold within the first 6 months of being a fully-fledged professional wrestler.
This match was damn good. Both went at each other hard and fairly unforgiving. Suplexes, strikes and even a few submission switches. Kyona nearly had Utami when she locked in a Boston, into a Half Boston. Then after the break, she slapped on the Scorpion Deathlock, but Utami scuttled to the rope quickly. Utami returned the favor with a modified Scorpion of her own, which nearly saw a victory right then and there.
Our Big Rookie continued the offense with a devastating German Suplex, but Kyona barely rolls the shoulder. Torture Rack follows up and Kyona passes out, so the referee stops it.
Now on https://t.co/q8dHnF58vW from earlier tonight at Shinkiba! It's the 5★STAR GP 2019 and it's Utami vs Jungle! They've fought to 2 draws in their rivalry, now it's time for Superbout III! pic.twitter.com/JgkCoeUo1j

— We Are Stardom (@we_are_stardom) August 17, 2019
Kagetsu vs Konami – The rematch from last year's round 1 match! Konami's Triangle Lancer injured Kagetsu's neck last year, which may have impacted her ability to win as champion. So does Kagetsu get her win back? Will Triangle Lancer's winning percentage remain 100%?
Kagetsu hits a Dropkick at the bell, Michinoku Driver and then goes for the Oedo Coaster…but she misses. This was nearly a 30 second match, which would've been disappointing. We see some great chain wrestling between the two, Armbar transitions everywhere, great mat work, and a very even back and forth.
Konami lands a Round Kick to Kagetsu's head, but it just pisses her off, she trips her, slingshots in for a Footstomp, extends Konami's arm, springboards to the top rope and Footstomps the arm, all setting up for a Fujiwara Armbar attempt. The Prime Minister of Oedo Tai dominates from that point forward. 3 Michinoku Drivers, Avalanche Michinoku Driver and then she hits the Oedo Coaster! It's over! 1-2-and…Kagetsu picks up Konami. Oh hubris…you cheeky monkey…
Kagetsu tries to drive home the point, but then we get a myriad of counters. Michinoku Driver attempts, Triangle Lancer attempts…and then Konami finally catches Kagetsu and sinks in the Triangle Lancer. Damn well wrestled match.
From just a few short hours ago! It's Night 1 of the 5★STAR GP 2019 and here's the main event of Kagetsu vs Konami! And it's only on https://t.co/q8dHnF58vW! pic.twitter.com/Kawh3H6Uu7

— We Are Stardom (@we_are_stardom) August 17, 2019
Overall Score: 7.5/10
Jamie Hayter started this day off great with some fun personality, while Utami/Kyona and Kagetsu/Konami were damn good wrestling matches. I suppose I can tolerate Bea since the rest seem to be quite enjoyable.
The fact that each match has a 15 minute time limit makes for quick and fun matches. Hard to judge much after just one day, but Utami and Jamie definitely looked good in their opening day victories.
Blue Stars Standings:
Jamie Hayter 1-0 ( 2 Points)
Utami Hayashishita 1-0 (2 Points)
Bea Priestley 1-0 (2 Points)
Konami 1-0 (2 Points)
Natsuko Tora 0-0 (0 Points)
Kagetsu 0-1 (0 Points)
Arisa Hoshiki 0-1 (0 Points)
Jungle Kyona 0-1 (0 Points)
Andras Miyagi 0-1 (0 Points)