Andrew's Stardom 5 Star GP Blue Stars Ratings & Analysis: Day 1
Stardom 5 Star Grand Prix is here! Blue Stars block action gets started!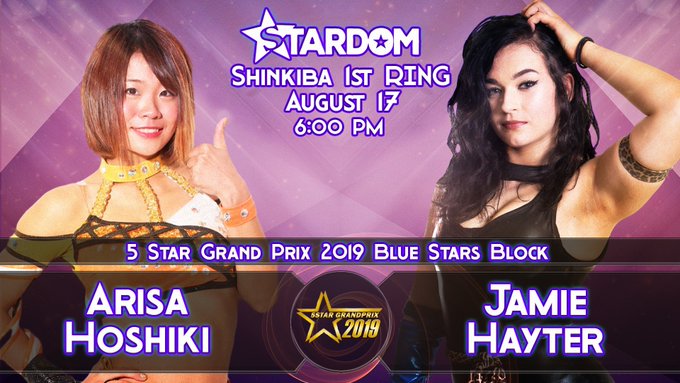 Stardom 5 Star Grand Prix is here! Blue Stars block action gets started!
Now this is Blue Stars, eh? Last year I was on Red Stars…so it's only fair to switch right?
There's definitely some fun to be had with this block. Arisa Hoshiki is the White Belt champion and Bea Priestley is the Red Belt champion. So having champions in a block add to each match.
Jamie Hayter is always a fun addition, as well as, Utami Hayashishita.
Since Mathew did a whole series of his Top 5 choices, I'll just list out my top 3 picks for this block.
Jungle Kyona
Utami Hayashishita
Jamie Hayter
Now let's see who kicks things off right?
Blue Stars Day 1 Ratings:
Arisa Hoshiki vs Jamie Hayter: Hayter wins via Curb Stomp @7:15 – ***
Bea Priestley vs Andras Miyagi: Bea wins via Regal Suplex @5:45 – ** 1/4
Utami Hayashishita vs Jungle Kyona: Utami wins via Torture Rack @9:30 – *** 3/4
Kagetsu vs Konami: Konami wins via Triangle Lancer @12:00 – ****
Blue Stars Day 1 Analysis:
Arisa Hoshiki vs Jamie Hayter – Blue Stars starts off with an interesting match up. Arisa is the Wonder of Stardom Champion, and undefeated since her return to Stardom in late 2018. Jamie is the Zombie Hot British Chancellor of Oedo Tai. Oedo Tai is Stardom's version of LIJ for a quick comparison. They are just lovably crude and Hayter fits the group perfectly.
The match is heavily character driven to start with. Jamie spits on her hand for the ole Spit Swear, and Arisa runs off, very obviously disgusted. Jamie offers the shake to the referee, who is a wimp as well. From yelling at the ref to stop counting to Jamie's condescending Japanese, it is all adorable. She used most of the anime staples, of Gomen and Daijobu, but it was still insanely entertaining.
Once Arisa lays in a couple of her signature kicks, that's when Jamie stops messing around and lights up the plucky White Belt champion with some mean overhand chops. From this point we get a lot of back and forth. Arisa goes on a small run of strikes, but Jamie counters with a few Backbreaker variations and I do like her swinging the leg back, using momentum to drive Arisa's face into her knee. Arisa misses her Brazilian Kick, Jamie counters and it gives her the opening for a Curb Stomp and the pinfall! So Jamie picks up the win, breaks Arisa's undefeated streak, and all with relative ease.
Bea Priestley vs Andras Miyagi – Bea Priestley is the World of Stardom champion, so wins against her, much like the G1 Climax, can result in a title shot. Andras is still fairly new to Stardom, coming over from Sendai Girls. A major player in Oedo Tai, Andras seems to be vying with Hazuki for number 2 in the group. Can Andras earn herself a title shot?
Miyagi attacks before the bell, and puts together a few suplexes and gets a near fall with a Full Nelson with Body Scissor submission. After that point Bea fights back, and Andras never really puts together a believable sequence from that point. Bea wins with some kind of Cradle Fisherman Suplex. I remember her using a Curb Stomp, but since Hayter uses that as well, I guess Bea had to pivot.
Utami Hayashishita vs Jungle Kyona – This is a fun match up. Kyona was Utami's first opponent and they went to a time limit draw. I believe they faced each other last year in the 5 Star, and drew again. So this is a bit of a grudge match. Kyona always puts up a good fight, but rarely gets the big wins or the big pushes. Utami is Stardom's Big Rookie (which I'm pretty sure if a play off of her father's nickname of Big Daddy in a popular Japanese TV show), who was drowning in gold within the first 6 months of being a fully-fledged professional wrestler.
This match was damn good. Both went at each other hard and fairly unforgiving. Suplexes, strikes and even a few submission switches. Kyona nearly had Utami when she locked in a Boston, into a Half Boston. Then after the break, she slapped on the Scorpion Deathlock, but Utami scuttled to the rope quickly. Utami returned the favor with a modified Scorpion of her own, which nearly saw a victory right then and there.
Our Big Rookie continued the offense with a devastating German Suplex, but Kyona barely rolls the shoulder. Torture Rack follows up and Kyona passes out, so the referee stops it.
Now on https://t.co/q8dHnF58vW from earlier tonight at Shinkiba! It's the 5★STAR GP 2019 and it's Utami vs Jungle! They've fought to 2 draws in their rivalry, now it's time for Superbout III! pic.twitter.com/JgkCoeUo1j

— We Are Stardom (@we_are_stardom) August 17, 2019
Kagetsu vs Konami – The rematch from last year's round 1 match! Konami's Triangle Lancer injured Kagetsu's neck last year, which may have impacted her ability to win as champion. So does Kagetsu get her win back? Will Triangle Lancer's winning percentage remain 100%?
Kagetsu hits a Dropkick at the bell, Michinoku Driver and then goes for the Oedo Coaster…but she misses. This was nearly a 30 second match, which would've been disappointing. We see some great chain wrestling between the two, Armbar transitions everywhere, great mat work, and a very even back and forth.
Konami lands a Round Kick to Kagetsu's head, but it just pisses her off, she trips her, slingshots in for a Footstomp, extends Konami's arm, springboards to the top rope and Footstomps the arm, all setting up for a Fujiwara Armbar attempt. The Prime Minister of Oedo Tai dominates from that point forward. 3 Michinoku Drivers, Avalanche Michinoku Driver and then she hits the Oedo Coaster! It's over! 1-2-and…Kagetsu picks up Konami. Oh hubris…you cheeky monkey…
Kagetsu tries to drive home the point, but then we get a myriad of counters. Michinoku Driver attempts, Triangle Lancer attempts…and then Konami finally catches Kagetsu and sinks in the Triangle Lancer. Damn well wrestled match.
From just a few short hours ago! It's Night 1 of the 5★STAR GP 2019 and here's the main event of Kagetsu vs Konami! And it's only on https://t.co/q8dHnF58vW! pic.twitter.com/Kawh3H6Uu7

— We Are Stardom (@we_are_stardom) August 17, 2019
Overall Score: 7.5/10
Jamie Hayter started this day off great with some fun personality, while Utami/Kyona and Kagetsu/Konami were damn good wrestling matches. I suppose I can tolerate Bea since the rest seem to be quite enjoyable.
The fact that each match has a 15 minute time limit makes for quick and fun matches. Hard to judge much after just one day, but Utami and Jamie definitely looked good in their opening day victories.
Blue Stars Standings:
Jamie Hayter 1-0 ( 2 Points)
Utami Hayashishita 1-0 (2 Points)
Bea Priestley 1-0 (2 Points)
Konami 1-0 (2 Points)
Natsuko Tora 0-0 (0 Points)
Kagetsu 0-1 (0 Points)
Arisa Hoshiki 0-1 (0 Points)
Jungle Kyona 0-1 (0 Points)
Andras Miyagi 0-1 (0 Points)
(NOAH) NOAH NEWSLETTER VOL.196 ~ 29th March 2023
An injury to a major a player in NOAH causes a little concern! New challengers arise for the champions!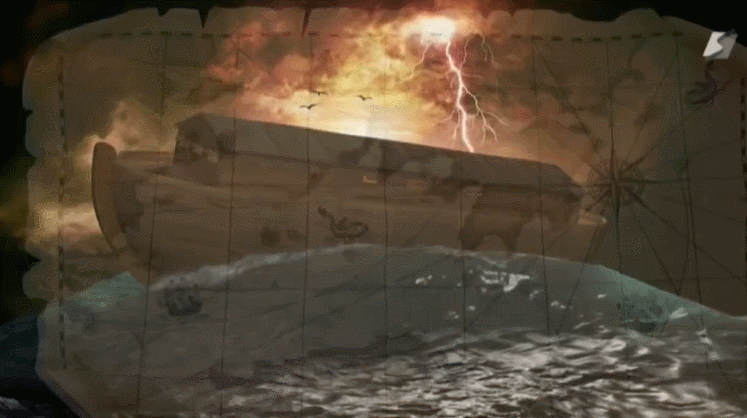 NEWS
Kongoh vs GLG
Sparks flew between Kongoh, the Kongoh Juniors and Tadasuke and GLG ("Good Looking Guys") during NOAH's Tohoku tour. Hi69, who appears to be the mouthpiece of the Kongoh Juniors (when Shuji Kondo is not around to terrify them), swore revenge on Tadasuke for his defection, and Kenoh who had branded GLG "a bunch of rando's" proposed a best out of three falls for one night, and then a Captains Fall (he nominated Hi69 as the captain) for the final night. Kongoh might have won the Best out of Three falls match, but they were humiliated on the last night of tour, when GLG won over Kongoh, with Jake Lee pinning Hi69. Kongoh are also at war with GLG as Katsuhiko Nakajima is challenging Jake Lee for the GHC Heavyweight. Both had their brutal interactions, but neither got the win over the other. Nakajima told Jake, that "It's amazing that you won the GHC Heavyweight not long after coming to NOAH. BUT! I will take the helm. Anyway, I'm changing this situation. That is all."
Shuhei Taniguchi & Takashi Sugiura's title challenge
Shuhei Taniguchi introduced his new tandem move with Takashi Sugiura during the Tohoku tour. Except, he didn't tell Sugiura that he was going to use him as a weapon to chokeslam him onto his opponents. Tokyo Sports have named this move, "The Sugi Bomb". This move came after Taniguchi lost to Masa Kitamiya, and Sugi basically told him to shape up as there wasn't any time left. Taniguchi since then has gone slightly off the rails, and even accidentally dissed Sugi by not shaking his hand as he was too elated.
STINGER fall apart, YO-HEY and Tadasuke challenge
Yoshinari Ogawa and HAYATA managed to stay together until the third night of tour, when HAYATA accidentally caught Yoshinari Ogawa in the face with a kick when Tadasuke ducked, meaning that YO-HEY got the win and the right to challenge. After the match, YO-HEY and Tadasuke held the tag belt above Ogawa, and officially became the next challengers. YO-HEY likened the Ogawa and Eita relationship as a "mushy daytime drama" which he was sick of. He also said that getting the tag belts would prove the reason why he left The NOAH Junior Regulars and why Tadasuke left Kongoh. Meanwhile in the ring, HAYATA and Ogawa got into a fight, which led to HAYATA saying that he wasn't going to tag with Ogawa the next day, or team with him in any form, and that NOAH had better change the card. Looking at the matches booked for the run up to the 16th in Sendai, HAYATA and Ogawa have nothing to do with each other, and as Chris Ridgeway is not currently in Japan, this leaves the field open for Eita who said that he was on Ogawa's side and was all he had left. Title match has been set for ABEMA presents GREEN JOURNEY 2023 in SENDAI on 16th April at the Xebio Arena Sendai.
AMAKUSA retains, HAYATA challenges
AMAKUSA was successful in his title defense against Lanzelot on March 26th at the Aomori Mutusu Maeda Arena, and was challenged by HAYATA afterwards. Neither are people of very many words. HAYATA'S challenge was simply that he had come to take his belt back, and therefore, he was asking to be the next challenger. AMAKUSA used his catchphrase of something being a stupid question and said he had been waiting for HAYATA to come, and how he had been waiting for "a duel" and, "I would like to ask for a fight that will lead me and the NOAH Junior's greatest treasure to the highest heaven."
Title match has been set for ABEMA presents GREEN JOURNEY 2023 in SENDAI on 16th April at the Xebio Arena Sendai.
El Hijo Del Dr Wagner Jnr, Jack Morris and the GHC National
E Hijo Del Dr Wagner Jnr was initially a little hurt by Jack Morris's challenge to him and his subsequent vicious attacks on him during the pre matches, as he considered him to be a friend, and they had both discussed getting the tag belts together some day. Both have sworn to destroy the other, with Jack saying he won't just destroy El Hijo Del Dr Wagner Jnr, he was going to humiliate him as well.
Kaito Kiyomiya concussed, trip to America cancelled
Kaito Kiyomiya had planned to accompany Keiji Mutoh (and Yoshiki Inamura) to Keiji Mutoh's WWE Hall of Fame induction in Los Angeles, but unfortunately, he was concussed following a Wagner Bomb from El Hijo Del Dr Wagner Jnr on the last night of tour. For a while after taking the move he lay motionless, leading NOAH's trainer to get in the ring. He was helped out and taken to the back with the fans applauding him. The good sign was that he was walking, but sadly a concussion meant that he had to be in contact for the next couple of days with NOAH's medical team, which meant no long haul flights. Kiyomiya has made no comment as he is not in a state to be on social media, which he hasn't been on since losing to Jake Lee, while Keiji Mutoh said there will be other chances and Kiyomiya should concentrate on getting better. NOAH's director, Narihiro Takeda is a little irritated with Kiyomiya for not being able to take this chance, while Yoshiki Inamura looked a little upset that Kiyomiya wasn't able to come to America.
EVENT RECAPS & POST MATCH INTERVIEWS
Recaps
SUNNY VOYAGE (TOHOKU TOUR)
Akita Selion Plaza, Friday March 24th 
Iwate Morioka Gymnasium, Saturday March 25th
Aomori Mutsu Maeda Arena, Sunday March 26th
Aomori Hachinoe Yutori 1st floor multi-purpose large hall, Monday March 27th
Post match interviews
Akita Selion Plaza, Friday March 24th 
Iwate Morioka Gymnasium, Saturday March 25th
Aomori Mutsu Maeda Arena, Sunday March 26th
Aomori Hachinoe Yutori 1st floor multi-purpose large hall, Monday March 27th
ELSEWHERE IN NOAH
– Because Akita Selion is a small venue in the provinces (Japanese countryside), the comments booth was a curtained off area in the main hall. Everyone heard Kenoh shrieking as they left.
– Akitoshi Saito was observed by Naomichi Marufuji to be eating frozen broccoli that he had bought from a convenience store when the bus made a stop. Marufuji asked him if he should be eating it like that, to which Saito said he didn't see the problem. Marufuji summed up the card the next day as "young guys fighting, title match pre matches and a fight with frozen broccoli."
– As the Tohoku tour took place outside of the big cities there were no restaurants around the hotel area or the venue, so people very much stayed in their rooms. Naomichi Marufuji did an increasingly drunken Instagram live with Mohammed Yone and Masa Kitamiya, which involved Kitamiya belching and Yone pulling gangsta signs, and then the three of them running their phones at the same time so each was live from the same room and whistling and humming at the same time. The last night showed a very drunk Takashi Sugiura.
– With YO-HEY defected and Daisuke Harada gone, Atsushi Kotoge hinted at the creation of a new unit with Seiki Yoshioka and Alejandro.
– The Iwate fans helped to clean up the arena by packing away chairs on to pallet trolleys.
– Yasutaka Yano debuted a new costume, officially ending the first part of his career. Naomichi Marufuji hinted that he wanted him to think a little more about what he did and start joining in the title race.
– When he was in Dove, fans used to comment on how much they loved YO-HEY'S aftershave. Fans commented on this in the same way this past week in Tohoku.
–  Yoshiki Inamura photographed some squirrels whilst in Los Angeles.
CURRENT CHAMPIONS
GHC Heavyweight Champion: Jake Lee
Challenger: Katsuhiko Nakajima, ABEMA presents GREEN JOURNEY 2023 in SENDAI (Xebio Arena Sendai, Sunday April 16th)
GHC Junior Champion: AMAKUSA
Challenger: HAYATA, ABEMA presents GREEN JOURNEY 2023 in SENDAI (Xebio Arena Sendai, Sunday April 16th)
GHC Heavyweight Tag Champions: Masa Kitamiya and Daiki Inaba
Challengers: Shuhei Taniguchi & Takashi Sugiura, ABEMA presents GREEN JOURNEY 2023 in SENDAI (Xebio Arena Sendai, Sunday April 16th)
GHC Junior Tag Champions: Yoshinari Ogawa & Eita
Challengers: Good Looking Guys (YO-HEY & Tadasuke), ABEMA presents GREEN JOURNEY 2023 in SENDAI (Xebio Arena Sendai, Sunday April 16th)
GHC National Champion: El Hijo Del Dr Wagner Jnr
Challenger: Jack Morris, ABEMA presents GREEN JOURNEY 2023 in SENDAI (Xebio Arena Sendai, Sunday April 16th)
THIS WEEK IN NOAH
4th April: Xtreme Tiger birthday (1981)
Kenoh and Shuji Kondo will be heading to Dragon Gate to challenge Natural Vibez (Big Boss Shimizu and Kzy) for the Open The Twin Gate tag championship on April 1st. NOAH themselves don't have any events until April 8th. April schedule can be found here.
LINKS
Interview with Kenoh, a professional wrestler from Tokushima, who will hold an event to commemorate the 15th anniversary of his debut at the Tokugin Tomony Arena
"If it ends suddenly in one go, it doesn't matter how the match goes", new GHC Heavyweight Champion Jake Lee talks about the challenger, Katsuhiko Nakajima
NOAH FROM THE VAULT
"Donmai, Donmai" – Mitsuharu Misawa's diary
(This latest entry was by far the most embarrassing thing I have ever had to do at work) 
Picture credits: Weekly Pro, PKDX and Tokyo Sports.
(NOAH) NOAH NEWSLETTER VOL.195 ~ 22ND MARCH 2023
New champions, All Japan interactions, new debuts and Joshi in NOAH! NOAH is heating up in 2023!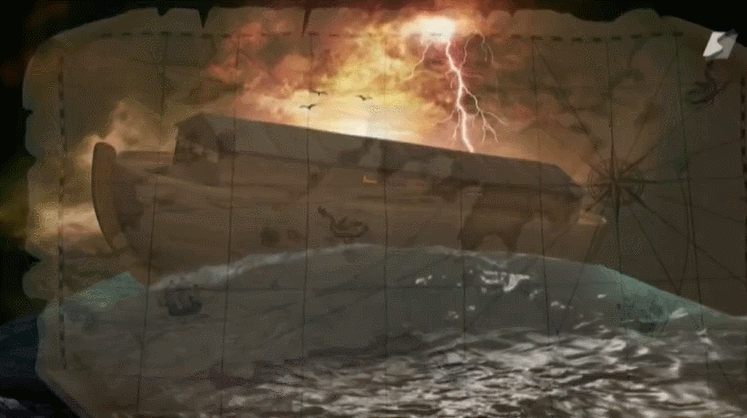 NEWS
YO-HEY & Tadasuke join GLG
During Kongoh vs The NOAH Junior Regulars at Great Voyage in Yokohama 2023 on the 19th March, Tadasuke inadvertently knocked down Shuji Kondo, which allowed Atsushi Kotoge to get the win over him (Tadasuke). The NOAH Juniors left the ring, which left Kondo and the others, Hajime Ohara and Hi69 advancing menacingly on Tadasuke. Kondo it is well known does not like him, Hi69 has a simmering jealousy, and Ohara will do whatever Kondo does. YO-HEY ran in to save Tadasuke, and just when it looked as if Tadasuke would be welcomed by the NOAH Junior Regulars, YO-HEY was seen whispering something to him, and the two took out Kotoge, Seiki Yoshioka and Alejandro. Backstage, while Kotoge et al wondered what had happened, YO-HEY said "No Comment". Fans were hopeful of a RATELS reunion (Daisuke Harada had been signing autographs), but YO-HEY and Tadasuke came out in the main event as members of GLG (Jake Lee's "Good Looking Guys" unit).
Saxon Huxley debuts in NOAH
The 203cm Saxon Huxley (which makes him taller than even Jake Lee at 192cm), made his NOAH debut at "Great Voyage in Yokohama". Very reminiscent of Bruiser Brody, his first match was fittingly a match teaming with Hideki Suzuki and against Yoshiki Inamura and Mohammed Yone. Huxley won the match and backstage said that he didn't come to Japan to look at the Cherry blossoms, he came here to fight!
The problem with Shuhei Taniguchi, Takashi Sugiura takes a hand
Shuhei Taniguchi emerged from his slumber and the monster reawakened against Takashi Sugiura in a match in Yokohama ("Great Voyage") where Taniguchi had one of the best matches of his in a long time. He won via repeated soccer ball kicks to the head, which made a nasty thudding sound. Backstage, Takashi Sugiura urged him to seize this chance, Taniguchi asked him for another match, but Sugi told him he had to seize the opportunity by himself. Later (and with Sugiura looking on, hands behind his back and standing in the background in teacher mode), Taniguchi challenged Daiki Inaba and Masa Kitamiya for the GHC Heavyweight Tag titles they had just retained against Kongoh. Masa Kitamiya grimly told Taniguchi that he would accept their challenge, but he would "teach him" when to "leave NOAH forever" and that there was no future for him. Title match will take place on April 16th in Sendai.
Jack Morris challenges for the GHC National
The Yokohama Budokan has always been good to Jack Morris, he made his NOAH debut there (which he won) and on the 19th, he defeated El Hijo Del Dr Wagner Jnr and therefore won the opportunity to challenge for the GHC National. Morris picked up the belt and silently held it over El Hijo Del Dr Wagner Jnr, who was lying spread out on the mat. Title match has been set for April 16th in Sendai.
SUWAMA, Kenoh, Soya & All Japan
Following Kenoh's labelling All Japan as a "pigsty" (I am trying to imagine how that would have gone down in the Baba era) and walking out of the press conference saying that the whole venue chosen for it was like an old fashioned mayoral meeting in Tokyo with the close press of bodies, Kenoh and Manabu Soya succeeded in winning the All Japan World Heavyweight titles on the 21st March. I have never seen Kenoh so happy on winning a title, the GHC has history, but not as long a history as All Japan, the promotion it flowed from and I think despite his disparaging, Kenoh was overcome to be holding the belts that the legends of All Japan once did. Suwama got in the ring after their victory to challenge for the titles on behalf of Voodoo Murders, Kenoh basically told him to beat it. He wanted nothing to do with him, he was insulted by his not turning up to Great Voyage in Yokohama, where Kenoh had prepared a special seat for him at ringside, and their next challenge (and probably any subsequent challenges) would take place in NOAH as he told everyone pointedly in the ring and then backstage, along with more jumping and cheering with Soya. No challengers have come forward yet, but Kenoh looks to be adding to his collection of belts as on the 1st April when he and Shuji Kondo will challenge DragonGate's Natural Vibez (Big Boss Shimizu and Kzy) for the Open the Twin Gate Championship. Media outlets are wondering whether Kenoh will once again attempt to unify the GHC and All Japan belts.
Related articles
Kenoh "All Japan, Aoyago disappointing". Aoyagi demands a double title match and orders Kongoh to win the GHC, World Tag Press Conference
Seriously? Managing Director Kohei Suwama sends a thank you letter to Kenoh, "If it's full, I'll give you a monetary reward"
Kenoh & Soya win the World Tag, notice of defense in NOAH, re-notification of "break" to Suwama
Kenoh's "pigsty" ruthlessly inflames Suwama, lambasts Triple Crown Champion Yuji Nagata!
No love lost, Masa Kitamiya & Kento Miyahara
Furious that Masa Kitamiya was ignoring his demands for a three man tag in All Japan and irritated even more over Kitamiya's not greeting him as his senior, Kento Miyahara appeared in NOAH to confront his unrepentant junior following Kitamiya & Inaba's successful tag defense against Kongoh. Miyahara, who danced his way to the ring, told an unimpressed "Mitsuhiro Kitamiya" that he was getting way ahead of himself (he said it was by one hundred years) calling himself "Masa" and that he had come to finally get an answer out of him about the match. Kitamiya told him that there was no benefit, but since Miyahara had come all the way down here just to shame his junior for not responding, then fine, he would fight him. There was no love lost in Ota Ward, at least not on Masa Kitamiya's part, and while Miyahara might have had a change of heart after the match, Kitamiya didn't. The match itself was won by Yoshiki Inamura (against whom Ryo Inoue in particular has sworn revenge and says he will win the All Japan tag league to do it) and was followed by Miyahara speaking on the microphone to Kitamiya. He told him that with the "Masa" name Kitamiya had no choice but to go to the top of NOAH and having seen for himself how he was now, he was no longer "Mitsuhiro Kitamiya", which was hard for him to say, and he could stop worrying about him. Kitamiya (who hates both of his older brothers/sibling students) told him that he wanted nothing more to do with him, he hated him then and he hated him now. Miyahara, however, seemed to think that they would meet in the ring again although Kitamiya made it very clear that it was unlikely.
Related articles
Kitamiya gets irritated with "Irresponsible comments", "Not thinking about unnecessary things". Kenoh once again declares "GHC World Tag Team". GHC tag signing ceremony.
"Pathetic", Miyahara asks Kitamiya to quickly determine the three wrestlers who will be on the NOAH side
NOAH's Kitamiya wins the match, an announcement of "Never getting involved", Miyahara cheers "Get to the top!"
STINGER war, outcast Eita
To the surprise of no one, Yoshinari Ogawa (and Eita) did not attend the match signing. Chris Ridgeway and HAYATA did, and while Ridgeway did most of the talking, HAYATA was vocal enough to state that losing the pre matches could be an Ogawa trick. He also likened him to an "Amanojaku" (天邪鬼, lit "Heavenly evil spirit") which is a demon in Japanese folklore, which urges people to wicked deeds by preying on their darkest desires. HAYATA'S description is apt, because the demon is tricky and never does what anyone expects as their nature is contrary. There was no way to try and outmaneuver such a demon with tricks, so HAYATA said there was no strategy other than to destroy him. In the title match, Ogawa stole the win and then appealed for peace between himself, HAYATA and Ridgeway. HAYATA shook hands, Ridgeway was a little apprehensive and when it came time to leave the ring, hung back without shaking hands, despite the fact that both Ogawa and HAYATA where urging him to come walk with them.
What about Eita?
Eita and Ogawa got into a shoving match when Ogawa shook hands with HAYATA, which ended with Ogawa slapping Eita, who thought that like his squabbles with NOSAWA, it would blow over in a matter of seconds. What he forgets is that Ogawa forgives when he wants.
It was hard not to feel sorry for Eita as he did look so alone when he left the ring, gathering up his belt sadly and slinking backstage with hunched shoulders and holding the side of his face. Like Eita said, STINGER are a notoriously silent group, two don't have social media, the third doesn't use his much, and it is only Eita who talks online. Eita's last post was sad, he said he still believed in Ogawa…after all, they were the GHC Junior tag champions. So far, no one has come to challenge for the belts.
Related articles
Yoshinari Ogawa declares dissolution of STINGER!? (Interview, Part 2)
"Stop waking up Ogawa", HAYATA declares a parting? GHC Junior tag signing ceremony
Lanzelot challenges AMAKUSA
Lanzelot challenged AMAKUSA for the GHC Junior title following his (Lanzelot's) win over him at the Yokohama Budokan. Title match will take place in Aomori on March 26th. This will be broadcast at a later date.
Joshi matches announced on a NOAH show
NOAH continue to test the water in putting on Joshi matches, this time outside of a special show (i.e. Great Muta and Keiji Mutoh's retirement) by putting on a women's match for the first time ever on an official NOAH show. Nothing as of yet has been announced regarding a women's division or a GHC Women's Championship, but it would not surprise me if an announcement was made on the 16th April following Maya Yukihi vs Sumire Natsu.
 Jake Lee wins the GHC Heavyweight title
Jake Lee defeated Kaito Kiyomiya following a brutal match where Kiyomiya was worn down but did not have the energy to keep wearing down Jake, which he almost succeeded in doing, at Great Voyage in Yokohama and became the 42nd GHC Heavyweight Champion. He was immediately challenged by Katsuhiko Nakajima, who told him that he would show him what the real NOAH is, and he used the phrase "I'm NOAH", which made fans wonder if there was a double meaning here as Nakajima started using this in response to Go Shiozaki's, "I am NOAH". Jake Lee, after looking stunned, commented that Nakajima was one of the wrestlers he had always wanted to fight. Title match has been set for the 16th April in Sendai.
Related articles
GHC Champion Kaito Kiyomiya dismisses the recommendation to retire, and will "turn everything upside down" in the match against Jake
"I think I will dominate" Jake Lee reveals his ambition in his first GHC challenge to Kaito Kiyomiya in an exclusive interview
Jake "Get the symbol of freedom", Kiyomiya smiles and says, "Spring in full bloom". GHC Heavyweight signing ceremony.
"Kiyomiya, take a rest!" The strongest black ship appears in the new era of NOAH! Getting to the bottom of Jake Lee's heart.
"There are still some diamonds in the rough that I am curious about", the new GHC champion Jake Lee expresses his beliefs to increase his power
EVENT RECAPS & POST MATCH INTERVIEWS
Post match interviews
Sunny Voyage 2023 (Tuesday March 14th)
Great Voyage in Yokohama 2023 (Sunday March 19th)
Event recaps
Great Voyage in Yokohama 2023 (Sunday, March 19th)
ELSEWHERE IN NOAH
– Naomichi Marufuji picked a few hairs off of Anthony Green's chest before chopping him
– Very sadly with the defection of YO-HEY and the retirement of Daisuke Harada, the NOAH Junior Space recorded its last session this past week.
– Naomichi Marufuji posted two short InstaLive videos of himself and a drunk Tadasuke. Who had a white towel over his head for some reason in the first, and then had the grin and the eyes half closed and half open in the second.
– A sports news outlet based in Nigeria, reported that Chris Ridgeway had passed away on March 30th 2021! I mean STINGER might be reclusive, and one fan drawn cartoon depicted HAYATA living inside of Yoshiki Inamura's tires as it was a dark place to hide, but come on! I doubt the 1,308 fans at the Yokohama Budokan were all having a mass hallucination.
– Eita has now become a freelancer. DragonGate said that with his activities in NOAH and Eita also wanting to expand, that this was the best and easiest option all round.
– Manabu Soya announced himself as the mystery wrestler who would enter Champions Carnival Block B
– Kenta Kobashi will be running Fortune Dream (8) again at Korakuen Hall on the 14th June.
– The Great Muta will be inducted into the WWE Hall of Fame, alongside Keiji Mutoh. Akitoshi Saito wondered whether Muta had a passport.
CURRENT CHAMPIONS
GHC Heavyweight Champion: Jake Lee
Challenger: Katsuhiko Nakajima, ABEMA presents GREEN JOURNEY 2023 in SENDAI (Xebio Arena Sendai, Sunday April 16th)
GHC Junior Champion: AMAKUSA
Challenger: Lanzelot, SUNNY VOYAGE 2023 (Aomori Mutsu Maeda Arena, Sunday March 26th)
GHC Heavyweight Tag Champions: Masa Kitamiya and Daiki Inaba
Challengers: Shuhei Taniguchi & Takashi Sugiura, ABEMA presents GREEN JOURNEY 2023 in SENDAI (Xebio Arena Sendai, Sunday April 16th)
GHC Junior Tag Champions: Yoshinari Ogawa & Eita
Challengers: None at the time of writing
GHC National Champion: El Hijo Del Dr Wagner Jnr
Challenger: Jack Morris, ABEMA presents GREEN JOURNEY 2023 in SENDAI (Xebio Arena Sendai, Sunday April 16th)
THIS WEEK IN NOAH
– Friday March 24th
SUNNY VOYAGE 2023
Akita Selion Plaza
Starts: 18:30 JST
Broadcast: TBA
– Saturday March 25th
SUNNY VOYAGE 2023
Iwate Morioka Gymnasium
Starts: 17:00
Broadcast: TBA
– Sunday March 26th
SUNNY VOYAGE 2023
Aomori Mutsu Maeda Arena
Starts: 15:00
Broadcast: TBA
– Monday March 27th
SUNNY VOYAGE 2023
Aomori Hachinohe Yutori 1st floor multi-purpose large hall
Starts: 18:30 JST
Broadcast: TBA
Birthdays
March 27th: Kenta Kobashi (56)
March 29th: Kai Fujimura (28)
NOAH FROM THE VAULT
"Donmai, Donmai" – Mitsuharu Misawa's diary
With thanks to: Flame286 & Metal NOAH
Picture credits: Weekly Pro (Kitamiya & Miyahara)