Bobby's Good, Bad and Ugly Review: NXT Takeover Toronto II
NXT Takeover, SummerSlam Weekend, in a huge wrestling city like Toronto!  What more can you ask for?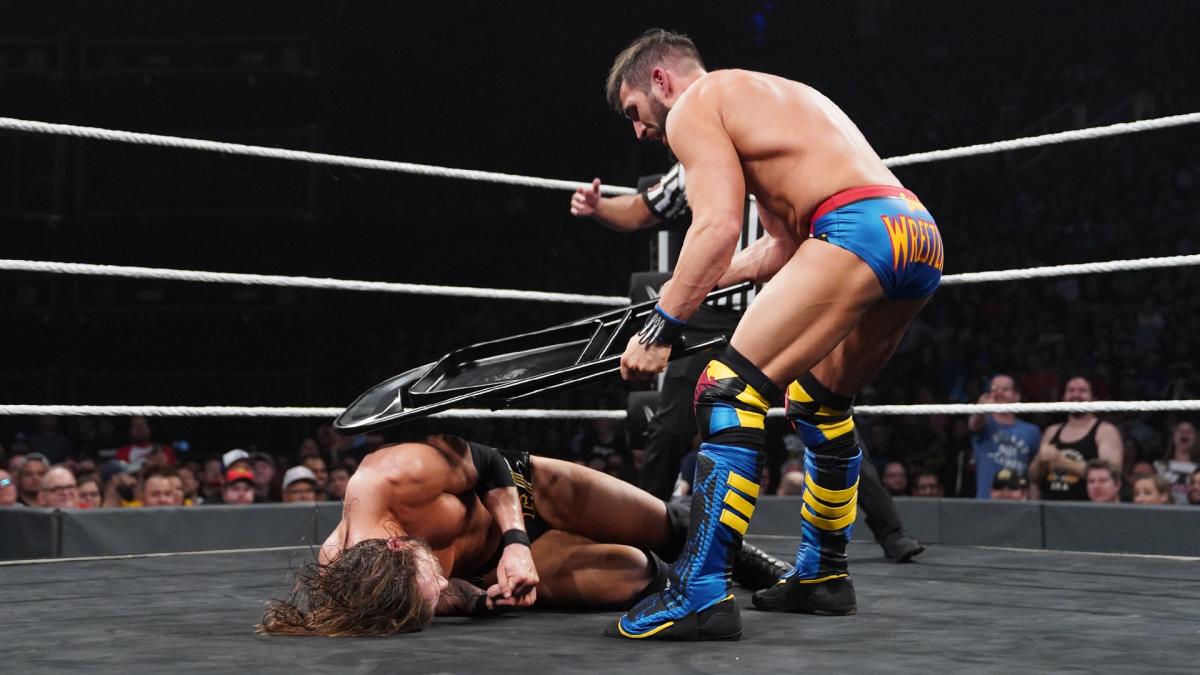 NXT Takeover, SummerSlam Weekend, in a huge wrestling city like Toronto!  What more can you ask for? 
This card is jam packed with glitter and magic making the hair on most wrestling fan's neck stand up in anticipation.  NXT delivers every single time and tonight should be more excellence.  Will this be another flawless night for Professional Wrestling's hottest promotion?  Let's get started on another Good, Bad and Ugly Review!
GOOD
NXT Tag Team Championships – Street Profits(c) vs. Kyle O'Reilly & Bobby Fish
"Bringing the smoke" as always the crowd was fired up right off the bat.  NXT is bringing major heat to Toronto.  The tag team division is alive and well in the "black and gold brand."  Dawkins sparred and tried to show off some agility in his opening segments, especially with O'Reilly.  Montez Ford shined as usual.  It wasn't always smooth though, some of the timing was off, and it was far from being tight.  It was still very Good though.  The crowd was into it, and we saw a lot of damn Good wrestling throughout.  Undisputed Era is beyond talented start to finish, and Street Profits are on the money.  This was entertaining and delivered.  It was a solid effort by Montez Ford that really got everything going, flying through the air and destroying everyone in sight.  He is a superstar, going for a "People's Elbow" but getting interrupted by O'Reilly.  Ford continued his assault working hard to retain the belts.  Both teams putting up everything they had.  Leading up to the epic ending Dawkins hulked out, bodies everywhere, it was Montez Ford way off the top with a Frog Splash for the hard fought win!- Good!  Very Good Indeed!
Candice LeRae v Io Shirai
It is no surprise that Candice LeRae has potential star power.  Io Shirai is the best female talent in WWE/NXT world.  She is ridiculous.  LeRae came out hot but Shirai took over and slowly tortured her former friend.  Io controlled most of the match but there were little spurts of energy by the hard hitting LeRae even getting a few lucky close falls.  I'm not going to say this was perfect, but the crowd was hot, and we saw some great things.  Like the previous match it got better as it went on.  It wasn't predictable.  LeRae would not quit, kicking out of everything Io Shirai gave her.  It would prove to be too much with a "koji clutch" putting LeRae to sleep and getting a brutal victory.  Again we had a Good showing by these superior athletes.      
NXT North American Championship – Velveteen Dream(c) vs. Pete Dunne vs. Roderick Strong
This had it all right off the bat, the crowd loves all 3 of the competitors, the energy was insane, as well as the non-stop action.  Everyone had their place and time to shine.  The offense was on point projecting the show somewhere higher. This was that special touch everyone was waiting for.  The title was constantly being sought, tons of near falls on every opponent.  All three going at it from bell to bell.  Anyone could have won at any moment of this chaos, but it was Pete Dunne taking way to much punishment, and multiple finishers before Velveteen Dream stole the victory.  This was the match of the night so far, and will be hard to follow up.  Luckily for all fans, the rest of the show doesn't suck either!   
NXT Woman's Championship – Shayna Baszler(c) vs. Mia Yim
I do not understand how Mia Yim has been so pushed so fast, I just don't see it, but she is here, and she is ready to face one of the very best in Professional Wrestling, Shayna Baszler.  If Mia Yim has a chance she would have to bring it non-stop and terrorize the Champion.  That she did, bringing the pressure on in and out of the ring.  If you know Baszler you know she came back strong with her own onslaught of violence.  This was a war, a street fight, not a wrestling match.  Yim resorted to the same tactics imposed every match by Baszler and had the Champ in pain on the mat.  Out of no-where Baszler locked in her game ending finisher the "kirifuda clutch" however after getting her injured arm broken out of the hold, Baszler then got Yim in a Triangle Hold, for the surprising victory.  She had nothing and still one, the Queen of Spades is one of the best to do it!  Fantastic match!
NXT Heavyweight Championship – 2 Out Of 3 Falls – Adam Cole (c) vs. Johnny Gargano
A real life, Good Guy vs Bad Guy, hero vs. Villain except the Villain is loved by the masses as well.  This is top shelf right here.  As expected this was amazing, we had wrestling, brutality and all heart.  Two guys that stay hungry and stay sharp.  This is a true main event for a Championship that matters.  Gargano had a real mean streak here, doing all he can to damage Cole and take away his weapons.  Of course the NXT Champion didn't give up so easy and did just as much to Gargano, working him head to toe.  This was a classic match with submission wrestling galore.  That first fall seemed like it would never happen it was a broken record of 2 counts.  Cole even had a swift kick to the hero nuts of Gargano for a two count.  Gargano used the chair, and beat Adam Cole with it taking the fall and then beating the hell out of Adam Cole in his now Street Fight Imposed Match.  With Adam Cole now up 1-0 Gargano got his second wind and tried to kill his rival. 
Gargano finally got his first fall back by submission after darting Cole into a chair into the corner then making Cole tap out.  1-1 a 3rd stipulation finally revealed as a no escape cage death match.  This was a barbed wire, cage match with tons of toys and weapons to add to the destruction.  You wouldn't even know how much carnage had already taken place based on how hard these guys were going.  The match never let up, both hitting all of their move-set but unable to seal the victory, Cole even hitting 2 Panama Sunrises and resorting to biting Gargano to escape his grasp.  Cole kicked out of a Canadian Destroyer and still the fight continued.  The crowd even chanted "please don't die" as the warriors were on top of the cage, both plummeting to the mat, Adam Cole then reached over with his last breath and pinned a knocked out Gargano for the victory, retaining his NXT Championship.  This was INSANE!  Just Amazing!    
BAD and UGLY – Have left the building!
FINALS
Good – 5
Bad – 0
Ugly – 0
Overall- Good! All of the above and some bad words mixed in, this was just another example of the very best doing what they do.  NXT no matter who is in front of us does it better.  They have a flawless system and tonight showed again, why we all chant "NXT"!
SummerSlam run by the Mastermind himself Vincent Kennedy McMahon is on deck. I didn't do a preview for it but here it is, on paper it looks Bad, downright Ugly.  There are a couple of gems however that could make for a savable night.  Some believe the success of an NXT show makes no impact on the other shows however I am one who believes the opposite.  I certainly hope the main roster sees what their NXT brethren are doing and become inspired.  Time will tell at SummerSlam, and I will see you after the PPV for another review of the Good, Bad and Ugly!
King's WrestleMania Rewind: Eddie Guerrero vs. Rey Mysterio (WrestleMania 21)
In the next WrestleMania Rewind, Chris King takes us back to WWE WrestleMania 21, and Rey Mysterio vs Eddie Guerrero in a battle of tag team champions!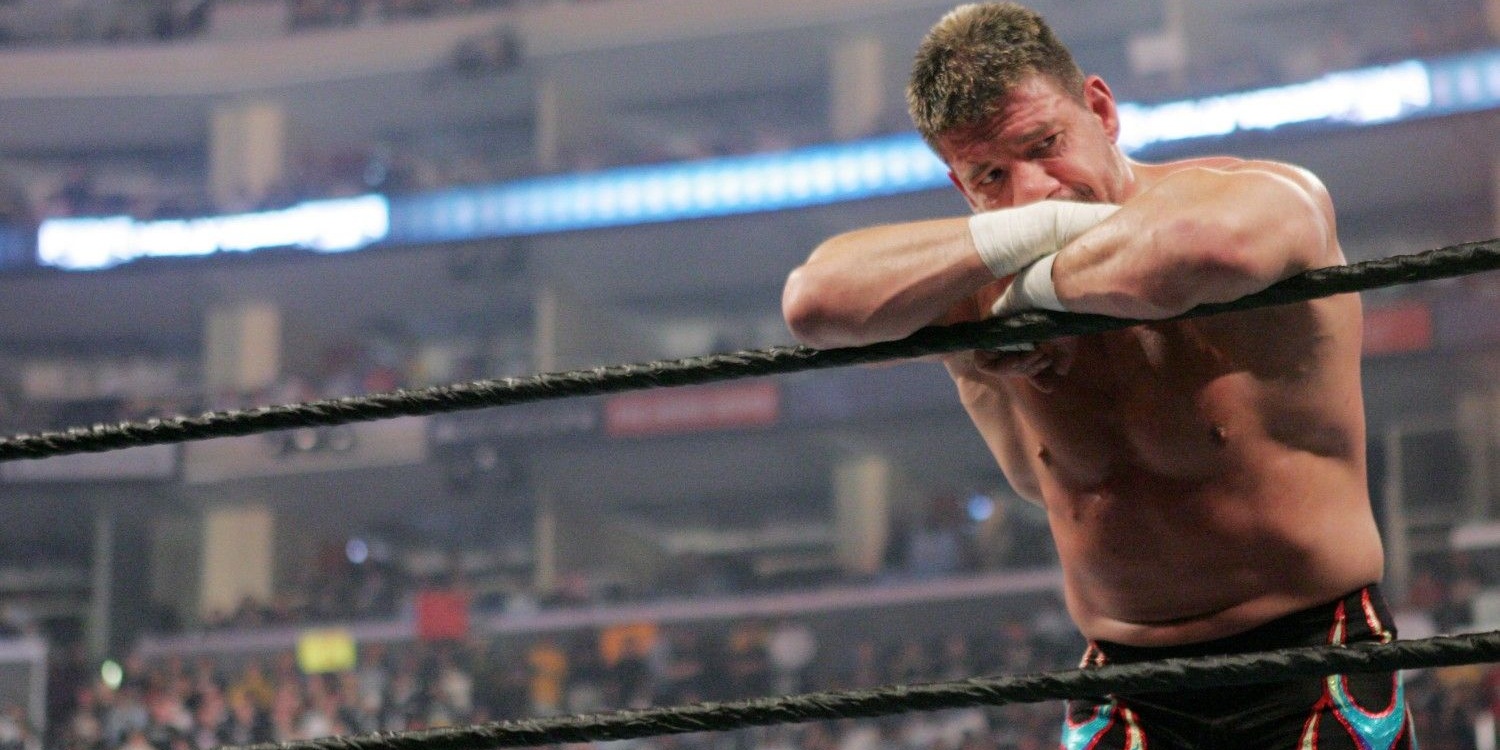 In the next WrestleMania Rewind, Chris King takes us back to WWE WrestleMania 21, and Rey Mysterio vs Eddie Guerrero in a battle of tag team champions!
Chris King is back with his third edition of WrestleMania Rewind. This week he's bringing us back to some 'Latino Heat.' We're rolling back to WrestleMania 21 where Eddie Guerrero faced longtime friend and rival Rey Mysterio.
This would be Guerrero's last Mania match caused by his unfortunate death. Over on SmackDown, Mysterio and Guerrero would become the tag team champions at No Way Out where they defeated MNM.
Chavo Guerrero would get into the head of Latino Heat by making him believe Mysterio was trying one-up his tag team partner. Chavo went as far as to tell his uncle to stop using the Guerrero name.
Guerrero would finally give in to his nephew's manipulation and went on to challenge Mysterio to a one-on-one match at WrestleMania 21. I For the first time in history, both tag team champions would face each other. Guerrero vs. Mysterio was the first match on the stacked card. Both partners threw everything at each other including the kitchen sink in a battle of one-up-manship.  In an incredible high-octane match that saw both superstars delivering counter for counter, Mysterio pulled off the win with a surprise pin roll up.
A few months later, what once was a friendly battle turned into a nasty fight involving the custody of Mysterio's real-life son Dominik Mysterio. After several torturous weeks, both former tag team champions would face off in a ladder match with the custody of Dominick on the line. I forgot how amazing this rivalry was and it's definitely worth a watch. Sadly, we would lose Latino Heat in November of 2005. There will never be another Eddie Guerrero. Viva La Raza!
King's WrestleMania Rewind: Stone Cold VS. Scott Hall (WrestleMania X8)
Chris King is back with another WrestleMania Rewind, looking at the NWO's Scott Hall battling Stone Cold Steve Austin at WWE WrestleMania X8 from Toronto!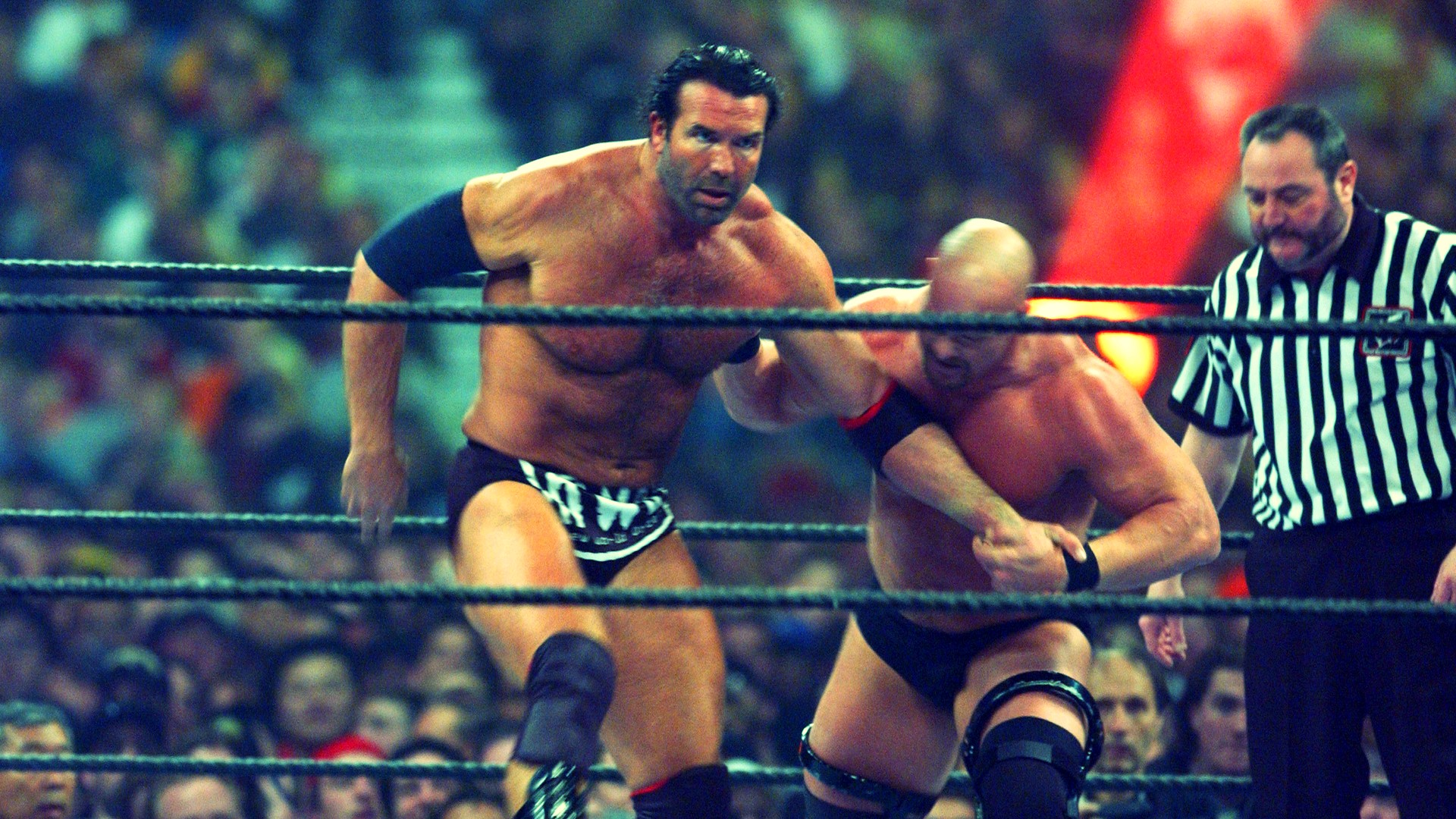 Chris King is back with another WrestleMania Rewind, looking at the NWO's Scott Hall battling Stone Cold Steve Austin at WWE WrestleMania X8 from Toronto!
Chris King is back this week with another edition of WrestleMania Rewind, where he is rewatching all the past Mania matches and feuds. This week you're in for a treat as we look back at 'Stone Cold' Steve Austin vs. Scott Hall at WrestleMania X8.
In late 2001, Vince McMahon bought out his competition WCW and acquired the rights to a plethora of talent including Booker T, Eddie Guerrero, Chris Benoit, and the iconic trio known as NWO. Hulk Hogan; Kevin Nash, and Scott Hall were hell raisers, and what better way to make a name for yourself than take out the two top superstars in the WWE The Rock, and Stone Cold?
The NWO cost Austin his chance at becoming the Undisputed Champion at No Way Out during his match with Chris Jericho. Adding insult to injury, the NWO spray-painted 'The Texas Rattlesnake' with their brand logo just like they did in WCW. As you can imagine, Austin was pissed and out for revenge against the group and primarily Scott Hall.
Hall would challenge Stone Cold to a match at WrestleMania 18. Both superstars beat the living hell out of each other leading up to this highly-anticipated match for who runs the WWE.
The glass broke and Stone Cold made his iconic entrance, and black and white NWO covered Halls' entrance alongside Kevin Nash. With the odds stacked against 'The Toughest S.O.B' could Austin or NWO prove their dominance? Sadly the NWO  broke up that very night when Hulk Hogan came to the aid of his adversary The Rock after their 'iconic' dream match. Stone Cold would ensure the victory with the Stunner. Hall would perform an Oscar-worthy sell over the finisher.
What a time to be a wrestling fan in the 2000s when nothing was impossible for WWE. Who would've thought WCW would go out of business and Hogan would make his long-awaited return to WWE?