Bobby's Good, Bad and Ugly Review: NXT Takeover Toronto II
NXT Takeover, SummerSlam Weekend, in a huge wrestling city like Toronto!  What more can you ask for?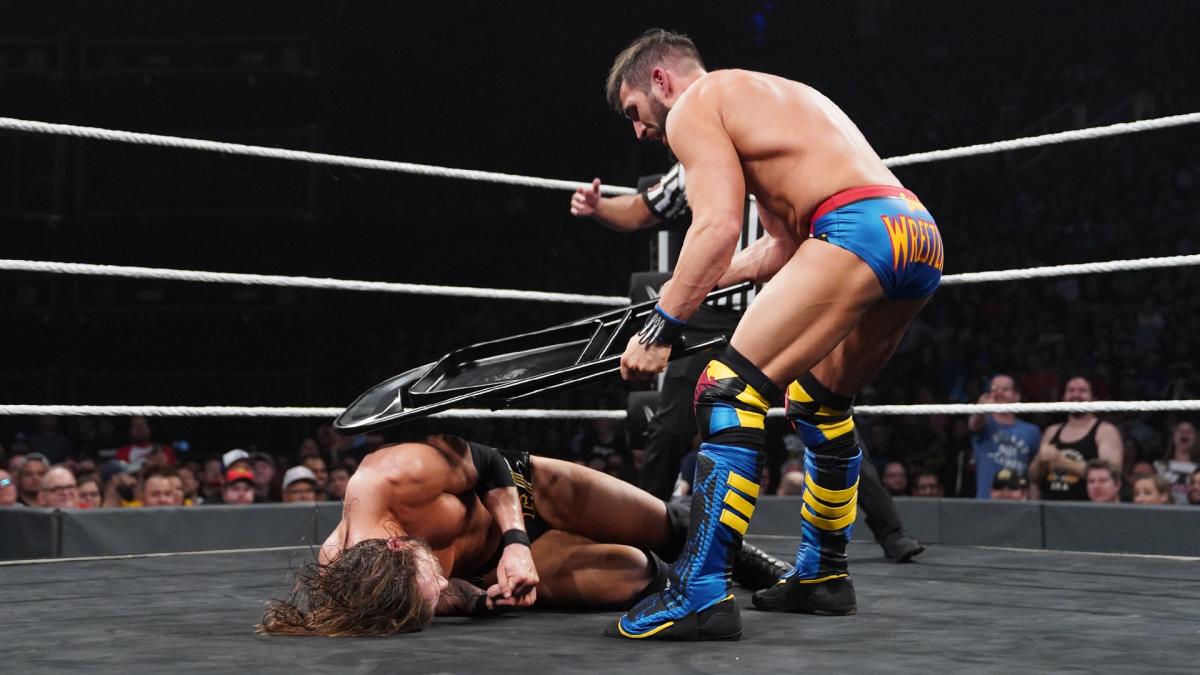 NXT Takeover, SummerSlam Weekend, in a huge wrestling city like Toronto!  What more can you ask for? 
This card is jam packed with glitter and magic making the hair on most wrestling fan's neck stand up in anticipation.  NXT delivers every single time and tonight should be more excellence.  Will this be another flawless night for Professional Wrestling's hottest promotion?  Let's get started on another Good, Bad and Ugly Review!
GOOD
NXT Tag Team Championships – Street Profits(c) vs. Kyle O'Reilly & Bobby Fish
"Bringing the smoke" as always the crowd was fired up right off the bat.  NXT is bringing major heat to Toronto.  The tag team division is alive and well in the "black and gold brand."  Dawkins sparred and tried to show off some agility in his opening segments, especially with O'Reilly.  Montez Ford shined as usual.  It wasn't always smooth though, some of the timing was off, and it was far from being tight.  It was still very Good though.  The crowd was into it, and we saw a lot of damn Good wrestling throughout.  Undisputed Era is beyond talented start to finish, and Street Profits are on the money.  This was entertaining and delivered.  It was a solid effort by Montez Ford that really got everything going, flying through the air and destroying everyone in sight.  He is a superstar, going for a "People's Elbow" but getting interrupted by O'Reilly.  Ford continued his assault working hard to retain the belts.  Both teams putting up everything they had.  Leading up to the epic ending Dawkins hulked out, bodies everywhere, it was Montez Ford way off the top with a Frog Splash for the hard fought win!- Good!  Very Good Indeed!
Candice LeRae v Io Shirai
It is no surprise that Candice LeRae has potential star power.  Io Shirai is the best female talent in WWE/NXT world.  She is ridiculous.  LeRae came out hot but Shirai took over and slowly tortured her former friend.  Io controlled most of the match but there were little spurts of energy by the hard hitting LeRae even getting a few lucky close falls.  I'm not going to say this was perfect, but the crowd was hot, and we saw some great things.  Like the previous match it got better as it went on.  It wasn't predictable.  LeRae would not quit, kicking out of everything Io Shirai gave her.  It would prove to be too much with a "koji clutch" putting LeRae to sleep and getting a brutal victory.  Again we had a Good showing by these superior athletes.      
NXT North American Championship – Velveteen Dream(c) vs. Pete Dunne vs. Roderick Strong
This had it all right off the bat, the crowd loves all 3 of the competitors, the energy was insane, as well as the non-stop action.  Everyone had their place and time to shine.  The offense was on point projecting the show somewhere higher. This was that special touch everyone was waiting for.  The title was constantly being sought, tons of near falls on every opponent.  All three going at it from bell to bell.  Anyone could have won at any moment of this chaos, but it was Pete Dunne taking way to much punishment, and multiple finishers before Velveteen Dream stole the victory.  This was the match of the night so far, and will be hard to follow up.  Luckily for all fans, the rest of the show doesn't suck either!   
NXT Woman's Championship – Shayna Baszler(c) vs. Mia Yim
I do not understand how Mia Yim has been so pushed so fast, I just don't see it, but she is here, and she is ready to face one of the very best in Professional Wrestling, Shayna Baszler.  If Mia Yim has a chance she would have to bring it non-stop and terrorize the Champion.  That she did, bringing the pressure on in and out of the ring.  If you know Baszler you know she came back strong with her own onslaught of violence.  This was a war, a street fight, not a wrestling match.  Yim resorted to the same tactics imposed every match by Baszler and had the Champ in pain on the mat.  Out of no-where Baszler locked in her game ending finisher the "kirifuda clutch" however after getting her injured arm broken out of the hold, Baszler then got Yim in a Triangle Hold, for the surprising victory.  She had nothing and still one, the Queen of Spades is one of the best to do it!  Fantastic match!
NXT Heavyweight Championship – 2 Out Of 3 Falls – Adam Cole (c) vs. Johnny Gargano
A real life, Good Guy vs Bad Guy, hero vs. Villain except the Villain is loved by the masses as well.  This is top shelf right here.  As expected this was amazing, we had wrestling, brutality and all heart.  Two guys that stay hungry and stay sharp.  This is a true main event for a Championship that matters.  Gargano had a real mean streak here, doing all he can to damage Cole and take away his weapons.  Of course the NXT Champion didn't give up so easy and did just as much to Gargano, working him head to toe.  This was a classic match with submission wrestling galore.  That first fall seemed like it would never happen it was a broken record of 2 counts.  Cole even had a swift kick to the hero nuts of Gargano for a two count.  Gargano used the chair, and beat Adam Cole with it taking the fall and then beating the hell out of Adam Cole in his now Street Fight Imposed Match.  With Adam Cole now up 1-0 Gargano got his second wind and tried to kill his rival. 
Gargano finally got his first fall back by submission after darting Cole into a chair into the corner then making Cole tap out.  1-1 a 3rd stipulation finally revealed as a no escape cage death match.  This was a barbed wire, cage match with tons of toys and weapons to add to the destruction.  You wouldn't even know how much carnage had already taken place based on how hard these guys were going.  The match never let up, both hitting all of their move-set but unable to seal the victory, Cole even hitting 2 Panama Sunrises and resorting to biting Gargano to escape his grasp.  Cole kicked out of a Canadian Destroyer and still the fight continued.  The crowd even chanted "please don't die" as the warriors were on top of the cage, both plummeting to the mat, Adam Cole then reached over with his last breath and pinned a knocked out Gargano for the victory, retaining his NXT Championship.  This was INSANE!  Just Amazing!    
BAD and UGLY – Have left the building!
FINALS
Good – 5
Bad – 0
Ugly – 0
Overall- Good! All of the above and some bad words mixed in, this was just another example of the very best doing what they do.  NXT no matter who is in front of us does it better.  They have a flawless system and tonight showed again, why we all chant "NXT"!
SummerSlam run by the Mastermind himself Vincent Kennedy McMahon is on deck. I didn't do a preview for it but here it is, on paper it looks Bad, downright Ugly.  There are a couple of gems however that could make for a savable night.  Some believe the success of an NXT show makes no impact on the other shows however I am one who believes the opposite.  I certainly hope the main roster sees what their NXT brethren are doing and become inspired.  Time will tell at SummerSlam, and I will see you after the PPV for another review of the Good, Bad and Ugly!
NXT UK Chuffed and Buzzin'
Brad hits us with some NXT UK highlights!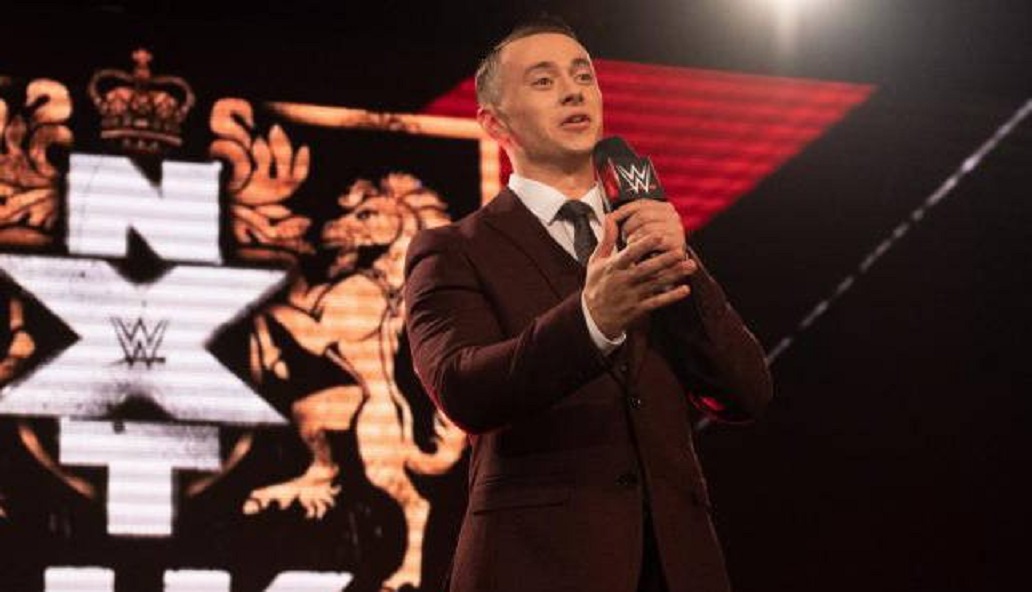 Brad hits us with some NXT UK highlights!
6. It is time for Johnny Saint to retire and officially promote Sid Scala to General Manager. Saint is a beloved figure in British wrestling (and a technical in-ring wizard), so I understand why they brought him in. Truth be told, he's never done much and when he is around he isn't a strong presence. Scala is there every week and has earned the job. Give Sid the job!
5. It is only right to send Mr. Saint out with a proper farewell. This is a gem from at least 1985, the last year for the original World of Sport Wrestling. It's easy to see his influence on British wrestling and safe to say Tyler Bate studied and stole every one of Saint's moves. Added bonus: some youngster named Dave Finlay has a mullet that would make Eddie Guerrero jealous.

4. Isla Dawn's character keeps getting better. For months, she hasn't cared about winning and losing, only taking trophies from her opponents. This week, she beat Aleah James then returned the hair scrunchie she stole from her. That is a seriously cool twist & one I hope they continue until Dawn returns all her stolen goodies. It's like she took everything she needed from her opponents in order to build herself up to challenge Meiko Satomura. I don't know if she's championship material, but I'd love to see her and Satomura try and top their first encounter.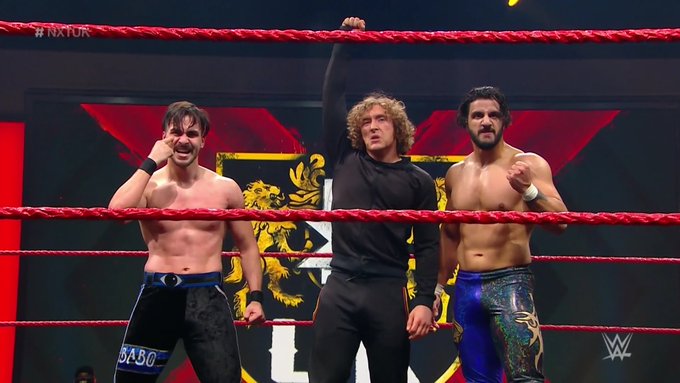 3. I like the idea of Teoman's family, but the execution is lacking. There is no reason for Rohan Raja or Charlie Dempsey to be with him. There's nothing that ties them together. NXT UK has been running blazing hot this year, so I'll give them the benefit of the doubt. Maybe it works. Maybe it won't. Either way, Charlie Dempsey is a star. When the time is right, he and Tyler Bate can have the 5 star Heritage Cup match we've been waiting for.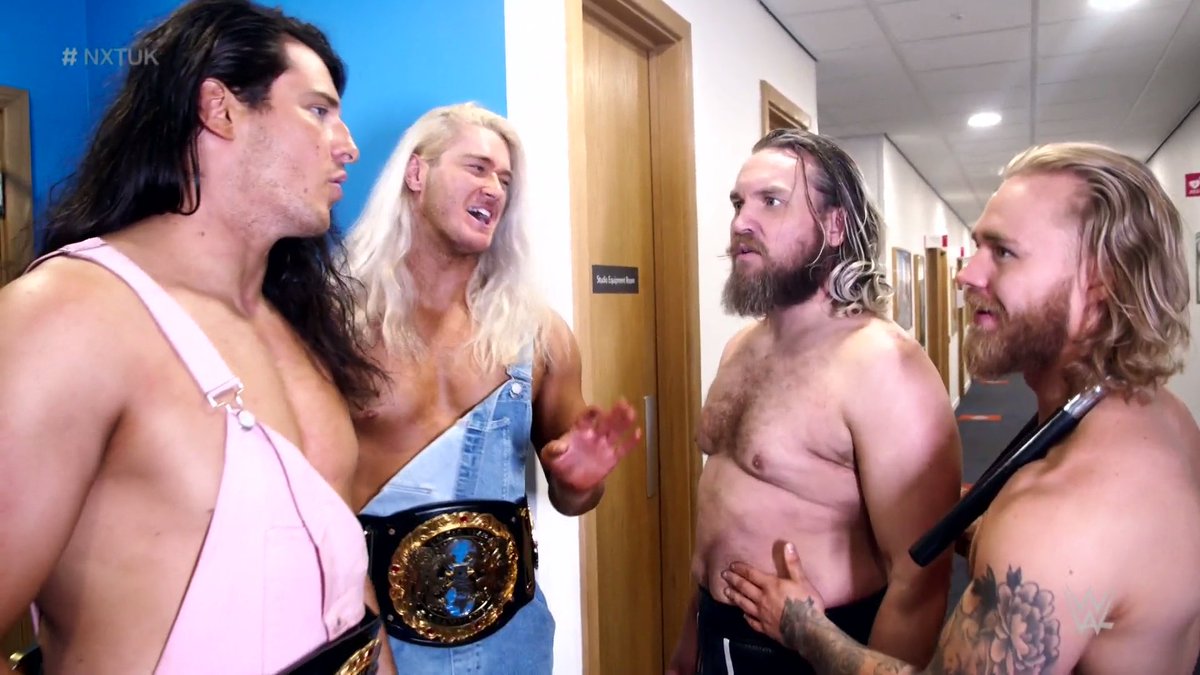 2. Pretty Deadly versus Mustache Mountain feels like a MOTY in the making. Can the Dandy Highwaymen defeat the forefathers of British Strong Style again and officially claim to be the best tag team in the brand's history? Can Mustache Mountain finally capture the titles that surprisingly have evaded them since the brand's inception? If they keep it clean with no outside interference, there is about a 1% chance this match won't live up to the hype.
1. Gallus' theme music is bad ass. That is all.

Steve Cook's Fave Five: November 2021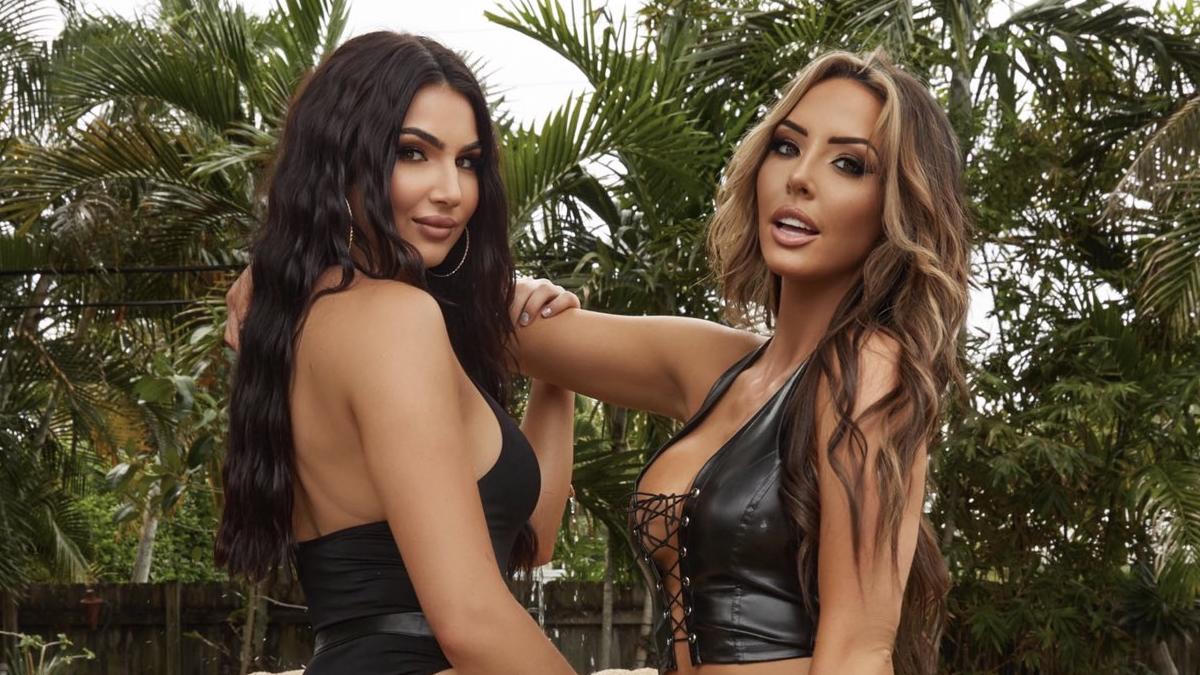 It's Thanksgiving week, and you know what that means!
This is the time we give thanks for our favorite professional wrestlers. And other things, I'm sure. Many of you reading this have other things to be thankful for. I don't know what those are, but I do know which wrestlers I'm thankful for here at this moment. Let's dive into the Fave Five!
5. Eddie Kingston
As somebody that was into the independent wrestling scene back in the mid-2000s, I've been aware of Eddie Kingston's existence for a long time. I've known that the man was a better talker than almost anybody in the wrestling business. I've also known that the man was his own worst enemy, much like Buddy Landell was his own worst enemy back in the 1980s & 90s. If Eddie could somehow find the right place and right time, nothing could hold him back.
This seems like Eddie Kingston's right place & time. He got a spot with AEW, and he kept getting over. His piece with The Player's Tribune got him even more sympathy than he already had. The feud with CM Punk heading into Full Gear was perfect. It got Punk into the state people wanted him in. The match at Full Gear was great, even if Punk ended up winning. The only issue? The feud isn't continuing. But that's AEW. Feuds don't last long unless they're on BTE. Punk & King have already moved onto other things, and we can only hope they get back to each other in a year or two.
4. Bryan Danielson
I know that Bryan's biggest run came when he was the underdog going against The Authority, and many folks took to him as that underdog. I was one of those guys that followed Bryan during his indy career, and his best run came when he was a total dickhead heel in Ring of Honor. Yeah, he was still short or whatever mainstream fans complained about at the time, but he could out-wrestle anybody put in the ring with him, and he was supremely confident about that fact. Not over-confident, supremely confident. He'd tell the referees the rules, because he was the Best in the World.
AEW fans are now getting that side of Bryan Danielson, and fortunately he has the right opponent to do it against. Hangman Adam Page has been accepted as a folk hero by hardcore AEW fans. They won't turn against the Hangman for anybody, even when it's really tempting since Bryan Danielson is a pretty amazing professional wrestler. One of the best I've seen! He's getting to be a total dickhead again while he runs through Page's Dark Order friends, and it's amazing.
He's not lying either. He wrestled the day after he won the WWE Championship at WrestleMania! Bryan Danielson has never lied. Maybe you don't like what he says, but he's always been honest. And the second he mentioned WrestleMania, those hardcore AEW fans were ready to jump on him. Bryan didn't bury WWE like other folks that previously worked for them did. He had his reasons, and this was one of them.
3. The IInspiration
.@CassieLee and @JessicaMcKay are here to iinspire Las Vegas. #TurningPoint pic.twitter.com/oHWOVCtUtv

— IMPACT (@IMPACTWRESTLING) November 21, 2021
I was asked to be part of 411's Fact or Fiction this week, since this week was decided to be the blowoff for a tournament from way too long ago where Len Archibald & myself made it to the finals. Bad news for me, as Len is much better with the written word than I am. 411 readers will sacrifice me at the temple of the Tribal Chief that is Len Archibald. I can't blame them. One of the questions of this particular Fact or Fiction column asks us if underutilized people are better off getting released. Two of the most underutilized people in the history of WWE were Cassie Lee & Jessie McKay. WWE never knew what they had with them. Not the slightest idea. The only time they ever put them over was to spite Bayley & Sasha Banks for reasons. They never followed up on that because they didn't care.
Cassie was supposed to be the breakout single star, except they never followed through with it. Jessie had the personality, and she had the look too but WWE did the best they could to take the look away from her. It was so weird. That's why I'm so happy they found a place to let them be them. Impact Wrestling is a strange place. Certain people find their place there. The IInspiration seem to fit like a glove.
2. Dalton Castle
The Party Peacock was somebody that original Ring of Honor fans would have rejected in an instant. Some will try to tell me I'm wrong about that, but they in fact are wrong. The very first segment on "The Era of Honor Begins" featured the Christopher Street Connection getting squashed by Da Hit Squad because their sort of flamboyance wasn't what ROH was going to be all about. It was 2002, a different time. I remember it well, as I graduated from high school. Way too many things have happened since then and I feel way too damn old.
Dalton Castle would not have been a favorite to original ROH fans in 2002. By the time he came around, he was just what the promotion needed. He had a personality the likes of which hadn't been seen in pro wrestling for quite some time, which was great because the main knock against ROH was that their wrestlers didn't have personality. Dalton Castle was ROH's answer to that criticism. Unfortunately, Dalton's body broke down at the same time he won the company's World Championship. He fought through a broken back to have a reign worthy of the championship, but nearly killed himself in the process.
Castle wasn't the same for a long time afterward. Only recently, we started to see shades of the old Dalton Castle. The man was revitalized by the promise of Television. He wanted to make Ring of Honor the best show on TV, even though he was a very busy man. Very busy. We're lucky to see him when we do. It'll be interesting to see what happens with him now that Ring of Honor is letting their people go. If he's back to being the Dalton Castle we remember from a few years ago, the sky's the limit. Any company would be lucky to have his talent & personality.
1. Cora Jade
I realize that I am in the minority of people around here when it comes to NXT 2.0. I can't really say it's a good wrestling show, but I do find it interesting. You have to know a little bit about my rasslin fan background. I ended up in Louisville during the time when Ohio Valley Wrestling was WWE's developmental territory. While I never got the chance to attend a show at Davis Arena until years afterward, I enjoyed getting to watch the future stars of WWE on television learning their craft before they made it to Raw or SmackDown. Some were really good in the ring. Some were not. But it was all interesting to me.
Here in 2021, I have more interest in seeing the people that WWE thinks is going to be their future than seeing people I saw in Ring of Honor more than ten years ago having great matches just like they did in Ring of Honor more than ten years ago and having no chance of making it any bigger than "NXT TakeOver main eventer". Which is fine if you're into that kind of thing. Me…not so much.
I'm looking for the next big thing. Always have been, always will be. So when I take a look at Cora Jade, the youngest person under WWE contract, I see the potential. I see her work against Mandy Rose, who WWE wants to be the next big thing. I see Cora Jade get over, and I see the future, which is Cora Jade. People will try to tell me I'm wrong. They'll be proven wrong eventually, but since they're a lot louder, followers will act like the fools were right all along, even though they had the wrong opinions back in the day. That's America for ya.