Chris King's WWE Raw Review (8/5/19)
Chris King looks back at a historic night on WWE Raw as new Women's Tag Team Champs are crowned…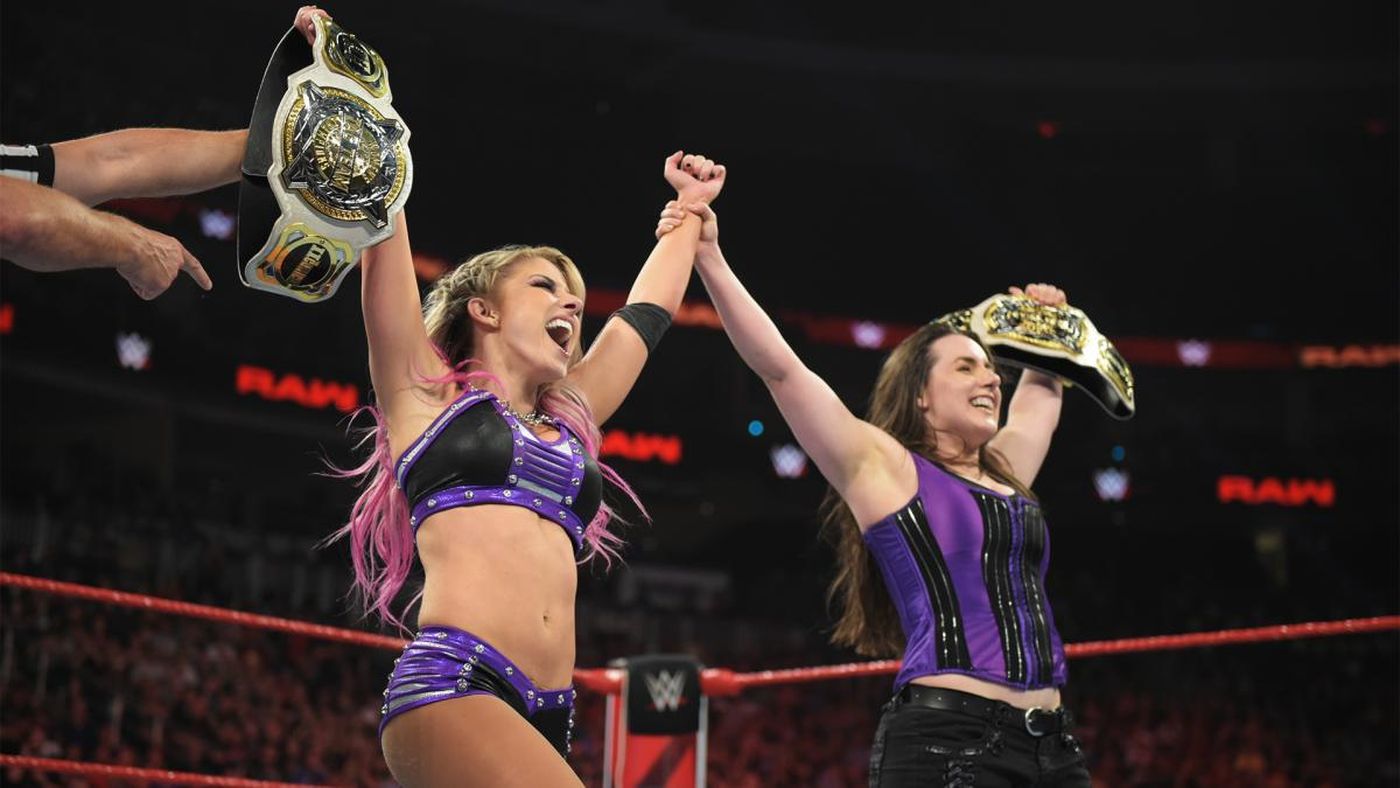 Chris King focuses on the WWE Women's Tag Team Championship Fatal-4-Way Elimination Match where, the current Champions The IIconics defended against The Kabuki Warriors, Fire and Desire, and Alexa Bliss and Nikki Cross. while also giving his thoughts on some highlights of the show. 
I will be honest here I was originally upset that WWE gave this match for free tonight, instead of adding it to SummerSlam.
The IIconics won the WWE Women's Tag Team Titles at WrestleMania earlier this year. A few weeks later on April 16, 2019 episode of SmackDown Live former General Manager of SmackDown Live Paige made her WWE return to announce a new tag team consisting of Asuka and NXT Japanese Sensation Kairi Sane.
For several weeks the cowardly heels would fake illnesses and ridiculous conditions to avoid defending the titles. On June 28th at a house show in Tokyo, Japan, The Kabuki Warriors defeated the champs to earn themselves a future title shot.
A month later, Mandy Rose would surprise her best-friend Sonya DeVille with a future title shot on next week's SmackDown Live. On last week's SmackDown, Live Royce and Kay would weasel their way out of defending their titles against Rose and DeVille, due to puppy fever. So tonight all four teams battled it out for the women's tag team championships.
All of the women were given the opportunity.to shine and deliver a great match, The IIconics were the first to be eliminated, then it was Fire and Desire. Then it was down to Alexa and Nikki and Asuka and Kairi, where all four women created magic in the ring all delivered. In the end, though, the wily Goddess of WWE hit Twisted Bliss for her and her loyal protege to become the new WWE Women's Tag Team Championships!
You deserve it love 💋 thanks for being an amazing friend & partner https://t.co/QEVGHZqGFo

— Lexi Kaufman (@AlexaBliss_WWE) August 6, 2019
Once I realized that all eight women were given the chance to showcase their abilities and I dare say steal the show tonight, it's something that never would have happened on an already stacked SummerSlam pay-per-view. More than likely the match would have been cut short or rushed and it would have been sloppy. Now Asuka and Kairi have a heel team to chase after (that will actually defend the titles)!
Chris's Highlights of the show: 
Rey Mysterio and Andrade can FIGHT FOREVER! Somehow someway these two incredibly-gifted superstars always outdo their last encounter, last night was no different with fantastic high-octane offense and counter after counter. If it wasn't for the women's fatal-four-way match, Rey vs. Andrade would have stolen the show!
Samoa Joe was absolutely ruthless in his attempt, to clear his name as a suspect for the Roman Reigns case. However, once he stormed outside and Reigns was seconds away from being runner over, Joe put his bitterness aside and came to his rival's aid signaling for help.
This is very intriguing if WWE manages to turn Joe into a tweener face, he hasn't been a babyface since 2015 in NXT.
The Fiend Bray Wyatt added another legend to his list of victims, The Olympic Gold Medalist Kurt Angle!
"The Fiend" is ATTACKING @RealKurtAngle! #Raw @WWEBrayWyatt pic.twitter.com/A0QltiHCJD

— WWE (@WWE) August 6, 2019
The Universal Champion Brock Lesnar gave his SummerSlam opponent The Beastslayer Seth Rollins yet another brutal assault. A hobbled and wounded Rollins remained in the ring following the attack and delivered a heartfelt promo about whether or not the weekly beatings were worth it. The resilient babyface said yes, and he guaranteed he'll be there Sunday, and he'll beat Lesnar.
I'll be at #SummerSlam. And I'll beat @BrockLesnar." @WWERollins is NOT giving up his hope of reclaiming the #UniversalTitle. #Raw pic.twitter.com/0wU0tEPJ4Q

— WWE (@WWE) August 6, 2019
Despite his best efforts and his unwillingness to quit, Rollins still just came across desperate and whiny, instead of fiery and driven a process that has worked in all their previous encounters. I'm not sure why WWE had him look like a fool last night, the compassion angle only worked with HHH because of their storied history as his mentor. It will never work with The Beast Incarnate.
Last but not least, as expected per the numerous spoilers Dolph Ziggler's SummerSlam opponent was revealed to be Goldberg. So Ziggler is getting squashed, for running his mouth about the Hall of Famer and his atrocious Super ShowDown match with The Undertaker.
Chris's Reaction: 
On a personal level, I was quite disappointed in the Go-Home-Raw for SummerSlam, there wasn't many developments or answers to questions just more of the same old same old. Dare I even say that the whole three-hour broadcast was equivalent to the Go-Home-Raw for WrestleMania 31, where Brock Lesnar and Roman Reigns ended the show playing tug of war with the WWE World Heavyweight Championship.