DeMarco's NXT Takeover Toronto Ratings & Analysis
Immediate reaction to NXT Takeover Toronto, including the hard-hitting main event with Adam Cole and Johnny Gargano!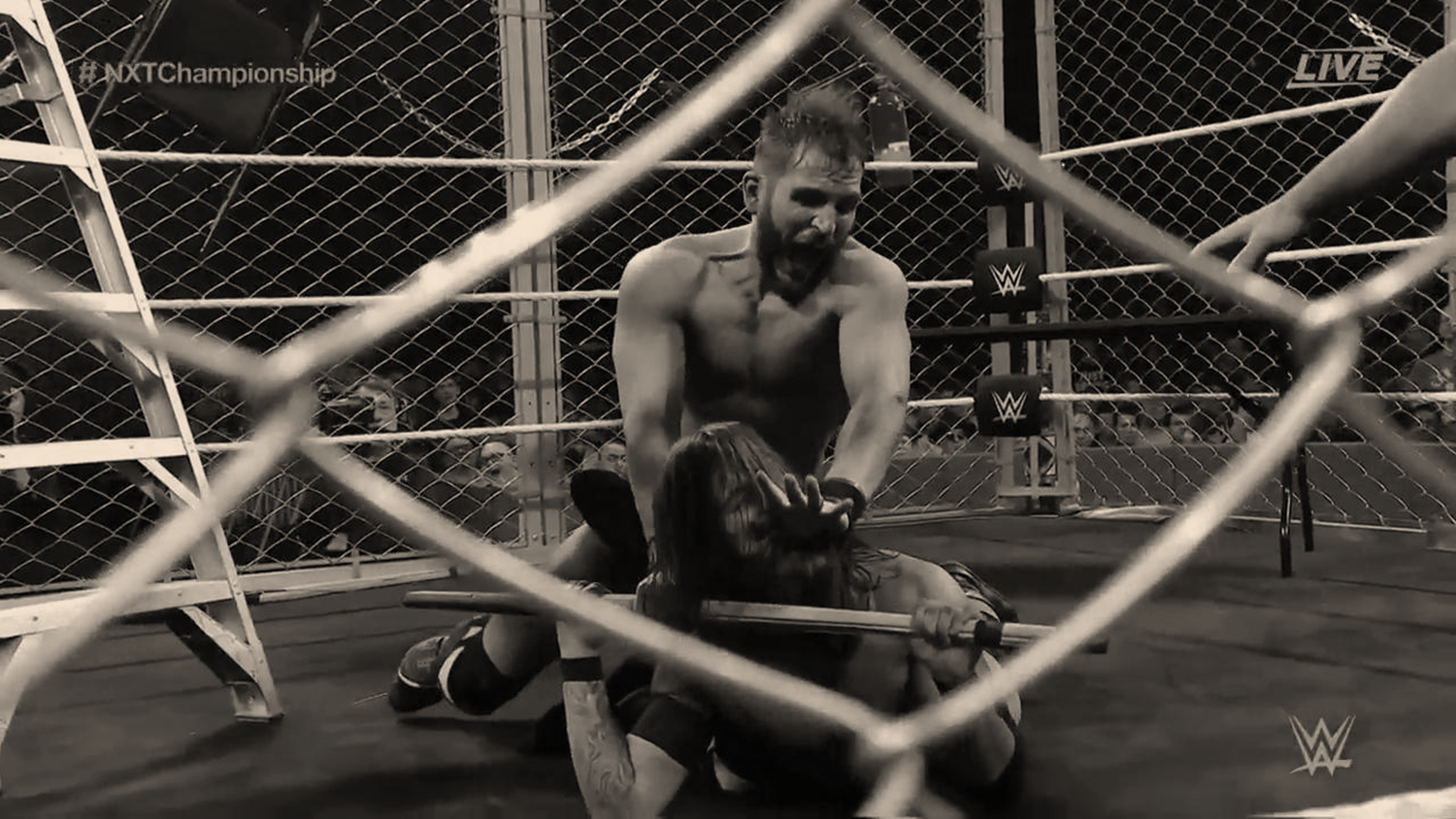 Greg DeMarco tunes in to WWE NXT Takeover Toronto (2), and delivers his immediate reaction to each match, including the hard-hitting main event with Adam Cole and Johnny Gargano!
WWE NXT rolls into Toronto to set the bar for everyone as they take over Toronto for the second time at NXT Takeover: Toronto. Their first visit to Toronto was quite the success, and tonight we'll see if they can deliver once again.
---
Check out Mitchell's NXT Takeover: Toronto Results & Recap!
---
NXT Tag Team Championship: The Street Profits (c) vs. Bobby Fish & Kyle O'Reilly
The Street Profits are OVER, but over in a way that works on the main roster. Music, dancing, red solo cups, athleticism used in a larger-than-life manner. They are crazy talented, but at times they felt a half-step behind. That's not a knock on them, they were working with a duo who quote possibly might be the most fluid tag team in the entire world. Bobby Fish and Kyle O'Reilly are in the same category as The Revival, The Usos, SCU, and… well… Roderick Strong and Kyle O'Reilly.
None of this is meant to knock on Montez Ford and Angelo Dawkins. They delivered a great performance and were more than worthy of being in this match. But my (long winded) point is simply this: their best days are in front of them, on the main roster. They'll deliver kick ass matches with The New Day, The Usos, and The Revival, as long as they aren't lost in the shuffle on Raw and/or Smackdown. They have all the tools, and there's nothing wrong with being a half step below (and behind) members of The Undisputed Era.
Outside of a small handful of awkward spots early, this was a great match. The Lifted Blockbuster while O'Reilly had Dawkins in a guillotine was fantastic, and Montez might be one of the few people in the world electric enough to (eventually) hit a People's Elbow.
All that said, I fully expected Fish and O'Reilly to win here, which makes me doubt some of my other predictions for tonight. If NXT really is headed to FS1 (I think it is), then there's nothing wrong with having your tag champions appearing on WWE television in the build-up.
The Street Profits beat The Undisputed Era after a Montez Ford frog splash – *** 1/2
Io Shirai vs. Candice LeRae
Io Shirai was always my favorite member of the Sky Pirates (nothing agianst Kairi Sane, either), and I think heel Io, the "Joshi Judas" as Mauro Ranallo called her, is a fantastic character. Headed into this match, I really needed to see something out of Candice LeRae. She's only really excelled in intergender matches, not doing her best work against women. Would she deliver here?
Before I get to that, I need to discuss the match itself. Everyone was OMG SO EXCITED about having two women's matches on this Takeover card, but I am not so sure this was a good fit. Candice is fiery and tough, but she's not quite at the level of Io, Shayna, and the many NXT women who have come before them. Candice, much like The Street Profits discussed above, might see her best days on the main roster (think babyface Alexa Bliss) or, dare I say, AEW (with her connect-the-spots style). Had this been a 6- or 7-match Takeover card? I say this belongs. But on the traditional 5-match Takeover card, I think other matches may have delivered in this spot.
As for Candice LeRae herself, this match didn't do much to change the opinion I had going in. It was rough to watch Io Shirai have to walk and sometimes jump into positions for Candice to do something. Io really carried Candice in this match, showing just how brilliant of a performer she is. Candice was often slow when she needed to be fast, and fast when she needed to be slow. Kicking out of big spots is understandable in the right situation, and the Avalanche Spanish Fly and Moonsault weren't those situations. In the end, the right person won (also the person who carried the entire match).
Io Shirai beat Candice LeRae with a modified Koji Clutch – *** 1/4
Matt Riddle decided to interrupt a Takeover for the second time in his short NXT history, this time calling out Killian Dain and brawling throughout the arena with him. It wasn't a match, but it was an impressive fight that ended with both men (and a local extra) going off the stage and through a set of tables on the floor. It was a great way to cement this feud, and get both men some Takeover air-time.
NXT North American Championship – Velveteen Dream (c) vs. Pete Dunne vs. Roderick Strong
The dance routine that led to Dream's entrance was very Toronto, and perfect for this show. Velveteen Dream paying tribute to The Mountie was even better. Dream is a bonafide star, and it's no shock that he rated so highly in the much talked about non-fan survey that we discussed on a recent Greg DeMarco Show. Fish & O'Reilly losing in the opener seemed to take the crowd out of Roddy's entrance a little, as you expected their result to match his. Neither Strong nor Pete Dunne were going to compare with their entrances, but they showed the intensity that they'll add to the match–making one I expected to be great.
Shout to Nigel McGuinness for using 205 Live history (Drew Gulak pinning Akira Tozawa to win Tony Nese's Cruiserweight Championship) to tell the story of the triple threat match rules. I also love the nod to the history between Pete Dunne and Roderick Strong, as Roddy turned against Dunne at Takeover in New Orleans.
As for the match itself? If nothing at all, it should prove beyond all reasonable doubt that Roderick Strong as a true ring general. Triple threat matches can be formulaic, and Strong directed traffic in such a way (often from the outside) that made this one of the most unique triple threat matches I've ever seen. Having two opponents also made Velveteen Dream focus on what he does best, and that's tell stories.
(Side note: Velveteen Dream's "Sharpshooter" was a Texas Cloverleaf. But he looked good doing it, and should add that to his regular arsenal.)
Velveteen Dream going over was a surprise to me, only because I felt like he was destined to challenge for the NXT Championship sooner rather than later. Given that the next Takeover is War Games, this result makes sense. The biggest result for me is wanting to see more of Roderick Strong vs. Pete Dunne–just give those two men an entire episode of NXT and I'll be happy.
Velveteen Dream beat Roderick Strong and Pete Dunne to retain the NXT North American Championship – ****
NXT Women's Championship – Shayna Baszler (c) vs. Mia Yim
As Mia Yim heads to the ring for her first Takeover match, I am reminded of what I myself said about this match as part of our staff picks: Mia Yim needs to look brilliant in a loss here to really cement herself in the women's division. I believe Mia can be women's champion, but she isn't built to that point just yet. Baszler entered the ring as the only two-time NXT Women's Champion, with her current reign at day 286 and her total days as champion at 419 (the second longest, behind Asuka).
Baszler (allegedly roommates with Yim) is such a throwback and I love it. She picks apart a body part, but she also sells like a champ. Mia went after right Baszler's arm early, and Shayna showed the effects throughout the match. Mia Yim also didn't shy away from breaking the rules, showing the challenge any opponent of Shayna's is facing when trying to secure that championship.
Baszler winning was the right result, as Mia Yim isn't quite there yet. As for Mia? I am not so sure this was the star making performance she needed, but she had some serious support behind her late in the match. Baszler's performance was brilliant as usual, down to her having to use a Triangle Choke to win since the Kirifuda Clutch was rendered less than effective thanks to the arm injury.
Shayna Baszler beat Mia Yim by tapout to retain the NXT Women's Championship – ***1/2
Two Out Of Three Falls for the NXT Championship – Adam Cole (c) vs. Johnny Gargano
The "gimmick" behind this match was that each man picked a fall–Gargano selected a Street Fight, and Adam Cole picked a straight up singles match. William Regal revealed his fall during the Kickoff, and it was a Steel Cage Match where the cage was full of weapons. Interesting of note is that the crowd was decidedly behind Adam Cole during the entrances and introductions–the second straight Takeover where that happened.
By the end of the introductions, the BAY BAY Counter (patent pending) was up to 2. It wasn't announced (unless I missed it), but the first fall was the straight up singles match. To remind you, I picked Johnny Gargano to win the straight up singles match, Adam Cole to win the Street Fight thanks to interference from his Undisputed Era brothers, and Cole would win the final fall by manipulating whichever stipulation Regal selected. The announce team did share that Cole won a coin-toss to have his fall take place first.
I didn't love Johnny Gargano basically giving away the first fall by hitting Adam Cole with a chair, because it didn't lead to Gargano immediately winning the second fall. The opening fall was fantastic, as expected from these guys, and really played off their first two encounters. The second fall was fun, and we learned that even when no one is hiding under the ring, there's both a monitor and a sledgehammer present.
When the cage lowered for the third fall, there were already some chairs and tables in the ring. It was a great scene as the cage lowered, with the staff making sure everything was properly in place as Cole looked on in fear and Gargano had a sadistic smile on his face. You got the immediate sense that Gargano had the decided advantage going into this third and deciding fall. I also realized I might be wrong about no one being under the ring, and Tommaso Ciampa could be under there.
The third fall was overkill for me, but if this is the feud ender than I get it. I was probably the only person in the world that was happy we didn't have thumbtacks in that bag–but I hate thumbtacks. There is was too much to talk about during that fall, but the final spot was a sight to behold. On the replays it was apparent that Adam Cole took the brunt of that spot. I must say that Mauro Ranallo's line during the post-match was the most appropriate thing I've ever heard a commentator say: "For those who get it, no explanation is needed. For those who don't, no explanation will ever be enough."
Adam Cole beat Johnny Gargano in a Three Stages Of Hell Match – ****1/4
Overall Impression
Another great NXT Takeover event, but the brand isn't where it once was. The first two matches felt like undercard matches that would fit better as NXT weekly show main events. But the top three matches definitely fit in with NXT. The talent is there on the brand, and I think Adam Cole will take this brand to some amazing heights in 2020.