DeMarco's WWE SummerSlam 2019 Ratings & Analysis
My immediate reaction to WWE SummerSlam, complete with match ratings and his analysis. See if you agree! (You won't.)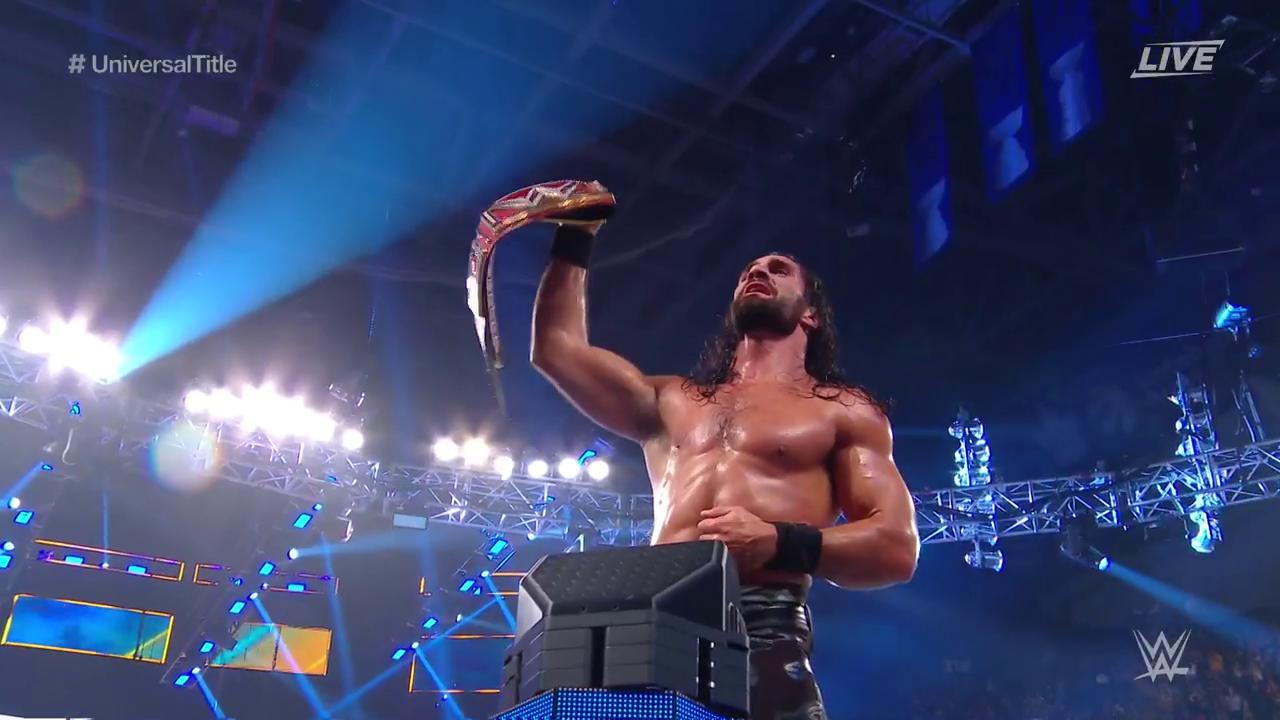 Greg DeMarco gives you his immediate reaction to WWE SummerSlam, complete with match ratings and his analysis. See if you agree! (You won't.)
WWE rolls into Toronto for the Biggest Party Of The Summer, with over 6 hours of action for all to enjoy! I made my picks along with the rest of The Chairshot staff, and you can see those here. Did you enjoy it? Did I? Let's take a look….
---
Check out Mitchell's WWE SummerSlam 2o19 Results & Recap!
---
WWE Cruiserweight Championship – Drew Gulak (c) vs. Oney Lorcan (Kickoff)
Drew Gulak, complete with an awesome robe, kick starts the match (and SummerSlam) in a faster way than expected. The match itself was good, and Oney Lorcan did an amazing job getting the crowd invested–considering many were still filing in. Props to both men for tackling one of the toughest spots on the format.
Drew Gulak pinned Oney Lorcan to retain – ***
Buddy Murphy vs. Apollo Crews (Kickoff)
Two amazing talents getting a chance to shine is always a win in my book. Buddy started off hot with a great knee to the head of Apollo, getting the near fall and making me think he was getting the super push win. Apollo also got a chance to shine, but this was the Buddy show. That is, until Erick Rowan interjected himself! Rowan attacked Buddy Murphy and advised he keep his (Rowan) name out of his (Buddy) mouth moving forward. No indication if Buddy will comply. The match was crazy entertaining for what it was.
Buddy Murphy beat Apollo Crews by disqualification (possibly a no-contest–doesn't matter) – ***1/2
Edge was given a great Toronto reception when he interrupted Elias, further driving the point home that the Kickoff does indeed matter. Edge takes Elias out with a surprising Spear–surprising to me since Edge reportedly could die with one bad bump. Props to Edge for the moment, he looked great.
WWE Women's Tag Team Championship – Alexa Bliss & Nikki Cross (c) vs. The IIconics (Kickoff)
Nikki Cross has basically the easiest character to play. She can do almost anything and it makes perfect sense within her character. Like touching belts with Alexa Bliss…while they were both wearing the championship belts. This match is a reminder that while The IIconics may not be around for their in-ring abilities, Nikki Cross also can't hit an effective High Cross Body–despite it part of it being her name.
This match was the first of a whopping FOUR for the women's division, each with increasing importance. I fully believe Charlotte Flair vs. Trish Stratus should be given serious consideration to go on last tonight. Thankfully this didn't go on last, as Billie Kay couldn't even get pulled off the apron in an impressive manner. Alexa and Nikki were the stars of this match, holding it together as best they could.
Alexa Bliss & Nikki Cross beat The IIconics with Twisted Bliss to retain the WWE Women's Tag Team Championships – **1/2
Submission Match for the WWE Raw Women's Championship – Becky Lynch (c) vs. Natalya
Much like the 2019 Royal Rumble, Becky Lynch kicks off a major WWE PPV. I don't mind that decision at all–she's not going on last against Natalya, might as well use a big star to pop the crowd (especially since nothing is announced for Roman Reigns).
Both women did a great job utilizing the stipulation but still working that "WWE Main Event Style," including brawling around the ringside area. Becky sold the correct leg throughout the match, which was better than her entire run this past winter/spring. No one bought Natalya's chances in this match, but she was both credible and believable from bell-to-bell. Huge pop for Natalya locking the Sharpshooter in late. The right person won–and my only complaint is Shayna Baszler didn't attack Becky after. 🙂 Match did exactly what it needed to do, and then some.
Becky Lynch forced Natalya to tap to the Dis-Arm-Her to retain the Raw Women's Championship – ****
Goldberg vs. Dolph Ziggler
This is the perfect way to use Goldberg–early attraction against someone who will bump his ass off to give the crowd exactly what they want. Sasha Banks could learn a lot from watching Dolph Ziggler's entrance, even knowing he'd get crushed, he was all energy and really ramped it up. And good on Ziggler, he knew he was going to destroyed, so he dropped a "pro wrestling" on a live mic before it happened. Go Dolph go.
The pop for Goldberg's super-sparklers and pyrotechnics should answer any questions as to why he belongs on this card. Nostalgia sells, and this is the second match on the card. Ziggler sold the entire situation like he was a true champion and ready to end Goldberg's legend. The match was actually better than I expected–with double the moves I expected!
Superkick. Superkick. Spear. Jackhammer. Ziggler masterfully gives the fans the encore they didn't know they wanted by calling Goldberg back out. Well done, Dolph. And even after the encore, Dolph didn't stop entertaining.
Goldberg pinned Dolph Ziggler following a Spear and a Jackhammer – *** (purely for entertainment value)
United States Championship – AJ Styles (c) vs. Ricochet
The lower third graphic for The OC is amazing–such a great touch. Also shows that they're at least a little bit behind this crew. Ricochet doing his best Rey Mysterio with the gear this time out, and I wonder if he'll make it a tradition.
The early story of the match saw Ricochet neutralizing The OC, until his leg was injured. At that point, Ric put on a selling clinic that would make Mr. Perfect and Dolph Ziggler proud. This included a one-legged Springboard Clothesline and Shooting Star Press. Props to Corey Graves for explaining how he could hit the move and it would still hurt Ricochet to do it–it's the little things.
The injury of course comes into play when AJ locks in Calf Crusher, but Ricochet counters with an ANACONDA VICE??? Brilliant, even if it spawned some CM Punk chants. I know some don't like it when Ricochet is booked like an underdog fighting from underneath, but this is WWE and he can make a lot of money that way. AJ wins, and this was a brilliantly planned–and executed–match. Don't sleep on that finish, it wasn't just a Styles Clash, but a powerbomb right before. I also loved the post-match attack, as it really helps establish The OC as a top heel faction.
AJ Styles pinned Ricochet following the Styles Clash to retain the United States Championship – ****
Smackdown Women's Championship – Bayley (c) vs. Ember Moon
Am I the only one who sees Ember Moon and sees a heel? I can't be the only one. Bayley was Bayley, and I really thought her title reign was heating up with this. However, it seems like I am wrong, because this match fell really flat. It was a game of connect-the-spots, and the Top Rope Bayley-To-Bayley mercifully ended a match that was even clunky at points. Hindsight is 20/20, but this was better served on the Kickoff. Given it's placement on the card, people were also starting to hit the restrooms and concession stands. Largely forgettable match.
Bayley pinned Ember Moon with a Top Rope Bayley-To-Belly to retain the Smackdown Women's Championship – **3/4
Kevin Owens vs. Shane McMahon (Owens will quit if he loses)
So I had to step aside to fix a beeping smoke detector upstairs in my daughter's room. However, when I came back I saw a crowd that was crazy into the action, hinging on everything Owens did. I am giving it a rating for what I saw, and I will go back and watch it and edit things here after I do, later tonight.
As for the result, I picked Shane to win and I was wrong. Hearing the crowd pop for everything Owens was doing showed me that Owens had to win. This was a spot where you give the fans what they want.
Kevin Owens pinned Shane McMahon after a KO Stunner – ***1/2
Charlotte Flair vs. Trish Stratus
Interesting that we didn't get the video package for this match, instead focusing on the Roman Reigns saga. This match placement also means we are done with the women halfway through the show. For this one, we have a 7-time champion (and Hall Of Famer) against a 9-time champion. For the record, I picked Trish to win, with the idea that Charlotte wins the rematch at WrestleMania 36.
Trish Stratus showed some serious rust in this match, more than she showed at Evolution. Thankfully Charlotte Flair did her best Io Shirai impersonation and carried her to a good match. Charlotte helped Trish go from spot-to-spot early, but once Charlotte went on the offensive I felt like we got more of a story. I also want my prediction to be wrong, because I already don't want to see a rematch.
Things did pick up, but Stratus seemed outmatched the entire time. Charlotte did a great job making her look good, although most of Trish's spots seemed contrived while Charlotte's offense felt natural. Trish Stratus applying the Figure Four backwards is the equivalent of folding your arms the other way. Charlotte carried the match, and rightfully won. The crowd's investment helped my entertainment value, and thus my rating.
Charlotte Flair made Trish Stratus tap out to the Figure Eight Leg Lock – ***
WWE Championship – Kofi Kingston (c) vs. Randy Orton
Really surprised by the crowd chanting "Kofi's Stupid!/Randy Sucks!" during this match. I didn't expect that much support for Orton. I also didn't expect Randy Orton to look like a giant compared to Kofi Kingston. But here we are. Kofi and Randy delivered a strong match, but one thing I realized is that we had too many methodical matches in a row here. This would have been a good spot to insert a fast paced tag team match to heat the crowd back up.
And for the second straight year, the WWE Championship match at SummerSlam was made to be about the wife of the champion. And it ended in a disqualification. That's a disappointment. I know they will stretch this out to Hell In A Cell, but there are better ways to do it (in my opinion). Great match up to that point.
Kofi Kingston fought Randy Orton to a double countout and retained the WWE Championship – ***3/4
Bray Wyatt vs. Finn Balor
Everything about Bray Wyatt's entrance was bad ass. The music, the effects, and the way it was filmed. He's automatically like nothing else on the roster. Let's keep it that way. That said, he's going to give kids nightmares–make sure he always goes on late! The match? It was exactly what it needed to be. Bray went on an offense tear early, Finn finally fought back like a former Universal and Intercontinental Champion should, but Bray caught him with the Mandible Claw and it was over. The whole thing was beautifully executed.
Bray Wyatt pinned an unconscious Finn Balor after a Mandible Claw – ****
Universal Championship: Brock Lesnar (c) vs. Seth Rollins
Interesting note: when introducing the video package for this match, the announce team never referred to this as the main event. I've noticed more, lately, that they are really selective with that term. Honestly, I've noticed it going back to Extreme Rules 2018, when they were really particular about not calling the Seth Rollins vs. Dolph Ziggler Iron Man Match the main event. Love the all black look for Seth here, but then again I want to see him get his ass kicked and have it lead to a heel turn. Side note: Michael Cole reminded us that Rollins earned this title shot by winning a Battle Royal, meaning both of his title shots this year came by winning a battle royal.
The little things always go a long way. Seth clobbering Brock's back when Brock was driving shoulders into his midsection is a great example of this. Quickly getting The Stomp was a lot of fun as well. Add on to that Brock swinging Seth around by the rib tape! Classic stuff.
Once Brock went on the offensive, it was Big Boss Brock taking out Seth piece-by-piece. This is what Brock does, and this is why he's so valuable. He's the big baddie at the end, the big boss that most can't beat. Win or lose, it's the perfect story to tell and it works every time. Also noteworthy was Brock Lesnar hitting a normal suplex, but doing it in a way that tossed Seth Rollins across the ring. Another example of why Brock Lesnar is so valuable.
Seth wouldn't go down without a fight, and the crowd was into all the near falls. Seth isn't the best at selling an injury, seemingly forgetting that his ribs were injured at times. Sure, "fighting spirit" and all. But injured ribs means no suicide dives. Surprisingly, Rollins got the win after that ass kicking! Didn't expect it to go that way, but it's an intriguing development and I am interested to see where it goes.
That was one hell of a match with an unexpected ending. Well done.
Seth Rollins pinned Brock Lesnar after The Stomp to capture the Universal Championship – ****1/2
WWE has been putting on great PPV events all year, and this was no different. The main event was great, and the surprising ending really drove things home. The card itself was good to great, even the worst parts (looking at you Bayley vs Ember Moon) weren't atrocious. In a rarity, the final match of the night was my favorite, and you can't help but feel satisfied.