JKJ's AEW ALL OUT Preview & Fantasy Predictions
Are you ready for AEW to go ALL OUT? JKJ & Thirteen|10 is and they're here to predict what will happen on the second All Elite Wrestling PPV of 2019!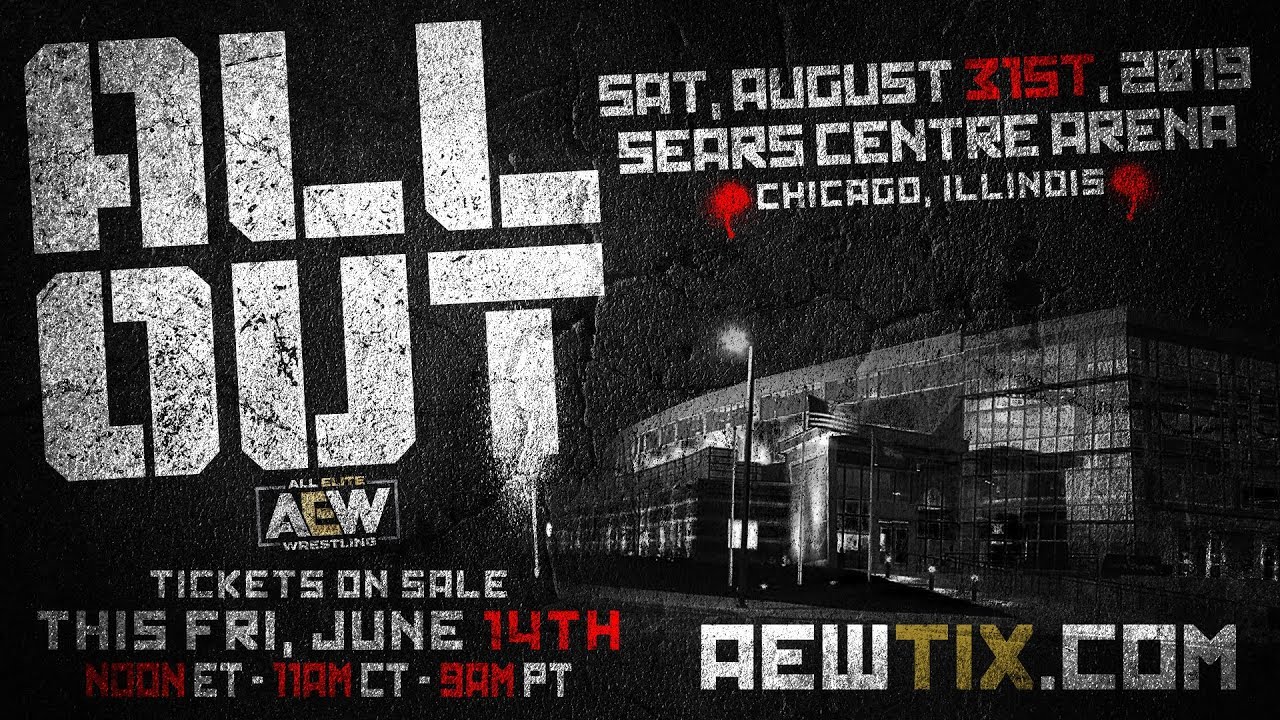 Are you ready for AEW to go ALL OUT? JKJ & Thirteen|10 is and they're here to predict what will happen on the second All Elite Wrestling PPV of 2019!
Fantasy booking for AEW could either be very easy or extremely difficult and why is that I hear you ask? simple! AEW is a brand new company. Three shows in under the AEW banner: we have witnessed a fantastic Double or Nothing, a great Fyter Fest and an ok Fight for the Fallen. Three very different shows for one reason or another, I will let you all speculate as to why I class them all differently. Most of us are familiar with, The Young Bucks, Cody & Brandi, Kenny Omega, Hangman Page & Chris Jericho to name just a few.
What we do know is that these guys are close to producing a top 3+ hour PPV and All Out could but any doubters to bed with production, timing & overall match quality spread across the board. Personally, I am very excited to watch a wrestling show, I won't be taking to twitter to slam timings or production, my duty to myself is sit back, relax and enjoy, after all, I am a UK based fan so its early hours and tiredness will kick in at some point so all I want is great action at a reasonably enjoyable pace. So, let's get to my fantasy booking, shall we?
---
---

The Buy In Pre-Show
Why call it a buy-in? if your watching then you're probably already ALL IN?
Casino Battle Royal – Women's Division only
I think it is fair to say that this is going to be a showcase for the woman, I wouldn't even be classing this as "Preshow" this has the main show caliber written all over it. I think we can safely say that the following names could play a major part in this –  Sadie Gibbs, Aerial Monroe, Jazz, Ivelisse, Teal Piper, Brandi Rhodes, Nyla Rose, Britt Baker, Yuka Sakazaki, Bea Priestley and Allie.
As for a winner I think that it's very hard to look past the Doctor Britt Baker, she has star power written all over her and would be a great champion so Britt is my pick here but I do expect some surprise entrants along the way so it won't be plain sailing that's for sure. Who will Britt face to become the first-ever AEW woman's Champion? We will find out later.
Private Party vs. Angelico & Jack Evans
This is going to be a showcase of 4 top highflyers, but honestly, I am unfamiliar with Private Party with their only exposure to me being at Fyter Fest (i think) and the Youtube videos produced by AEW. I have met Angelico on a couple of occasions and he is a great guy and great athlete. Which team has more to lose here? probably neither as its early days and AEWonTNT is right around the corner but Private Party has such charismatic personalities that they will be over with fans win, lose or draw. Angelico & Jack, on the other hand, have had strong showings in AEW without victory, the also have a certain look about them and for me, they need the win more. I expect to see Angelico do some crazy ass thing and jump of something not so small for the win and show a statement to the tag division here.
So after the perfect warm-up to AEW All Out its time to dive into one of the best looking cards in pro wrestling throughout 2019.
---
Time to pick up a new Chairshot shirt!

Get yours at:
https://www.prowrestlingtees.com/related/thechairshot.html
---
Official Main Card
Jungle Boy, Luchasaurus, and Marko Stunt vs. SCU
Jungle Boy & Luchasauraus have gained a cult following and rightly so, & Marko Stunt has slowly become more than added fun here. It's very hard to overlook the talent that is the trio of SCU, lets say big Lucha dino dominates SCU after Marko & Jungle boy is down injured before the numbers game picks up, we then see Johnny Impact & Taya race through the crowd to aid the team of Lucha, Stunt & Jungle aiding them to victory, this can then begin Johnny Impact & Taya's crossover with the potential for an SCU feud which will encourage intergender wrestling. This match will be full of comedy and a large pop for a huge win for the underdogs, SCU will begin to hate Chicago!
Riho vs. Hikaru Shida
Potential show-stealer for sure, both Riho & Shida are new names to me but both impressed immensely previously. The winner of this I believe will face the winner of the Casino Battle Royal (Earlier crowned Britt Baker). If Riho & Shida are not on the worldwide map before this then they sure will be after. I fully expect to see the smaller Riho explode out of her corner and be too quick for Hikaru but the powerful Shida will come out of this with the victory. Britt Baker will enter at the end for a fierce stare down before AEW goes live every Wednesday on TNT.
 Darby Allin vs. Joey Janela vs. Jimmy Havoc
So apparently, Cracker Barrel is sponsoring this and Jimmy Havoc has promised to use a Barrel – excited even more for this. As a UK based fan am I missing something with the hype for Cracker Barrel? Are the restaurants that popular? let me know? maybe offer to take me sometime?! Anyway, this is going to be a mixture of Fun and pure violence! this is the match that Jimmy Havoc has craved and needs at this time. Some U.S fans will not be too familiar with his work but you will be after this!
There will be staples, tacs, tables, chairs, cracker barrels and maybe even a coffin if Darby brings along another. I ask the question again (and this may not be the last time I ask it) but who needs the win more? is it Jimmy or is it Joey? I leave Darby out as he has unfinished business and could move back to Cody or Shawn Spears (More later) and is already so over with AEW fans. I am going with Jimmy Havoc here (Biased to the UK? Perhaps) An Acid Rainmaker on tacs would be fitting to end to what will be a very bloody and violent match.
Winner receives a first-round bye in the AEW World Tag Team title tournament
Best Friends vs. The Dark Order
This has been a strong feud since the impressive debut of The Dark Order. The Best Friends are a team that I was already invested in but I do believe that The Dark Order will pick up a huge win and first-round bye here. I can see the Minions of the dark order aiding their owners to victory. Just keep tabs on Chucky T and his attitude change here, I expect to see some slow tension build between him & Trent as this is a stacked tag division and one team will split sooner rather than later.
Cody Rhodes vs. Shawn Spears (w/Tully Blanchard)
Now if you know me or follow our twitter @thirteen10app then you already know who I will be supporting…Clue?! He is a 10!
The build has been perfect, nothing short of perfect. Who will Cody bring with him to ringside? The obvious choices? Dustin? Brandi? or even MJF? None of those fit the bill in my opinion. Cody is a genius, I mean this is partly his company after all! So who would I fantasy book to join Cody at ringside? ARN ANDERSON!! That's right indeed, Arn Anderson will accompany Cody at Ringside. This Match is going to be full of passion, hard-hitting, slow, methodical maneuvers from both as they tussle for control but as chaos ensues, we will see Arn Anderson screw Cody as both Shawn & Tully look on, Shawn will then pick up Cody and hit his death valley driver style finisher for a huge win! This feud will not end here. Shawn Spears gets the win that he and his career to date deserve.
AAA World Tag Team Titles/Ladder Match: The Lucha Bros (c) vs. The Young Bucks
THIS.IS.GOING.TO.STEAL.THE.SHOW
These 2 teams, These Brothers have become so familiar with each other, not only in 2019 but throughout their careers. I fully expect a half-hour ladder war classic, perhaps the best of all time. Nick Jackson can do spectacular things from a ladder and this excites me. As for a winner, I am going to pick The Lucha Bros, I think they will do everything to regain the AAA tag straps. I really would have no idea how to fantasy book this other than a clean win with all 4 athletes standing tall to a standing ovation at the end of this. Please remember to catch your breath at some point people! This is going to be a wild ride!!
Kenny Omega vs. PAC
A late change here as Omega now prepares for PAC instead of Jon Moxley who has an unfortunate elbow injury. This is a dream match regardless of how it has come about, but its also hard to call. The recent promo from Omega talking about how Moxley is injured was fantastic and very welcome for a character who has gone fairly quiet in my opinion since his terrific 2018 in NJPW (this is due to lack of television time). But does Kenny beat PAC clean, does PAC beat Omega clean and continue Omega's frustration of getting close to the top of the ladder but seemingly falling at a close hurdle. A win for either will surely propel them to title contention. I think this is huge for Omega who will help introduce PAC to a fresh audience and Omega will pick up the win after several v-triggers & a one-winged angel.
AEW World Heavyweight Championship: Chris Jericho vs. Adam Page
Well, Well, Well, Here we are. The main event of AEW Allout is upon us and the first-ever AEW champion will be crowned. One year ago The Elite banded together and created All In. At the time many thought this would be a one-off, but no, not this band of brothers and now here we are a year later with Chris Jericho, one of the all-time greats of professional wrestling vs Hangman Page, a guy who has everything required to be at the top of the ladder for years and years. Has Jericho identified and handpicked Hangman Page for this position? Will Page be a worthy first-time champion or will he be better suited to the chase? Time will, of course, tell all.
Jericho with the Walls, Page breaks out. Page later hits the buckshot lariat, attempts a second but gets hit with the codebreaker for a close finish. Jericho eventually hits a bloodied Page with Judas Effect which he exhaustively with every last breath kicks out of but for Jericho to lock in the walls as hangman passes out and Chris Jericho becomes the first-ever AEW champion.
What a wild ride this will be. Hangman Page will have his day but heel champs with a name like Jericho will be great on the first AEW on TNT show with some fresh hungry challengers with Hangman Page at the top of that list…..for now anyway.
---
---
Thanks again for taking the time to read this preview, it means the world that you take the time out of your busy schedules to read another fans thoughts on upcoming shows but please remember to interact with me on the socials, let me know your thoughts on all the above and so much more.