King: 205 Live Highlights & Recap For 7/30/19
Tonight on 205 Live General Manager Drake Maverick and Mike Kanellis are looking to tear each other apart in the first-ever Unsanctioned Match on the purple brand!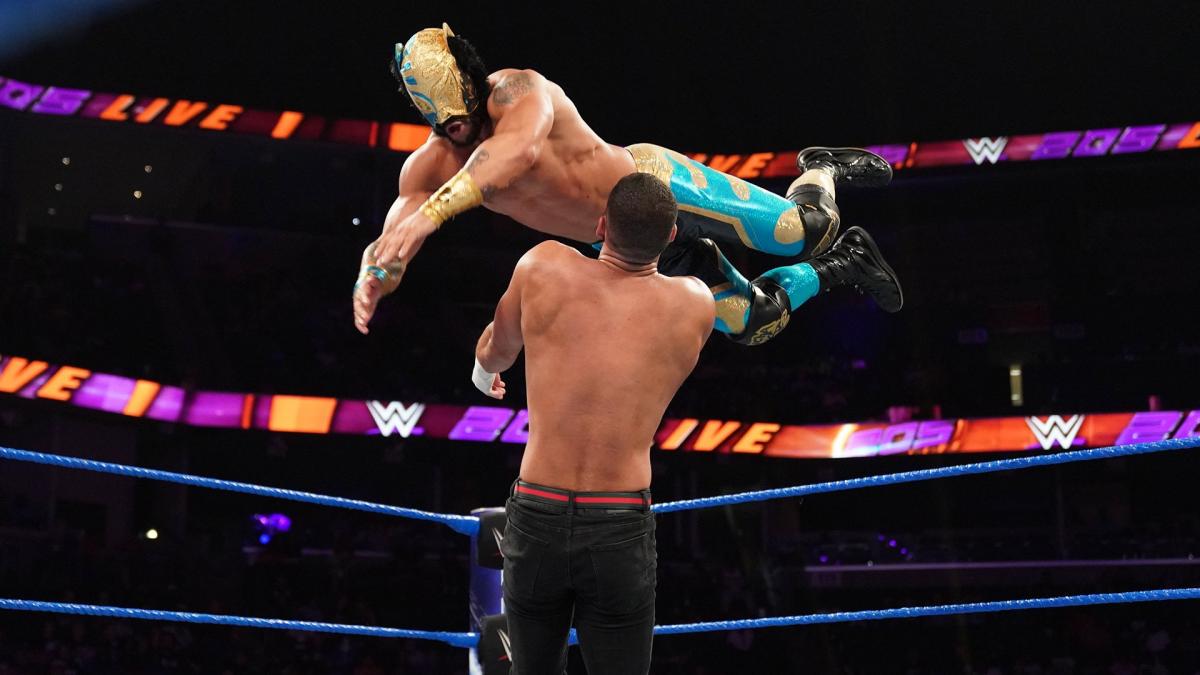 Tonight on 205 Live General Manager Drake Maverick and Mike Kanellis are looking to tear each other apart in the first-ever Unsanctioned Match on the purple brand!
We hear from the ruthless Cruiserweight Champion Drew Gulak on his plans for SummerSlam!
Chris's Grades:
The Brian Kendrick & Akira Tozawa VS. The Singh Brothers Tag Team Match:
The match was alright, nothing too exciting happened and the end result left room for this feud to continue. Maybe it was due to time constraints, but both of the singles matches prior to this was much longer and more thrilling.
Winners: The Brian Kendrick & Akira Tozawa, Grade–C+
Humberto Carrillo Vignette Segment:
Once again WWE's production team hits a home-run as this week Humberto Carrillo shares what his future entails on 205 Live. He's laser-focused on becoming Cruiserweight champion one day, and Carillo wants to go one-on-one with Drew Gulak.
Grade–A
Lucha House Party Lesson in Lucha Libre:
Kalisto shared why Lucha Libre is all about heart and paid respect to the young up-and-coming superstar Humberto Carrillo. Lince Dorado didn't appreciate that too much, and there seemed to be some tension between the Lucha House Party.
Grade–B
Lince Dorado VS. Ariya Daivari
The match was not as impressive as I had hoped it would be. While the Lucha high-flyer did hit some incredible moves, I felt like the match ended before the two could kick it into second gear, Daivari mocking Jerry King Lawler was amazing for cheap heat. The roll-up finish signaled that these two are far from over, and I genuinely hope that their second match will outshine this one.
Winner: Lince Dorado, Grade–B
The Cruiserweight Champion's Consensus:
Drew Gulak is chomping at the bit for a challenger to step up to him. Nobody has had the resolve to challenge him, but it doesn't really matter because all that awaits that said individual is pain and punishment!
Grade–B+
Mike Kanellis VS. Drake Maverick (Unsanctioned Match):
Wow, Just Wow! Right from the start, Mike dished out all of his anger and frustrations that had been stirring for a year. He beat the living hell out of his GM, Drake was his punching bag for the majority of the match. The GM getting a second wind at the end was awesome to see as well, he played the resilient babyface to perfection. I disagreed with the end result and it's still a head-scratcher to me.
What is the payoff for this feud and match? How does Mike finally get his Championship opportunity that he absolutely deserves? I think maybe we will see another match between the two at SummerSlam, one thing that I do know is Mike is not going to take Drake beating him lightly there is going to be another confrontation very very soon!
Winner: Drake Maverick, Grade–A
Highlights: 
The show opens tonight with an in-depth recap of how Mike Kanellis (in his mind) has been mistreated by the General Manager Drake Maverick, and how Maria's humiliation culminated into tonight's Unsanctioned match.
We go live as Vic Joseph, Nigel McGuinness, and Aiden English welcome us to Memphis, TN.
The first match of the evening is The Brian Kendrick and Akira Tozawa VS. The Singh Brothers. This mini-feud started after consecutive weeks of interference during one-on-one matches, first Kendrick came to Tozawa's aid and then vice versa the following week. Last week The Bollywood Boyz issued a challenge for a tag team match.
At the beginning of the contest, we saw Kendrick and Tozawa working like a well-oiled machine utilizing their high-octane offense. Then the Singhs took over and continued their development as a more aggressive duo. The turning point of the match was when Kendrick got the hot-tag from Tozawa and hit both Singhs with ferocious lariats. The finish came when Samir held Kendrick while Sunil attempted to blast him with the Boscar award, he inadvertently struck Samir in the grapefruits… Sliced Bread into a top-rope Senton from Tozawa!
VICTORY! #205Live @mrbriankendrick @TozawaAkira pic.twitter.com/LHWkf7K8aU

— WWE Network (@WWENetwork) July 31, 2019
Tonight is the most important and final trilogy of vignettes of the young up-and-coming Lucha Libre superstar Humberto Carrillo. He's laser-focused on one thing…Drew Gulak's Cruiserweight Championship!
.@humberto_wwe wants a chance at @DrewGulak and the #Cruiserweight Title! #205Live pic.twitter.com/wAQe65Wqcx

— WWE Network (@WWENetwork) July 31, 2019
Sarah Schrieber interviews The Lucha House Party about the importance of Lucha Libre. Kalisto says it's about the heart and brings up how last week Humberto Carrillo and Raul Mendoza and Kalisto and Gran Metalik tore the house down. That's Lucha. Kalisto says that Carillo is one of the best in the Cruiserweight division, but Lince Dorado has some other opinions on the matter and claims that they wear they're Lucha and Carillo just talks about it.
We return to ringside as The Persian Lion Ariya Daivari is making his entrance, followed by Lince Dorado. The bell rings and Dorado and Daivari tie-up into waistlocks followed by wristlocks. All-the-while Daivari is mocking the Lucha hand gestures. The action picked up as Dorado went for his signature handspring back elbow off the ropes, but The Persian Lion scurried outside. There were some beautiful maneuvers executed starting with a Springboard Moonsault off the apron, and a jaw-dropping Springboard Cross-body that wiped out Daivari!
GO Lince GO! #205Live @LuchadorLD @AriyaDaivariWWE pic.twitter.com/5hYd0IshqQ

— 205 Live (@WWE205Live) July 31, 2019
Dorado secured the victory when he performed a surprise tilt-o-whirl roll-up jackknife bridge!
The Cruiserweight Champion gives another threatening backstage promo in a dark room about his road to SummerSlam.  Gulak says he's going to pay very close attention to tonight's Unsanctioned match!
are.. you.. watching.. closely https://t.co/rn5o2gP0bS

— Drew Gulak (@DrewGulak) August 1, 2019
Drake Maverick comes out first for our main event, Mike Kanellis blasts him from behind and stomping him. Mike throws him into the LED board on the ramp. GM took a massive amount of punishment during our main event. As his bitter rival unloaded all of his anger stemming from missed opportunities, losing his wife Maria's respect, and feel disrespected by Maverick himself.
Here are some of the highlights.
This match was right up there with the Anything Goes Match a few weeks ago between Oney Lorcan and Ariya Daivari, and had the WWE Universe on the edge of their seats.
The GM found a second life from God knows where to make a heroic comeback at just the right time, and vanquished his disgruntled employee with a Spike Dudley Bulldog to gain the triumphant victory!
HE DID IT! @WWEMaverick went through hell and back, but the #205Live GM is VICTORIOUS over @RealMikeBennett! pic.twitter.com/IkyPeltZsH

— WWE (@WWE) July 31, 2019