King: Is Keith Lee Starting A Heel Turn?
Chris King breaks down why the "Limitless One" Keith Lee could be in the beginning stages of a monster heel turn.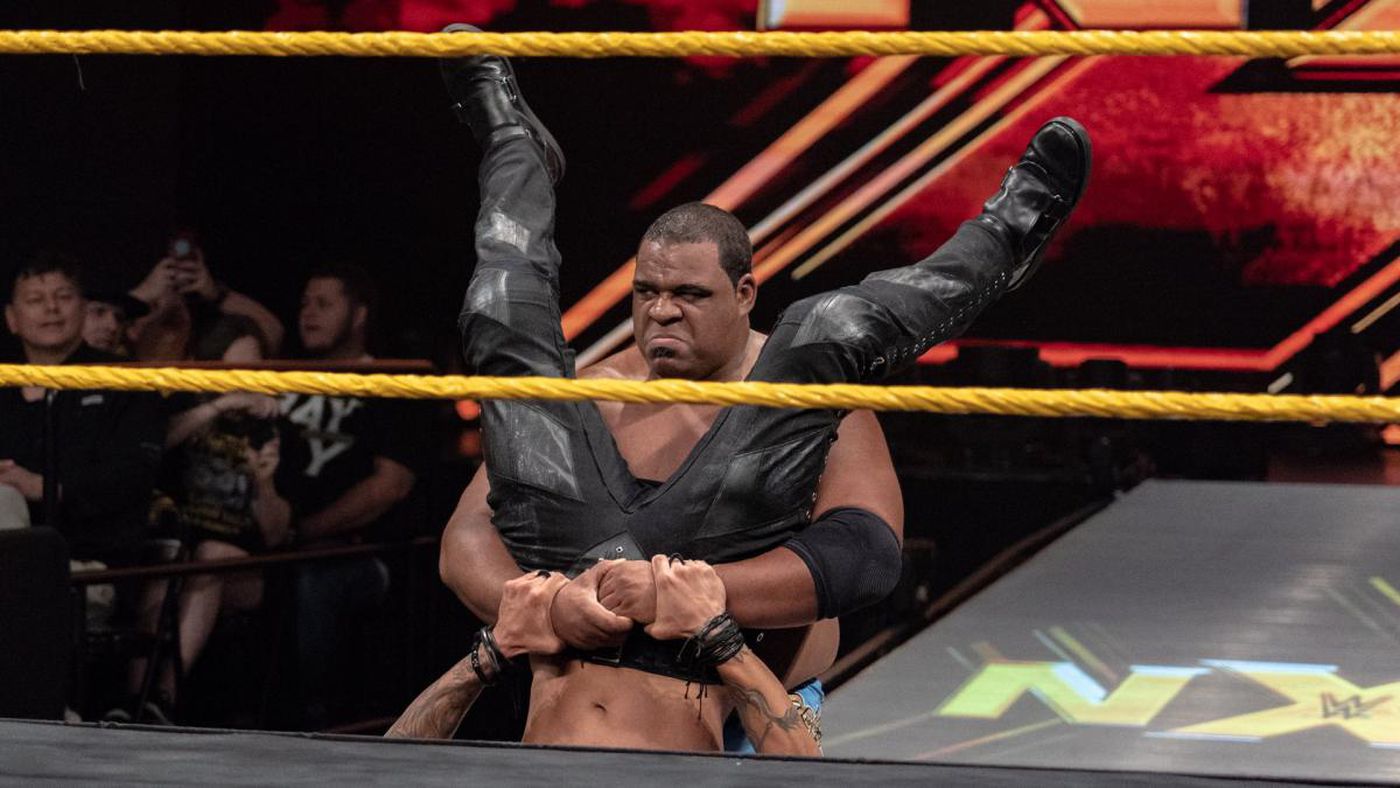 Chris King breaks down why the "Limitless One" Keith Lee could be in the beginning stages of a monster heel turn. 
In 2018 Keith Lee made his initial appearance in WWE during WrestleMania access, where he defended his World Wrestling Network Championship against NXT's "Knockout Artist" Kassius Ohno.
A few months later at NXT TakeOver: Chicago II Lee would be spotted in attendance, labeled as one of the newest additions to the black and gold brand.
On August 8th episode of NXT Lee made his official NXT debut, when he went one-on-one with another recent signee Marcel Barthel.
To say he impressed the always-electric Full Sail crowd would be criminal to what this 332 pounder is capable of. He executed maneuvers that nobody his size should be able to, such as leapfrogging over his opponent and delivering a jaw-dropping dropkick!
Over the next few months, Lee would disappear from live television but wrestling on house shows. On September 26th The Limitless One would cross paths, with the pretentious and arrogant Kona Reeves in a backstage segment. The two would have a match on October 10th episode of NXT, in which Lee was victorious.
A month later on November 21st Lee would reemerge from the shadows, to come to the aid of "The Freak" Lars Sullivan's victims. On the following week, Sullivan would give Lee his first loss on NXT television.
Fast Forward to February 27, 2019 episode of NXT, Lee would face one of NXT's newest freakish monsters  Dominik Dijakovic and if these two didn't disappoint. Utilizing all of his ridiculous agility, The Limitless One landed on his feet after a monkey flip. His opponent hoisted him up for a monstrous Chokeslam into a Powerbomb!
The match ended in a double count-out when Dijakovic executed a stunning Asai Moonsault off the apron, that wiped out both competitors and sent them crashing into the steel steps! It seemed as if these two behemoths were building up to The Limitless One's first real feud in NXT, unfortunately on March 6th WWE announced that Lee was injured so their plans were scrapped.
On April 18th The Limitless One made his triumphant return at an NXT live event in Lakeland, FL, where he teamed with the newest NXT signee Japanese sensation Kushida & Babatunde Aiyegbus in a six-man tag team bout against The Undisputed ERA
🚨BREAKING🚨@RealKeithLee is BACK #NXTLakeland pic.twitter.com/CQCtwhv5Nn

— Kyle (@FLWrestlingFan) April 19, 2019
On June 26th the NXT Universe was "basking in the glory of The Limitless One" when he obliterated Nykos Rikos and nearly pounced him out of the ring! Rest assured Lee wasn't done and hit the Limit Breaker for the dominant win.
On July 11th episode of NXT a frustrated Lee in a backstage interview proclaimed that 2018 didn't work out as he expected, and "Limitless isn't going to cut it anymore," and to be the main-event player that he envisions himself, he must become "infinite."
The following week WWE long-time interviewer Cathy Kelly caught up with The Infinite One early in the day, where he unloaded his dissatisfaction on NXT's Breakout Tournament and most importantly "Everyone seems to be talking about" The Archer of Infamy Damien Priest. He ended with "I need to show the world why it's me, and not Priest the world should be buzzing over!"
On July 24th episode of NXT in a Clash of the Titans Lee and Priest beat the hell out of each other in the main event. Maybe it was because of his past shortcomings or perhaps Lee is on the verge of snapping, but The Infinite One had an extra level of intensity and aggression.
When Priest executed a Tope Con Giro to the outside, Lee caught him in mid-air in a powerbomb position and the look of disdain was written all over his face. In the end, the wily newcomer pulled the official between them which, distracted Lee and allowed Priest to blast him with the Cyclone Kick and hit the Reckoning for the victory.
Stemming from his interview on his lack of success on the black and gold brand and this crushing loss, perhaps the big man will continue spiraling downward until he must turn to the dark side? Maybe Lee has realized that having the audience "bask in his glory" is no longer enough; and reminiscent to WWE Cruiserweight Champion Drew Gulak on 205 Live, The Infinite One needs to reinvent himself into a more sadistic and ruthless superstar to finally become NXT Champion!