Mathew's Stardom 5 Star GP Red Stars Results & Review: Day 2
Red Stars Day 2! Does Hana Kimura keep her early momentum going?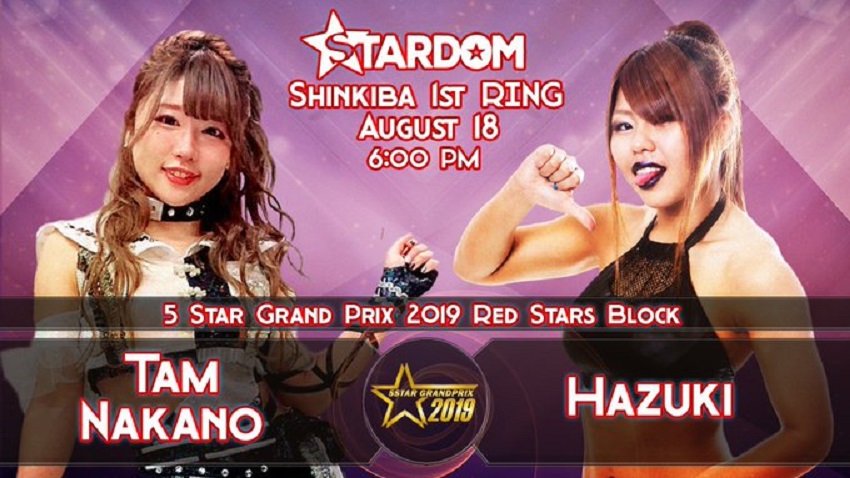 Red Stars Day 2! Does Hana Kimura keep her early momentum going?
Welcome back to Stardom's 5 Star Grand Prix as we now look at the second day of the tournament.
We got one making their debut in the tournament today and some others who are looking to either stay undefeated or avenge their first-day loss.
We had an average day one and let's see if this day will be any better as we…dive right in.
Star Rating System:
0 Stars: Dave Meltzer
1 Star: Vince Russo
2 Stars: Tony Schiavone
3 Stars: Eric Bischoff
4 Stars: Bruce Prichard
5 Stars: Jim Cornette
8/18/2019
5 Star Grand Prix Red Stars Block Match
Momo Watanabe vs. Avary
Review: Our first match to start it off for my block is Momo Watanabe taking on something who is making their Grand Prix debut. Avary. I'm not familiar with Avary but I know she's a wrestler from Australia and has been wrestling since 2016, so I'm curious to see how she'll fare against Stardom's ace. Momo lost the first day against Hazuki and is now looking to get a win here. Will Momo be able to get a victory or does she take two losses in a row to have herself in a bad start?
So, how did Avary do in her Grand Prix debut? Honestly, I thought she was rather impressive as she was chaining well, sold her moves right, was mostly crisp, and has a nice look on top of it off. Momo being her first opponent was the right call since she was able to use this chance to showcase some of her skills better to look forward to her future matches. Avary applies the Cattle Mutilation with a beautiful bridge as Momo would have her foot on the rope to break the hold. Avary had another advantage as she had Momo hanging on the ropes and hits her with a Double Stomp for a two count. Momo was able to hit a Penalty Kick to get her down and called for the Tequila Sunrise but Avary was struggling until Momo kicked her arm and hits the Peach Sunrise for the victory! Solid match and nice debut for Avary, hope to see more from her.
Now on https://t.co/q8dHnF58vW! It's night 2 of the 5★STAR GP 2019 and Momo Watanabe faces Avary! pic.twitter.com/jV8ZMSuYY1

— We Are Stardom (@we_are_stardom) August 21, 2019
Rating: Eric Bischoff
5 Star Grand Prix Red Stars Block Match
Natsu Sumire vs. Hana Kimura
Review: Our next match is Natsu Sumire taking on Hana Kimura. These two are no strangers to each other as Hana used to be apart of Oedo Tai and Sumire could use this time to get a little bit of revenge for betraying the unit. Natsu Sumire lost to AZM on the first show, so a win here could give her that boost and Hana could go undefeated since she defeated Tam Nakano and could get another win. Will Hana be undefeated or does Natsu ruin that?
Sumire didn't have time to do her entrance as she just bolted into the ring to kick Hana off the top ropes and began to attack her before the bell even rung, you can tell that she is pretty pissed off here. To me, this was a much better improvement for Sumire since she was able to have a much better match here and it does look like she's going into serious mode throughout the whole tournament, but we'll see how long she keeps that part up. This match was a lot more physical than I anticipated it to be and man, Hana threw some very heavy forearms around the middle of the match here while holding her head still but that was what made it exciting because you could just feel the tension between the two and they sold it the right way, by kicking the crap out of each other. Hana was able to generate heat from the crowd when it looked like she was about to hit Sumire with a forearm but would spit in her face instead as the crowd booed her for it, love it. Sumire had Hana in the Dragon Sleeper and it looks like she could be out for the count as she wasn't responding, so Sumire went for the pin but Hana would barely kick out! Sumire would get her up for the DDT but Hana would reverse it to apply the Hydrangea and Sumire taps out, leaving Hana undefeated!
Rating: Eric Bischoff and a quarter
5 Star Grand Prix Red Stars Block Match
Mayu Iwatani vs. AZM
Review: Our next match-up is AZM taking on Stardom's Icon, Mayu Iwatani. AZM was able to get her first win in her Grand Prix debut when she was able to defeat that grandma face, Natsu Sumire. Mayu, however, she didn't have good luck as she lost in her first match against Saki Kashima and looks to get a win back on the board if she wants to win back-to-back with the tournament. Will AZM take care of another 'grandma' or will Mayu put the child in her place?
Mayu doing two back to back fast-paced matches here with everything going on and of course, she delivers again with AZM. Much like Sumire's performance today, AZM did just as well here when she fought Mayu and was even able to keep up with Stardom's Icon in this match but then again, AZM is a rising star in the making when she gets older. While they didn't do too much in the match, it was still enough to make you wanna be interested in it and is still very satisfying with the time length they gave us as well. AZM hits a beautiful La Mistica this time around as she applied it tightly onto Mayu to try and get her to tap out but Mayu's foot was on the rope, so she had to break the hold. AZM quickly goes to the top rope to hit a Double Stomp and then a Suplex for a two count. This is where it gets a little crazy at the end since it's the both of them rolling each other up with flash pins to see who is going to get the other and nothing but reversals, and it's beautiful. AZM almost had her a couple of times but Mayu was able to reverse one more and held her legs down tight to get her first win of the tournament! Very fun, plenty of reversals, satisfying five minutes!
Now on https://t.co/q8dHnF58vW! Mayu Iwatani takes on AZM in Red Stars action! It's the 5★STAR GP 2019! pic.twitter.com/4CooKzZ4MR

— We Are Stardom (@we_are_stardom) August 22, 2019
Rating: Eric Bischoff and a half
5 Star Grand Prix Red Stars Block Match
Hazuki vs. Tam Nakano
Review: Our final match for my blocks on this show is Hazuki taking on Tam Nakano. Hazuki was able to get a win by defeating Momo Watanabe while Tam suffered a loss to Hana Kimura. If Hazuki could get a win here, she'll be tied with Hana for first place but if she were to lose, she'd be tied with the majority of the block except for Avary and Natsu Sumire. Will Hazuki be undefeated or does Tam pull an upset?
soon as that bell would ring, Hazuki attempted the Hazukistral and Tam quickly kicked out of it and it looks like Hazuki is hitting her big moves right away as she hits the Codebreaker right after that to get Tam down on the mat. Much like Tam's last match, her opponent got most of the offense to create heat and that is what Hazuki does here despite being one of the crowd favorites, but Tam still got some support and had an earlier comeback. Tam was almost able to apply an Armbar after catching her to flip her over impressively but Hazuki wouldn't let her get it all the way in and attempts the Hazukistral one more time as Tam shifted her weight to roll her up as Hazuki barely kicked out! The match is getting more interesting as time moves on as Hazuki would have Tam's legs up as if she was going for the Shattered Dreams and hits a Codebreaker in that position but Tam still kicked out of it. Hazuki was calling for the finish as she lifted Tam up but Tam fought out of it to roll her around for a Spinning Back Kick to take Hazuki down to the mat and Tam capitalizes on this opportunity by hitting the Tiger Suplex with a bridge to pin her and Tam gets her first win in the tournament! Damn solid match by both of these two women here and my only complaint is that it could've used another minute or two to elevate it more and bring it home better, but I am still very much satisfied with the match and the outcome.
Rating: Eric Bischoff and three quarters
Overall: None of these four matches on my block were bad at all and I'm very happy to have that outcome. It's a shame one of them is still gonna be on my least favorite despite being good, but rules are rules. Much better night compared to day 1 and I hope the quality improves from here on out to make it much more exciting. Our next show is a doubleheader as they'll be doing a noon and night show for Sunday and we'll cover both as our next part soon as they're all uploaded!
Favorite Match: Hazuki vs. Tam Nakano
Least Favorite Match: Momo Watanabe vs. Avary
Score: 7.5/10
Red Stars Standing:
Hana Kimura (2-0) (4 Points)
Hazuki: (1-1) (2 Points)
Saki Kashima: (1-0) (2 Points)
AZM (1-1) (2 Points)
Mayu Iwatani (1-1) (2 Points)
Momo Watanabe (1-1) (2 Points)
Tam Nakano (1-1) (2 Points)
Natsu Sumire (0-2) (0 Points)
Avary (0-1) (0 Points)