While NOAH was a little quiet, many NOAH names took part in the Atsushi Aoki Memorial Show. Hisame breaks down the news and some history between the names on the special show!
CURRENT TOUR RECAP
With the N-1 starting on August 18th in Nagoya and a pre-show on the 16th to build the mood, NOAH have been very quiet since tour finished on the 4th August at Korakuen Hall. I think a lot of people have taken advantage of the long break to go on a summer vacation (RATELS, excluding Daisuke Harada who was in Oita doing promotion, went to their summer "training camp" at Dove Pro, which means they get drunk, have a barbecue, and HAYATA was photographed playing ping-pong with a drunk Tadasuke as the referee).
However, Naomichi Marufuji, Masao Inoue, Shuhei Taniguchi, Takashi Sugiura and Hitoshi Kumano attended the Atsushi Aoki memorial event on the 11th.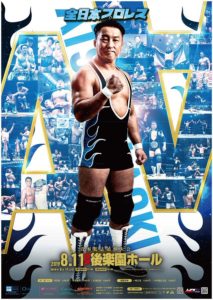 Atsushi Aoki, (a NOAH born, who was part of the walk out to All Japan), was tragically killed in a motorcycle accident in July.
A member of the JSDF (Japanese Self Defense Force, as had been Taniguchi and Sugiura), Aoki entered NOAH in 2005 following an introduction to Marufuji, and then a successful application, and graduated from the dojo. He held the GHC Junior Heavyweight tag twice with Marufuji, and once with Kotaro Suzuki.
Out of the five NOAH wrestlers who went to All Japan today, three of them were part of the walk out to NOAH , and the other two are NOAH born. For Taniguchi and Kumano, this was their first appearance in All Japan, the promotion which NOAH came from.
There were a couple of other NOAH born wrestlers on the show, Ippei Ota (after a long absence from a major promotion, although he does work some indies) who suffered a nervous breakdown after Misawa died, and Genba Hirayagani (retired in 2016, although he does still remain friendly with the NOAH roster who he sometimes comes to visit backstage at shows).There was another wrestler too from NOAH, and most surprisingly of all too, it was Makoto Hashi (former NOAH wrestler who had been Marufuji's dojo roommate in All Japan), who came out to second his teacher, Jun Akiyama.
Masao Inoue kept the bumbling to a minimum, and worked a semi serious match. I say "semi serious" as there was no falling off the turnbuckles or any of his usual antics, but he did get booed by the crowd for eye raking Masanobu Fuchi (an All Japan vet, and one of his seniors, coming from the Giant Baba\Jumbo Tsuruta generation).
Jun Akiyama and Takashi Sugiura destroyed Hitoshi Kumano & Naoya Nomura.
Kumano's fight with Akiyama was very impressive as Akiyama totaled him several times (including the time that Kumano broke the rope hold by patting Akiyama on his bald head), but Kumano kicked out. In the end, Akiyama slid down his knee pad, hitched his pants up, and then struck him on the chin with a running knee. Hitoshi Kumano said afterwards that he had learned a lot from being in the ring with Akiyama. The fans though, want to see a singles match.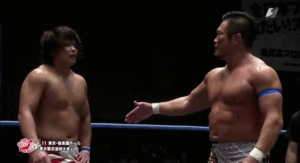 After the match, Sugiura offered his hand to Nomura, but he smacked it away and stormed off.
Sugiura, used to such behavior from the young in his own promotion, simply laughed.
Naomichi Marufuji teamed with rival Kento Miyahara and Yuma Aoyagi, against Shuhei Taniguchi, Shuji Ishikawa and Suwama.
The Marufuji-Miyahara was very funny, with Marufuji appearing slightly sulky that Miyahara was the ace and was getting all the attention that he himself usually receives (not to mention the fact that Marufuji is from All Japan, and Miyahara came from Kensuke Office\Diamond Ring), so the two had somewhat of a similar (you know childish, petty, but highly entertaining) rivalry that Marufuji had with Daisuke Harada; with shock sudden stiff tags, sulks and showboating (not to mention at the end of the match, Marufuji treading on his foot, and when they went to shake hands them both pulling back and smoothing down their hair at the last moment).
At the end of the match, Marufuji went to shake hands with his opponents, but utterly cut Taniguchi dead, only returning later to square up to him. As mentioned above, the N-1 starts on the 18th, but before that they have to team together on the 16th.
Taniguchi is not going to forget this.
After the main event, the participants got into the ring and got together for the memorial service to Atsushi Aoki, where a video package was shown of various points in his career, ending with a picture of him with the All Japan Junior Heavyweight belt, the belt he was the champion of when he died.
You could see how moved the roster were after this, especially Jun Akiyama and Shuhei Taniguchi, who were weeping openly, and wiping their faces. The traditional bell sounded, and the fans threw blue streamers in the ring when Aoki was announced.
Jun Akiyama stated afterwards that he hoped Aoki had enjoyed the show, and that he would live on in the hearts of All Japan. I don't think NOAH will ever forget him either, but it must be said, Aoki spent far longer in All Japan that he did NOAH, but nothing will ever change the fact that he is and was a NOAH born wrestler.
NEWS
TAKESHI RIKIO
While doing event promotion, Kaito Kiyomiya called in on Takeshi Rikio and an interview was conducted between the current GHC Heavyweight champion, and a former one which will be published on the NOAH website at a later date. NOAH later announced that Rikio will make an ultra rare appearance at a NOAH show (he was at "Flight" last September, but never appeared on camera), to announce the opening of the semi final night. Rikio did serve for a while as the GHC commissioner, so this will be a return to both the old ways, and could be the start of a tradition for the N-1.
CURRENT CHAMPIONS
THIS WEEK IN NOAH
Wednesday 14th August: Kaito Kiyomiya will be the special (and final) guest at MEGARAGE
Friday 16th August: NOAH The Spirit, Saitama (event begins at 18:30 JST)
Saturday 17th August: N-1 Conference will be broadcast live on NOAH's official YouTube at 1pm JST
Sunday 18th August: N-1 opening night (event begins at 5pm JST)
BROADCASTS
The opening of the N-1 Victory (August 18th) will be broadcast on Samurai on Sunday August 25th at 10pm JST
NOAH's big show in Osaka at the Edion 1st Arena (16th September) will be broadcast on Monday September 23rd on G+ at 4pm JST
LINKS
Post match interviews ~ 19th Anniversary show (3rd August 2019, Korakuen Hall, Tokyo)
Keiji Mutoh joins the 16th September Noah Osaka event, participation for the first time in two and a half years
Akitoshi Saito & Masao Inoue, failing to take the tag titles, and the popularity of the venue
Marufuji's "N-1 Victory", promise of a win, and the discovery of "100 Drawers"
"Come at me you bastards" ~ Kenoh's column
"It will be an exciting match", September in Osaka, and the first tag of Kaito Kiyomiya and Keiji Mutoh
Picture credit: All Japan