(NOAH) WEEKLY NEWSLETTER VOL.49 ~ 25TH AUGUST 2019
We begin some focus on the N-1 Victory! NOAH's round robin number 1 contender tournament! Hisame fills us in on the happenings.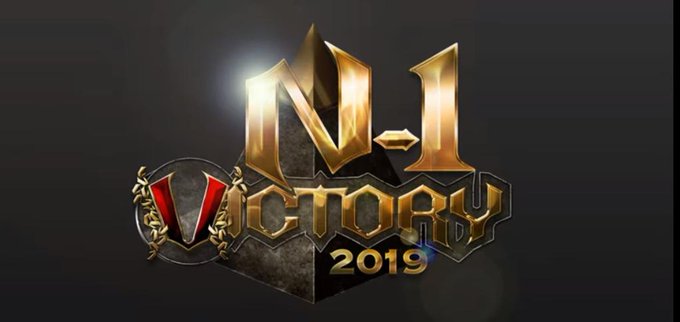 We begin some focus on the N-1 Victory! NOAH's round robin number 1 contender tournament! Hisame fills us in on the happenings.

N-1 VICTORY RECAP (PART 1)

The Tournament
NOAH opened the new tournament on the 18th August in Nagoya. As per tradition the roster came to the ring and lined up in two rows according to blocks.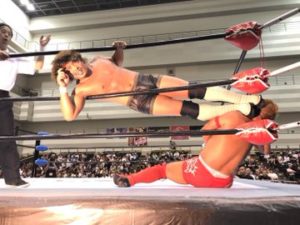 Katsuhiko Nakajima and Masaaki Mochizuki were the first ever people to have a N-1 VICTORY match, and the win went to Nakajima after 17 minutes and 22 seconds by (how else) TKO, when he managed to get to his feet before Mochizuki did.
Go Shiozaki faced Alex Hammerstone (who made his debut in NOAH). Hammerstone treated him as if weighed nothing more than a sack of sugar. It was a brutal match with fans commenting of the force behind Hammerstone's strikes. Hammerstone came away the victor and won his first N-1 League (and NOAH) match.
Shuhei Taniguchi faced Kenoh in Fukuoka, and was taken down by kicks to the legs. Kenoh might have been fractionally smaller than Taniguchi (although it looks much more), and Taniguchi certainly outweighed him, but Kenoh's stubborn spirit won the day as he refused to give into either of these things, or the Wyvern Clutch, which has seen bigger heavier wrestlers tap.
Taniguchi and Katsuhiko Nakajima had their long awaited N-1 match in Takamatsu on the 24th August, which went to a time limit draw.
Takashi Sugiura and Masa Kitamiya had their first N-1 VICTORY match in Fukuoka. Naturally the two of them beat the hell out of each other, but it ended with Takashi Sugiura getting the victory with that most feared of moves, the front choke hold. I think it speaks volumes for this match that Sugiura got on the mic and said that "the league started in Osaka…". He later apologized on Twitter saying that he was dazed after the match.
El Hijo de Dr Wagner Junior made his N-1 VICTORY debut facing Masaaki Mochizuki in Oita. However, he failed to get the win. Mochizuki reflected on the time he fought Wagner's father in his post match promo afterwards. Outside of N-1, he seems to have been adopted into The Sugiura Army (although NOAH are denying that he is a member). He also got the win over Katsuhiko Nakajima via a moonsault in Kumamoto (Nakajima shook his hand and sarcastically welcomed him to the city). Wagner however lost his next match to Shuhei Taniguchi when he tapped to the Wyvern Clutch in Osaka.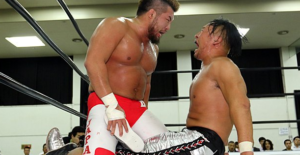 Naomichi Marufuji had his first N-1 VICTORY match in Oita facing Masa Kitamiya. Both Kitamiya and Marufuji possess devastating submission moves, so either those had to win the match (both were however too stubborn to tap out), or they had to either pin or knock each other out. In the end Marufuji fell to Kitamiya's Saito Suplex. Marufuji's woes continued when he fell to local boy Go Shiozaki in Kumamoto. This match has been called one of the best between them. This was Shiozaki's second ever singles victory over Marufuji.
The long awaited N-1 match between Alex Hammerstone and Takashi Sugiura, took place in Osaka on the 25th August. I am afraid I don't have too much information on the match, but it must have been pretty brutal when you consider the state of them judging by the pictures of their lying in the ring afterwards. The match was won by Takashi Sugiura via referee stop using the dreaded front neck lock choke.
Elsewhere in NOAH
STINGER and RATELS faced off each night of tour, but the focus was not on the issues between Daisuke Harada and Atsushi Kotoge, but rather the looming title match between Daisuke Harada and Chris Ridgeway, which was to take place in Osaka on the 25th August. In Nagoya, Atsushi Kotoge announced STINGER'S ambition to have every belt.
The GHC Junior Tag Champions (Yoshinari Ogawa & Kotaro Suzuki) defended the belts against Minoru Tanaka and Hi69 in Nagoya, and retained them. Afterwards, Ogawa said that it would be interesting to defend them against Chris Ridgeway and Atsushi Kotoge if there were no new challengers.
The issues between Ridgeway and Harada really got going in Fukoka, when Ridgeway got Harada in an ankle lock, which led to a match stop as Harada passed out. To rub salt in, Ridgeway had the IPW Junior Heavyweight placed over his shoulder as he did it (probably by Ogawa or Suzuki). After the match, RATELS removed Harada's boot and applied ice, Ridgeway came a long and smiled as he stood on Harada's ankle.
He had come up with another way to torture Harada, and in Fukoka he took off Harada's boot, and did just that.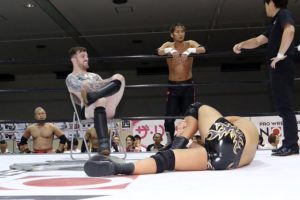 In Kumamoto the match between STINGER & RATELS was stopped, when Ridgeway attacked Harada with a chair (he then sat on it and grinned). The match was then restarted, but it ended with Tadasuke and Kotoge getting counted out during a mass brawl. Ridgeway again tortured Harada's bare foot, and was pictured posing (and grinning) holding the IPW Junior Heavyweight belt, and the boot he had "stolen" from Harada. In Takamatsu, the match was restarted twice because of Ridgeway wielding a chair, after the first time which had been a count out due to another mass brawl.
These matches between STINGER & RATELS were said to be so fast paced, that fans found it hard to take pictures. That goes for everyone in both teams, even the fifty something Yoshinari Ogawa. On the final night before the the title match, Harada got his revenge on Ridgeway, by attacking him while he was pinned under the chair.
By Osaka, and with Harada and Ridgeway out of the way, leaving just Ogawa, Suzuki and Kotoge to face Tadasuke, YO-HEY & HAYATA, more attention now could be given to building the upcoming GHC Junior Heavyweight title match between YO-HEY and HAYATA. After the match, YO-HEY took the belt, and put it on his shoulder, when HAYATA objected, he gave him back to him somewhat sarcastically, bowing and using two hands, in the manner of a retainer handing a sacred garment to his lord.
Ridgeway and Harada faced off for the IPW Junior Heavyweight title in Osaka (the traditional home of RATELS, although only one of them is native to the city) on the 25th. Ridgeway had gotten under Harada's skin so much, that Harada cut an angry promo using mainly Osaka dialect (which he uses when he is angry, when he gets even angrier he starts throwing things).
In the match he lost both his boots, and Ridgeway even took the taping off of his instep to torture his feet. However, Harada retained the title.
Getting on the microphone after the match, Harada asked "Who is next?"
Well. Aside from Kinya Okada (too inexperienced at the moment to challenge for titles), there is one other native Osaka boy on the roster, and so the audience called for Atsushi Kotoge. So Kotoge came to the ring, and challenged for the belt. Harada told him he would humiliate him.
Match has been set for Osaka on the 16th September.
Kaito Kiyomiya seems to be developing the evil part of his personality a little more, by basically saying in an interview after the match in Nagoya (which saw him team with Shuhei Taniguchi, Hitoshi Kumano and the Return of The Dark Agents against Naomichi Marufuji, 50 Funky Powers, and YO-HEY & HAYATA), he said it gave him stimulus to be surrounded by enemies. He also looked somewhat smug as he seemed to be enjoying watching them fight. A picture had been taken in the ring, which also was used as the front cover in "Weekly Pro" of his holding up the belt to Taniguchi and Marufuji.
Just because the N-1 is happening, it didn't mean that Kongoh and The Sugiura Army were going to put their differences aside. In Fukuoka, Kenoh tagged with Yoshiki Inamura (for the first time) against Takashi Sugiura and and Kinya Okada. Despite winning the match, Kenoh stormed off when Sugiura made some "Company Dog" jibes at him, not even staying to have his arm raised with Inamura.
Masao Inoue bought some light to the fatigue everyone was feeling by Takamatsu, when the team of himself and 50 Funky Powers took on fellow Dark Agent, Akitoshi Saito and AXIZ. Naturally the "old man with gout" as Takashi Sugiura called him, got the brunt of things in each match (even from his tag partner), he was kicked in the face, dogeared, and got the dreaded AXIZ kick\chop sandwich. In Nagoya, he shrieked when Marufuji went to chop him, so Marufuji clamped his hand over his mouth.
Junta Miyawaki chalked up another win (albeit over rookie Kinya Okada) in his hometown of Takamatsu. He was delighted to get the win in his hometown, and recalled how he had made his pre-debut there, and then when he came back next, had been destroyed by heavyweights. His next ambition was to defeat one of his seniors, which was his theme for Sumo Hall. There also seems to be a small rivalry growing between Okada and Miyawaki.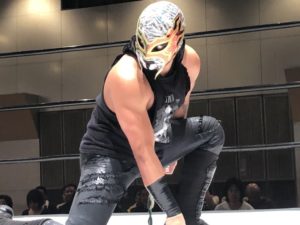 Sadly, Sonico has been sidelined for a few days with an ankle injury sustained in Kumamoto. He said that he would recover with ice, rest and watching the best wrestlers in the world.
EVENT RECAPS AND POST MATCH PROMOS
Nagoya (18th August 2019) ~ Post match interviews
Fukuoka (20th August 2019) ~ Post match interviews
Oita (21st August 2019) ~ Post match interviews
Kumamoto (23rd August 2019) ~ Post match interviews
Takamatsu (24th August 2019) ~ Post match interviews
Osaka (25th August 2019)
NEWS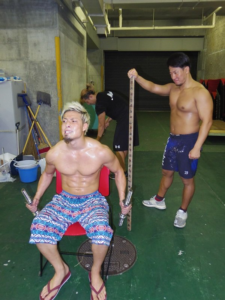 BEACH BODY WITH "DEMON TRAINER" DAISUKE HARADA
Daisuke Harada (with the help of YO-HEY & HAYATA) will give readers of "Weekly Pro" a serial in trying to achieve that perfect body for the beach.

THIS WEEK IN NOAH
Monday August 26th: NOAH wrestlers will be competing in TAKAYAMANIA EMPIRE VOL.2
Tuesday August 27th: Chris Ridgeway appears on Satoko's Room
Thursday August 29th: N-1 VICTORY (Korakuen Hall, 18:30 bell)
CURRENT CHAMPIONS
BROADCASTS
Monday, September 9th: Korakuen Hall, Tokyo  ~ Sunday 15th September, Samurai TV
Monday, September 16th: Osaka Edion Arena 1st Stadium ~ Monday 23rd September, G+
LINKS
Noah's inevitable league battle opens! What does the non-participating champion Kiyomiya show?
Kaito Kiyomiya vs Daily Junior Reporters
Dates: Noah Starting Over 2019
Picture credits: Noah GHC, Weekly Pro, PKDX