#SDTaped: Greg DeMarco's 8/20/19 WWE Smackdown Review & Ratings
Welcome to another edition of #SDTaped, where I watch WWE Smackdown on a delay! Let's see how long it takes me to watch the 8/20/19 edition.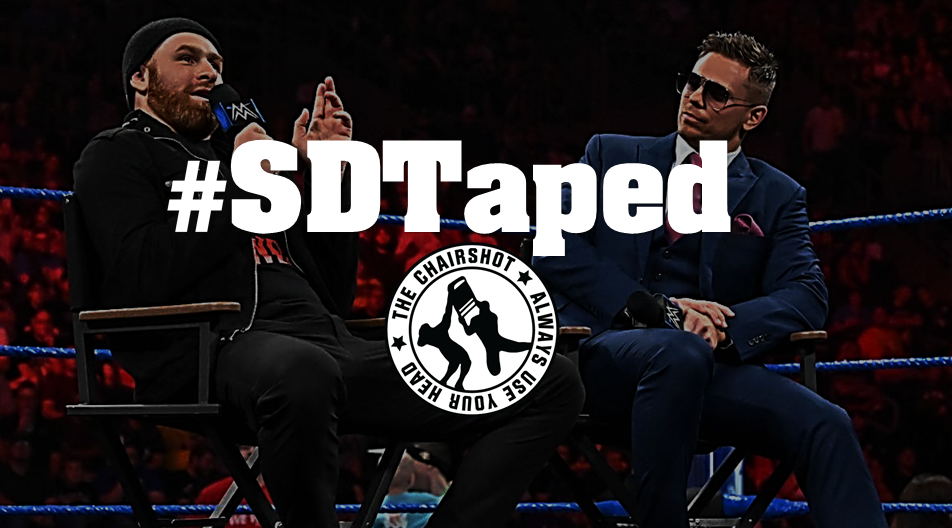 Welcome to another edition of #SDTaped, where I watch WWE Smackdown on a delay! Let's see how long it takes me to watch the 8/20/19 edition.
#SmackdownTaped is back, and I am excited about another chance to watch on delay and see how much time we save!
Time Stamp: 00:00, Stopwatch: 00:00
Randy Orton opens Smackdown!
FAST FORWARD the opening talking and entrance.
Randy Orton is proud of himself.
And apparently Kofi Kingston is stupid.
RKO callout is interrupted as Kofi Kingston (the babyface) attacks Randy Orton (the heel) from behind.
Kofi is motivated and serious, but still has no pecs.
The Revival are out in full red and yellow to break this up, and Kofi attacks them as well.
FAST FORWARD commercials, recaps, Shane McMahon, Kevin Owens, and more.
Time Stamp 19:25, Stopwatch 6:24
King Of The Ring First Round – Andrade vs. Apollo Crews
Not gonna lie, I watched a portion of their entrance just for Zelina Vega.
FAST FORWARD the commercials
Commentary (hey David Otunga!) is doing a great job putting both guys over.
The crowd gets WAY into this match, a credit to Apollo as they were all over his offense.
Andrade with the Back Elbow–and I love whenever someone in WWE uses Chris Jericho's finisher as a transitional move.
Andrade pinned Apollo Crews to advance in the King Of The Ring Tournament – ***3/4
FAST FORWARD the commercials and recap!
Timestamp: 36:58 Stopwatch: 14:07
A Moment Of Bliss with Alexa Bliss, Nikki Cross, and Charlotte Flair
I don't FAST FORWARD anything Alexa Bliss.
Alexa welcomes "the less fortunate," like Charlotte Flair.
Can we talk about the top Alexa is wearing for a second? No? Okay.
Alexa is fantastic. Really underrated performer on the microphone.
Charlotte calling Alexa "Lexi" was interesting, and this interview as a whole seems "off" from Charlotte.
Like really off.
I don't want to speculate.
Why is Bayley in her wrestling gear?
Bayley (the babyface) pushes Charlotte (the heel) off of the chair. Yep.
It was a hell of a bump.
Buddy Murphy and Roman Reigns backstage?
I thought it would be mutual respect.
It wasn't.
FAST FORWARD the entrances and commercials.
Timestamp 50:05, Stopwatch  22:31
Daniel Bryan vs. Buddy Murphy
According to Daniel Bryan, Buddy Murphy is a cowardly lion.
FAST FORWARD some of the promo
Daniel Bryan gets it–he's biting Buddy Murphy!
Intersting pairing here as you hav ea main eventer in Bryan and a King Of The Ring competitor in Big Match Buddy.
FAST FORWARD the mid-match commercials (2 for 2 tonight)
Great job by Big Match Buddy in selling the arm while executing his own offense.
Tom Phillips with the RINGS OF SATURN call!
Buddy breaks the LeBell Lock–another sign of how they feel about Buddy.
That was a great submission sequence.
The fans getting Buddy here. That's a great thing to see (and hear).
I love the Top Rope Belly To Back Suplex (even though Buddy's head boounced off the mat)
Daniel Bryan tried to exact too much punishment on Big Match Buddy, and Main Event Murphy made him pay for it.
Buddy is so fluid in the ring, and this is shaping up as a great match.
Knee Strike and Murphy's Law does it!
Buddy Murphy pins Daniel Bryan – ****
FAST FORWARD the commercials and promos, but stop to watch Kayla Braxton. Buddy takes a beating backstage from Erick Rowan and Daniel Bryan.
The Revival vs. Heavy Machinery
SAY YEAH! You do not FAST FORWARD The Revival's entrance.
But I do FAST FORWARD the promo.
My God The Revival better not lose to Otis & Tucker…
FAST FORWARD their entrance.
FAST FORWARD the commercials (3 for 3)
Top Rope Bulldog from Dash to Tucker–The Revival is so damned good.
#FTRKO is a great name for this crew. Love The Revival being aligned with Randy Orton.
BIG POP for Otis getting the hot tag. Heavy Machinery is over, friends!
Beautiful rollup to win!
The Revival beats Heavy Machinery when Dash Wilder pins Tucker – ***1/4
Timestamp: 1:29:28 Stopwatch: 39:14
MizTV with The Miz and special guest Sami Zayn
Sami is so much fun in an interview setting. I know his Electric Chair segment sucked, but he'd be perfect for an interview segment on Raw.
This is our second wrestler hosted segment of the show, first being A Moment Of Bliss.
Sami wouldn't need guests for his segment. It's damn entertaining.
Sami saying Shinsuke Nakamura needs his help is all kinds of interesting.
Sami Zayn serving as Shinsuke Nakamura's mouthpiece (advocate?) is crazy enough to work.
Shinsuke vs The Miz is a program I can get behind–y'all tend to underrate Miz.
Sami is pulling the strings, and I love it. Well done.
FAST FORWARD the commercials and promos.
King Of The Ring Quarterfinal Match – Elias vs. Kevin Owens
Rare appearance made by Elias' entrance music and TitanTron.
Kevin Owens remains crazy over.
David Otunga selling Elias as a King like Elvis and that not being sold by commentary is a big difference between wrestling now and wrestling 25+ years ago.
Aaaaaaaaaaaaaaaaaaand here's Shane.
Time to screw KO.
FAST FORWARD the commercials.
If KO loses tonight, Andrade is basically guaranteed a spot in the finals. Maybe Ali, but Andrade seems to be the safe bet.
Shane McMahon gets involved after all, and he has a ref shirt on now.
FAST COUNT and we hear Elias' music again.
Elias pinned Kevin Owens with a roll-up and Shane McMahon fast count to advance – **1/2
Daniel Bryan Reveals Roman Reigns' Attacker
The attacker is apparently an Erick Rowan clone.
Well, it's Rowan from the future, 20 years later.
Roman, along with all of us, looks on in bewilderment.
Timestamp: 2:00:15 Stopwatch: 53:39
Summary
Best match of the night: Big Match Buddy Murphy vs. Daniel Bryan (****)
Time saved: 1:16:36
Overall Rating: 7/10
Much like Raw, this was a good show that seemed like a placeholder in many ways. Couple that with the odd revelation that an Erick Rowan 2039 is "plotting the attacks" on Roman Reigns, and this almost felt like an edition of Nitro!