WWE 24/7 Championship Report SPECIAL EDITION!
There's two sides to every song.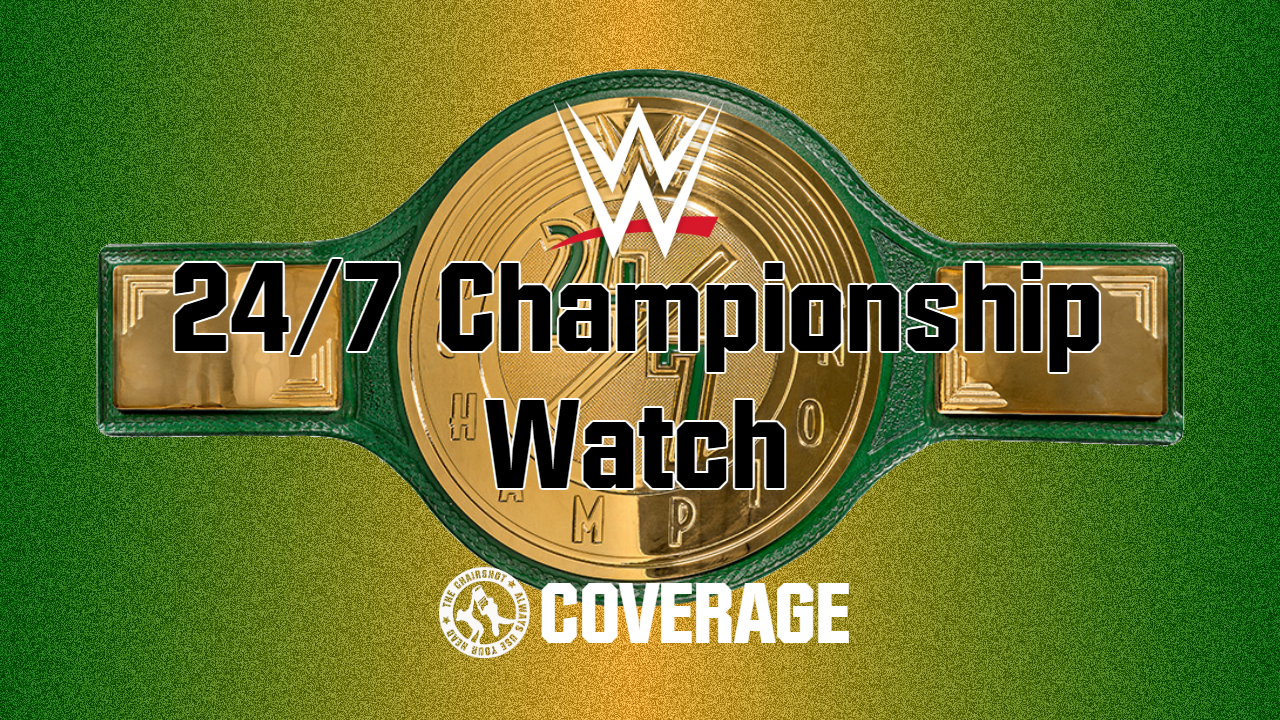 Ladies and Gentleman, Rockstar Spud.
We saw Elias' side of this WWE Behind the Music, but now we get Drake Maverick's! What went down the day The Drifter beat the crap out of Maverick?
OFFICIAL RESULTS
WWE 24/7 Championship: Elias VS Drake Maverick; Elias wins and retains the WWE 24/7 Championship.
PLAY BY PLAY
Drake Maverick is so excited!
He's so excited, he's not even worried about Elias trying to get into his wife's DM's, and gave away his location! Camera Man Matt is getting all of this as they pull into Full Sail! He has a disguise, he'll win that title, and the Mavericks will finally consummate the marriage! Matt hands Maverick his disguise, and Renee will keep watch as he changes, in public. At least give her the car keys! She shuts the engine off to save energy while Maverick strips and redresses. He could've done that in the car… He needs the T-Shirt, so she hands him it. What is with the 80's glam wig? Drake transforms into Rockstar Spud and hands Renee his essentials.
Camera Man Matt follows Maverick into the studio. But the official isn't disguised! Maverick knows this needs to be official, but c'mon! At least try a Jimi Hendrix costume! "I know you're wearing stripes like a zebra but you're acting like a total jackass! You're making me look stupid." But the plan will continue. Maverick will give a waving-over signal when the time is right. With that figured out, Maverick slips in and has Matt wait outside, as there are already cameras in the studio.
Well we know how this goes. Elias retains and returns to his music, while Maverick is left crawling back to the official and Matt. "Everything hurts…" Was that really the plan? Oh shut up! And where are his sunglasses?! In his wig! Maverick finds the $50 glasses and storms off. Maverick thought this was a good plan. But the roll-up wasn't enough to stop Elias. "He's a different kind of foe."
Montez Ford finds the 205 Live General Manager and wonders what he's been up to. He looks like he was just in the ring. Got his tan working, the glasses and wig. Was he being Edward Scissorhands? Aw… You go do your thing, Maverick. But he must want that 24/7 Championship right? Right? Never stop trying, you got that? Never stop trying. "That's what life is about!" You don't just wake up and not try. you don't stop until you get that title! Go get it. Maverick thanks Ford for the encouragement. Ford's a real nice guy. But Maverick already knows Renee will be so so mad… And she already knows he failed. Maverick changes back, and it's back to the drawing board. He apologizes to Renee that they won't be able to consummate the marriage, again. But Ford encourages him to keep trying so that's what he'll do. Matt, keep in touch. The Mavericks head out, but where will the hunt for the 24/7 Cham- Hold on, K-Turn. Where will the hunt for the 24/7 Championship take us next?
---
My Thoughts:
Okay, this was all amazing, but man, why didn't we get this video last night, too? This was hilarious! But, I suppose like making two articles for it, posting two separate videos hours apart gets them more total views. Either way, everyone was solid in this, even the surprising appearance from Montez Ford. This stuff just keeps getting better and better, and maybe at Clash of Champions, as that is a PPV where all titles must be featured, maybe we'll get some real good, lengthy 24/7 Championship competition in the Kickoff Show. I would love if just for a solid 15 minutes, it was the title chase in and out of the ring.