Andrew's Impact Victory Road Ratings & Analysis: 9/14/2019
The first Victory Road since 2017! What kind of show do we get?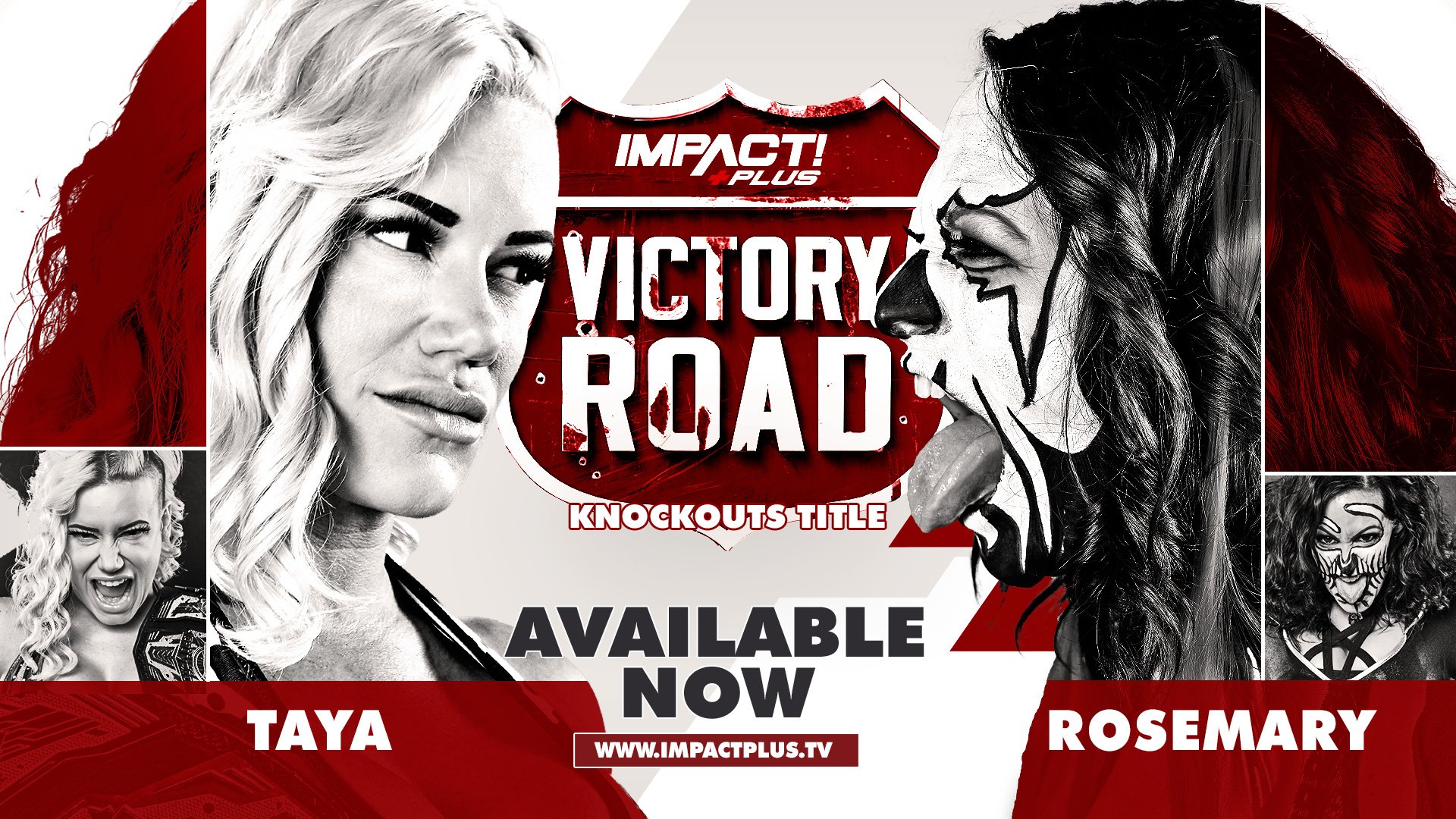 The first Victory Road since 2017! What kind of show do we get?
Well Victory Road used to be a bigger event in the TNA (stop thinking about Hardy vs Sting immediately…that was a low point). As of 2012, it stopped being an annual event and we've only seen 2 since 2012.
They decided to partner with World Class Revolution in Oklahoma City, so let's see where this lands in the lineage of Victory Road shows.
Ratings:
The North vs Fuego del Sol & Retro Randy Price: The North win via Argentine Backbreaker/Spinebuster Combo – ** 1/2
Kiera Hogan vs Desi Derata: Kiera wins via Count Out – * 3/4
Sami Callihan vs Hawk: Sami wins via Piledriver – ** 1/2
World Class Heavyweight Championship: MVP vs Chavo Guerrero Jr (c): MVP wins via Drive-By Kick – *** – TITLE CHANGE!!
Knockouts Championship: Taya Valkyrie (c) vs Rosemary: Taya retains via Curb Stomp – *** 1/4
Moose vs Stephan Bonnar: Moose wins via Dirty Pin? – *
Rohit Raju & Shera vs Eddie Edwards & Brian Cage: Cage wins via F5/Boston Knee Party Combo – ***
TJP vs Michael Elgin: Elgin wins via Elgin Bomb – *** 3/4
Analysis:
The North vs Fuego del Sol & Retro Randy Price – So Retro Randy got the last minute call apparently, and it definitely seemed like it. A goofy little pairing of a luchador and a guy with a Walkman, doesn't really scream "legitimate opponents". This match had a decent bit of time and Fuego and Randy showed some heart, but there was never really a moment where anyone believed or cared. Still an alright match, just injured by a lack of suspension of disbelief.
Kiera Hogan vs Desi Derata – Hogan basically showed off a lot of her opportunistic heel tactics. She stalled early, powdered at times, and whenever Desi got her hands on her, Kiera didn't have a ton of offense. Being that Desi was representing Native American pride and Arrow Club, I was interested to see how she wrestled. Still seems a bit green, but nothing awful. The finish being a Count Out was odd when the count wasn't audible and there was no bell to signify the match was over. But to get across Kiera's new persona, I didn't hate the match.
Sami Callihan vs Hawk – So Hawk is apparently Desi Derata's brother and the founder of Arrow Club, not the former Legion of Doom member. Hawk flips into the ring and Callihan attacks him and takes advantage of the situation. Sami goes through the motions of every mocking Native American taunt before Hawk can fire back a little. Sadly for him, his jacket is a little too tight and it causes an obvious delay between spots. This match felt like a lot of Sami playing with his food. A few nice spots, but much like the opener, this was very hard to believe the non-Impact talent had a chance. I will say that Hawk looked decent, he could be something with a little more size and time in the ring.
World Class Heavyweight Championship: MVP vs Chavo Guerrero Jr – Well both men came out in good shape, and this was apparently put into motion because Chavo took a short cut last night. The match we got was fairly simple given the fact they're both veterans pushing 50, but it was a fine match. Chavo took a few shortcuts through the match, but MVP powered through. Ballin' Elbow, Three Amigos, we got to see the signature moves. Thank God MVP didn't finish the match with The Playmaker, cause that's just an awful finishing move. Decent match all things considered.
Ballin at #VictoryRoad! 🏀

30-DAY FREE TRIAL: https://t.co/9F0lXlvfyu @The305MVP @IMPACTPlusApp pic.twitter.com/75sPylY63a

— IMPACT (@IMPACTWRESTLING) September 15, 2019
Knockouts Championship: Taya Valkyrie (c) vs Rosemary – Things start off comedically with Taya trying to talk her way out of things. Rosemary would rather the title shot than the girl's day, and we get a solid match. Both women go back and forth, neither get the advantage in the ring or outside. Rosemary has all the momentum coming towards the end, but Taya retreats to the corner where she put the makeup bag and her jacket, tosses a few things and then throws the jacket at Rosemary. Rosemary hands the jacket to the referee to dispose of, but Taya takes the chance to use perfume to blind Rosemary and then does the Trailer Hitch style Curb Stomp to pick up the pinfall.
Moose vs Stephan Bonnar –  Moose cuts a heel promo, which is fine honestly, and then Bonnar comes out. Bonnar has the same issues as a wrestler that he did when he did MMA, he has no real charisma. The moves were alright for someone who isn't a full time wrestler, but the selling between moves and complaining about lack of 3 counts were painful. Bonnar has the in-ring ability to be a solid wrestler, but damn does he need character work. And what the hell was that finish? Bonnar runs into the corner, Moose catches him and does a bad Spinebuster/Jacknife Cover, gets his feet on the ropes maybe and the match is over.
Rohit Raju & Shera vs Eddie Edwards & Brian Cage – So with what started off as a decent singles match between Eddie and Rohit, when Shera gets involved the singles match is thrown out. Cage's music hits and he slides in, in full gear and declares that he didn't come to Oklahoma to eat catering. So we get the singles match, restarted as a tag match, and it wasn't bad at all. Shera looked like a beast through most of this, Cage looked like he didn't miss a step and Eddie got a little bit of vengeance on Rohit for the bullcrap singles finish. Fun match that protected Shera and made Cage look like a beast by going against doctor's orders.
TJP vs Michael Elgin – Even though there's a size discrepancy, TJP is still a known technical wrestler, so there's a level of believability. This saw a lot of the usual big man versus little man kind of pacing, but Elgin being a more athletic big man, lent itself to a few faster paced exchanges. Both men went for a number of submissions, TJP managed to catch Elgin with a few well placed kicks to get an advantage. So the Rings of Saturn gave TJP a few close hope moments, but Elgin's power won out in the end. Countering an Armbar, into a one armed Buckle Bomb, normal Buckle Bomb, and then Elgin Bomb…yeah, TJP could only absorb so much. Pretty good match, that made you buy into both at different points.
Overall Score: 4.5/10
So I was interested in this show mainly because it carried the Victory Road name, and it had MVP and Chavito. Granted, this was hampered with a lot of sound issues, like the bell never being audible and it looked like there were no more than 150 people at the event. A small and quiet crowd, bad sound and rather lackluster matchups made everything fall flat.
It's not to say the work wasn't good, and they even added a big twist with Brian Cage performing against doctor's orders, but a house show is not what Victory Road should be. Scott D'Amore and Josh Mathews were actually pretty amusing on commentary, so that helped the low points of the show.
Numerous issues with the sound, the quality of opponent and general heat in the matches just caused this whole show to be a bit disappointing.