Andrew's Stardom 5 Star GP Blue Stars Ratings & Analysis: Day 4 & 5
Blue Stars combining a few days to try and catch up. Does the Zombie Hot British Chancellor of Oedo Tai stay in the lead?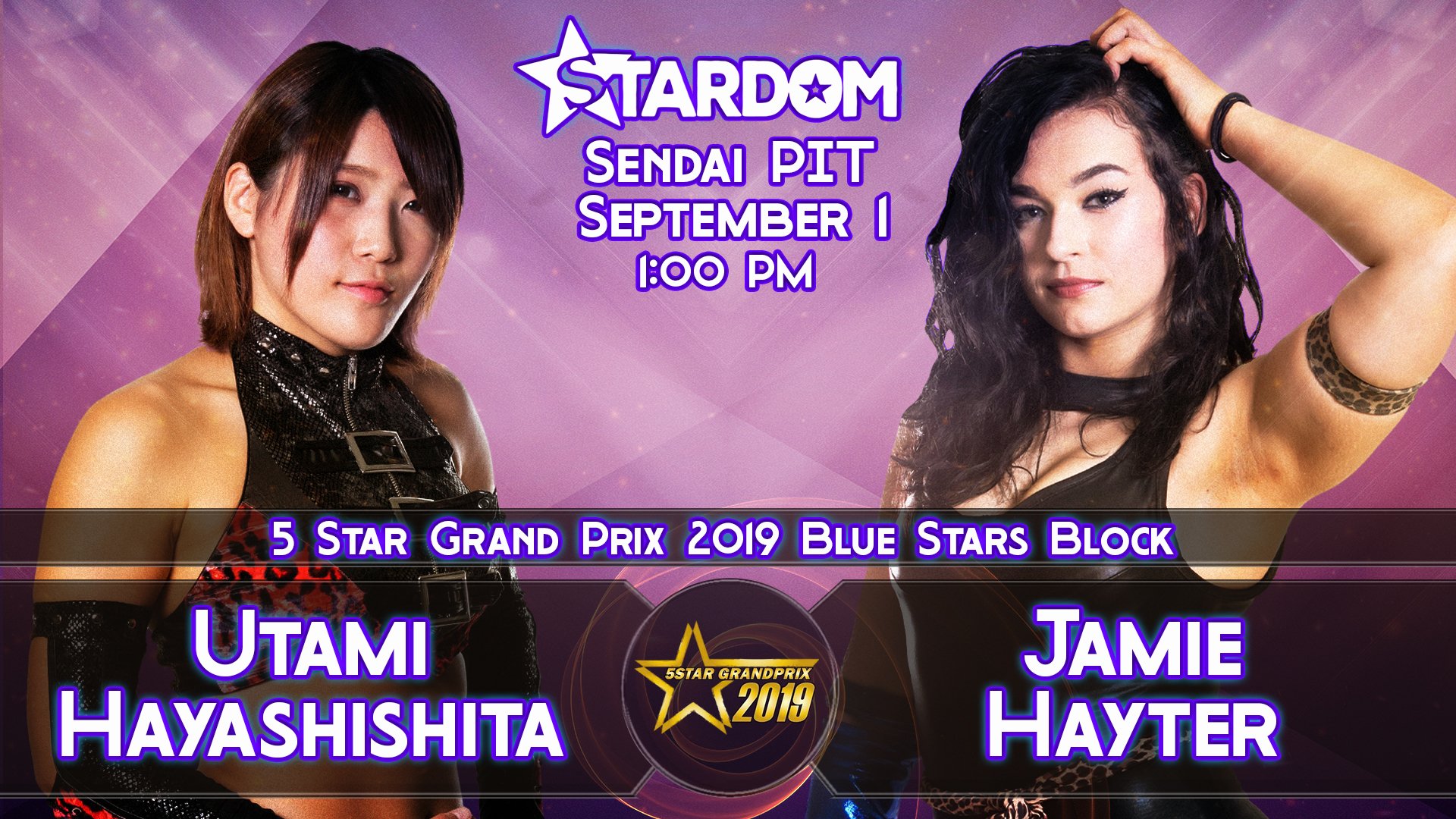 Blue Stars combining a few days to try and catch up. Does the Zombie Hot British Chancellor of Oedo Tai stay in the lead?
Thanks to Stardom-World working on the backlog, Mathew and I have an easier time trying to catch everyone up on the tournament.
So in hopes of motoring through the what was delayed, we're combining a few days.
Let's see what our halfway point of the tournament looks like!
Blue Stars Day 4 Ratings:
Jamie Hayter vs Utami Hayashishita: Utami wins via Torture Rack Powerbomb @9:25 – ***
Konami vs Arisa Hoshiki: Konami wins via Triangle Lancer @8:05 – *** 1/2
Kagetsu vs Andras Miyagi: Andras wins via Tombstone Piledriver @12:10 – ***
Blue Stars Day 5 Ratings:
Kagetsu vs Jamie Hayter: Kagetsu wins via Death Valley Driver @4:15 – ** 1/2
Natsuko vs Jungle Kyona: Kyona wins via Hammer Throw Powerbomb @8:35 – ***
Arisa Hoshiki vs Bea Priestley: Arisa wins via Shining Knees @8:25 – ** 3/4
Blue Stars Day 4 Analysis:
Jamie Hayter vs Utami Hayashishita – Well now, Zombie Hot British Chancellor against Big Rookie. I…can't choose. I'm just gonna hope for a good match and watch the sparks fly. Jamie doesn't get any streamers during her introduction and she berates the people in the front row. So even if they're heels, it's a little bit of a punch to the gut to not get any streamers.
Jamie dominated early, putting Utami in the Camel Clutch and hitting the Wet Willy slamming Utami's face into the mat immediately after. After that they continue to jocky for position as they trade off Headlocks and Takedowns before separating and changing the speed of the match.
A rare mistake from Jamie is to play the Greco-Roman Knuckle Lock power game with Utami. At this point Utami gets her feet under her and manages to use her power to keep Jamie on the back foot. A big missed Diving Dropkick from Utami gives Jamie an opening to immediately slap on the Half Crab submission, but Utami gets to the ropes.
Returning to the corner, Utami has Jamie in the Sleeper Hold and hangs her from the middle turnbuckle, and she finally hits the Dropkick. Jamie catches Utami coming off the ropes with the Samoan Drop, and lowers her knee pad. Most likely looking for the Neckbreaker, Jamie gets caught and Utami hits the Torture Rack Powerbomb, to stop our favorite British Oedo Tai member's undefeated streak.
Konami vs Arisa Hoshiki – Konami is using her momentum after beating Kagetsu much better this year. She has a few big wins, and a big opportunity against the White Belt champion. Arisa on the other hand has really shown a weakness in this tournament. I'm aware she won the Cinderella Tournament, but shorter matches don't really seem to be her forte.
Konami shows off her technical prowess by getting leg picks, Bodyscissors Takedowns and a plethora of submission moves. Arisa does prove that she's got the advantage in the strike department, using her Brazilian Kick to make some space in the match. But Konami catches Arisa in transition and rolls through hooking in the Triangle Lancer, even adding a leg capture to it this time, to insure Arisa tapped out.
Just a nice clash of styles, and whenever Konami gets a chance to show her technical skills, it's always a treat.
Now on https://t.co/q8dHnF58vW! It's the 5★STAR GP 2019 and Arisa Hoshiki takes on Konami in Sendai!
*The complete 9.1 Sendai show is now available. pic.twitter.com/JAN5gaGpkZ

— We Are Stardom (@we_are_stardom) September 10, 2019
Kagetsu vs Andras Miyagi –  Oedo Tai members, and Artist of Stardom champions, we see a little more respect between these two with the handshake to start things off.
This match was much more back and forth than I was expecting. Andras really stepped up to go toe to toe with Kagetsu. Popping up from Michinoku Drivers, and just generally seeming a step ahead, this was interesting. Kagetsu counters the Tombstone into a Death Valley Driver, and they're both laid out for a 4 count. Kagetsu gets desperate and tries to hit an Oedo Coaster after a long pause. Kagetsu misses and Andras hits the Tombstone for the pinfall victory.
In the victory speech Andras still calls Kagetsu leader and says they don't need words to understand one another. So it seems like Andras isn't letting the win go to her head.
Blue Stars Day 5 Analysis:
Kagetsu vs Jamie Hayter – Jamie shows more of her heelish charm in this match, starting off by powdering before the referee check because she's hot, so she has some audience members fan her. She starts off quickly on Kagetsu, and Kagetsu is a punching bag for most of this match. Jamie has Kagetsu in a Dragon Sleeper for a long while, which causes the referee to check Kagetsu after the rope break. Due to his close proximity, Kagetsu uses him to her advantage. Referee bump, green mist into Jamie's face, Michinoku Driver, Oedo Coaster and a Death Valley Driver for emphasis give Kagetsu the win out of nowhere.
Kagetsu has been interesting in the tournament so far. She plays babyface in peril, up until she does something heelish to get the advantage and win the match. She truly is the female Tetsuya Naito.
It's Kagetsu vs Jamie Hayter! Oedo Tai members collide in the 5★STAR GP2019! It's from 9.7 at Shinkiba and it's on https://t.co/q8dHnF58vW now! pic.twitter.com/Y7l6dl6bBq

— We Are Stardom (@we_are_stardom) September 11, 2019
Natsuko vs Jungle Kyona –  Former teammates when JAN was a faction, they've developed a bit of a rivalry. Kyona actually has never beaten Natsuko, so to help to turn a new leaf, she needs this win.
Natsuko attacks Kyona mid entrance. She didn't even get down the ramp, and Natsuko ambushed her. This has been a consistent aspect of her character during the 5 Star Grand Prix, where she takes early shots and looks to brawl. Amusingly enough, during all of the brawling Natsuko takes Kyona outside the venue to what appears to be a back parking lot area where the merchandise tables are. She tosses Kyona aside and throws a bucket of water at her before scurrying back inside.
Kyona barely beats the 20 count, and this is where the match turns. Kyona gets angry, so Natsuko's petty crap stops working. Amusingly, part of the fun of this portion was watching Hana react to the match. Kyona hits an Avalanche Power Slam and Hana's jaw hits the apron and she becomes the biggest cheerleader in the building.
After Natsuko kicks out of the old Jungle Splash, Kyona tries one of her other big moves. Natsuko goes for the misdirection Spear, but Kyona blocks it, swings her up in the gutwrench and hits the Hammer Throw Powerbomb. Kyona finally gets her win over Natsuko!
Arisa Hoshiki vs Bea Priestley – Bea is ever cocky basically saying the World of Stardom Champion is superior to the Wonder, so she's gonna win. Arisa is her plucky psychotic self.
Bea worked her mat game from the beginning. Headlock takeovers, her unique version of the Romero Special, Knee Bars and just generally trying to wear out Arisa's ability to strike. Arisa's heart however helps her power through spots after taking a bit of a beating. Numerous Jumping Knee Strikes, and Somato's in the corner.
Dodging around Brazilian Kicks and landing a few Bea Triggers, it looked like Priestley was going to get the best of this match. She set Arisa up for Queen's Landing, Arisa rolled through and got a near fall. Both competitors charged at one another, but Shining Knees directly into a pin cover gave Arisa a definitive 3 count.
 So Arisa made a bet with Will Ospreay before the match on Twitter, that if she beat Bea, she gets one of his moves. He did agree to this, so this should be entertaining to see which move she picks.
Overall Score: 6.75/10
The first day was a little higher quality than the second, but there was nothing bad. We got a few different styles of matches, lots of personality and a nice feeling of the mid way point for the tournament.
Both of the singles champions are struggling a little, Jamie has been a surprising top contender the entire time, and Konami is starting to put things together a little bit. The block is still super close, so it's anyone's game, and that makes for good built in storylines.
Blue Stars Standings:
Jamie Hayter 3-2 ( 6 Points)
Utami Hayashishita 3-1 (6 Points)
Konami 3-1 (6 Points)
Bea Priestley 2-2 (4 Points)
Kagetsu 2-2 (4 Points)
Jungle Kyona 2-2 (4 Points)
Arisa Hoshiki 2-3 (4 Points)
Andras Miyagi 2-2 (4 Points)
Natsuko Tora 0-4 (0 Points)