Andrew's Stardom 5 Star GP Blue Stars Ratings & Analysis: Final Day
Does Konami hold her Blue Stars lead and move to the Finals, or does Jamie take the title of Top Gaijin?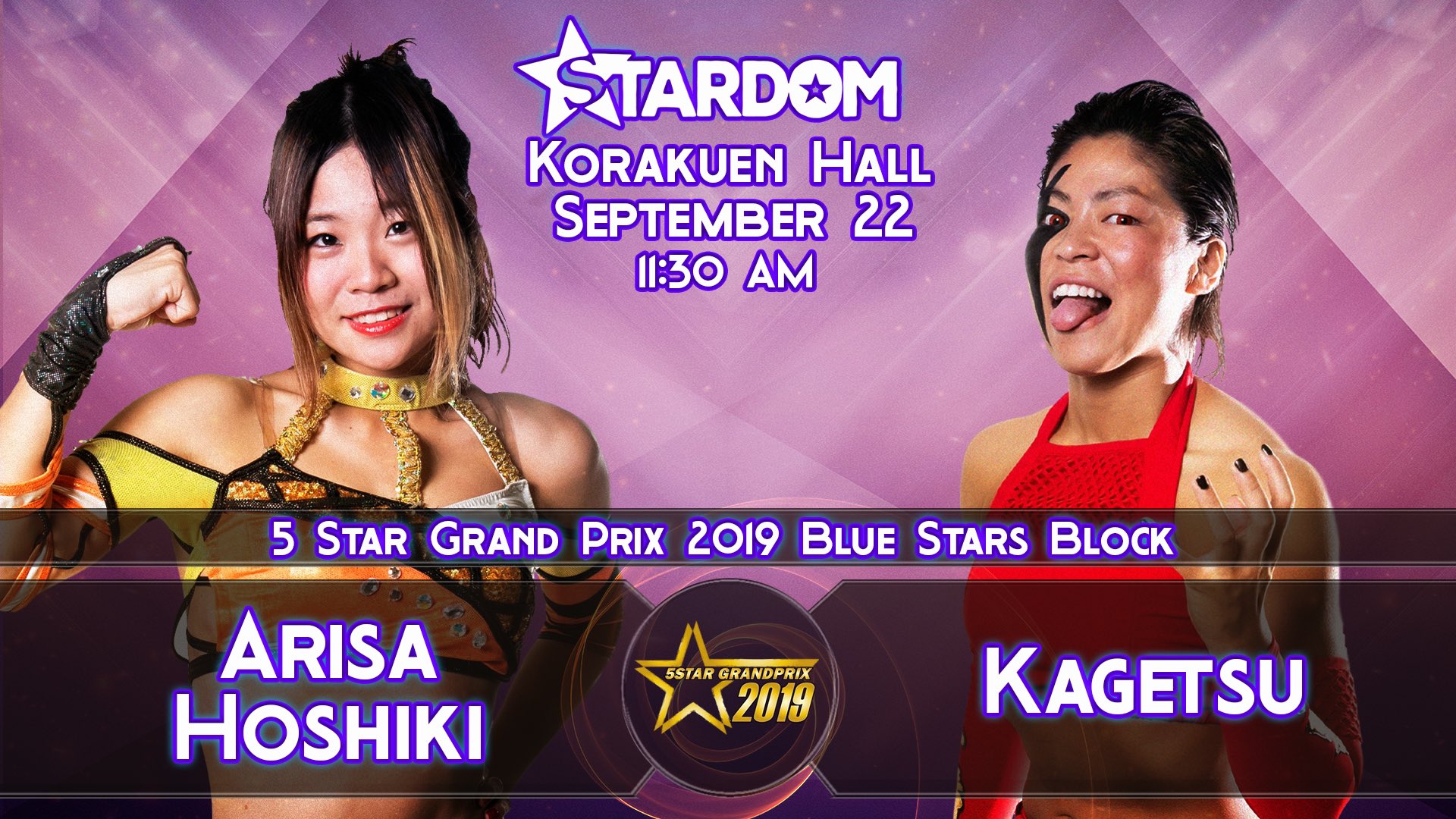 Does Konami hold her Blue Stars lead and move to the Finals, or does Jamie take the title of Top Gaijin?
So this is a very cut and dry block. Konami's tournament matches are over, but she has a 1 point lead coming in to today.
Jamie Hayter is the only one who could spoil Konami's Blue Stars aspirations.
Can Top Gaijin Bea Priestley help out Konami? Is Jamie's half-assed best, good enough to win the whole thing?
Ratings:
Natsuko Tora vs Andras Miyagi: Tora wins via F Crash @7:20 – **
Kagetsu vs Arisa Hoshiki: Time Limit Draw @15:00 – *** 3/4
Jamie Hayter vs Bea Priestley: Bea wins via Queen's Landing @10:05 – *** 1/4
Finals: Konami vs Hana Kimura: Hana wins via Grounded Octopus Lock @14:20 – *** 1/2
Analysis:
Natsuko Tora vs Andras Miyagi – We see one last Oedo Tai infighting match. Neither of them seems to have any spite towards the other, but being Oedo Tai, it's not going to be a clean match.
Andras starts off by trying to hit Natsuko with her sign, but Natsuko dodges and they go to the outside. Both are more well known for brawling, so this was an oddly paced match. A few weapons were used, a couple moves, but nothing extremely enticing, especially since both were eliminated.
It was amusing watching Sumire on the outside being torn between who to help during the match. Sumire seemed to be more enthusiastic to help Natsuko, but she still had to help Andras on occasion. The half-assed best that is Oedo Tai was on full display with Sumire. Sumire distracted the referee so Natsuko could hit Andras with her sign, and then finally gets a pinfall with her finish called F Crash.
Kagetsu vs Arisa Hoshiki – Arisa was very cognizant of what I've said through most of this tournament with her, 15 minutes is too short for her. She said it since she wanted a decisive win against Kagetsu, but her style lends to savoring a match instead of looking for flash pins.
They start off with a few Headlock Takeovers, counter Triangles and nice mat based counter maneuvering. Kagetsu tries to get an early submission with the Ankle Lock, but there's no way that's working on Arisa so early. After lighting her up in the corner with a Running Kick, and Penalty Kick, she dumps a bottle of water on Arisa's head.
If it's one thing we've learned though, you don't piss off Arisa Hoshiki. Kagetsu starts mouthing off, then Arisa pops up with a Round Kick, Kagetsu gets a little space, but when she comes off the ropes, Arisa goes full Spider Monkey and just jumps on Kagetsu's back sinking in the Sleeper with the Body Scissors.
We see Arisa take the advantage to the outside hitting a big Crossbody, and the aggression gets turned up nicely. Arisa hits her Spingboard Kick when they get back in, but she takes too long heading back to the top rope and Kagetsu just kicks her off the top rope to the outside. Kagetsu follows that with a Suicide Dive, Michinoku Driver and then slaps on a Knee Bar to try and get Arisa to tap out. Arisa's in the hold for a bit, and Kagetsu modifies the hold as Arisa is rolling around trying to get out of it, but Arisa gets the rope break.
After Kagetsu misses the Oedo Coaster, we get an extended portion of strikes (mostly kicks). They trade kicks, Kagetsu gets the best of the exchange after a lightning quick Enzuigiri, but when she heads to the ropes, Arisa meets her with a Bicycle Knee, and then another one. There's a few moments of taking a breath, but when they get the energy to attack, they just go back to the big strikes. Both women swing High Kicks at the other's head, connect, and they're both down. Time Limit is called shortly after, so it almost looked like a double knock out. Very cool match.
Now on https://t.co/q8dHnF58vW from Korakuen Hall, it's Kagetsu vs Arisa Hoshiki in the 5★STAR GP 2019! pic.twitter.com/5xNXxxzT99

— We Are Stardom (@we_are_stardom) September 25, 2019
Jamie Hayter vs Bea Priestley – In grand Oedo Tai fashion, Jamie admits to half-assing all of her previous matches and still winning the majority, whereas Bea just boasts being Top Gaijin. Jamie has modified a Top Gaijin shirt to say "Top Top Top Gaijin" with the extra Tops in duct tape. She still doesn't get streamers, but Bea does. Biased jerks.
Hayter starts off with what appears to be effort, they spill to the outside and Jamie hits the Suicide Dive into most of the Queen's Quest members. Hayter locks in a solid Half Boston Crab, but Bea gets to the ropes. Bea slips during a spring board but the camera changes and protects the mild botch.
We get to a nice back and forth where Jamie hits a Short Arm Clothesline and her Backbreaker, but Bea manages to roll through a possible Facebuster and we get Bea's Kenny Omega impression. A few Bea Triggers, Regal Suplex, but Jamie kicks out and Bea ends the match with Queen's Landing.
Oddly, Bea asks Jamie to be her tag league partner in the coming tournament. Oedo Tai and Queen's Quest members working together? What? Sumire and Natsuko give Jamie a few looks after she accepted the pairing.
Finals: Konami vs Hana Kimura – Konami starts off this match before Hana gets through the ropes with a Running Drop Kick and then starts working on Hana's leg. Since Hana wasn't my block, I'm not sure what's wrong with her leg, but you can see the tape through her fishnets.
Konami hits an Ankle Lock, Knee Bar and Heel Hook at different points during the match, all while focusing the attention on the right leg of Hana. She even would've made Goldust proud by hitting the Shattered Dreams on Hana. But as to not make this a boring beat down, Hana fires up and hits five Vertical Suplexes in a row, sells the leg while crawling on top of Konami for the pinfall attempt.
Hana works the Octopus Hold in at a few different points, and since both know each other well, all attacks were very focused. Hana focused a few suplexes and kicks to Konami's head, which plays into her Tiger Lilly finish (Package Tiger Driver) and the Grounded Octopus Hold. So Konami seemed to be working a limb because there was a target, but Hana was working towards her finish.
The difference in game plan showed when Konami countered the Tiger Lilly, and tried the Triangle Lancer, but Hana was able to squirm her way out of the pressure of the move. Konami tried to just go for the Triangle Arm and Knee Bar, but Hana got to the ropes. Konami hits a German Suplex, tries the full Triangle Lancer, but Hana counters, puts Konami in the Grounded Octopus, and added a little extra torque on the arm to get Konami to submit.
Now on https://t.co/q8dHnF58vW from earlier today! It's the Finals of the 5★STAR GP 2019 as Konami takes on Hana Kimura! pic.twitter.com/rpVhA6g2lD

— We Are Stardom (@we_are_stardom) September 22, 2019
Overall Score: 6.5/10
So aside from the finals and the draw, this was a fairly weak entry for Blue Stars. Even though my block winner lost in the finals, I'm never mad when Hana Kimura does well. Granted that does mean Mathew's respective block has won the 5 Star the last two years. But it's also the only tournament he seems to beat me in, so, I'll take it.
I feel like the injuries hurt the overall match quality of Blue Stars since both Kyona and Utami are highly skilled wrestlers. So admittedly the tournament felt a little flat, but that's not Stardom's fault. All things considered, it was a fun tournament, and Hana is obviously a great person to push since she's very popular for her beauty and her wrestling has improved since signing the Stardom exclusive contract.