Andrew's Top 5 Matches: Week Ending 9/29/2019
A few tournaments came to an end, and ROH even had a show, so who knows what made the Top 5.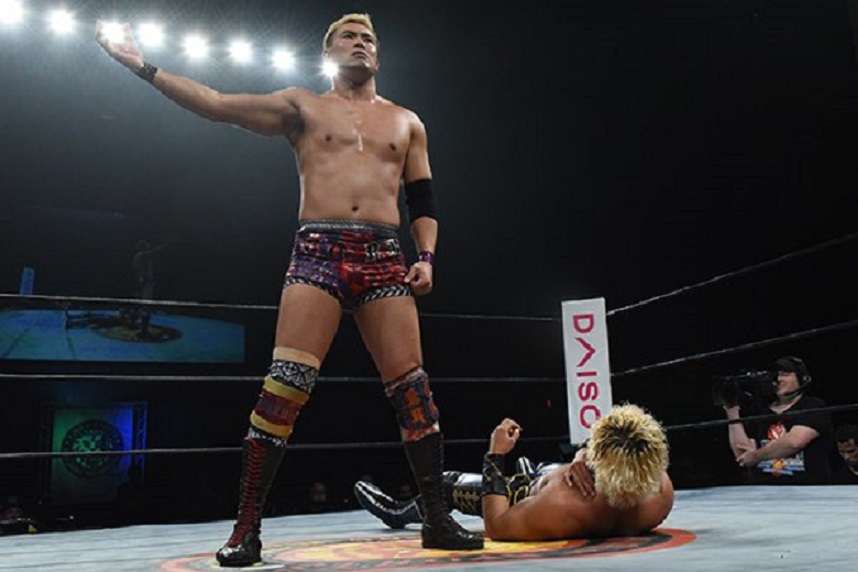 A few tournaments came to an end, and ROH even had a show, so who knows what made the Top 5.
Before we get to this odd week, let's address the winner of last week. Everything got a few votes, so that's nice to see, but there was a decisive winner. NJPW Destruction in Kobe: IWGP Intercontinental Championship: Jay White vs Tetsuya Naito (c), won last week's vote.
Now I guess we see what the Top 5 looks like this week!
5. ROH Death Before Dishonor: Jonathan Gresham vs Jay Lethal
So apparently the set up for this match was quite simple. Lethal took notice that Gresham was on the rise and beating some people that he's had issues with, thus, he needs to try and maintain his dominance.
Lethal and Gresham go back and forth with some classic chain wrestling and mat wrestling, before we get a little bit of jawing. Lethal starts to get an advantage, keeps Gresham on the outside and hits a Suicide Dive. It was at this point the match started to change since Lethal usually does three Dives, after the first, he started to sell a wrist injury.
The wrist played a big part in the story of the match. Gresham attacked it a couple times, but it was more interesting to watch Lethal adjust his offense to cope with the injury. He was even unable to execute the Lethal Injection because his wrist gave out. We saw one more wrinkle when Lethal tried to do a Drop Toe Hold into a chair on the outside, and Gresham blocked it, nearly using it himself.
So after more talking where Lethal accused Gresham of needing the chair, they brawled and then went into the ring. Lethal turned out to be too injured to do exactly what he wanted, and got caught in the Octopus Hold. Lethal taps out and Gresham picks up the victory in a great technical match with great selling.
Winner: Gresham via  Octopus Hold
Rating: ****
4. All Japan Pro Wrestling: Royal Road Tournament Finals: Kento Miyahara vs Jake Lee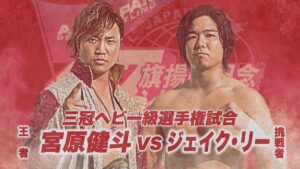 The Oduou (or Royal Road) Tounament is basically the same thing as the New Japan Cup, for those unaware. A single elimination tournament, where the only difference is that the Triple Crown champion is involved in the tournament. Last year Kento won, and this was his path to getting the belt back from Zeus. So do we get back to back Kento, or does Jake finally get over the hump?
Kento matches tend to follow a similar pattern lately, and it's a lot of him just being generally condescending and posing for the crowd/mocking the opponent. Instead of just taking the jabs like a little brother, Jake just stares at Kento and proceeds to light him up with kicks. This continues for bit with Kento hitting a few moves, posing and Jake just feeling disrespected.
Kento starts stringing together a few Blackout Knee Strikes, and goes for the German Suplex Hold, but Jake fights out. Kento attempts the Shutdown Suplex three times, but Jake fights out, much like Naoya did in the Triple Crown match. The difference here is that Jake gets some space and hits some strikes, lands Giant Killing and then gets Kento up for his Backdrop Driver. 1-2-3 and Jake finally beats Kento!
This is huge for the future of All Japan on multiple levels. Someone from Kento's old group NEXTREAM actually beat him. Also, fans get some hope that the main event scene will start to fill out more. Kento is a great champion, but his current run is a lot like Okada's nearly 2 year run. Kento has beaten most of the main event players, so they need to build up some new stars to keep interest on people not named Kento Miyahara.
Really good match, and hopefully a harbinger for good things.
Winner: Jake via High Angle Backdrop Driver
Rating: **** 1/4
3. Stardom: 5 Star Grand Prix Red Stars: Final Day: Momo Watanabe vs Mayu Iwatani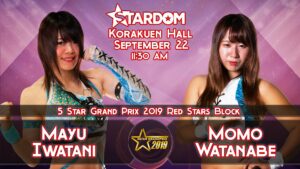 From Mathew's Review:
 The two would shake hands this time before the bell rings and once it does, Mayu quickly went for a Dropkick to hit her and then gets her up for the Dragon Suplex but Momo fought out of it to kick her and quickly hits the Somato. These two are making it exciting and it hasn't even been a full minute yet. When you look at this match, you will see Stardom's top 2 wrestlers fighting each other and every single second used in this match was nothing but magic. Everything was nicely executed, the selling was unreal, storytelling was excellent, it was just a beautiful match and probably one of my favorites this year, it was that damn good.
The two were fighting on the apron and Momo looked like she was gonna hit the Package Driver but Mayu fought out of it and gets her down to the floor before she climbs to the rope and does a Diving Crossbody. Mayu hits Momo with the Bible and perfectly executed for a two count and Mayu goes to the top rope to attempt the Moonsault but Momo catches her foot before she had a chance to go up and hits the Package Driver this time but Mayu kicked out at two. Momo goes to the second rope to hit Mayu with the Somato not once but Twice as Mayu would find a way to kick out still. Once Momo locked in the Crossface Chickenwing, the fans were going back and forth with the chanting since they wanted both of these women to win but Mayu had her foot on the rope. Momo tried to pull her off for the Tequila Sunrise but Mayu wasn't budging as Momo lets go running the ropes as Mayu attempted a Superkick, however, Momo ducked and caught her for the Tequila Sunrise and another Somato as Mayu kicked out again! Momo had Mayu on the top rope to hit the Package Driver but Mayu flipped over her to hit a Powerbomb and Momo is down! Mayu goes to the top rope now as Momo kicked her leg and catches her to hit the Peach Sunrise, however, Momo rolled Mayu around to hit another Peach Sunrise as Momo wins the match! Momo may be unable to advance, but she stopped Mayu from doing so as Hana Kimura is officially going to the finals. Fantastic match, look for it, right now.
Winner: Momo via Peach Sunrise
Rating: **** 1/2
Honorable Mentions:
ROH Death Before Dishonor: World Heavyweight Championship: Matt Taven (c) vs Rush
Winner: Rush via Horns of the Bull
Rating: *** 3/4
Stardom: 5 Star Grand Prix Blue Stars: Final Day: Kagetsu vs Arisa Hoshiki
Winner: Time Limit Draw
Rating: *** 3/4
Stardom: 5 Star Grand Prix Blue Stars: Finals: Konami vs Hana Kimura
Winner: Hana via Grounded Octopus Hold
Rating: *** 1/2
Pro Wrestling NOAH: GHC Junior Heavyweight Championship: HAYATA (c) vs YO-HEY
Winner: Hayata
Rating: *** 1/2
NJPW Fighting Spirit Unleashed NY: G.o.D. & Jado vs Roppongi 3k (SHO, YOH & Rocky Romero)
Winner: G.o.D. via Assisted Gun Stun
Rating: *** 1/2
NXT: Keith Lee vs Dominik Dijakovic
Winner: Lee via Ground Zero
Rating: *** 1/2
WWE Raw: #1 Contender Elimination Match: Ricochet vs Robert Roode vs AJ Styles vs Shinsuke Nakamura vs Rey Mysterio
Winner: Rey Mysterio
Rating: *** 1/4
NJPW Fighting Spirit Unleashed NY: NEVER Openweight Championship: KENTA (c) vs YOSHI-HASHI
Winner: KENTA via Go 2 Sleep
Rating: *** 1/4
ROH Death Before Dishonor: World Tag Team Championships: The Briscoes (c) vs Mark Haskins & Bandido
Winner: Briscoes via Jay Driller
Rating: *** 1/4
NJPW Fighting Spirit Unleashed NY: TJP vs Ren Narita
Winner: TJP via Detonation Kick
Rating: *** 1/4
Pro Wrestling NOAH: IPW Junior Heavyweight Championship: Daisuke Harada (c) vs Atsushi Kotoge
Winner: Kotoge
Rating: *** 1/4
Stardom: 5 Star Grand Prix Blue Stars: Jamie Hayter vs Bea Priestley
Winner: Bea via Queen's Landing
Rating: *** 1/4
NJPW Fighting Spirit Unleashed NY: Hirooki Goto, Tomohiro Ishii & Amazing Red vs Jay White, Chase Owens & Gedo
Winner: Goto via GTR
Rating: ***
NJPW Fighting Spirit Unleashed NY: Juice Robinson & Mikey Nicholls vs Alex Coughlin & Clark Connors
Winner: Nicholls via Mikey Bomb
Rating: ***
IMPACT!: Tenille Dashwood vs Madison Rayne
Winner: Dashwood via The Spotlight
Rating: ***
NJPW Fighting Spirit Unleashed NY: Hiroshi Tanahashi & Rock N Roll Express vs Tetsuya Naito, Shingo Takagi & BUSHI
Winner: Tanahashi via High Fly Flow
Rating: ***
WWE SmackDown Live: Erik Rowan vs Daniel Bryan
Winner: Rowan win Iron Claw
Rating: ***
2. Pro Wrestling NOAH: N-1 Victory Finals: Kenoh vs Takashi Sugiura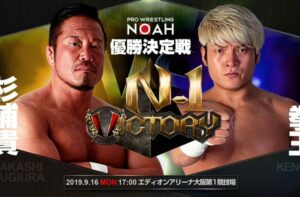 From Hisame's Newsletter Vol. 53:
Takashi Sugiura and Kenoh had an epic main event\N-1 Finals match, despite their agreement that their match would eclipse all others on the card (especially that of Mutoh and Akiyama), both knew that they had to win. The match was hard fought, the sweat flying off of them when they got into an exchange, and Kenoh finding a way out of the dreaded neck choke, which originally cost him the title, but he was determined that it would not cost him the match. Everything that Sugiura served to Kenoh, he threw it back at him.
After 28 minutes, 40 seconds with the spectacular Rolling Diving Footstamp, Kenoh picked up his first win over Takashi Sugiura and his (and the) ever first N-1 Victory Win, and with it the right to go to Sumo Hall and challenge Kaito Kiyomiya.
Winner: Kenoh via Rolling Diving Foot Stomp
Rating: **** 1/2
1. NJPW Fighting Spirit Unleashed NY: SANADA & EVIL vs Kazuchika Okada & Kota Ibushi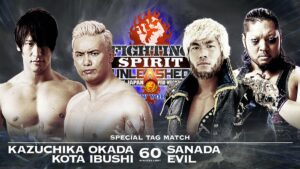 From My Analysis:
The match that got the only "All These Guys" chant. This was amazing, just beautiful how everyone moved around in ways that flowed with the match. Okada's short pants pop was also louder than even I expected.
Ibushi and EVIL started things, and you saw Okada lose his mind on the apron, he was acting like his hair was red and he talked to balloons still. Okada got tagged in and did a goofy little shuffle and kept beckoning SANADA to get in as well, it was ridiculous but awesome to see Okada legitimately having fun.
SANADA gets Okada in the Paradise Lock and Okada did manage to hit a Dropkick, so I'm not sure if that Dropkick story was just a product of bad timing at Destruction, or if it will crop up from time to time. Also it was noticeable that SANADA and EVIL were the tag team, because SANADA got into position to do a few quick hit tandem moves with EVIL while Ibushi and Okada looked like two singles competitors doing the tag thing.
After everyone got in most of their signature stuff, we got a surprise. EVIL hit Darkness Falls on Ibushi, SANADA dealt with Okada and EVIL picked up the pinfall victory with Everything is Evil. So this was a great surprise that helps establish the challengers, especially since not many people see SANADA or EVIL picking up the wins at King of Pro Wrestling.
Winner: EVIL via Everything is Evil
Rating: *****
Thoughts:
It was nice to see that ROH Death Before Dishonor wasn't a complete waste of time like a lot of their product the past year or so. Taven had possibly his best ROH match as champion, and Lethal/Gresham was a fantastic technical match.
Sure there's a bunch of Japanese matches on the list this week, but when there's a tournament, Japan puts on quality matches. Also, totally biased Live perspective of the New Japan show made that jump to the top of my list.
We know that my vote is for New Japan, but I really was impressed with ROH and Stardom honestly. If I wasn't still on my live experience hangover, I'd probably have voted for the one of those. It was a good week for wrestling.
King's WrestleMania Rewind: Stone Cold VS. Scott Hall (WrestleMania X8)
Chris King is back with another WrestleMania Rewind, looking at the NWO's Scott Hall battling Stone Cold Steve Austin at WWE WrestleMania X8 from Toronto!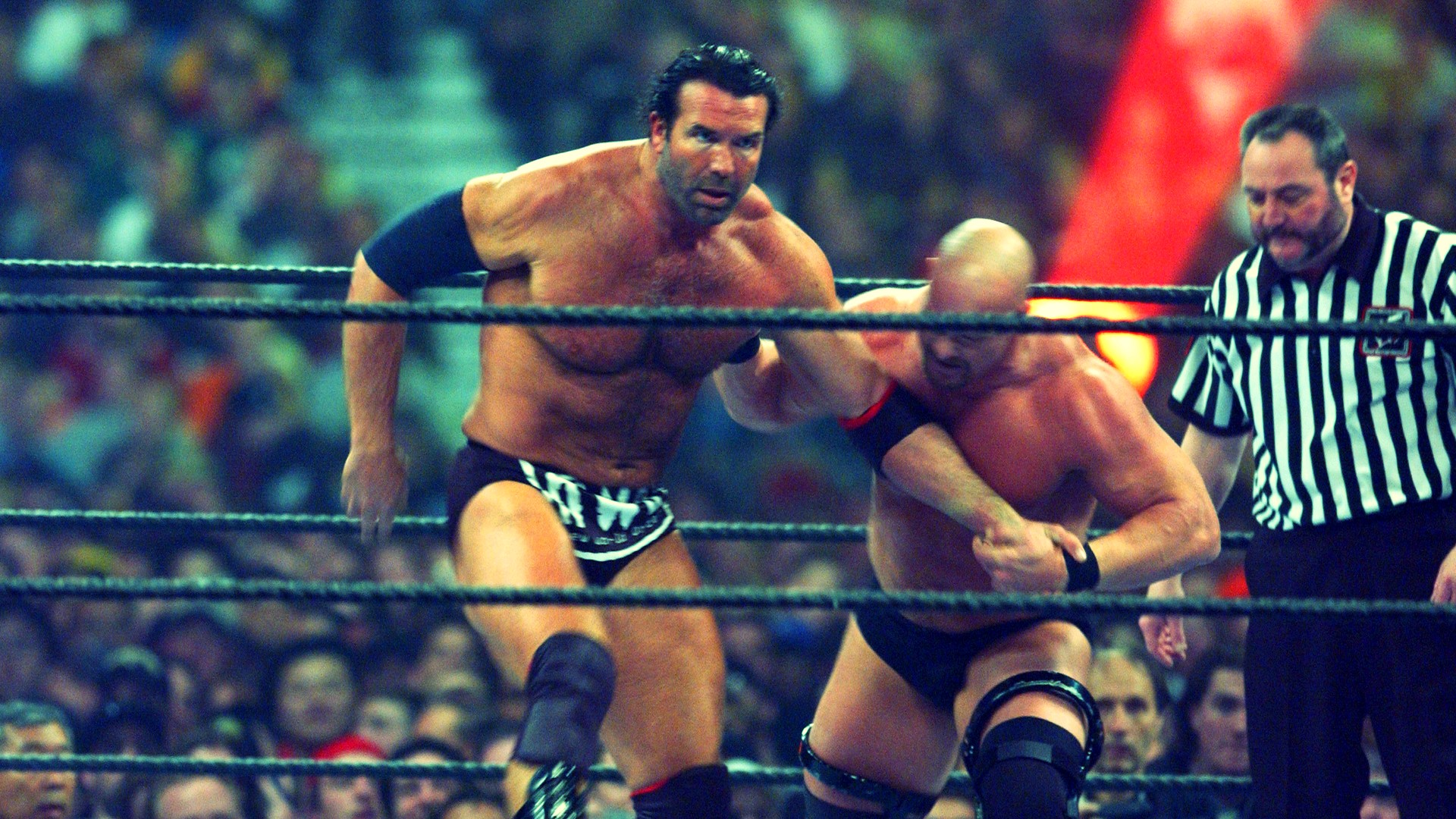 Chris King is back with another WrestleMania Rewind, looking at the NWO's Scott Hall battling Stone Cold Steve Austin at WWE WrestleMania X8 from Toronto!
Chris King is back this week with another edition of WrestleMania Rewind, where he is rewatching all the past Mania matches and feuds. This week you're in for a treat as we look back at 'Stone Cold' Steve Austin vs. Scott Hall at WrestleMania X8.
In late 2001, Vince McMahon bought out his competition WCW and acquired the rights to a plethora of talent including Booker T, Eddie Guerrero, Chris Benoit, and the iconic trio known as NWO. Hulk Hogan; Kevin Nash, and Scott Hall were hell raisers, and what better way to make a name for yourself than take out the two top superstars in the WWE The Rock, and Stone Cold?
The NWO cost Austin his chance at becoming the Undisputed Champion at No Way Out during his match with Chris Jericho. Adding insult to injury, the NWO spray-painted 'The Texas Rattlesnake' with their brand logo just like they did in WCW. As you can imagine, Austin was pissed and out for revenge against the group and primarily Scott Hall.
Hall would challenge Stone Cold to a match at WrestleMania 18. Both superstars beat the living hell out of each other leading up to this highly-anticipated match for who runs the WWE.
The glass broke and Stone Cold made his iconic entrance, and black and white NWO covered Halls' entrance alongside Kevin Nash. With the odds stacked against 'The Toughest S.O.B' could Austin or NWO prove their dominance? Sadly the NWO  broke up that very night when Hulk Hogan came to the aid of his adversary The Rock after their 'iconic' dream match. Stone Cold would ensure the victory with the Stunner. Hall would perform an Oscar-worthy sell over the finisher.
What a time to be a wrestling fan in the 2000s when nothing was impossible for WWE. Who would've thought WCW would go out of business and Hogan would make his long-awaited return to WWE?
King's WrestleMania Rewind: Seth Rollins vs. Kevin Owens (WWE WrestleMania 36)
Chris King takes a look at the most underrated WWE WrestleMania matches, and starts off with Seth Rollins battling Kevin Owens at WrestleMania 36!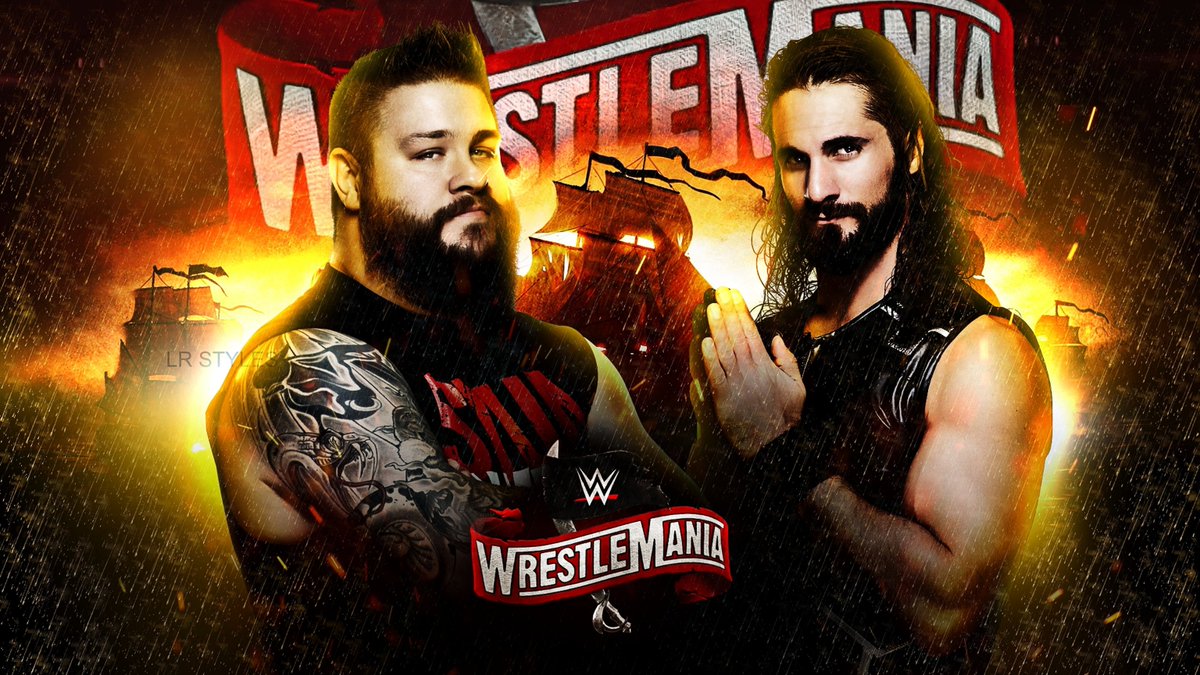 Chris King takes a look at the most underrated WWE WrestleMania matches, and starts off with Seth Rollins battling Kevin Owens in the WWE Performance Center at WrestleMania 36!
Chris King is starting a new series heading into WrestleMania season dubbed WrestleMania Rewind. Each week he'll be going back and sharing his insight over underrated matches at the Show of Shows. First up, is Kevin Owens vs. "The Monday Night Messiah" Seth Rollins at WrestleMania 36.
At the 2019 edition of Survivor Series, Rollins sacrificed himself during the men's traditional match allowing SmackDown to ultimately gain the victory. The following night the self-proclaimed Messiah, berated the whole roster but KO was not having any part of it. Owens quickly became a huge barrier in Rollins' cause for the greater good. The Authors of Pain attacked Owens with Rollins' character in question.
Owens finally had enough of his rival's mind games and torment and challenged Rollins to a match on the Grandest Stage Of Them All. Rollins mockingly accepted his challenge and the match was made official for night one of WrestleMania. Owens came out of the gate beating the holy hell out of the Monday Night Messiah trying to achieve his long-awaited moment at Mania but, Rollins tried to steal a disqualification victory by using the ring bell.
Owens hellbent on revenge provoked Rollins into turning their encounter into a no-disqualification contest where the fight could be taken all over the empty arena. The highlight of the match, was when KO used the WrestleMania sign to deliver a thunderous senton bomb through the announce table. Owens would secure the victory with a Stunner in an incredible match. Despite having no crowd during the pandemic era, both KO and Rollins put on an intense performance under the brightest lights.
In my personal opinion, this was a great feud that helped both superstars in their transformation as compelling characters for years to come.