Andrew's TOTALLY LIVE BIASED NJPW Fighting Spirit Unleashed Ratings & Analysis: New York
Delayed but not defeated! Andrew brings his totally biased in person opinion of the show!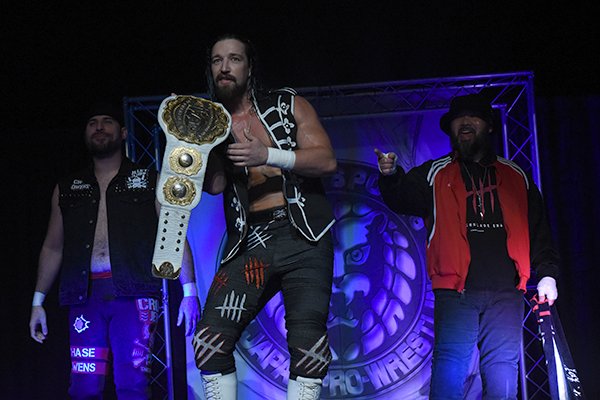 Delayed but not defeated! Andrew brings his totally biased in person opinion of the show!
So by now everyone heard about the drama in New York on Saturday night. Thanks to a false cancellation phone call, the ambulance was delayed on getting to the Hammerstein Ballroom until about 8:20 PM.
Around 8, the New Japan Vice President and Rocky Romero came out to apologize and throw out some free shirts to try and calm down some of the more vocal imbeciles. I say imbeciles, because we had a chorus of people chanting "This is Bullshit" or "We Want Wrestling" and then when the Vice President comes out and apologizes to the point of looking like he's going to cry, suddenly the chant it's "It's Okay".
It's dumb crap like that, that makes wrestling fans look like straight up morons. Technical issues happen, we know they're trying, how about you just sip on your Cosmo and keep your stupid comments in your pocket.
ANYWAY! Now on to the show.
Ratings:
TJP vs Ren Narita: TJP wins via Detonation Kick @8:50 – *** 1/4
Karl Fredericks vs Lance Archer: Archer wins via EBD Claw Hold @7:35 – ** 1/2
Juice Robinson & Mikey Nicholls vs Alex Coughlin & Clark Connors: Nicholls wins via Mikey Bomb @ 8:30 – ***
G.o.D. & Jado vs Roppongi 3k (SHO, YOH & Rocky Romero): Tama wins via Assisted Gun Stun @10:45 – *** 1/2 
Hiroshi Tanahashi & Rock N Roll Express vs Tetsuya Naito, Shingo Takagi & BUSHI: Tanahashi wins via High Fly Flow @10:20 – *** – *Tiger Hattori's Final Match to referee in the United States*
Hirooki Goto, Tomohiro Ishii & Amazing Red vs Jay White, Chase Owens & Gedo: Goto wins via GTR @12:00 – ***
NEVER Openweight Championship: KENTA (c) vs YOSHI-HASHI: KENTA wins via Go 2 Sleep @25:00 – *** 1/4
SANADA & EVIL vs Kazuchika Okada & Kota Ibushi: EVIL wins via Everything is Evil @18:45 – *****
Analysis:
TJP vs Ren Narita –  New York really hates TJP. But the best thing here was TJP owned the heel side of the match and both really brought a lot to an opening match. This match started a trend of all the wrestlers really feeling like they're trying harder to make up for the delay. Ren was given a lot of hope spots as well. TJP wasn't able to submit him with the Crossface, but Ren missed the Dropkick more often than not. Also, TJP blocked the Belly to Belly Hold on each attempt, but Ren got a huge pop when he transitioned the Boston Crab attempt to the Texas Cloverleaf that he started adopting when he wrestled Tanahashi in the New Japan Cup. Great opening match, and the crowd was very into it.
Karl Fredericks vs Lance Archer – A very abrupt start in this match. Lance hit Karl with a Big Boot, but then went to the corner and the announcer finished the introductions while Karl sold for a good 20 seconds. Lance was great with his barking back at the crowd, especially when the crowd did the big "Shhh" because Lance was going to Chop Karl, and Lance yells " I didn't tell you to shh". So just general good Lance Archer stuff. Yes it was really just an extended squash since Karl never had a chance, but god damn it was fun.
Juice Robinson & Mikey Nicholls vs Alex Coughlin & Clark Connors – I wasn't expecting much from this, but it really over performed. Juice was dancing on the apron, and New York was showing him a lot of love. Coughlin made it his personal goal to go after Nicholls as often as possible. Connors and Coughlin have really good chemistry and it was a fun match. Juice and Mikey gave the Young Lion duo a lot, but eventually the veterans took over. Criss-cross corner attacks, led to Left Hand of God, into a Mikey Bomb for the finish. Just great fun, and surprisingly good action.
G.o.D. & Jado vs Roppongi 3k (SHO, YOH & Rocky Romero) – So this match showcased something very obvious…Jado needs to stay out of the ring. He's slow, inflexible and just awful. Thankfully, some of his general badness was used in an interesting way, when he dives and misses the tag, but G.o.D. run in anyway and clean house. Tama's reactions were great cause it was a combination of "Bitch really" and "You good". The crowd was very high on the match since Rocky was our hero earlier during the delay, so he could do no wrong. SHO and YOH looked crisp, and Rocky had a nice Forever Lariats moment. Magic Killer got countered, but between Jado using the Kendo Stick and usual heel tactics, we see Loa catch Rocky attempting a Frankensteiner, and he tosses Rocky over his shoulder and Tama kills him with a Gun Stun. The match was still very fun, but Jado needs to stay as a manager and never enter the ring again.
Hiroshi Tanahashi & Rock N Roll Express vs Tetsuya Naito, Shingo Takagi & BUSHI – Talk about conflict. New York erupted for L.I.J., but you can't boo Tanahashi and RnR Express. This was definitely better than it has any business being in 2019. Robert Gibson took a few moves off, but given his age, he still performed well. I was just amused when they went for a Triple Dropkick on Shingo earlier, Shingo holds the rope and Tana and Ricky bump, but Robert just raised one leg, and then motioned for Shingo to kick him in the chest for the next spot. Due to the love for L.I.J. Ricky wasn't really able to beg much assistance from the crowd. Ricky is very good at keeping the old 80s style of taking the beating and then trying to rally with the support of the crowd, but when he looked to the crowd, most of the time all he heard was "Shingo" or "Naito". Small things in this match amused me, and the fact that when the Face team hit the Triple Dropkick on Naito, he wasn't seen for the rest of the match. He went out away from the side I was at, but when the RnR Express used a Double Dropkick as a finish for so long, a Triple Dropkick, your ass better sell dead. BUSHI was in there to eat the pin, and he at a High Fly Flow, so he did his job.
-After this we had a small ceremony with flowers, children and grandchildren of Tiger Hattori, to commemorate the fact that this is the last match he will referee on American soil. And much like Shibata said in a post match interview, "Tanahashi cried, he always cries". 
Hirooki Goto, Tomohiro Ishii & Amazing Red vs Jay White, Chase Owens & Gedo – Red being the hometown boy, he got a really good reaction and Jay White has quite a few haters in New York as well. I personally love our Cerulean Switchblade, but holy hell he got a great heel reaction. Also to be noted, Ishii decided he makes his own entrance and comes around the archway. You don't argue with Ishii.
As for the match, it was damn good. Jay played his avoiding contact self and Gedo played his part wonderfully. This was really just great character work from Bullet Club. Ishii and Goto both looked great, Red looked…well…Amazing – HEY! Sit back down, it was low hanging fruit yes, but shut up, sit down. Goto murdered Gedo with the GTR and another small thing that I loved in this match was during the pinfall attempt, Red is trying to hold Chase back and he keeps trying to wiggle closer, he's got most of his body in the ring and he's kicking his feet and doing everything to try and break it up. In many tag matches, the outside people getting held look half asleep, but I loved Chase's commitment.
NEVER Openweight Championship: KENTA (c) vs YOSHI-HASHI – Okay now I love me my New Japan, but come on now, did you really think we'd care about this match? Jokingly I always say, does YOSHI-HASHI translate to 'Who Cares' in Japanese. KENTA was pretty widely hated in Hammerstein but YOSHI was equally booed. So that gave some of those previously mentioned imbeciles the opening to chant nonsense.
Now full disclosure, between the delay, 80 degree weather in late September, and this hanging smoke, I was getting tired and just generally irritated. So KENTA's constant powdering and toying with YOSHI on the outside for, what felt like, the first 5 minutes of the match…was annoying. KENTA wasn't taking this match seriously, and neither was the crowd. So to KENTA's credit, when YOSHI did fire up and put together some of his offense, it woke people up and even got some pity pops for YOSHI.
YOSHI looked like he was going to win the title with that terrible Butterfly Lock, but thankfully KENTA got to the ropes. Ref bump shortly after sent Marty Asami reeling to the outside, and G.o.D. showed up to do their thing. After only one or two small things, they set up for the Super Powerbomb, but Tiger Hattori ran in and made the save by grabbing Loa and Tama by the ear and scolding them like children. It was funny, and left KENTA sitting there wondering what to do next.
Thankfully, even though everything started looking like YOSHI was going to win, KENTA managed to get enough space with kicks and his Hesitation Dropkick, hit the Go 2 Sleep, and KENTA retained. I can see how it may have been seen on stream as plodding or awkward, but live, the extra little tidbits did what they needed to do to wake up the crowd, give YOSHI the hope moments he needed, and some comedy with Tiger. Total package, it was a solid match.
SANADA & EVIL vs Kazuchika Okada & Kota Ibushi – The match that got the only "All These Guys" chant. This was amazing, just beautiful how everyone moved around in ways that flowed with the match. Okada's short pants pop was also louder than even I expected.
Ibushi and EVIL started things, and you saw Okada lose his mind on the apron, he was acting like his hair was red and he talked to balloons still. Okada got tagged in and did a goofy little shuffle and kept beckoning SANADA to get in as well, it was ridiculous but awesome to see Okada legitimately having fun.
SANADA gets Okada in the Paradise Lock and Okada did manage to hit a Dropkick, so I'm not sure if that Dropkick story was just a product of bad timing at Destruction, or if it will crop up from time to time. Also it was noticeable that SANADA and EVIL were the tag team, because SANADA got into position to do a few quick hit tandem moves with EVIL while Ibushi and Okada looked like two singles competitors doing the tag thing.
After everyone got in most of their signature stuff, we got a surprise. EVIL hit Darkness Falls on Ibushi, SANADA dealt with Okada and EVIL picked up the pinfall victory with Everything is Evil. So this was a great surprise that helps establish the challengers, especially since not many people see SANADA or EVIL picking up the wins at King of Pro Wrestling.
– After the match, EVIL gives the promo and says "Even though we were very very late, don't worry, we're done". Then he proceeds to say that New York City is evil, everything is evil, so that makes tardiness evil! Welcome to the Darkness World!
Overall Score: 9/10
This show was amazing, even with the delay factored in….but it could also be thanks to where I was sitting: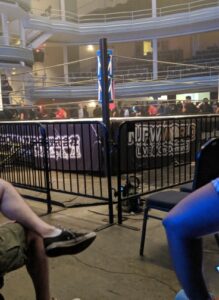 So third row seating definitely helped for my overall enjoyment. Thanks to that, the main event was even better that close to ring. Some of the crowd of course were just complete asshats, but that's going to happen at any gathering of humanity. New Japan put on a great show, even if it was just an overseas 'Road to'. Sure the train ride sucked a bit cause it looked like there was a Mets game and concert letting out at the same time (11:30 PM eastern), but I'm not going to hold it against the company.
Everyone came out with a little more fire, the show was a great experience and the main event was easily the best match I've had the pleasure of seeing live and in person. Damn good show.