Cook's Top 5: Wrestlers With Jobs
Steve Cook checks in with his look at the Top 5 Wrestlers With Jobs in honor of Labor Day! Plus, this is a great way to learn about Wendi Wheels…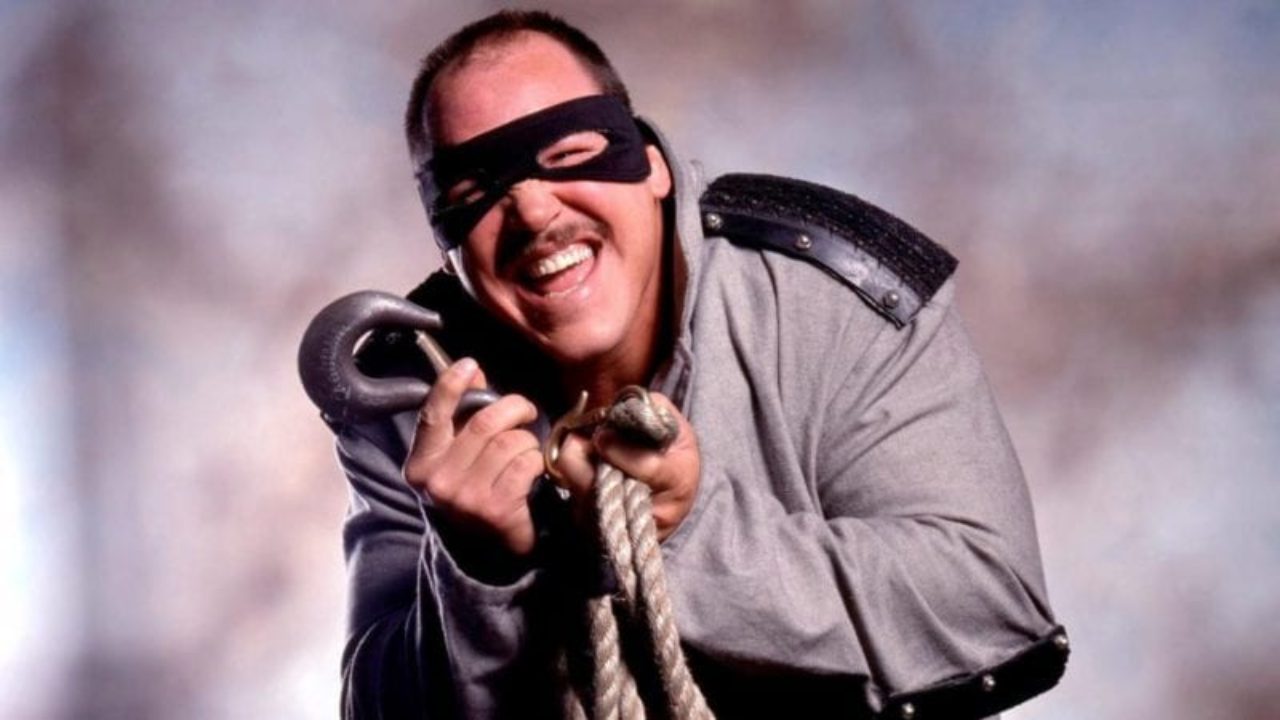 Steve Cook checks in with his look at the Top 5 Wrestlers With Jobs in honor of Labor Day! Plus, this is a great way to learn about Wendi Wheels…
I hope all of you had a fantastic Labor Day Weekend full of whatever you enjoy doing. Whether you watched way too much wrestling or way too much college football, or even got out of the house & did something in the outside world like shopping or going to fireworks displays or whatever. Enjoy your holiday the way you see fit.
At the same time, I implore you to remember the real meaning behind Labor Day. It is the celebration of the labor movement & the working person. Too often, we take the laborer for granted, or we view our own work as only a means to a paycheck. Those who have to work while others play during these weekends ought to be celebrated & appreciated.
Today, we show our appreciation for the worker by listing the Top 5 Wrestlers With Jobs. After all, it's not like everybody can just pay the bills with their work inside the wrestling ring.
5. Wendi Wheels
It shouldn't come as a surprise that many of the women involved in the original WOW: Women of Wrestling show needed a day job to make their rent payments. There was no guarantee the promotion was going to take off, and, well, it didn't. So we saw teachers, lifeguards, ranchers & other folks representing their occupations in the ring from time to time.
My favorite was Wendi Wheels. Who doesn't love a female mechanic? She was as good in the ring as she was under the hood.
4. Irwin R. Schyster
The only cheaper way to get heat from a crowd than slamming their local sports team is to say you represent the IRS. Nobody likes the people who make their living off taking the hard-earned money of the blue-collar crowd and giving it to the government for presidential golf excursions.
That being said, IRS should have been a one-note joke as a gimmick. Mike Rotunda made it work though. His general demeanor fit the occupation of evil tax collector much better than the occupation of ship captain.
3. Repo Man
This was one of those instances where the WWF was ahead of the curve. Decades before Repo Wars became a hit TV show, Repo Man was wreaking havoc & pestering WWF Superstars for their stuff on a regular basis.
This was also one of those instances where a wrestler took a gimmick that could have been pretty bad and made it memorable in a good way. Barry Darsow put everything he had into this, as he would later on in WCW when he was a truck driver & a golfer. Certainly one of the unsung wrestling heroes of the 1990s.
2. Dusty Rhodes
You could say that Dusty fell on some hard times after his tenure with World Championship Wrestling came to an end. With pretty much every NWA territory closed & the AWA more or less shut down, options for continued employment in the wrestling business were scarse. So, Dusty had to finally get a real job.
The only problem? Dusty couldn't keep a job for very long. One week he was a garbageman. Then he was a plumber. He was a fuel jockey, a pizza delivery driver and a butcher, with none of these jobs ever lasting a week. From what I can tell, he was a model employee. Always full of enthusiasm, great with customers & willing to do the dirty work. Yet, he hopped around from job to job, seemingly because he couldn't decide on one.
The American Dream? More like the Original Millennial.
1. Dr. Britt Baker D.M.D.
Dr. Baker wasn't the first dentist to step into the world of wrestling. Jerry Lawler convinced the overgrown man working on his teeth in the mid-1990s to help him in his war with Bret Hart. Bret had several classics at SummerSlam, but his match with Dr. Isaac Yankem D.D.S. wasn't one of them. The guy was greener than those iffy Memphis teeth he worked on.
Since the above video, Britt has graduated with a doctorate in medical dentistry & incorporated it into her wrestling personality. Baker appears to have more staying power in the dentist role, mostly because she is ACTUALLY A PRACTICING DENTIST! Yankem's career went better once he embraced his true personality: a homicidal maniac.
King's WrestleMania Rewind: Charlotte Flair vs. Asuka from WrestleMania 34
Chris king is back with one of the most underrated matches in WrestleMania history–Charlotte Flair vs. Asuka!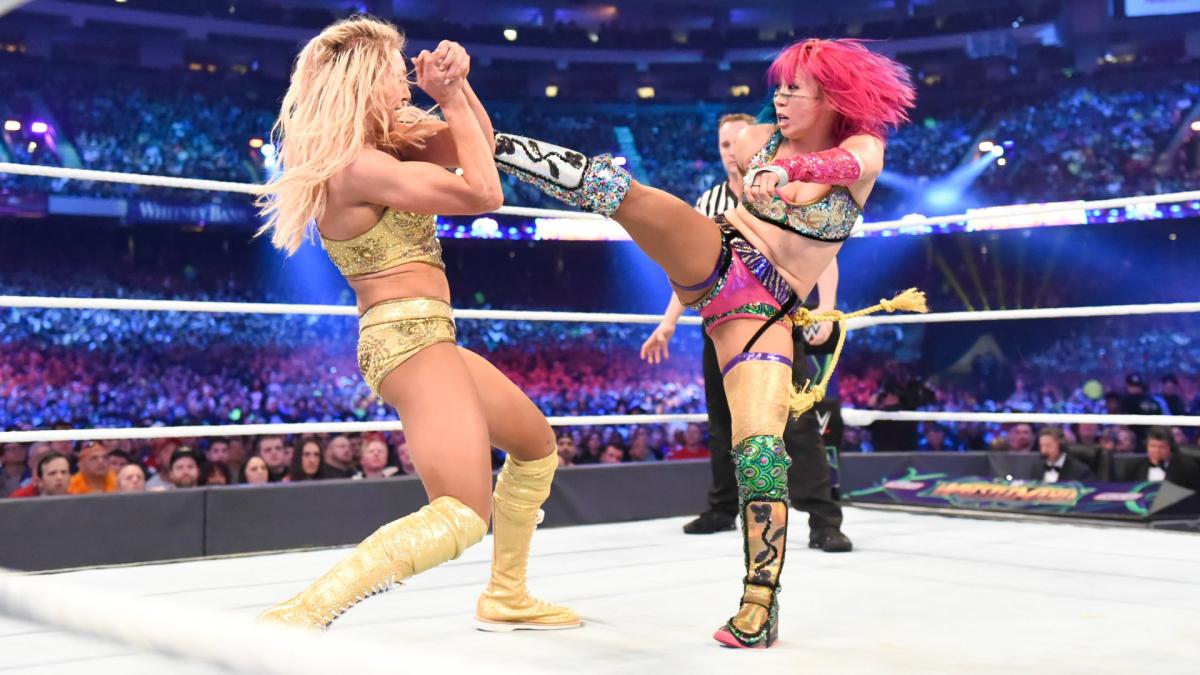 Chris king is back with one of the most underrated matches in WrestleMania history–Charlotte Flair vs. Asuka!
We look back at Charlotte Flair vs. Asuka at WWE WrestleMania 34. 'The Empress of Tomorrow' put her unprecedented and historic undefeated streak of 914 days on the line against 'The Queen's' SmackDown Women's Championship.
For years, this was considered a dream match while Asuka dominated the roster in NXT, while Flair won numerous championships on the main roster on both Raw and SmackDown. The Empress made her long-awaited debut on the September 11th episode of Raw and began to tear through the competition.
Asuka outlasted all twenty-nine other women in the historic first-ever Women's Royal Rumble match to challenge for the title of her choosing. At Fastlane, she made her choice.
The WWE Universe was so excited for this match myself included. Both superstars delivered a fantastic performance on the Grandest Stage of Them All executing counter after counter. Asuka showed off some nasty-looking kicks to her opponent, and Flair hit a thunderous Spanish Fly off the top rope. Flair was seconds away from defeat at the hands of The Empress but she locked in Figure Eight and Asuka was forced to tap out.
I can't even begin to explain how shocked I was at this outcome, as nearly everyone expected The Empress to continue her undefeated streak and walk away with the women's title. This controversial decision was the downfall of Asuka's momentum. She would ultimately win the SmackDown Women's Championship at the 2018 TLC pay-per-view in the triple-threat ladder match.
Fast forward to this year when Asuka has recently returned with her Japanese-inspired persona Kana. Kana is dangerous and ruthless and is heading into a championship with Bianca Belair at WrestleMania 39. The Empress has regained all her momentum and is highly favored to walk away with the Raw Women's Championship. Let's hope that Asuka and Belair can tear the house down and deliver an A+ grade match both women are fully capable of.
King: Dominik Mysterio Needs To Do This At WrestleMania
Chris King is here with what WWE should do with Dominik Mysterio at WrestleMania in his long-awaited match against his father Rey Mysterio Jr.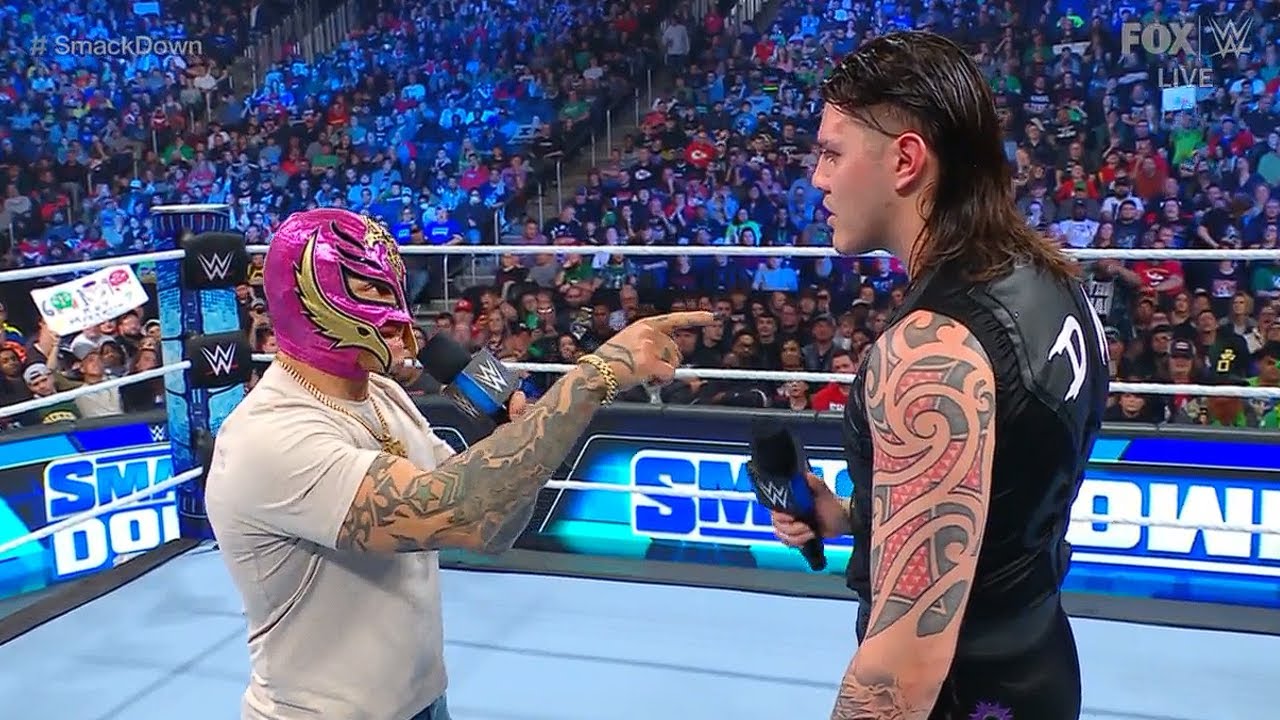 Chris King is here with what WWE should do with Dominik Mysterio at WrestleMania in his long-awaited match against his father Rey Mysterio Jr. 
On this week's episode of Friday Night SmackDown, Rey Mysterio finally snapped and beat some sense into his disrespectful punk-ass kid Dominik. The member of the Judgement Day came out to push his father again for a match on the Grandest Stage of Them All, this time with his mother and sister at ringside. The ungrateful punk told his mom to "Shut Up," as a father even I wanted to jump through the screen and whoop his ass.
Back in October of last year, Mysterio made the emotional decision to possibly quit the company but, instead, Triple H persuaded the Lucha libre superstar to move over to SmackDown to avoid his son. This came after Dominik shockingly turned on his father at Clash at the Castle. Mysterio did everything he could to refuse his despicable son's challenge for Mania but, a man can only be pushed so far. Mysterio will be inducted into the 2023 WWE Hall of Fame and I expect Dominik to embarrass his father during his speech to further this personal feud.
Yes, the WWE Universe hates Dominik and wants to see him get the ever-loving crap kicked out of him but, this feud is missing a special ingredient to capitalize on the biggest heat possible. Throughout this feud, Dominik has made mention of the legendary Eddie Guerrero on several occasions going back to the "iconic" 2005 feud.
I know WWE might not want to go this route but, Dominik MUST come out to Eddie Guerrero's theme at Mania. The disrespectful punk needs to come out in a lowrider to garner nuclear heat. It doesn't matter if The Judgement Day comes out and causes interference for Dominik to get the win, all that matters is that both superstars get the biggest payoff of this nearly year-long feud. Just imagine the Roman Reigns heat after he defeated The Undertaker and multiply that by ten. Dominik portrays the perfect heel and he truly is the missing ingredient that The Judgement Day needed to grow and evolve into a top faction.