DeMarco's NXT UK Takeover: Cardiff Ratings & Review (8/31/19)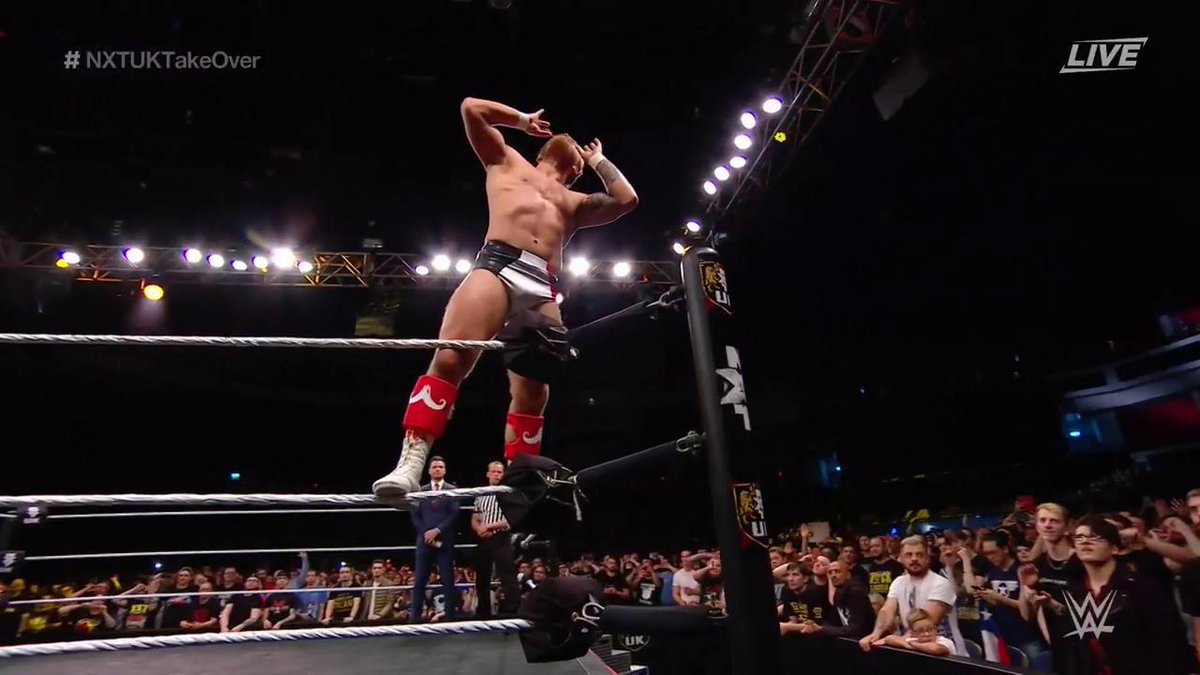 Greg DeMarco tuned in for WWE NXT UK Takeover: Cardiff, and now he checks in with his full blown review!
WWE's NXT UK brand hit the Motorpoint Arena in Cardiff for NXT UK Takeover: Cardiff, live on August 31, that saw Cesaro make an open challenge and Tyler Bate attempt to become a two-time WWE United Kingdom Champion. Who stood out to me? Take a look and see!
Note: I originally started this as a Three Stars Of The Night, but the show was so damn good that I found myself picking stars from each match, and doing a full blown review. So I pivoted and turned it into just that.
Noam Dar vs. Travis Banks
This had to hurt, on so many levels… #NXTUKTakeOver @NoamDar @Travis_BanksPW pic.twitter.com/nZkEjJaZTO

— WWE Universe (@WWEUniverse) August 31, 2019
I really expected Travis Banks to excel tonight, and emerge as a great underdog challenger for WALTER. But it became readily apparent to me that I was dead wrong, as Noam Dar really jumped out at me during this match. His in-ring work was fantastic as usual, but his facial expressions really sold this match. The crowd was split, and that was telling to me. Noam Dar delivered a fantastic performance, and by the end his win was a crowd pleaser. I was wrong, and Noam Dar is a star-in-waiting for NXT UK.
This was a great opener for the crowd and the show overall. The right guy won, and I'm excited to see where he goes next.
Noam Dar pinned Travis Banks with the Nova Rolla – ***1/2
Cesaro vs. Ilja Dragunov
.@UNBESIEGBAR_ZAR is going for a ride! #CesaroSwing @WWECesaro #NXTUKTakeOver pic.twitter.com/UepJcqHD98

— WWE (@WWE) August 31, 2019
Well Goddammit Pal! I've been on a huge Adam Cole kick during the better part of 2019. Before that, it was all Cesaro, all the time for my fandom. Apparently ol' Antonio caught wind of this, because he absolutely reminded me that he is the best in-ring performer in the entire world tonight. BEST. IN. THE. WORLD. His promos might lack just a tad, but he connects with the fans in a major way and he ALWAYS delivers.
This night was no different. He made me suspend disbelief, which is, at times, hard to do. And I was popping in ways I don't always pop anymore. The time to push Cesaro is now, and if I was in charge, we'd get Cesaro over Brock Lesnar in a non-title attraction at WrestleMania 36. (Or maybe WM37, since it's likely to be on the west coast, and thus I will be there.)
Ilja Dragunov delivered in a big way as well. I usually don't "get it" when he wrestles, but today I got it. Bravo to them both.
Cesaro pinned Ilja Dragunov with the Gotch Neutralizer – ****
---
Elisa looks great in her Chairshot gear.
You can, too!
Be like Elisa and get yours at:
https://www.prowrestlingtees.com/related/thechairshot.html
---
NXT UK Tag Team Championship: Grizzled Young Veterans of James Drake & Zack Gibson (c) vs. Mark Andrews & Flash Morgan Webster vs. GALLUS members Mark Coffey & Wolfgang
This match is quickly becoming a @MandrewsJunior HIGHLIGHT REEL. #NXTUKTakeOver pic.twitter.com/Rr3HXInCJ1

— WWE (@WWE) August 31, 2019
It's hard to build a tag team division, as much of WWE can attest to. NXT is struggling this this right now, and while the tag team divisions on Raw and Smackdown deliver in the ring, there is little direction to it. NXT UK has done an amazing job building this division on the road to NXT UK Takeover: Cardiff, and it showed tonight.  The build was somewhere between underrated and brilliant, and Mark Andrews & Flash Morgan, Mark Coffey & Wolfgang, and The Grizzled Young Veterans of James Drake & Zack Gibson delivered in a major way. And those might be the best looking belts in all of WWE.
In the end, the right team won. The match beautifully built to the pivotal false finish where Zack Gibson pulled the ref out of the ring. The pop at the end was what this was all about, and the hometown heroes walked out as champions. We'll see if they make it through the next set of TV tapings that way, but for this show, it was the perfect moment.
Flash Morgan Webster & Mark Andrews beat The Grizzled Young Veterans and Mark Coffey & Wolfgang to become new NXT UK Tag Team Champions – *****
Last Man Standing: Joe Coffey vs. Dave Mastiff
This match literally JUST started. 😧😧😧#NXTUKTakeOver #LastManStanding @DaveMastiff @Joe_Coffey pic.twitter.com/eMKP1IoHJS

— WWE (@WWE) August 31, 2019
This match is where I decided to change this from a Three Stars article to a full-on review. This show deserves it like none other. This is a statement show, and I realized that when I was like "okay, this is the match we take off, to come down from that emotional triple threat." NOPE.
Instead they broke the ring in the first minute, and proceeded to beat the crap out of each other in a match worthy of any Takeover (as this entire card has been). These two men battled all around the arena, including a demolition derby spot in the crowd that you'll probably be seeing at your local independent for the next two years. In the end, both men fell from a platform and crashed through two tables, with Coffey making it to his feet and kicking a road box out from under Mastiff so he couldn't answer the count.
Joe Coffey beat Dave Mastiff in a Last Man Standing Match – ****
---
Must Read:
Steven Mitchell's NXT UK Takeover: Cardiff Coverage!
---
NXT Women's Championship: Toni Storm (c) vs. Kay Lee Ray
.@tonistorm_ isn't wasting ANY time taking it to @Kay_Lee_Ray!#NXTUKTakeOver: Cardiff pic.twitter.com/FYiU5idBlU

— WWE (@WWE) August 31, 2019
A shorter match than I expected, but given the length of some of the other matches on this show, I wasn't shocked. Toni Storm is a bit of an acquired taste, and I think she will translate well when she moves to the NXT proper show. Given the results here, that seems to be happening sooner rather than later.
The match still delivered, and the crowd was into it despite having three straight barn burners. This night has been insane, and NXT UK is primed to take up the spot vacated when NXT moves to the USA Network. Shocking, but great win for Kay Lee Ray here.
Kay Lee Ray pinned Toni Storm to capture the NXT UK Women's Championship – ***1/2
WWE United Kingdom Championship: WALTER (c) vs. Tyler Bate
b u r n i n g h a m m e r 🧔@Tyler_Bate has paid homage to BOTH his #BritishStrongStyle brethren! #NXTUKTakeOver #WWEUKTitle @trentseven @WalterAUT pic.twitter.com/vdvhGYcVpp

— WWE Universe (@WWEUniverse) August 31, 2019
During the build, I fully expected WALTER vs. Trent Seven, and we still could get that in the future. Physically, Tyler Bate has never looked better, and the crowd was solidly behind him. WALTER is WALTER, the huge, dominant champion that I don't love, but I appreciate.
This what I would expect, with Bate serving as the outmanned underdog who fed off his experience and the crowd. And with the crowd supposed, The Big Strong Boi had his moments, and took a ton of punishment. Given the careers of both men, I would have believed a quick squash and a long battle where the underdog perseveres and pulls off the upset.
This match was full of moments, like Bate's T-Bone Suplex off of the apron to the floor. That coupled with Bate's left hook to WALTER from behind, and his multiple suplexes on WALTER really drove home what was fantastic showdown that was expertly planned and expertly executed. The Burning Hammer…I mean there aren't words! Both men deserve a standing ovation for what they did here. The kickouts at the end weren't like we see far too often. They made me believe, and that's no small task. This match would have main evented a stadium show–it was THAT good.
WALTER pinned Tyler Bate to retain the WWE United Kingdom Championship – *****
The moment at the end has me wondering if all of British Strong Style is headed to NXT to feud with Undisputed Era. It'd be a great story to tell, and one that can easily compete with AEW. And, I mean, War Games is coming, and who wouldn't get behind British Strong Style & Johnny Gargano vs. Undisputed Era.
Overall: 10/10
I can't tell you how much I loved this show. NXT UK Takeover: Blackpool was fantastic, and this blew it away. This is easily the best show I have seen all year, and as I write this sentence (2:04 PM Arizona time) I just can't see AEW outperforming this at ALL OUT. There are no words. This is a lesson on presentation, pace, build, booking, and pretty much all things professional wrestling. Go and watch it.