Mathew's Stardom 5 Star GP Red Stars Results & Review: Day 3
Red Stars Block on full display! Does Hana Kimura continue to pace the block?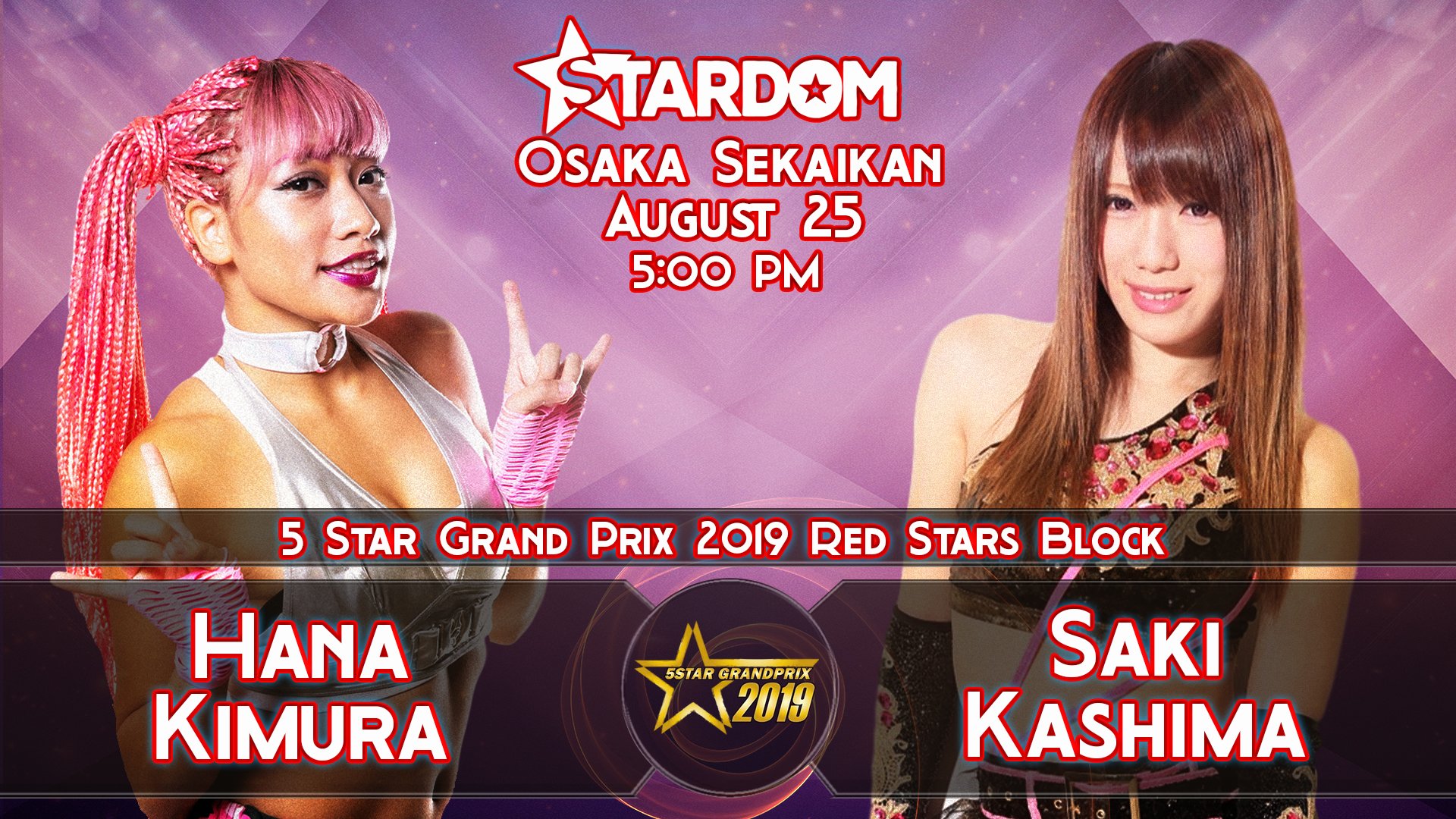 Red Stars Block on full display! Does Hana Kimura continue to pace the block?
🗣️ #TamNakano hablando español es ikjfhsfjhsffj 😂😂
👋 Hola @tmtmtmx, @emblem_saki555 @StarLight_Kid11 #StardomWorld #LuchaLibreEstrellaFiesta
📝https://t.co/rIl79fpaoY pic.twitter.com/59wdFcpluM

— Viendo Wrestling (@viendowrestling) August 28, 2019
Welcome back to Stardom's 5 Star Grand Prix and we got a show for you today.
This time although it says Day 3, they did two shows for the day with one being in the afternoon and the other in the evening, so we'll be covering the both of them in this article. We're doing our best to bring them out as fast as possible but since Stardom doesn't upload the whole show once it airs, we wait until it's online and make sure we get the reviews out to you all as soon as we can.
Who will get one step closer to the top spot with these next two shows?
Let's find out as we…dive right in.
Star Rating System:
0 Stars: Dave Meltzer
1 Star: Vince Russo
2 Stars: Tony Schiavone
3 Stars: Eric Bischoff
4 Stars: Bruce Prichard
5 Stars: Jim Cornette
8/25/2019 Afternoon Show
5 Star Grand Prix Red Stars Block Match
Momo Watanabe vs. Saki Kashima
Review: It looks like I only got two matches for the afternoon show and we'll start it off as we have Momo Watanabe taking on Saki Kashima. Saki is currently undefeated with only one win under her belt as she defeated Mayu Iwatani. Momo is currently one win and one loss, so she has some time to turn things around and stock up another win here to move up in the standings. Will Saki remain undefeated with her new flash pin called, Revival or will Momo get a win?
I guess Saki's new thing in the ring will be her going for the flash pins into the match. I mean, I guess they do work but wonder how long that will last before the roster starts to catch onto her little game here? Anyway, you can see how much better Momo is in this match when she does her best to help Saki out when she's bad a couple of hiccups in the ring, and Momo being good enough to catch it and make it look good at the same time. I'm not saying Saki is a bad performer because she is very solid in the ring but not all their matches are winners and bad nights happen. One downside I have is much like most of my matches so far is that they've been under ten minutes and while you can have a great match in less that time, they also sometimes can feel a little bit rushed. Momo hits the Somato and goes for the cover but Saki rolled her up for a two count. Saki attempted to go for the Killswitch but Momo turned it around to apply the Crossface Chickenwing and Saki had no choice but to tap out for Momo to get the victory.
Rating: Tony Schiavone and a half
5 Star Grand Prix Red Stars Block Match
Hazuki vs. AZM
Review: Our last match of this show has AZM taking on a former member of Queen's Quest and someone she does share a bit of history with, Hazuki. Both of these women are currently at one win and one loss each, so a win here for either of them would have them to share the top spot with a couple of other people in this block. Both of these women keep impressing their audience and this match here should be no different. Will AZM elevate herself to get the victory or is Hazukistral gonna be 100% again?
What do you get when you have two of the most consistent workers sharing a ring together? Magic, you have magic happen and these are what these two do together in the ring again as they never disappoint me whenever they fight. What I love about this is how beneficial this could be for AZM fighting off some of the top names in the promotion in singles competition instead of mostly tag matches to see how well she could shine in the upcoming years with the company and keep in mind, AZM is only sixteen years old. Great fast-pacing action like you see if it was for the High Speed Championship, which is really fun matches by the way but they keep that same fluid motion there. Hazuki hits a knee to the face and attempts another one until AZM ran the ropes to apply the La Mistica as Hazuki was able to reach the ropes. AZM unleashes an all-out assault now with two Double Stomps off the top rope as Hazuki kicked out at two to stay in the same. AZM would go for the Fujiwara Armbar until Hazuki rolled out of it only to get a kick to the temple. AZM would attempt the La Mistica one more time and before she could apply pressure onto the arm, Hazuki attempt the Hazukistral but AZM grabbed her legs to roll her up and gets the upset victory over Hazuki! Very fun match here and they never disappoint.
Rating: Eric Bischoff and a half
8/25/2019 Evening Show
5 Star Grand Prix Red Stars Block Match
Tam Nakano vs. AZM
Review: It's now time to talk about the evening show on the same day as my block gets started with Tam Nakano taking on AZM. AZM was able to pull off a surprise victory over Hazuki earlier on in the day and if she could win this match here, she would be in first place when it comes to the standings. Tam is in a solid position with one win and loss each and if she could defeat AZM, she'll be in a much better position than her due to having one less match than her. Will AZM take the top of the block or will Tam kick the whippersnapper down to hold off her chances of being on top?
AZM would deliver two solid matches in a row for both the afternoon and night shows here. While not better than her match with Hazuki, still a damn solid match between these two women as both of them stepped it up for this one. Tam is also another one who has been giving solid performances so far in her matches here and we could see a new Tam emerge during this tournament that could take her all the way to victory if she wanted to. AZM would hit a beautiful Armdrag from the second rope to take Tam down and attempts to hit the Double Stomp but Tam moved out of the way to hit one of her spinning kicks on her to daze her a little bit. The two would then try to kick each other as they duck or block but AZM hits the kicks before going to apply the La Mistica, which Tam rolled her up for a two count. There was a small back and forth with the rolling up and AZM was close to getting her as Tam kicked out last minute. AZM tried the La Mistica one more time but Tam rolled with her to get up and knees her in the face before hitting a high angle German Suplex which looked beautiful as Tam got the pinfall over AZM!
Rating: Eric Bischoff and a quarter
🔹動画配信サービス「スターダム・ワールド」

▪️5★STAR GP2019
2019年8月25日(日)大阪世界館 夜
◆レッドスターズ公式リーグ戦 中野たむ vs AZM

最速の爆弾娘が勝利目指して飛ばすが…たむは重厚なキックから原爆弾を爆発させた!?

会員登録はhttps://t.co/lZc15hAPwd pic.twitter.com/m65I1imXIv

— スターダム/STARDOM (@wwr_stardom) September 9, 2019
5 Star Grand Prix Red Stars Block Match
Hana Kimura vs. Saki Kashima
Review: Our next match on the block is Hana Kimura taking on Saki Kashima. Hana Kimura is the only one on my block that is undefeated with four points when she defeated both Tam Nakano and Natsu Sumire in two solid matches and another win here will keep her undefeated streak alive while strengthening her chances of winning the block altogether. Saki, however, recently lost her match earlier and is in the middle with one and one but she could move up to tie with the majority if she could defeat Hana here. Will Hana remain undefeated or does Saki become the one to end her little streak?
It looks like this could be a great match as Hana would try to get a hold of Saki but she rolled her into a flash pin and it's over! Wait, what? It ended in eight seconds? Well, I can't work with that! You heard it right, the match was over like Saki's pins, in a flash. Saki would attempt to cut a promo about her quick victory after the match but Hana would assault her before she had the chance. I smell a rematch in the future now.
Rating: Vince Russo
5 Star Grand Prix Red Stars Block Match
Mayu Iwatani vs. Natsu Sumire
Review: It's time for our final match of both my block and for this article as we have Mayu Iwatani taking on Natsu Sumire. Aside from Avary, Sumire is in last place with no wins and two losses in a row, so if she would lose here then her chances would only get smaller. The two of them fought last year too in the tournament as it was very comical and even used outside of the arena for a little bit. With how Sumire has been doing things, I don't think we'll get anything over the top. If Mayu can get a win here, then she'll be tied with the majority. Will Mayu climb up in the ranks or does Sumire drag Mayu down with her?
Yeah, it looks like an almost serious Sumire is the direction once again as she would actually have a match with Mayu this time around, and she would even legit shake her hands without any funny business this time around. While not the longest match on my block, I believe this was still the longest one out of my matches for the afternoon and evening shows and this was over five minutes, so I'm not sure how I feel about that. Mayu did very well showcasing herself as always in this match since she did her best to make Sumire look good here as she was able to pull her weight. Mayu hits her with a kick to the head for a two count and when she picked her up, Sumire would use Saki's Revival pin to pull off a surprise victory after five minutes in the ring with each other, very shocking. Sumire couldn't believe it either as she grabs the microphone to gloat a little saying she got revenge on her after losing to her last year. She even talked about researching her during that whole year and said Mayu was weak this time and she's happy to have defeated her. Saki didn't seem happy to see Sumire taking her move to win the match and Sumire told her that they'll be having a match soon and will see who will win with that move.
Rating: Tony Schiavone and three quarters
Overall: Aside from the service taking two weeks to upload both shows while making Andrew and myself play catch-up now, it wasn't an awful show as I did have two really solid matches here to keep me entertained. When they do a day and night show, you don't usually get something stellar but with what I was working with, I got what I wanted and content. AZM was the highlight during this one for me and very excited to see her next couple days in the Grand Prix.
Favorite Match: AZM vs. Hazuki
Least Favorite Match: Hana Kimura vs. Saki Kashima
Score: 7/10
Red Stars Standing:
Hana Kimura (2-1) (4 Points)
Momo Watanabe (2-1) (4 Points)
Tam Nakano (2-1) (4 Points)
Saki Kashima: (2-1) (4 Points)
AZM (2-2) (4 Points)
Mayu Iwatani (1-2) (2 Points)
Hazuki: (1-2) (2 Points)
Natsu Sumire (1-2) (2 Points)
Avary (0-1) (0 Points)